Popeyes Is Testing A New Blackened Chicken Sandwich. Here's How To Try It
In the latest effort to get a leg up on the competition in the ongoing chicken sandwich wars, Popeyes has put one of its older ideas into a new item. In select markets, the chain has now introduced a Blackened Chicken Sandwich, according to Chew Boom. Though, rather than taste like the fried chicken sandwich they've become famous for offering, the meat used in this latest concoction will likely remind Popeyes regulars of the Blackened Chicken Tenders.
That's because this new menu item isn't battered or breaded. Instead, it's cooked in Popeyes' proprietary blackened seasoning blend (presumably the same stuff they use on their tenders) to create a hearty crust. The sandwich comes in two options, classic and spicy. Both include a buttered, toasted brioche bun and two pickle slices. The classic comes with regular mayonnaise while the alternative offers a spicy mayo that brings in some heat.
Though Popeyes launched the sandwich without much fanfare or advertisements, Twitter is exploding with excitement over the development. One person Tweeted, "That Blackened Chicken Sandwich at Popeyes ... masterpiece," while others are lamenting not being able to find it in their markets just yet.
Popeyes Blackened Chicken Sandwich has only been found in limited places so far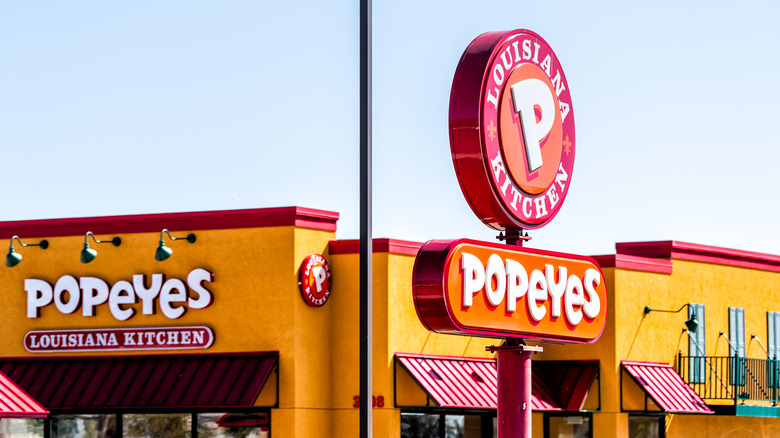 Shutterstock
So, where can you find Popeyes' new Blackened Chicken Sandwich? That's the million dollar question. For now, it seems the new menu item is only getting a test run. "We appreciate all the love we have seen from fans around this product offering," said a representative in a statement supplied to Thrillist. "Here at Popeyes, we are always looking to innovate with a wide range of seasonings and flavors. We have tested variations of our beloved chicken sandwich in markets around the world, but this is not a permanent menu item at this time."
Popeyes fans might not want to get their hopes up too high just yet. According to another Thrillist article, the chain test marketed a BBQ Bacon Cheddar Chicken Sandwich in 2020 and today, it's nowhere to be found.
To see if the Blackened Chicken Sandwich is available in your area during its test run, go to the Popeyes website or app, enter your location, and see if it appears on the menu. Business Insider combed through social media posts and found the test sandwich so far is being offered in Louisiana, Pennsylvania, and Tennessee. As well, YouTube food reviewer Peep This Out! tried both the classic and the spicy Blackened Chicken Sandwiches at a Popeyes in southern California, per Chew Boom. His review heaped tons of praise, saying, "this thing is absolutely seasoned beautifully."