Homemade Cream Of Onion Soup Recipe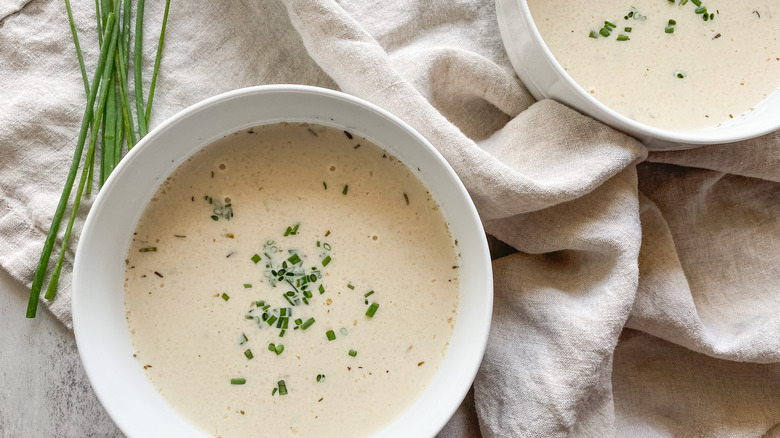 Kristen Carli/Mashed
We tend to take onions for granted, but just try to imagine life without them. They serve as the starting point for so many great recipes, from soups to stir-frys to roasts and beyond. Indeed, there are countless dishes that commence with the cooking of onions. In most cases, the humble Allium cepa blends in beautifully with the other ingredients, though its own unique and delightful flavor may be all but lost along the way.
Well, not this time. Instead, the onion is finally getting its due via a homemade cream of onion soup. And it's about time, too. "This one is a goodie," says chef, recipe developer, and registered dietician Kristen Carli of Camelback Nutrition & Wellness. "It's onion-forward and super creamy [and] one of my favorite soups ever."
It may well become one of your favorites, too, and not only because it tastes great. This soup is quite easy to make and uses ingredients you may well have on hand or can easily find at any grocery store. The prep will take you all of 10 minutes and the cooking is mostly hands-off. The soup is a great starter for a large dinner (Thanksgiving, anyone?) and can also be paired with a simple side to make a hearty meal itself. 
Need an idea there? "I would pair this with a sandwich, ideally a turkey and cranberry, for a hearty lunch," Carli suggests.
The health benefits of onions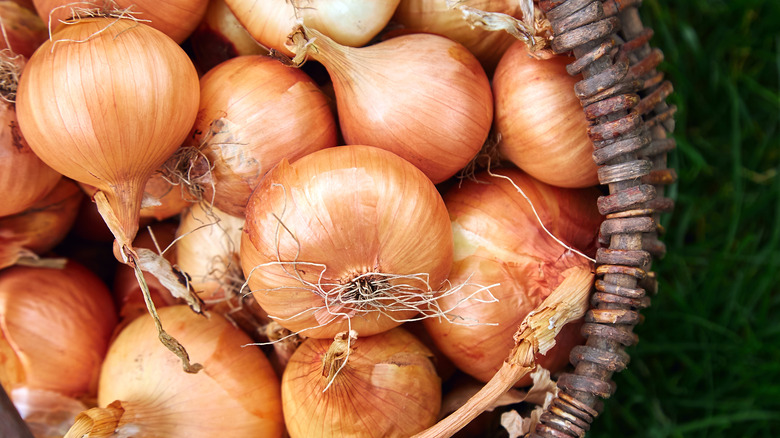 Shutterstock
As noted, we too often take onions for granted in terms of their outsized role in many recipes. So too do many people fail to recognize that these seemingly humble vegetables are also quite a healthy food. Low in calories yet high in many nutrients, you'll do well for your health to enjoy onions often. According to Healthline, onions are high in vitamin C, provide a decent source of vitamins B9 and B6, and have plenty of potassium.
Onions are also packed full of antioxidants and may help boost bone density, fight off cancerous cells, and improve your overall digestive health. And all that while tasting great, too! So, remember to pick up a couple of onions on your next grocery shopping trip.
Gather your ingredients for homemade cream of onion soup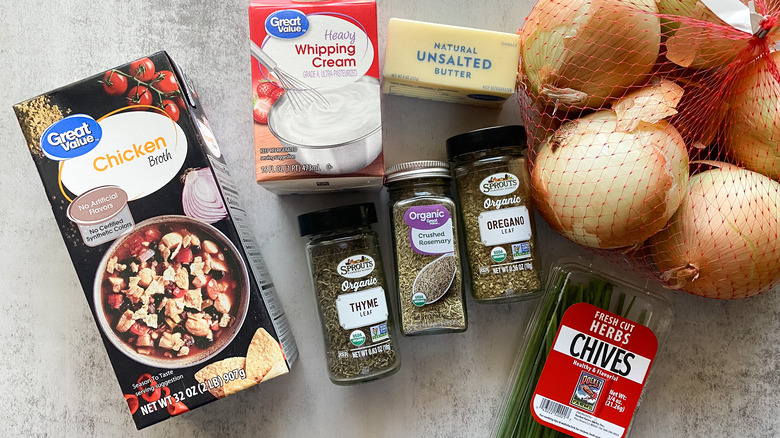 Kristen Carli/Mashed
For a batch of this soup big enough to serve four people, you're going to need a lot of onions. For this recipe, you'll need three pounds of onions, ideally classic yellow onions that have been diced. As for the other ingredients, you will need to procure a stick of unsalted butter, dried rosemary, dried thyme, dried oregano, chicken broth, heavy cream, and fresh chives for garnish.
When it comes to the hardware necessary for this recipe, that's all pretty simple stuff. To make the soup, you'll need a knife and cutting board, a large pot, a wooden spoon or silicone spatula, and an immersion blender. If you don't have one of those (sometimes otherwise known as a hand blender), you can use a regular blender (though we really recommend getting an immersion blender if you can). If you go that route, just make sure to process the hot soup in small batches and make sure that the lid is on tight, all for your own safety.
Cook the diced onions in butter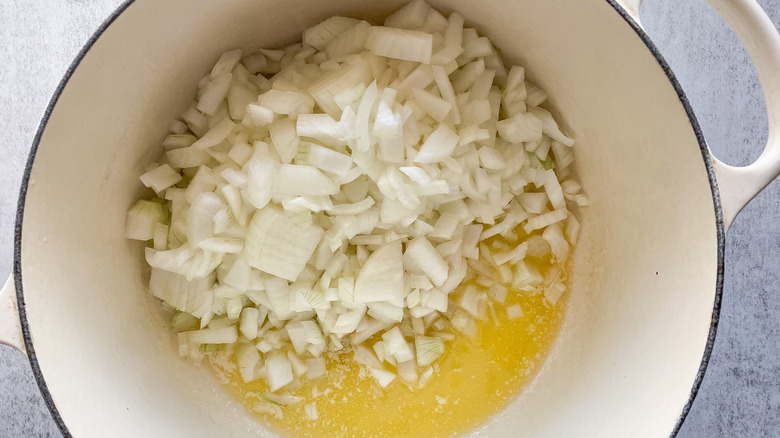 Kristen Carli/Mashed
Just like with so many recipes, this one starts off with the cooking of onions. Well, technically it starts with dicing the onions, but you already did that step, right? Now, in a large pot over medium heat, melt the butter. Once it has melted, add the diced onions. 
Stir the onions well every minute or so to make sure that they cook evenly and don't burn. Let them cook until the onions have become soft, translucent, and very fragrant, which will take about 10 minutes. If you see them starting to brown and caramelize, then reduce the heat and re-double your stirring efforts, as too much browning could negatively affect the taste of the soup. Caramelized onions certainly have their place, but aren't needed right now.
Add the other ingredients and simmer, then blend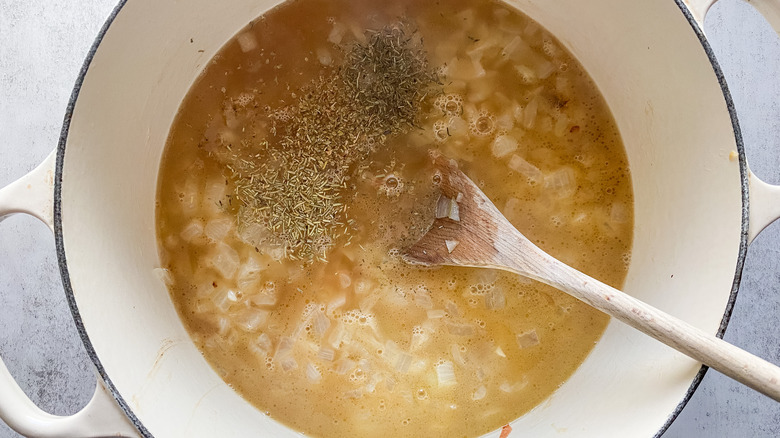 Kristen Carli/Mashed
Once the onions are cooked all the way through, add the rosemary, thyme, oregano, and the chicken broth. Stir everything together well and continue to cook the soup for 15 minutes at a simmer.
Now remove the pot from the heat and use an immersion blender to blend the soup well. You may also a regular blender and work in batches, being careful not to splash yourself with the hot soup. Next, add the heavy cream and stir well. You can even keep using the blender to mix everything. And just like that, it's time to ladle out bowls and serve them with freshly chopped chives sprinkled on top.
Any extra soup left over? No problem. "This keeps in an airtight container in the fridge for up to five days," Carli says, and it "reheats well in the microwave. Just be sure to give it a good stir [before reheating]."
Homemade Cream Of Onion Soup Recipe
This homemade cream of onion soup is easy to make and uses ingredients you may well have on hand or can easily find at any grocery store. Plus, it's delicious.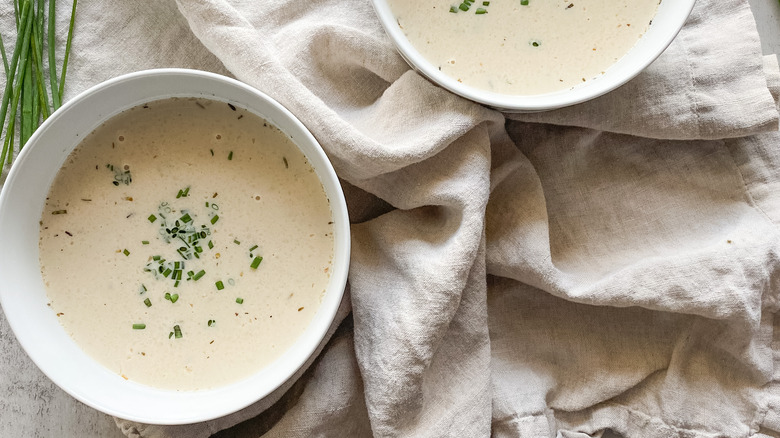 Ingredients
1 stick unsalted butter
3 pounds yellow onions
1 teaspoon dried rosemary
1 teaspoon dried thyme
1 teaspoon oregano
32 ounces chicken broth
⅔ cup heavy cream
Optional Ingredients
Directions
In a large pot over medium heat, melt the butter.
Add diced onions to the pot and stir well. Cook until onions have become soft and translucent, about 10 minutes.
Add rosemary, thyme, oregano, and chicken broth to the pot. Stir well, then continue to cook at a simmer for 15 minutes.
Remove pot from heat and use an immersion blender to blend soup well. You may also carefully blend in batches in a countertop blender.
Add the heavy cream and stir well.
Serve with fresh chopped chives topping each bowl.
Nutrition
| | |
| --- | --- |
| Calories per Serving | 559 |
| Total Fat | 40.7 g |
| Saturated Fat | 24.6 g |
| Trans Fat | 0.9 g |
| Cholesterol | 121.9 mg |
| | |
| --- | --- |
| Total Carbohydrates | 41.4 g |
| Dietary Fiber | 6.1 g |
| Total Sugars | 19.1 g |
| Sodium | 356.5 mg |
| Protein | 10.6 g |