Chewy Brownie Mix Cookies Recipe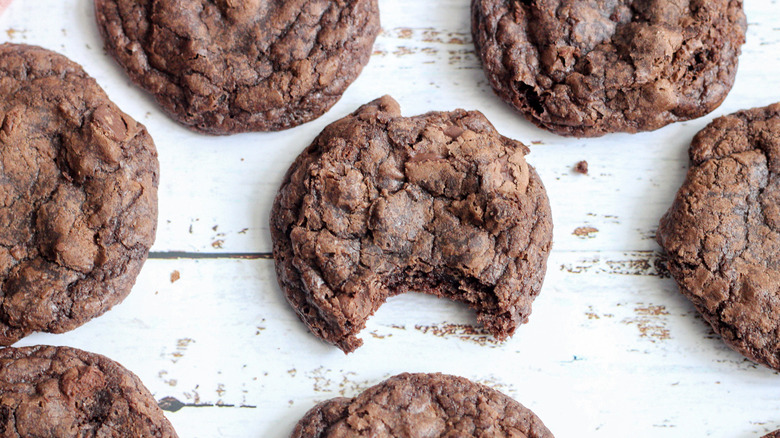 Jessica Morone/Mashed
These delicious brownie mix cookies are prepared with a brownie mix base and then sprinkled with semisweet chocolate chips because, let's be honest: There's no such thing as too much chocolate in any dessert recipe! 
Jessica Morone of Jess Loves Cooking is the mastermind behind the recipe for this quick and yummy dessert that's super easy to make and requires little prep time if you're in a hurry. She says that her favorite thing about these delicious cookies is "that they are so easy, you just have a couple of ingredients and they are done really quickly." Whether you choose to serve these right out of the oven or the next day, they're amazing.
A recipe like this is perfect to have for last-minute company or when you are invited to a picnic and have to bring a dessert. These cookies are a real treat that is sure to be a new favorite dessert at your house.
Gather the ingredients to prepare these chewy brownie mix cookies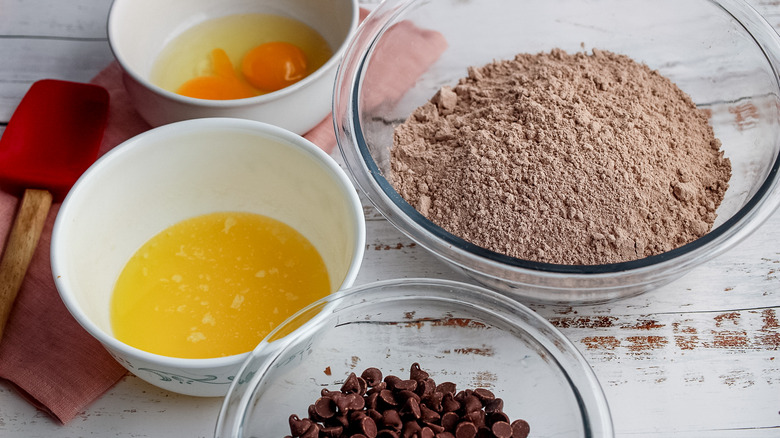 Jessica Morone/Mashed
Pull out a box of brownie mix, two large eggs, unsalted butter, and 1 cup of semisweet chocolate chips. Believe it or not, those are the only four items that you will need to put this tasty treat together. And once you eat and fall in love with this recipe, you'll need to make sure you always have plenty of these ingredients on hand.
Mix up the brownie cookie dough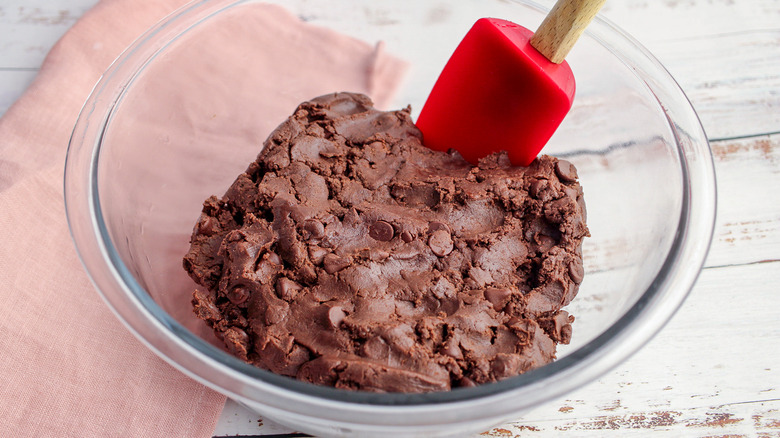 Jessica Morone/Mashed
Grab a large bowl to combine all the ingredients. Put in the brownie mix, melted butter, and the eggs. Mix them really well until everything is combined, and the mix begins to get the consistency of cookie dough. "You can just use a spoon to mix this up, or if you want you can use a stand mixer or hand mixer — it's totally up to you," Morone says. Once everything is well-mixed, you can fold in your chocolate chips. Morone notes that you should use a spoon for this step so the chocolate chips don't break apart.
When everything is mixed together, cover the bowl with plastic wrap. Now, there are two options for cooling your dough a little bit. You can either stick the mix in the fridge for about 30 minutes, or you can put it in the freezer for about five minutes. "If you chill the dough before baking it, the cookies won't spread as much and these cookies will bake into the perfect shape," Morone says. 
Scoop the cookies, and bake them at 350 F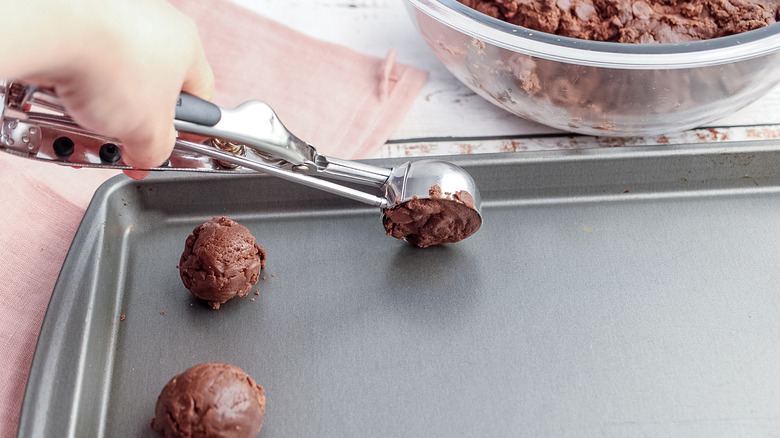 Jessica Morone/Mashed
While the dough is chilling in the fridge or freezer, preheat the oven to 350 F. Get out a nonstick baking sheet or line one with parchment paper to prevent the cookie mix from sticking to the sheet. Scoop even amounts of dough onto the sheet with a cookie scoop or a tablespoon. Set your timer for 10 minutes, and keep checking until the cookies appear to be fully baked. It could take up to 12 minutes, depending on your oven or preference.
Let the brownie mix cookies cool, and then enjoy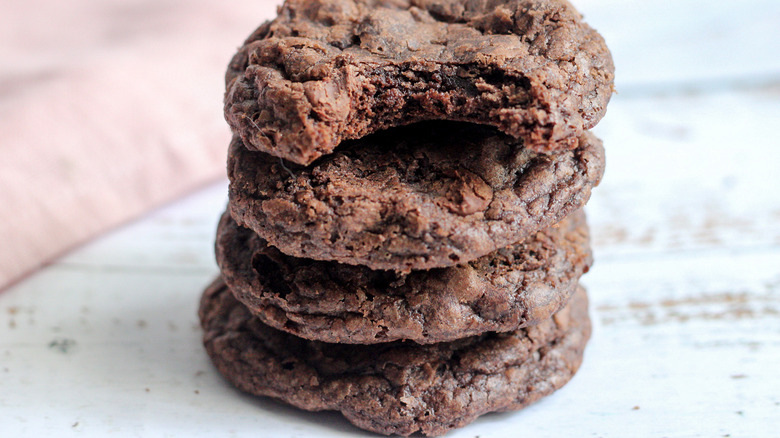 Jessica Morone/Mashed
Your kitchen is going to be smelling pretty delicious right about now, but try to be patient. Once the timer dings, take out the baking trays and let the cookies cool. Once they have finished cooling, it's time to enjoy them. Obviously, a big glass of cold milk would pair well with these chocolatey cookies or maybe even a scoop of your favorite ice cream. "If you store these in an airtight container they will stay good for at least a week," Morone notes. "But they all usually get eaten way before then!"
Serving your cookies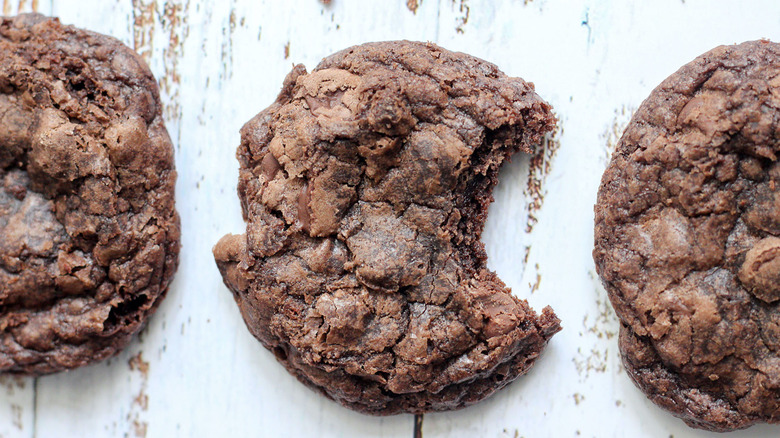 Jessica Morone/Mashed
If you're serving these delights for company or bringing them to a barbecue or picnic, consider arranging them on a glass platter. You can even put a paper doily on the bottom of the platter, and add a few fresh raspberries or strawberries to dress up the platter for a little fancier presentation. If you're just making them for snacks to leave on your counter, they will disappear pretty quickly.
Not only is this recipe a keeper because the cookies are delicious to eat and easy to make, but it's always convenient to have easy-to-eat finger dessert recipes handy that you know you can count on. 
Chewy Brownie Mix Cookies Recipe
This recipe for chewy brownie mix cookies is perfect to have for last-minute company or when you're invited to a picnic and have to bring a dessert.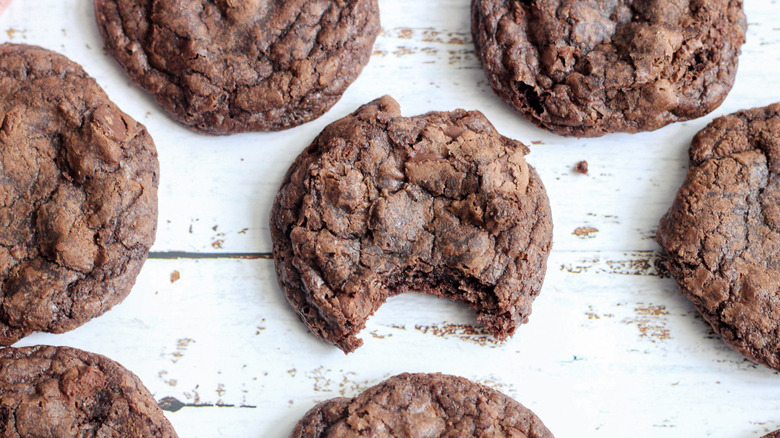 Ingredients
1 (18.4-ounce) box brownie mix
8 tablespoons unsalted butter, melted
2 large eggs
1 cup semisweet chocolate chips
Directions
In a large bowl, mix together the brownie mix, unsalted butter, and eggs until well combined, then fold in the chocolate chips.
Cover the dough with plastic wrap, and place the bowl in refrigerator for 30 minutes or freezer for 5 minutes.
Preheat the oven to 350 F.
Scoop even amounts of dough using a small cookie scoop or tablespoon onto either nonstick baking sheets or baking sheets lined with parchment paper.
Bake for 10 to 12 minutes until the edges of the cookies are set.
Cool completely, then serve.
Nutrition
| | |
| --- | --- |
| Calories per Serving | 170 |
| Total Fat | 9.0 g |
| Saturated Fat | 4.4 g |
| Trans Fat | 0.2 g |
| Cholesterol | 25.7 mg |
| | |
| --- | --- |
| Total Carbohydrates | 21.7 g |
| Dietary Fiber | 0.4 g |
| Total Sugars | 14.7 g |
| Sodium | 70.7 mg |
| Protein | 1.9 g |