Easy Broccoli Pasta Salad Recipe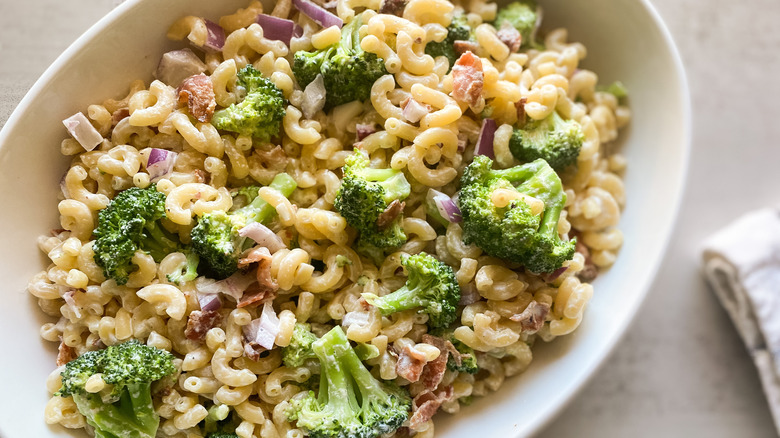 Kristen Carli/Mashed
Pasta salad is quite possibly the best kind of side dish to whip up for summer potlucks, backyard BBQs, picnics in the park, family get-togethers, holidays ... and the list goes on. It's a creamy, delicious, refreshing, and versatile crowd-pleaser that will have anyone you serve it to going up to grab second and third helpings. 
This broccoli pasta salad recipe is similar to that of a chicken salad, but it provides an excellent option for vegetarians (as long as you sub out the bacon). Another great part about the recipe is the short prep time. It only takes a few minutes to prep and eight minutes to cook. That means, whipping up something this delicious will only take about 13 minutes of your time. So, you can toss this tasty side together, and tend to other items on your to-do list in just about no time!
Recipe developer and private practice registered dietician Kristen Carli is the creative behind this recipe. She says that the best part about it is the fact that it's a good way to get your kids to eat their veggies — because we all know how hard that can be at times. "I love a good veggie-filled pasta salad! It's a great way to sneak in those veggies — especially for kiddos," she says.
Gather the ingredients to prepare broccoli pasta salad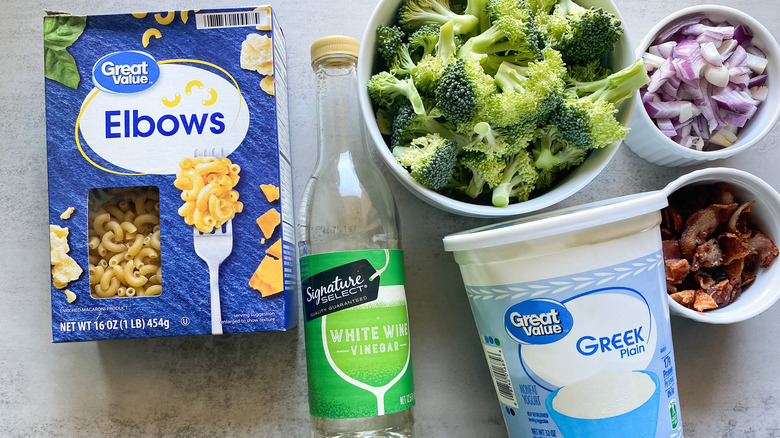 Kristen Carli/Mashed
Note that for this dish, you will need macaroni, broccoli, and bacon. Keep in mind that if you don't eat meat, you can omit the bacon. You will also need a red onion, sweetened plain Greek yogurt, white wine vinegar, salt, and pepper. That's it!
If you want to swap out the macaroni in this dish for something else, Carli says that's totally fine. "You can sub any other type of pasta. Gluten-free, chickpea, whole wheat, any other shape — whatever you like!" 
Mix together the creamy sauce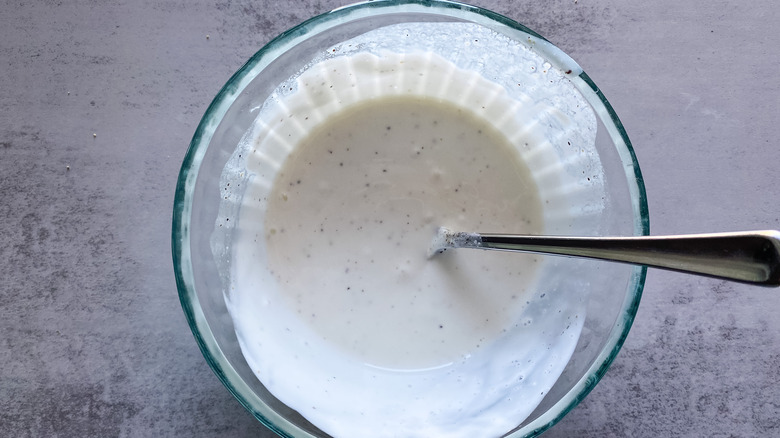 Kristen Carli/Mashed
The first step in the preparation phase is to prepare the tasty creamy sauce that goes on the salad. This is honestly the best part of the pasta dish, and the flavors are so yummy. It's really so easy to put together, too. So, you're going to get out a small bowl to use for mixing up this part. Add together your yogurt, vinegar, salt, and pepper. Stir these items well to combine so everything blends nicely. Your consistency should look smooth similar to that of the above photo. When you're done with doing this, set the bowl to the side. You will be using the creamy sauce for a future step.
Boil water for the pasta and broccoli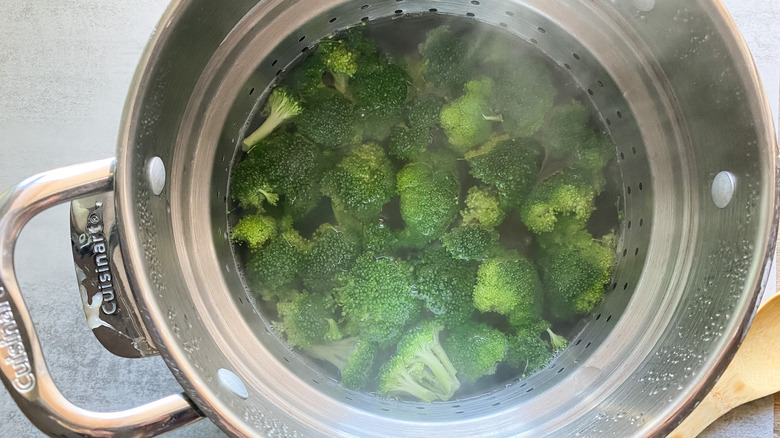 Kristen Carli/Mashed
For the next part, pull out a pot that is suitable for cooking pasta. Fill your pot with water, and bring it to a boil. Then, add in the pasta, and cook according to the directions on the package. In the last 2 to 3 minutes of cooking time, you are going to add the broccoli to the boiling water and pasta. Cook for the duration of the time, and then drain the pasta and the broccoli. Set this aside for now in the strainer so you can give the pasta and broccoli time to cool off a bit.
Dress the salad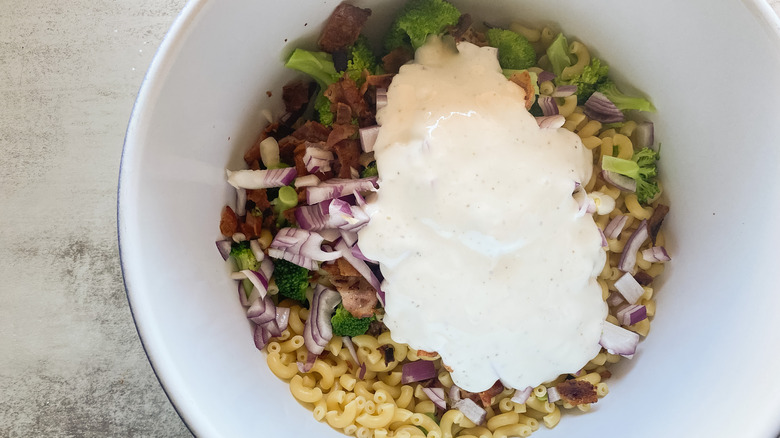 Kristen Carli/Mashed
Take out a large bowl to use for combining all of the parts of the recipe together. It's probably best to use a dish different from the one you plan to use ultimately for serving your pasta salad in, since the dressing will coat the sides. Add in the bacon, red onion, cooked pasta, and broccoli. Then, take your dressing that was off to the side, and pour it over the top of your salad. Give it a few good tosses to combine evenly.
You're going to have one pretty nice looking broccoli pasta salad sitting in front of you! You can distribute the salad in individual bowls for each family member or on each dinner plate along with whatever else you may be serving. This is actually a great dish to put out on a buffet or table in a big bowl so everyone can serve themselves.
Leftovers and serving suggestions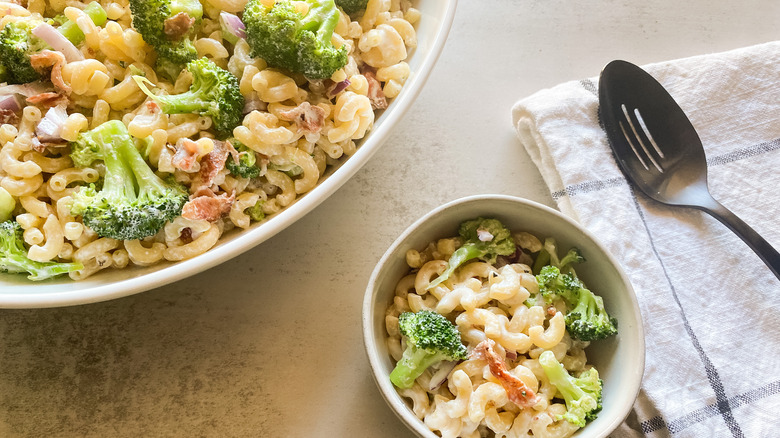 Kristen Carli/Mashed
As we previously mentioned, this broccoli pasta salad is a great dish to prepare and serve for a summer barbecue or as a side or appetizer with anything else you have on the menu. "This is best served on the side of burgers, hot dogs, coleslaw — [your] typical BBQ food," Carli shares. You probably won't have any leftovers, but if you do, they will keep for a few days. "Leftovers will keep in an airtight container for up to four days in the fridge," Carli says. Now, let your broccoli pasta salad feast begin!
Easy Broccoli Pasta Salad Recipe
This broccoli pasta salad is a creamy, delicious crowd-pleaser that's the ultimate side dish to prepare for a backyard BBQ.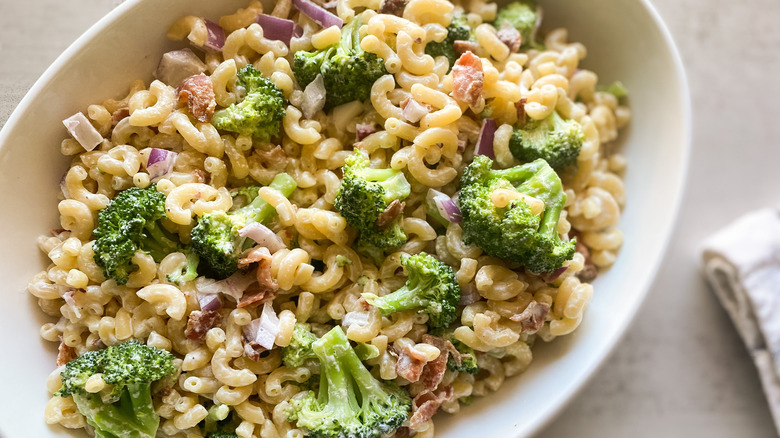 Ingredients
2 cups unsweetened plain Greek yogurt
2 tablespoons white wine vinegar
1 teaspoon salt
½ teaspoon pepper
16 ounces elbow macaroni
1 head of broccoli, cut into florets
4 cooked slices of bacon, chopped
¼ red onion, diced
Directions
In a small bowl, add the Greek yogurt, white wine vinegar, salt, and pepper. Stir to combine. Then, set the bowl aside.
Bring a large pot of water to a boil. Add the pasta, and cook according to package directions.
In the last 2 to 3 minutes of the pasta cooking time, add the broccoli to the boiling water. Drain, and set aside.
In a large bowl, add the chopped bacon, diced red onion, cooked pasta, and broccoli.
Dress with yogurt dressing. Toss to combine.
Nutrition
| | |
| --- | --- |
| Calories per Serving | 483 |
| Total Fat | 14.3 g |
| Saturated Fat | 6.0 g |
| Trans Fat | 0.0 g |
| Cholesterol | 25.5 mg |
| | |
| --- | --- |
| Total Carbohydrates | 67.2 g |
| Dietary Fiber | 5.2 g |
| Total Sugars | 7.3 g |
| Sodium | 598.7 mg |
| Protein | 22.2 g |