Individual Pistachio Torte Recipe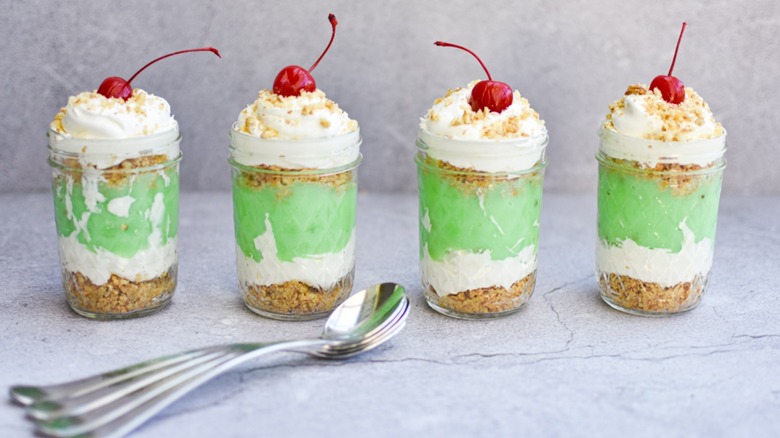 Stephanie Rapone/Mashed
Pistachios may be delicious, but they're also a bit of a pain. Opening all those shells can be a trial in patience, but thanks to recipe developer and Pantry to Plate founder Stephanie Rapone, we have a delicious way to get all of that pistachio flavor into a dessert without the aching fingers.
She's come up with an amazing — and amazingly easy — layered dessert that has the brilliantly bright, vibrant color and flavor of pistachio and everyone's favorite guilty pleasure: Cool Whip! Sure, it's not too difficult to make your own whipped cream, but there's something undeniably awesome about Cool Whip. (If you haven't eaten spoonfuls straight from a container that's just come out of the freezer, you haven't lived.)
There's everything to like about this easy dessert recipe. It comes together in just around 15 minutes, so it's the perfect weekday treat for the family. At the same time, you can serve it up in some of your fanciest glassware, and it's elegant enough to wow your book club. Versatile, easy, and tasty? It's a total win!
Gather your ingredients for these individual pistachio tortes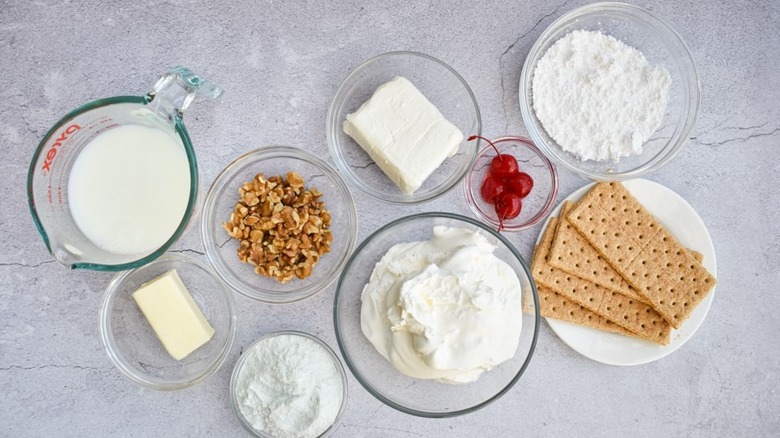 Stephanie Rapone/Mashed
Another thing to love about this dessert recipe is that it doesn't take anything out of the ordinary. Most of the ingredients are on your regular grocery list, and as a bonus, some of the odder ingredients — like pistachio pudding mix and graham crackers — are the kind you can definitely pick up and stash in the cabinet for those nights when you're craving something sweet but are short on time.
For this super-easy recipe, you're going to need just half a stick of butter, four graham crackers, a quarter cup of walnuts, a four-ounce package of cream cheese (at room temperature), half a cup of powdered sugar, Cool Whip, a box of instant pudding mix, and a cup and a half of milk. That's it! There are some optional garnishes you might want to consider, too, but we'll recommend those later.
You're also going to need some glassware. Glass isn't 100% necessary, but you're going to want to show off the layers of this dessert. Mason jars are a great option, or you can opt for trifle glasses. If you don't have those, any eight-ounce glass works fine.
Prep the graham cracker crumble for your individual pistachio torte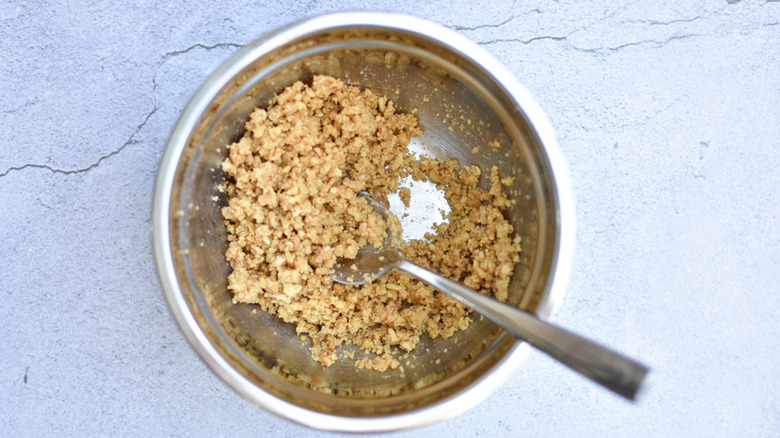 Stephanie Rapone/Mashed
Start by prepping the layer of graham cracker crumble, and pro tip: You're not going to use all of the mixture immediately, so make sure you have bowls set aside for this crumble layer, along with the Cool Whip mixture and the pudding.
First, prep your dry ingredients. Crumble four graham crackers and a quarter cup of walnuts into a coarse crumble. This can be done with a food processor, but if you don't have one available, you can also put the crackers and walnuts into a zip-top bag and use a rolling pin to grind them. Transfer the crumbles to a dish.
Melt a quarter cup of butter in the microwave. (That's the equivalent of half of a stick or four tablespoons.) Add the melted butter to your graham cracker and walnut crumble, and stir well to completely incorporate.
Prep your glasses with the first layer of your individual pistachio torte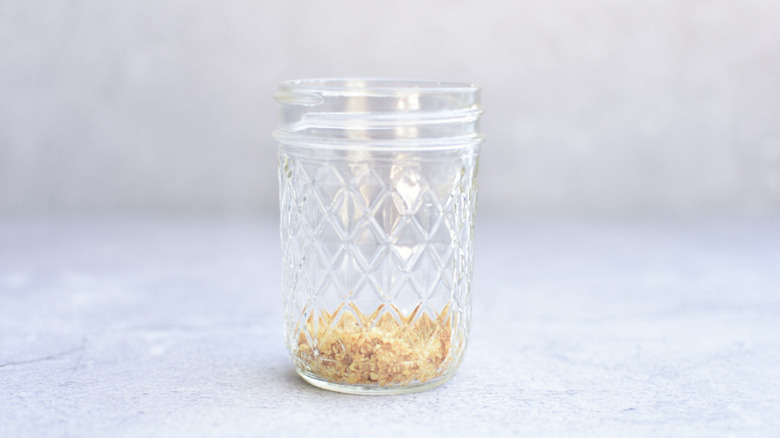 Stephanie Rapone/Mashed
This recipe will comfortably make four eight-ounce servings. While it's not necessary, having four matching glasses will help you keep your proportions equal. Line up your glasses, and start with the first layer. You'll use around two-thirds of the crumble mixture for this step, and you'll distribute it evenly between the four glasses (or jars). There's no need to pack the mixture down — just spoon it in, and you're done with the bottom layer.
Add the next layer to your individual pistachio torte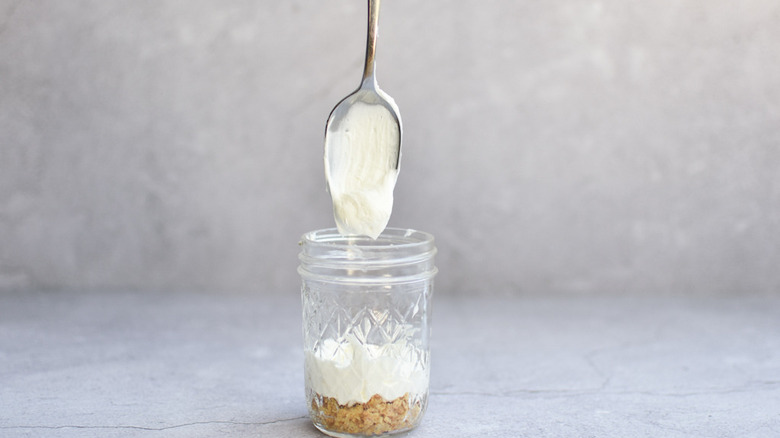 Stephanie Rapone/Mashed
Take half a cup of powdered sugar, and place it in a bowl with four ounces of cream cheese. The cream cheese should be at room temperature, as it'll make mixing these ingredients much, much easier.
Using a hand mixer, blend until the powdered sugar and cream cheese is combined into a smooth mix. Then, add about half of your Cool Whip — that's about four ounces. Blend again until smooth. Use about half of this mixture, and spoon it evenly into the four glasses on top of your graham cracker crumble layer.
Add the pistachio pudding to your torte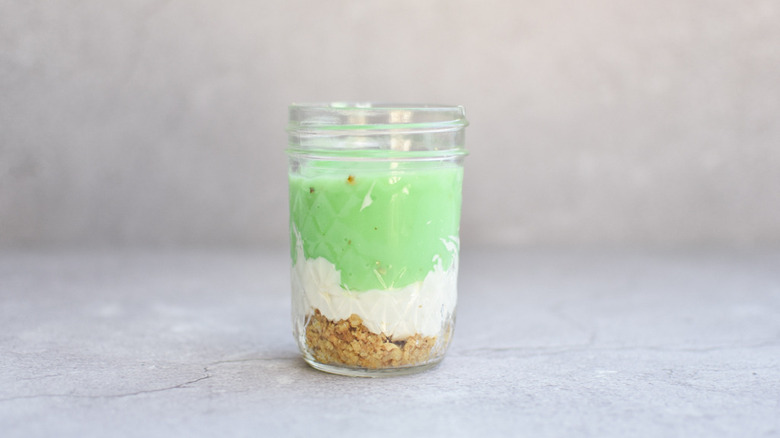 Stephanie Rapone/Mashed
Next comes the pistachio, in a form that's so easy to prep, you might find yourself wondering why you haven't done this more often. Pour the pistachio instant pudding mix into another bowl, add a cup and a half of milk, and blend thoroughly using your hand mixer.
As delicious as pistachio is, it's entirely possible that someone in your family isn't a fan. It's also possible that you become such a fan of this recipe that you add it to your regular dessert rotation, and if that's the case, Rapone says that you can definitely mix it up with different flavors — and she has a favorite. "We have also made this with butterscotch pudding, and it's delicious!" she recommends.
Once your pudding is done, divide the entire thing between the four glasses.
Finish layering the individual pistachio torte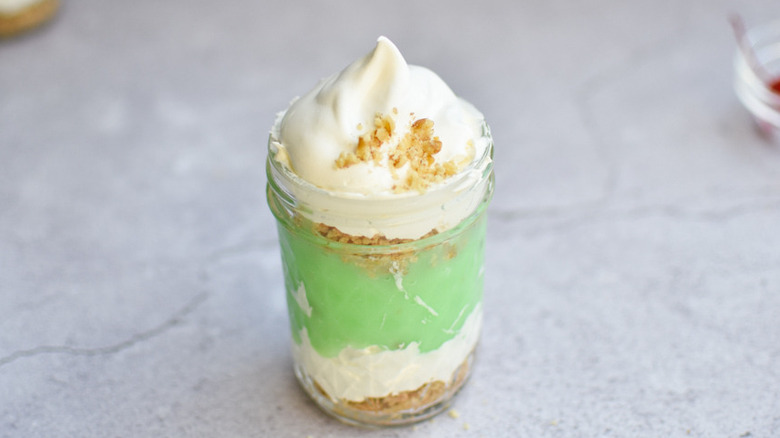 Stephanie Rapone/Mashed
You're going to have some of your layers left, and here's where you use the rest of your graham cracker and walnut crumble to make another layer on top of the pudding. Then, do the same with the rest of your cream cheese and Cool Whip mixture.
Finally, take the rest of your Cool Whip, give it a good stir, and top each dessert with a dollop of Cool Whip. (No one will tell if you take a spoonful for yourself — that's the bonus of being the cook!)
Get creative with your garnishes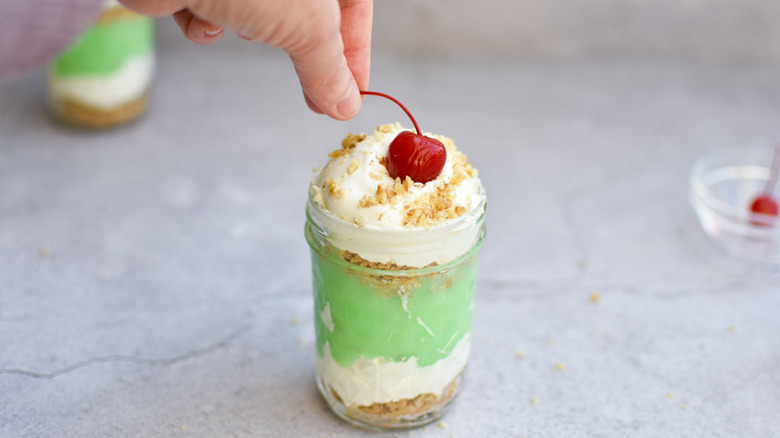 Stephanie Rapone/Mashed
Rapone says there's no end to the garnishes you can use for putting the finishing touches on this elegant yet surprisingly simple dessert. She recommends a maraschino cherry on top and adds that "Chopped nuts — like chopped pistachios or walnuts — would be a great garnish. If you're using another pudding flavor, like butterscotch or chocolate, shavings from a chocolate bar would also be nice. And, of course, sprinkles are always a winner!"
Enjoy your dessert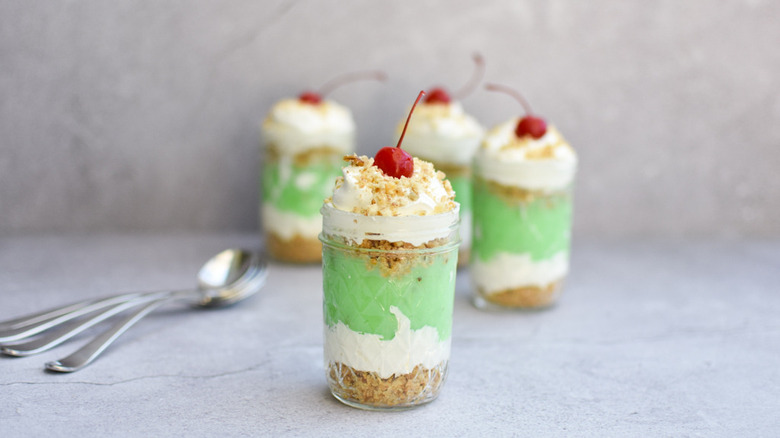 Stephanie Rapone/Mashed
Another great thing about this dessert is that it doesn't matter if you're making it right when you need to serve it or if you're making it ahead for dessert later. Rapone says, "You can refrigerate before serving, but one thing I like about these is that they set up pretty well without that step. They'll also be good in the fridge for three days, as long as they're covered."
And that's where our only footnote comes in. Say you're making these at the same time you're making dinner, and the idea is that you're going to serve them while you're watching a movie later. You might want to wait to add the last dollop of Cool Whip and your garnish until you're ready to serve them — that way, you're not going to ruin the aesthetics by covering them and putting them in the fridge.
Who says elegant needs to be complicated?
Individual Pistachio Torte Recipe
There's everything to like about this easy dessert recipe. It comes together in just around 15 minutes, so it's the perfect weekday treat for the family.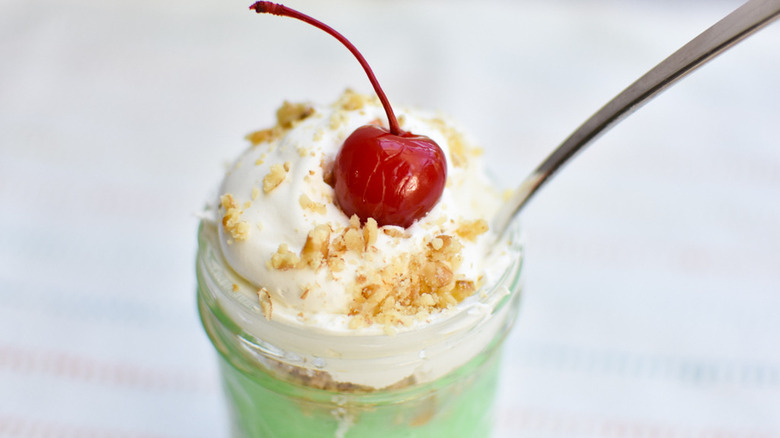 Ingredients
¼ cup (½ stick or 4 tablespoons) butter
4 graham crackers
¼ cup walnuts
4 ounces cream cheese, room temperature
½ cup powdered sugar
8 ounces Cool Whip, divided
3-ounce instant pistachio pudding mix
1 ½ cups milk
Optional Ingredients
Maraschino cherry, for garnish
1 to 2 extra tablespoons walnuts, for garnish
Directions
Melt butter in the microwave.
Crush the graham crackers and ¼ cup walnuts in a zip-top bag with a rolling pin or in a food processor.
Combine the butter with the graham crackers and nuts. Spoon about ⅔ of the mixture evenly into the individual serving jars.
With a hand mixer, combine the cream cheese and powdered sugar until smooth. Add approximately half the Cool Whip and combine.
Spoon half the mixture on top of the graham cracker mixture.
Mix the pudding mix and milk with a hand mixer until well combined. Pour evenly on top of the cream cheese mixture.
Spoon the remainder of the graham cracker mixture evenly over the pudding.
Top with the remaining cream cheese mixture. Add the remaining Cool Whip on top.
Crush the remaining walnuts and sprinkle on top. If desired, top with a maraschino cherry. Serve.
Nutrition
| | |
| --- | --- |
| Calories per Serving | 601 |
| Total Fat | 38.6 g |
| Saturated Fat | 22.6 g |
| Trans Fat | 0.5 g |
| Cholesterol | 113.9 mg |
| | |
| --- | --- |
| Total Carbohydrates | 58.3 g |
| Dietary Fiber | 0.5 g |
| Total Sugars | 48.0 g |
| Sodium | 519.9 mg |
| Protein | 7.5 g |