The Side Dish You Need To Know How To Make For Summer, According To Andrew Zimmern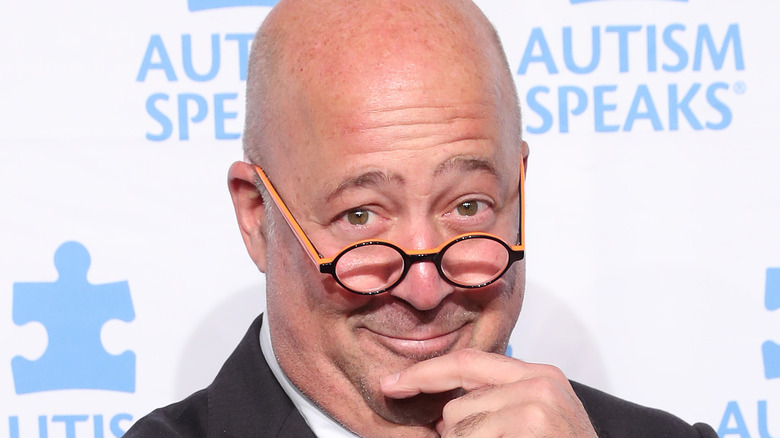 Cindy Ord/Getty Images
Andrew Zimmern has been cooking up a storm these past months. Once a television host who showed us the most exotic dishes around the globe on Travel Channel's "Bizarre Foods," Zimmern is now sharing food that's a little more comforting and closer to home. According to his website, he will premiere "Family Dinner" on Chip and Joanna Gaines' Magnolia Network this year. He's also been cooking up a storm on social media. On his YouTube channel, Zimmern teaches fans how to make everything from brisket to risotto to latkes. Zimmern also gives great pointers for home chefs, ranging from how to cook a perfect egg to how to clean a geoduck clam. 
With summer unofficially started, Zimmern wants you to enjoy some potato salad. But, he admonishes — do not buy the store bought variety. Instead, he says in his YouTube video, make potato salad "like an OG baller French grandmother."
Make Andrew Zimmern's potato salad
To make Andrew Zimmern's potato salad recipe, start by boiling two pounds of fingerling potatoes and strain into a large bowl. Add salt and minced scallions to the potatoes. 
Sautee 1/3 pound of bacon, cut into small pieces just enough for it to be crispy. Remove the bacon from the pan and set aside, but don't throw the bacon fat away. Add flour and chicken stock to the bacon fat to make a roux, adding black pepper, mustard powder, celery seeds, thyme, brown sugar and vinegar. Pour the roux onto the potatoes and toss so they're evenly coated. Zimmern advises serving the potato salad warm or hot. 
Zimmern can also help you throw an entire backyard shindig with a recipe for a delicious barbecue chicken. The key to the perfect chicken, according to Zimmern, is in how you cook and finish the chicken. "Cook the chicken quarters over indirect heat with a lot of smoke, before finishing them over the coals until nice and crispy," he advises on YouTube. Then, glaze the chicken just before it's finished so the sauce doesn't burn.