Copycat In-N-Out Burger Sauce Recipe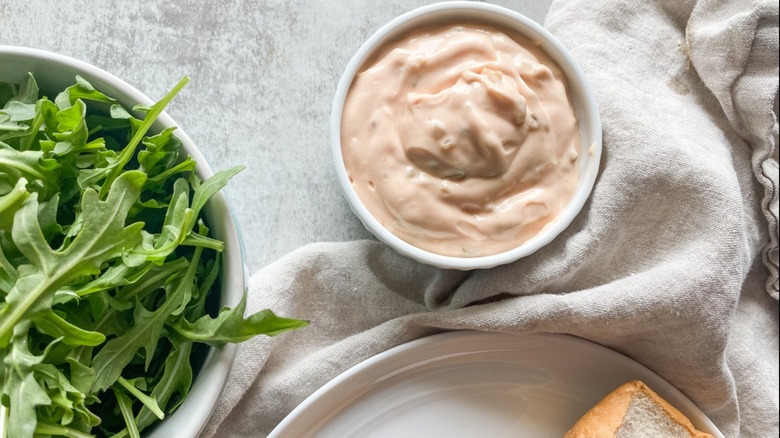 Kristen Carli/Mashed
It's no secret that In-N-Out is known for its incredibly tasty burgers with thin patties and the perfect amount of lettuce and cheese. But what makes In-N-Out so special is their sauce. Whether you like it served on top of your burger as a spread or topped on animal-style fries, this orange sauce is an absolute delight. The spread is obviously great on a burger and fries, but it also pairs well with several other items, including sweet potatoes. 
Recipe developer and registered dietitian Kristen Carli is the mastermind behind this copycat recipe that tastes just as good as the real thing. She shares that her favorite part about the sauce is the flavor. "This sauce is the reason why In-N-Out has the best burger in my opinion. I always order extra spread to dip my fries in," she says. "I love the ultimate savory flavor." If you love In-N-Out and are a fan of their sauce, this is a must-make copycat version. Keep scrolling for more details on how to whip together this quick and easy recipe.
Gather the Ingredients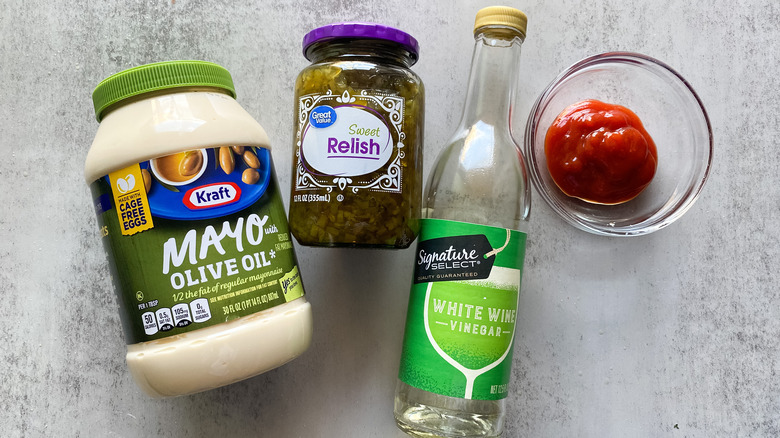 Kristen Carli/Mashed
First, make sure that you have all of the items you will need for the sauce. Luckily, there are only a few items that you will need to grab at the store. Get mayo (Carli uses mayo with olive oil here), ketchup, sweet pickle relish, and white wine vinegar. That's it. Can you believe that something so good can come out of four ingredients? We can't either!
Add everything and mix it all together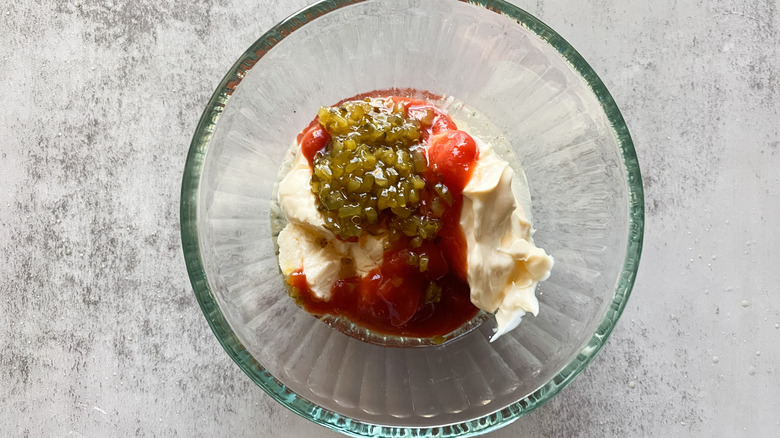 Kristen Carli/Mashed
Once you have your ingredients ready to go, get out a small bowl. Dump every ingredient into the bowl and stir well. A regular spoon will do the trick, so you don't need to use any kind of fancy mixer here. Once everything is blended well together, it should get that orange color that you'll recognize from In-N-Out. This is an excellent sign, and you're making significant progress. Now, the sauce it ready to set. 
Refrigerate and enjoy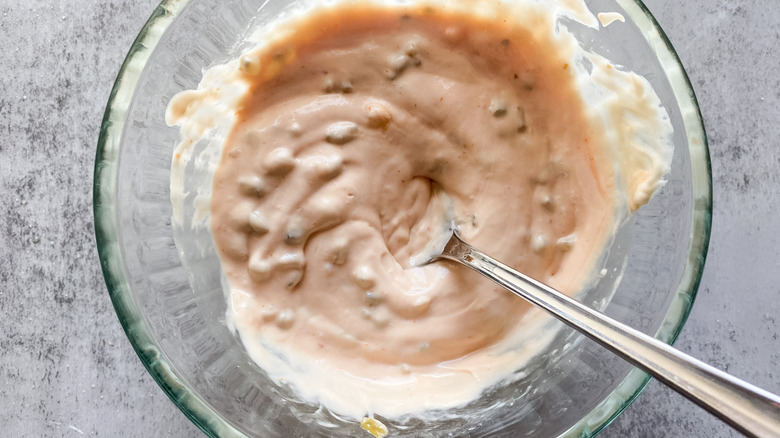 Kristen Carli/Mashed
Now that the sauce it's mixed, it's ready to cool. Cover the bowl with plastic wrap and stick it in the fridge. Set your timer for an hour. "You want to chill it so the flavors have a chance to meld and the mayo retains its more solid texture as opposed to super liquidy when warm," Carli says of this step. Leftovers will last for about 5 days. To serve, you can keep it in the same bowl that you used for mixing or transfer it into something a little bit fancier if you're having guests over.
Serving Suggestions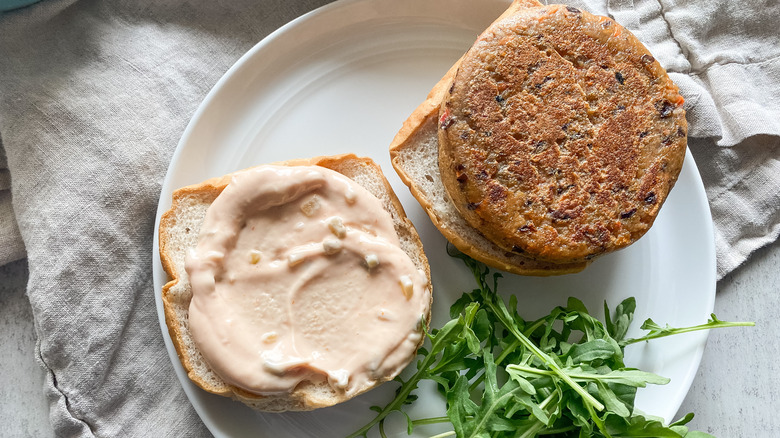 Kristen Carli/Mashed
Like we mentioned earlier, this signature sauce pairs so well with plenty of items. You can use it as a spread on either a burger or a sandwich. Alternatively, you can use it for dipping french fries, pretzels, breadsticks, or any other treat. "This is delicious over roast vegetables too! I love this on sweet potatoes — don't knock it until you try it," Carli raves. 
Plain and simple — the sauce elevates any item to a whole new, tastier level. 
Copycat In-N-Out Burger Sauce Recipe
Craving In-N-Out's delicious burger sauce? This recipe will take you just two minutes to prepare -- and you probably have everything you need to make it!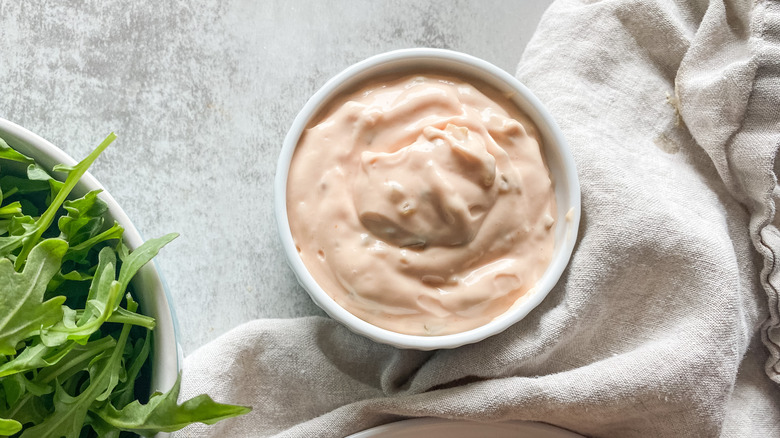 Ingredients
½ cup mayonnaise
3 tablespoons ketchup
2 tablespoons sweet pickle relish
2 teaspoons white wine vinegar
Directions
In a small bowl, combine all the ingredients.
Stir until well combined.
Cover the mixture and refrigerate for at least 1 hour before serving.
Use to top burgers and sandwiches, or as a dip for fries, pretzels, or roasted vegetables!
Nutrition
| | |
| --- | --- |
| Calories per Serving | 74 |
| Total Fat | 7.4 g |
| Saturated Fat | 1.1 g |
| Trans Fat | 0.0 g |
| Cholesterol | 3.8 mg |
| | |
| --- | --- |
| Total Carbohydrates | 2.0 g |
| Dietary Fiber | 0.0 g |
| Total Sugars | 1.6 g |
| Sodium | 114.4 mg |
| Protein | 0.1 g |