The Sweet Ingredient Sohla El-Waylly Puts In Her Grilled Cheese
Few sandwiches are as iconic as the grilled cheese. Easy to make and requiring just two ingredients in its most basic form (bread and cheese, naturally), it's one of the quintessential comfort foods. After all, what cheers you up faster than carbs and cheese combined into one melty, crispy pile of deliciousness? The grilled cheese is a sandwich that, while a childhood favorite, can also be easily elevated to be more adult-appropriate. 
You can make it on fresh-baked sourdough instead of sliced Wonder bread, for instance, or opt for thick slices of mozzarella instead of those plastic slices of American cheese. Another easy way to take your grilled cheese to the next level is by adding gourmet toppings for unique flavor pairings. You don't have to stick to savory, either. Chef and Youtuber, Sohla El-Waylly, revealed that she adds a sweet ingredient to her grilled cheese sandwiches for a surprisingly tasty combo. Here's how she does it.
She adds Medjool dates to her sandwich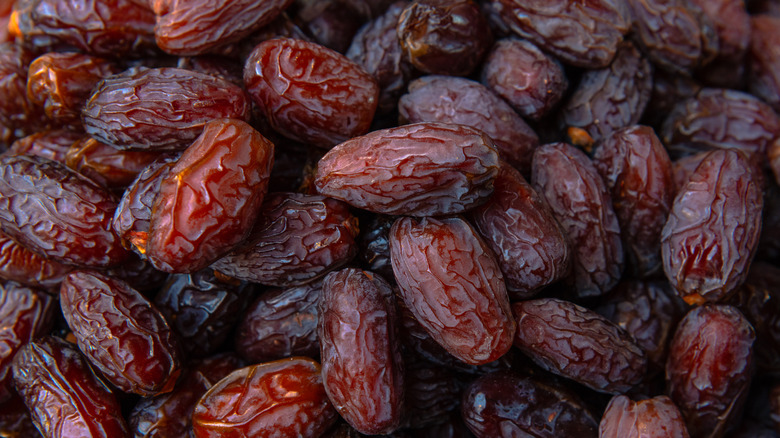 Shutterstock
In an episode of Bon Appétit's "Test Kitchen Talks @ Home," El-Waylly walks viewers through how she makes her go-to grilled cheese. The secret ingredient is whole dates, which are a rich and chewy fresh fruit. "I usually go for Medjool dates because they're nice and sticky and soft," she explains. The chef adds that she layers the whole dates between two slices of fresh-baked bread and two slices of Muenster cheese for that "ooey gooey" meltiness. El-Waylly's final trick? Frying the bread in sunflower oil for a crispy exterior texture. "It has it all," the cook raves of her creation.
The sweet and salty combination of the dates and the cheese is not one to be missed out on. Other chefs and foodies agree, including Rachael Ray. The Food Network star has her own recipe for a date grilled cheese sandwich — hers even includes slices of crispy bacon for added saltiness and crunch.