Healthy Lentil Bolognese Recipe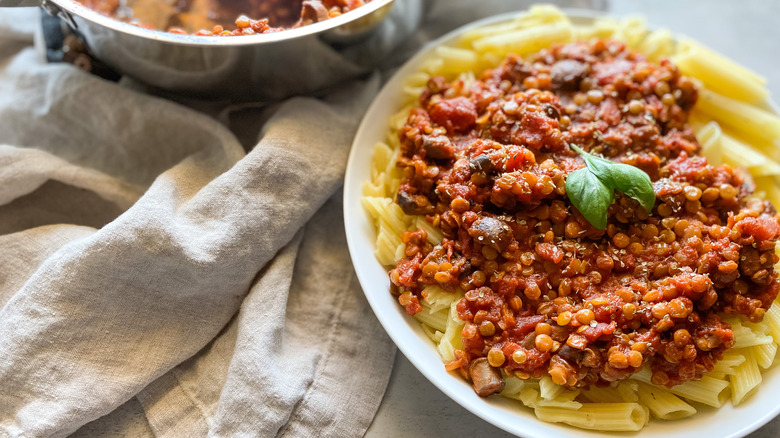 Kristen Carli/Mashed
Finding delicious vegetarian and vegan alternatives for classic comfort foods is not always obvious, but this healthy lentil bolognese recipe proves that it isn't always necessary to resort to products like Beyond Burger to mimic textures and flavors that are present in some meaty favorites. In traditional spaghetti bolognese, aromatic vegetables, tomatoes, and ground beef simmer low and slow to create a chunky texture that coats pasta perfectly. But if you take out the meat and add in some lentils, you'll end up with a tasty — not to mention healthy — version of bolognese that you'll want to serve every Meatless Monday (and other days of the week). 
Recipe developer and registered dietitian Kristen Carli of Camelback Nutrition & Wellness is always eager to share plant-based dishes. "As a mostly vegetarian, this dish is perfect for me! I love the flavors of this dish, decadent and flavorful, without the meat!" she says. 
Gather the ingredients for your lentil bolognese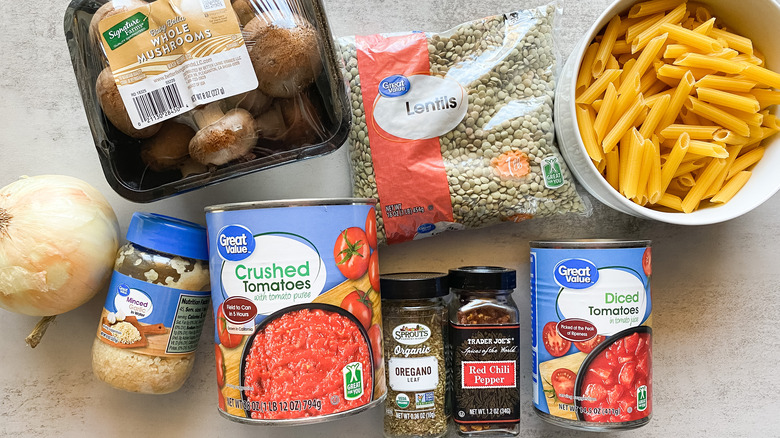 Kristen Carli/Mashed
The basic ingredients for this lentil bolognese are similar to the meat version, since the flavor profile resembles the original. First, you'll need some olive oil to sauté the vegetables. If you prefer to use a different oil in your cooking, you can stick to that. Next, onions and garlic provide an aromatic base for the sauce, and mushrooms add umami flavor, which is often attributed to meat. If you can't find baby bella mushrooms, Kristen notes that button or cremini would also work, but, "I wouldn't use shiitake here," she adds. 
Next, the star of the dish: green lentils. If you only have brown ones, Carli confirms that you can use those, but not all lentils will work. "Red lentils get very mushy upon cooking," she warns. The dish is simmered for a while to allow the dried lentils to cook, but you can also use canned lentils. "If you use canned, you won't need to simmer as long," explains Carli. 
Canned diced and crushed tomatoes complete the base of the sauce, making it perfect to spoon over a plate of pasta. And seasoning is kept simple, with dried oregano, red chili flakes, salt, and pepper. Finally, you'll want to serve this with cooked pasta for the full effect. Add some fresh basil to top it all off and you've got yourself a delicious meal!
Sauté the onions and garlic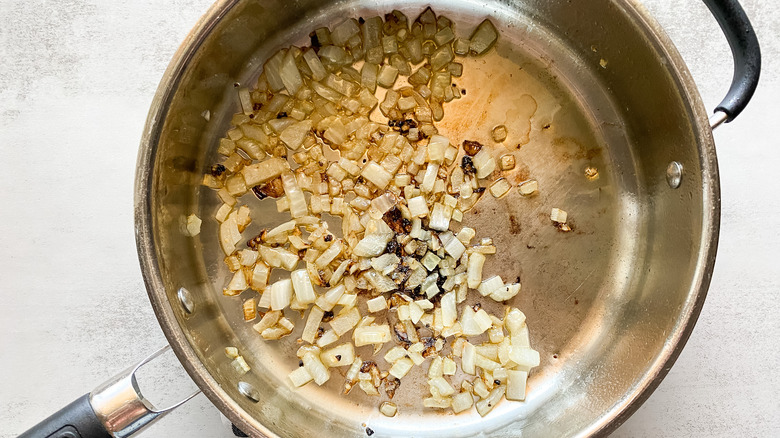 Kristen Carli/Mashed
The entire sauce can be made in the same skillet, so choose something flat and deep to hold all of the ingredients. Once the oil is warm in the pan, you can add in the diced onions and minced garlic, gently stirring to avoid any sticking. You want the onions to be translucent, which should take about five minutes. This step will help the onions soften and release their sugars, creating heavenly caramelized aromas. 
Add the mushrooms, tomatoes, lentils, water, and seasoning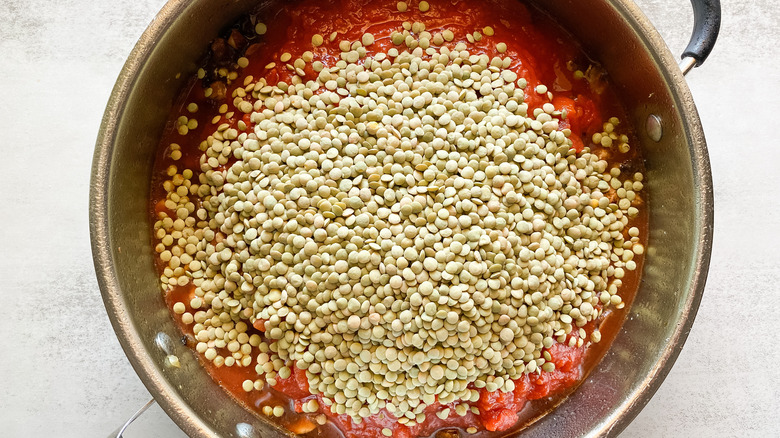 Kristen Carli/Mashed
Once the onions are ready, add in the diced mushrooms and keep cooking and stirring for another five minutes. The mushrooms should shrink as they lose water. At this point, empty the contents of the canned diced tomatoes and crushed tomatoes into the pan. Then, add the dried lentils, water, dried oregano, red chili flakes, salt, and pepper. Stir all of the contents to properly combine them — the lentils should be coated by the mixture to help them cook evenly in the pan. 
Bring to a boil then simmer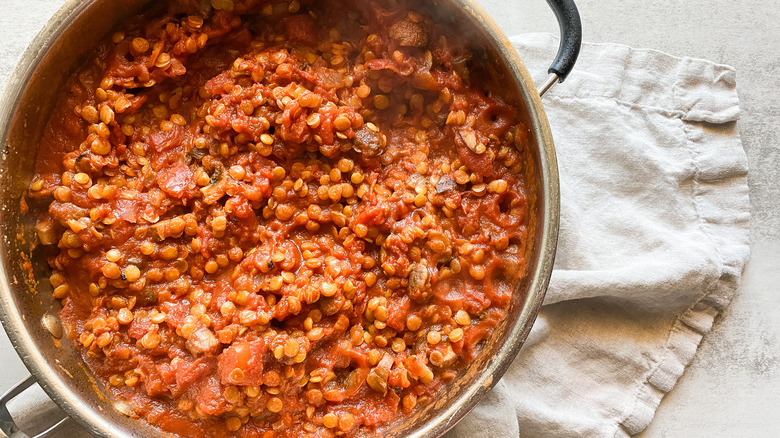 Kristen Carli/Mashed
From medium heat, raise the stovetop setting to high. Allow the mixture to come to a boil, then lower the heat down to a simmer for slow and even cooking. By reducing to a simmer from a boil, you'll have better control over the temperature. Simmering the sauce over lower heat helps the flavors infuse into the liquids and combine more thoroughly, but it'll still be hot enough to allow the lentils to become tender and absorb all of the juices in the sauce. 
Cover and cook for 20 to 30 minutes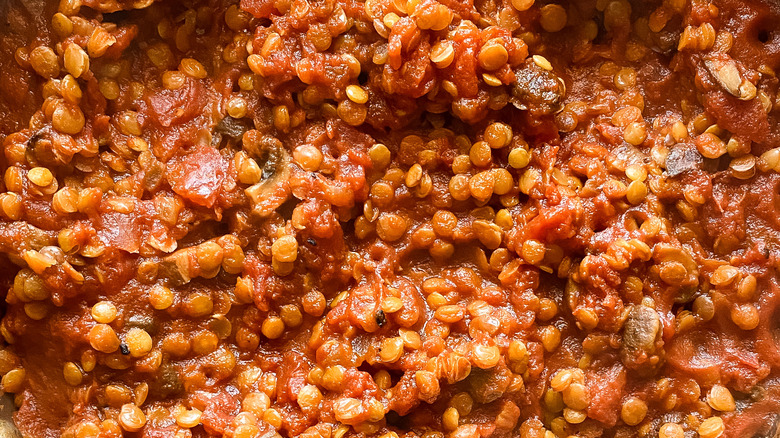 Kristen Carli/Mashed
Once you've brought the sauce down to a simmer, cover the pot with a lid, and cook the bolognese for 20 to 30 minutes. Check on the contents occasionally to ensure they don't rise to a boil again. If you're using canned lentils, this step won't take as long since the lentils are already cooked. By covering the pot, the flavorful juices and aromas will be continuously absorbed by the sauce, which also retains the nutritional value of the ingredients. As the time comes to an end, you can test the doneness of the lentils — they should be tender, but a little bit of chewiness is fine. 
Serve on top of cooked pasta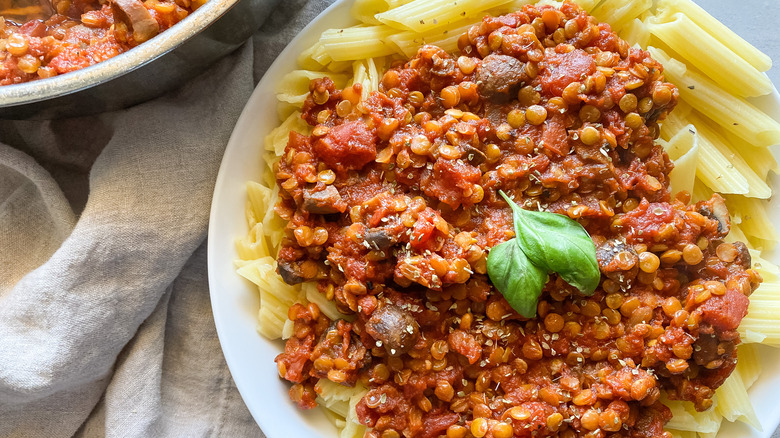 Kristen Carli/Mashed
Prepare your pasta while your sauce finishes simmering. Alternatively, squash, zucchini noodles, or other spiralized vegetables are great substitutes. "This is delicious over spaghetti squash, which is how we ate it this week," says Carli. Those substitutions are ideal for anyone who follows a gluten free diet, and are a scrumptious way to add more vegetables to your meal. 
In your serving dish, place your pasta, squash, or whichever base you choose, and scoop the lentil bolognese on top. Add some fresh basil and parmesan if you want, and you're ready to dig in. 
Carli suggests keeping the sauce in an airtight container in the fridge for up to seven days. You can also make a large batch and freeze some portions so that you always have this delicious plant-based option available for pasta night. 
Healthy Lentil Bolognese Recipe
This healthy lentil bolognese recipe proves that it isn't always necessary to resort to products like Beyond Meat Burgers to mimic textures and flavors.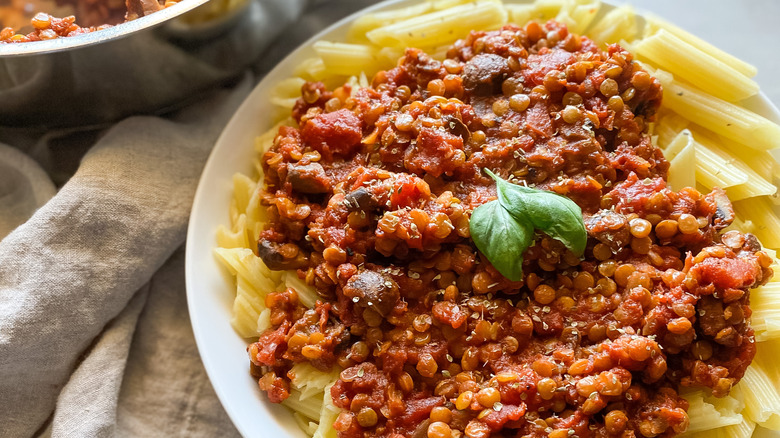 Ingredients
1 tablespoon olive oil
½ yellow onion, diced
1 teaspoon garlic, minced
8 ounces baby bella mushrooms, diced
1 (15-ounce) can diced tomatoes
1 (28-ounce) can crushed tomatoes
1 cup green lentils, dried
1 cup water
½ teaspoon dried oregano
¼ teaspoon red chili flakes
1 teaspoon salt
½ teaspoon pepper
Cooked pasta, for serving
Optional Ingredients
Fresh basil, for serving
Grated parmesan cheese, for serving
Directions
Add the olive oil to a large skillet over medium heat.
Once the oil is hot, add the onion and garlic.
Sauté for about 5 minutes until the onion is translucent.
Add the diced mushrooms and continue to cook for 5 more minutes, until the mushrooms reduce in size.
Add the diced tomatoes, crushed tomatoes, lentils, water, and spices. Stir to combine.
Bring the pot to a boil, lower the heat to a simmer, and cover the pan.
Cook the bolognese, covered, for about 20 to 30 minutes.
Serve the sauce over cooked pasta, with fresh basil and parmesan if desired.
Nutrition
| | |
| --- | --- |
| Calories per Serving | 411 |
| Total Fat | 5.6 g |
| Saturated Fat | 0.8 g |
| Trans Fat | 0.0 g |
| Cholesterol | 0.0 mg |
| | |
| --- | --- |
| Total Carbohydrates | 74.1 g |
| Dietary Fiber | 13.2 g |
| Total Sugars | 14.6 g |
| Sodium | 970.8 mg |
| Protein | 22.0 g |