McDonald's Is Seeing Record-Breaking Foot Traffic For 2021. Here's Why
Shutterstock
More people have been visiting McDonald's in the past couple of weeks than any time all year thanks to a new menu item that has some major star wattage. It's the BTS Meal, named after the Korean pop idol sensation, and it includes a 10-piece order of Chicken McNuggets, medium fries, a medium Coke, and sweet chili and Cajun dipping sauces. 
The fanfare for the meal has been so intense that one fan fetched almost $100,000 on eBay for one of her BTS McNuggets that looked like it was shaped like a character from the popular "Among Us" video game, according to Times of India. Even the promotional packaging is going for higher-than-market resale values online, says Fox News, with the food packaging, unopened sauces, and employee T-shirts getting top dollars.
The meal's significant buying power has gone beyond novelty and taken McDonald's turnout to new heights as well. According to Insider, the BTS meal has easily eclipsed the attention and sales of the restaurant's previous celebrity collaboration with rapper Travis Scott and has brought in the highest amount of foot traffic McDonald's has seen in all of 2021, despite the BTS meal only having hit menus on May 26. The deal, which will be available in 49 countries by June 25, has already caused foot traffic sales to spike by 12%.
The BTS collaboration has set the bar for fast food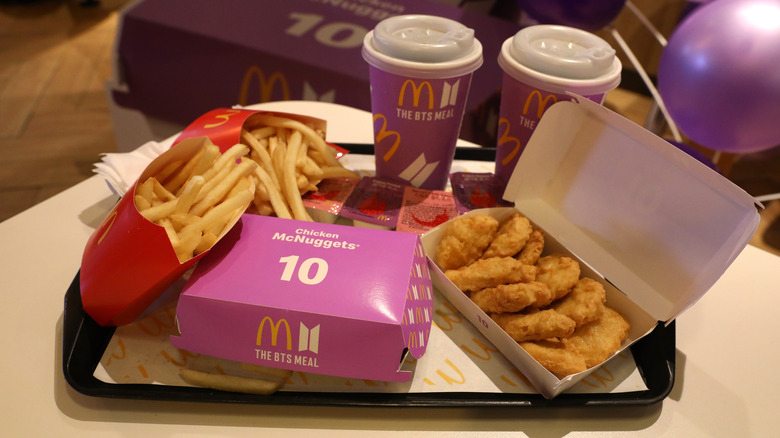 Chung Sung-jun/Getty Images
Business experts have praised the BTS meal, especially considering it features menu items that McDonald's already has on menus nationwide, with a little branding finesse. Meaning that, thanks to the celebrity endorsement, McDonald's can gain extra momentum without having to introduce and develop new food items. And because of that, these star-studded partnerships are likely to be a way of the future for fast food chains. As it turns out, it's just as lucrative for the celebrity too — in the case of Travis Scott, he netted a reported $20 million, according to Insider. 
But, while these numbers sound incredibly impressive, nothing compares to the launch of McDonald's Crispy Chicken Sandwich in February 2021, which raised foot traffic sales by 20% and added to the ongoing chicken sandwich wars. With any luck, the BTS meal can give the sandwich a run for its money, especially considering how much hype has already surrounded the partnership.
If you have a craving or are a big BTS fan, make sure to take advantage of this latest promotion while you have the chance to try it. With an item that can boost sales like this, McDonald's has stumbled on to a cultural phenomenon you don't want to get left out of — while supplies last.