Copycat Dunkin Iced Coffee Recipe
Susan Olayinka/Mashed
There's nothing like a refreshing iced coffee on a hot summer day, and if you're out and about, it's easy to swing by Dunkin' Donuts and pick up a frosty cup of the sweet brew. But what if you're home and get a hankering for a creamy Dunkin' beverage? Heading to the drive-through just for a coffee may feel like it's not worth the effort, but try telling that to your craving.
Fortunately, it's easy to make your own iced coffee beverage at home, and you'll swear the finished product tastes just like your favorite order from Dunkin' Donuts. Food blogger and recipe developer Susan Olayinka of The Flexible Fridge has come up with a tasty copycat recipe that comes together in just five minutes, and will trick your taste buds into thinking you've made a Dunkin' run without ever having to leave the house. Just whip a batch, let it chill in the fridge for a bit, and enjoy!
It's all about the coffee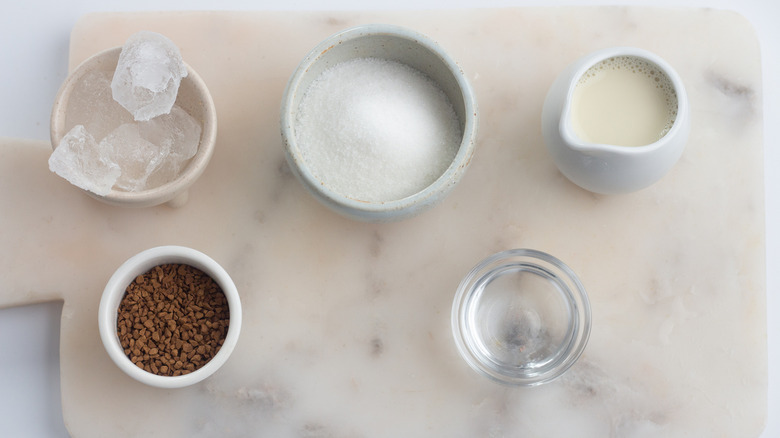 Susan Olayinka/Mashed
Obviously, the coffee is the star ingredient of this recipe, and it's easy to make it customized exactly to your taste. Olayinka's version of Dunkin' Donuts' iced coffee calls for your favorite brand of instant coffee, but you could easily swap that out for cold brew or regular coffee prepared using your preferred method.
The only other things you need for this recipe are sugar, milk, ice, and a couple of glasses. Throw in some fun straws if you want your iced coffee to look as good as it tastes!
Sweeten the deal
Susan Olayinka/Mashed
If you're using instant coffee, measure out 3 teaspoons and dissolve them in two cups of hot water in a large measuring cup. Mix in 2 tablespoons of sugar, stirring well until all the coffee and sugar is dissolved. A good mix is essential. Nothing's worse than a poorly mixed iced coffee. 
If you're using traditionally brewed coffee or cold brew, measure out 2 cups and dissolve the sugar in the coffee. It's important to note that it may take a little longer for the sugar to dissolve in cold brew.
Time to chill out your Dunkin' copycat iced coffee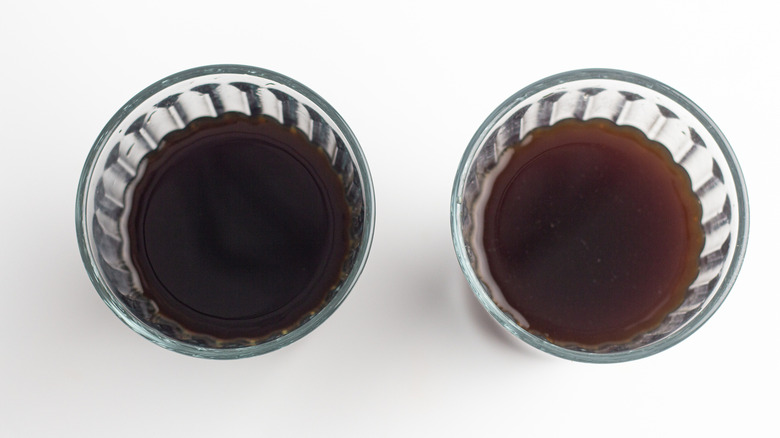 Susan Olayinka/Mashed
Now it's time to wait. Place the sweetened coffee in the fridge for around 45 minutes, or until it's chilled through. If you're making your coffee first thing in the morning, you can let it chill while you're going about your morning routine, and then serve it up once you're ready for your day. Another option could be to prepare the sweetened coffee the night before and let it chill while you sleep. This is our preferred choice, as it guarantees our coffee is chilled and ready to help us start the day the second we roll out of bed in the morning. 
Finish of the Dunkin' copycat iced coffee with some milk or creamer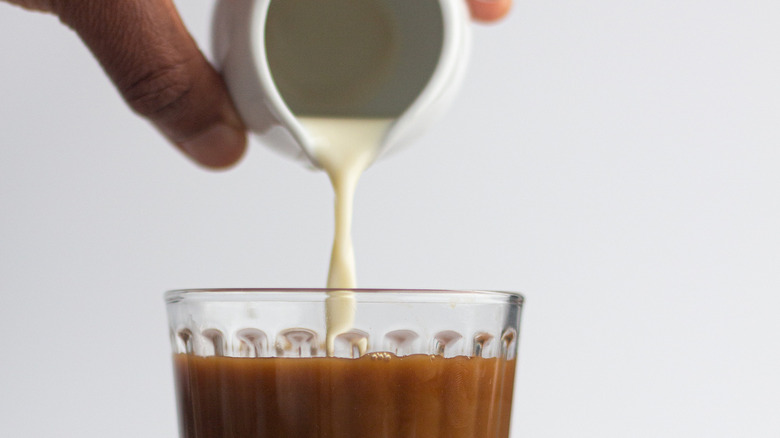 Susan Olayinka/Mashed
Once your coffee has chilled completely, it's time to serve it up. Divide the sweetened coffee between two glasses, then add about ½ cup of milk to each glass. Stir the coffee and milk together, add a few ice cubes to each glass, and you're ready to enjoy! Unlike ordering at the Dunkin' drive-thru, you can tweak the amount of milk or ice to your liking, making this the perfect beverage for your own individual tastes.
Customize your copycat Dunkin' iced coffee however you want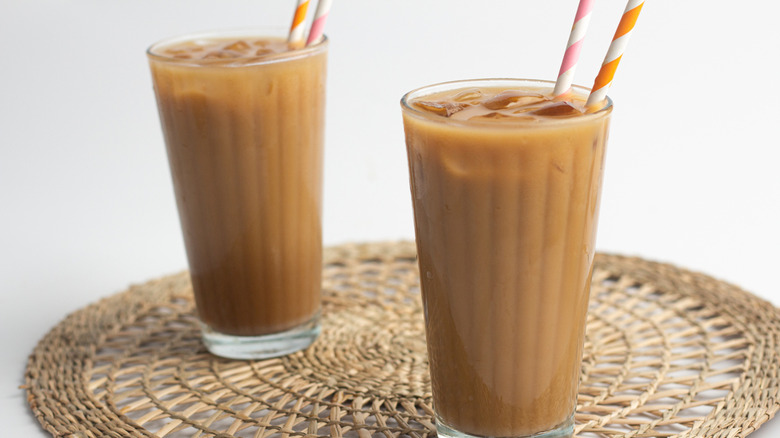 Susan Olayinka/Mashed
There are all sorts of ways you could change this recipe to make it your own. "Different flavors could be chocolate, hazelnut, salted caramel, mint chocolate chip, simple vanilla, toasted coconut," Olayinka says of the various kinds of coffee you could use. "The possibilities are exciting!!"
If you're dairy- or sugar-free, there are also ways to modify this recipe to your tastes. "Milk can definitely be subbed for vegan milk like almond or oat," Olayinka says. "And sugar can be subbed for honey or agave nectar. Or even a sweetener if you are sugar-free." If you'd prefer to make one big batch rather than preparing it by the glass, that's an easy change to make as well. "I would double or even triple the recipe if need be," Olayinka says. "Just be careful as the milk will start to separate, so this will keep well for 1-2 days."
Copycat Dunkin Iced Coffee Recipe
There's no need to make a run to the Dunkin' drive-thru when you can whip up their iced coffee in mere minutes right at home, and customize it to your liking.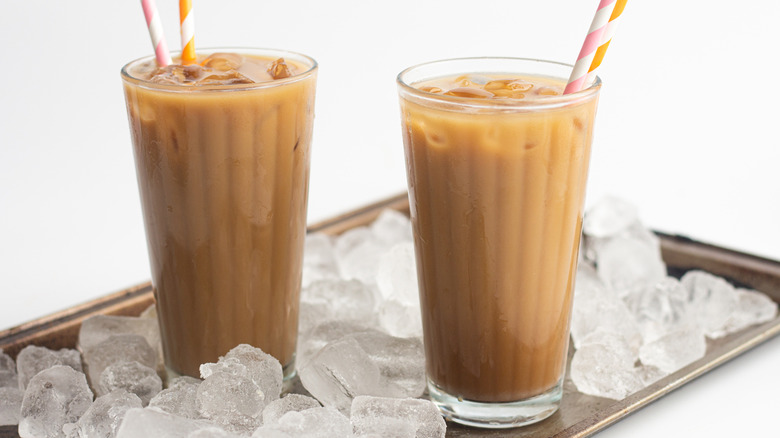 Ingredients
3 teaspoons instant coffee
2 cups hot water
1 cup milk, divided
2 tablespoons of sugar
1 cup ice cubes, divided
Directions
Begin the recipe by making the coffee: Place the instant coffee and sugar into a large measuring cup along with the hot water.
Give the drink a stir. Leave in the fridge for 45 minutes to cool.
Once it is cool, pour into two separate glasses.
Pour ½ cup milk into each glass.
Finally, place ½ cup of ice cubes into each of the glasses and serve immediately.
Nutrition
| | |
| --- | --- |
| Calories per Serving | 128 |
| Total Fat | 4.0 g |
| Saturated Fat | 2.3 g |
| Trans Fat | 0.0 |
| Cholesterol | 12.2 mg |
| | |
| --- | --- |
| Total Carbohydrates | 19.5 g |
| Dietary Fiber | 0.0 g |
| Total Sugars | 18.6 g |
| Sodium | 67.4 mg |
| Protein | 4.0 g |