Air Fried Zucchini Chips Recipe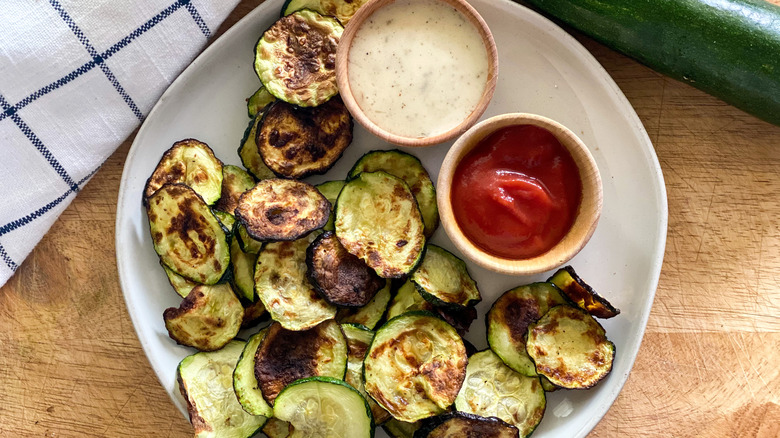 Miriam Hahn/Mashed
From broccoli to Brussels sprouts, air frying vegetables isn't just really quick and simple (though it definitely is). It can also be a great and healthy way to get your daily servings of veggies. Live Eat Learn explains that you can put just about any vegetable in your air fryer. Tender vegetables, like zucchini and tomato, are quicker cooking than their tougher offerings, like butternut squash and beets. 
There are a ton of health benefits that can come from including more zucchini in your diet. It's rich in vitamins and minerals like manganese, folates, and potassium. They're also rich in water and soluble and insoluble fiber so are great for digestion. What's not to love? Plus, if you're into gardening, chances are good that you'll be swimming in extra zucchini after a good growing season. So, if you're looking for a healthy alternative to chips this summer here's a great recipe for air-fried zucchini chips from Miriam Hahn.
Finding interesting ways to get different veggies into your diet can definitely help when getting your five a day. And if you fancy a nice little snack but want to put a healthy twist on it, then these easy air fried zucchini chips are for you.
Prepare your ingredients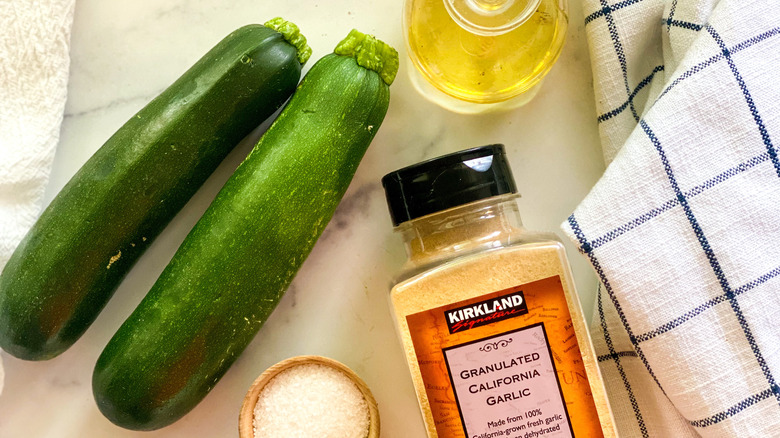 Miriam Hahn/Mashed
The beauty of this recipe is that it has relatively few ingredients and the cooking method is super simple, meaning that you can make it in a flash whenever the craving hits you. To make it, you'll need two zucchinis, two tablespoons of avocado oil, garlic granules, and salt. Really, that's it, though you're free to experiment with different seasonings once you feel that you've gotten the basic recipe down.
Though the preparation and cooking time for this recipe is super short and you could easily be chowing down within 20 minutes, Hahn explains that the zucchini chips aren't really something that you want to leave hanging around. "They won't stay crispy for very long, she says, "so this is a 'make and serve' right away type of recipe." However, she notes that it's easy to pop leftover chips back into the air fryer for a minute in order to get them up to their crispy texture again.
Slice the zucchini into rounds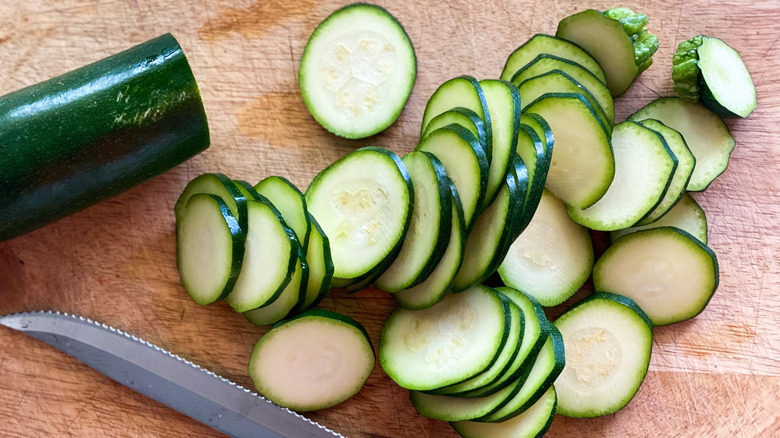 Miriam Hahn/Mashed
How thin you slice the zucchini will have a pretty significant effect on the final cooking time, so take care not to make the chips too thin (lest they burn) or too thick (which means they could take longer to crisp up). With a serrated knife or mandolin, cut out ⅛ inch slices of zucchini, making them as even as possible.
Slicing them thinly and evenly ensures that they won't take a long time to cook in the air fryer and they'll crisp up easily. If you don't have a serrated knife or mandolin then it's fine to use a normal sharp knife.
Salt the zucchini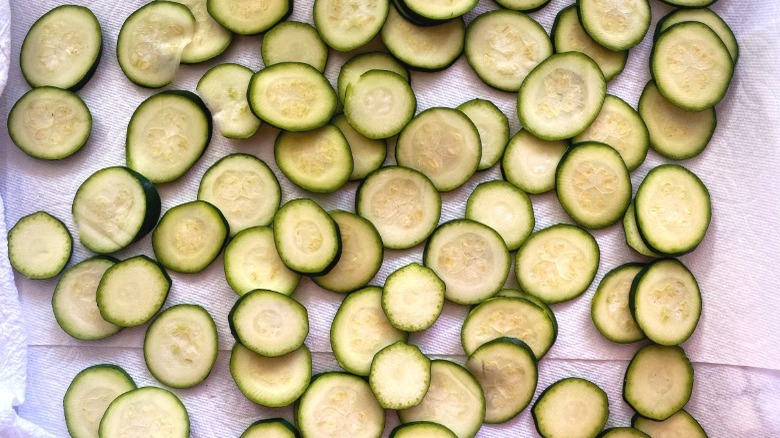 Miriam Hahn/Mashed
After you've cut the zucchini into their chip shapes, place a paper towel down on the kitchen worktop, then place your zucchini slices on the paper towel. Sprinkle them evenly with a ½ tablespoon of salt.
Ensure that all of the chips are getting even exposure to the salt and they aren't too crowded. You can leave the zucchini like this for 15 minutes. This will draw out a fair amount of moisture from the fresh zucchini, making it easier to crisp up the chips fast when you put them in the air fryer. Once those 15 minutes are up, pat the chips dry with more paper towels to get rid of any moisture that's come to the surface.
Cover the zucchini in the spice mix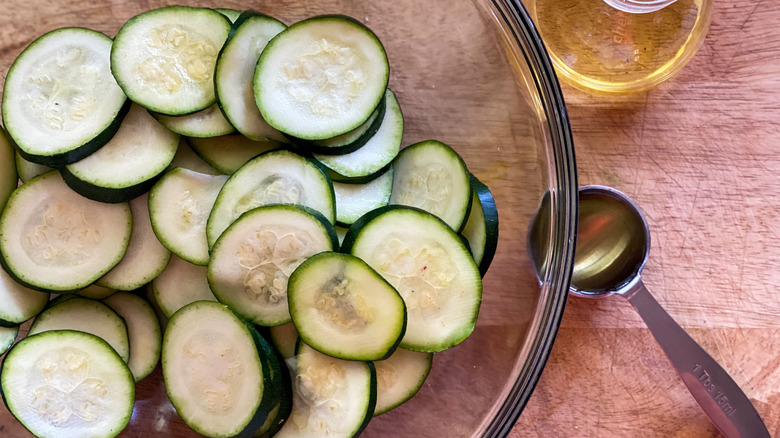 Miriam Hahn/Mashed
Put your salted zucchini slices into a large or medium-size bowl. Add all of your oil, the rest of your salt, and the garlic powder on top of the slices. Turn the contents over with a fork or your clean hands. Make sure that each piece of zucchini is coated evenly in the oil and spices so that each piece will cook evenly and will have the same amount of flavor.
Hahn notes that you can opt to use other spices when making your zucchini chips, so you can really tailor them to your own tastes. "Onion powder is good and also cumin works," she says. You might also consider a spicy variation with cayenne or, for milder palates, some fresh-cracked black pepper.
Cook the zucchini in the air fryer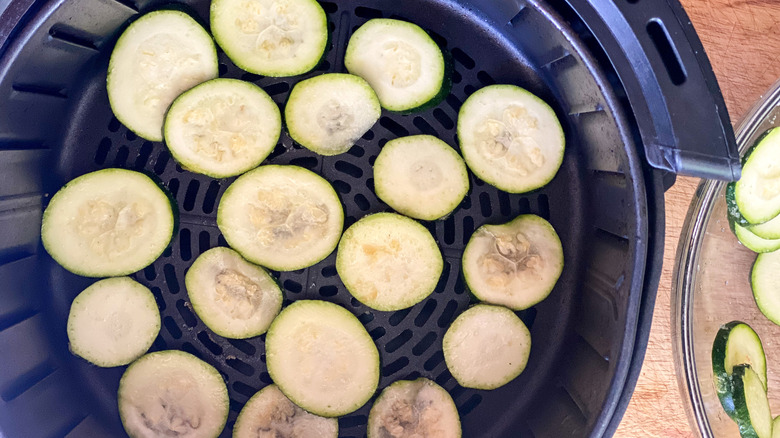 Miriam Hahn/Mashed
Once all of your zucchini chips are coated in oil and spices, you can start cooking them. Place each chip along the bottom of the air fryer so that they're in a single layer. Depending on your fryer and the amount of zucchini, you may need to cook in batches. Turn your air fryer up to 400 degrees Fahrenheit and set your timer for 8 to 10 minutes.
Hahn notes that the main thing to keep in mind at this point is to check your chips as they cook. "There is a really short window of time where they go from done to burnt. And every air fryer will be a little different," she says. "The good thing about air fryers is you can easily stop the cooking for a minute and check."
Cool and eat the zucchini chips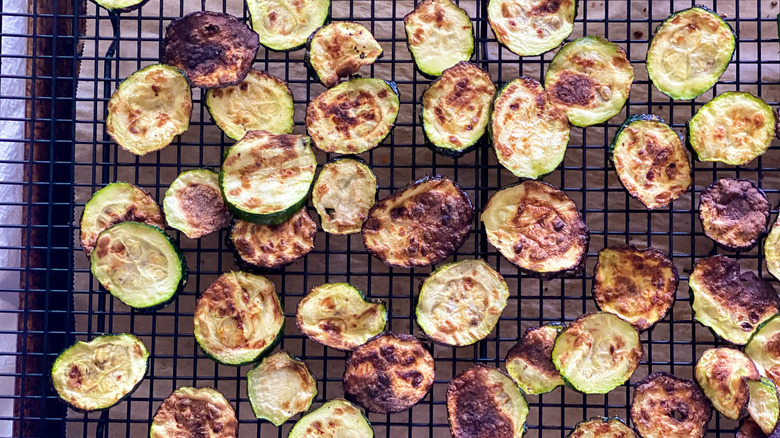 Miriam Hahn/Mashed
Once they're done, take the zucchini crisps out of the fryer and place them in a single layer on a wire rack. You'll know that they're ready when they are crisp but not so hot that you can't touch them. If you're doing more batches of chips, then you can begin your next lot now.
You want to eat your zucchini crisps fairly soon after making them, while they're still crispy and delicious. However, it isn't the end of the world if you wait and they get a little soft. Hahn notes that you can put them back into the air fryer for one minute, which should crisp them back up to snack perfection.
Alternative veggies to use in place of zucchini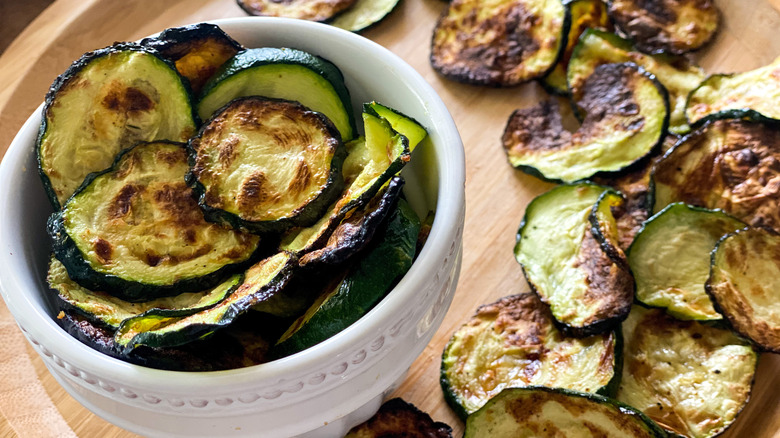 Miriam Hahn/Mashed
One of the most fantastic things about this recipe is that it works well with many vegetables. You can create a wide array of veggie crisps using just your air fryer and a few simple ingredients. That said, it's worth noting that different vegetables will have different cooking times, so you should only do one type of vegetable at a time and remember to check in on the vegetables to make sure they're cooking properly.
However, Hahn notes that cooking potato and sweet potato in this way works really well and can be super delicious. However, she notes that, due to how dense potatoes tend to be, they'll take a little longer in the air fryer to cook through and crisp up.
Air Fried Zucchini Chips Recipe
If you fancy a nice little treat but want to put a healthy twist on your snacking, then these easy air fried zucchini chips are just the thing for you.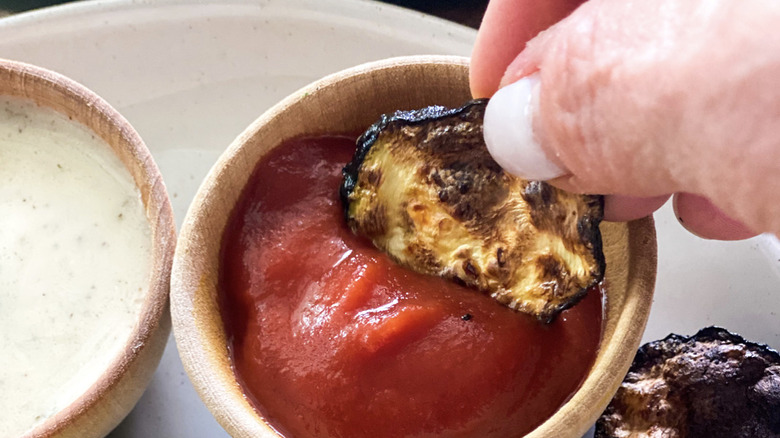 Ingredients
2 large zucchini
2 tablespoons avocado oil
½ teaspoon garlic granules
1 teaspoon salt, divided
Directions
Slice zucchini about ⅛" thick using a serrated knife.
Lay the slices out on paper towels and sprinkle with ½ teaspoon salt. Let sit for about 15 minutes, then pat dry with paper towels.
Put the slices into a bowl and add the oil, the rest of the salt, and the garlic powder on top. Mix until well coated.
Arrange the zucchini in a single layer in the air fryer. Set the temperature to 400 degrees Fahrenheit and the time to 8-10 minutes.
Cool finished chips on a wire rack. If you don't eat them right away, you can pop them back into the air fryer for a minute or so to crisp them back up.
Nutrition
| | |
| --- | --- |
| Calories per Serving | 180 |
| Total Fat | 15.0 g |
| Saturated Fat | 1.9 g |
| Trans Fat | 0.0 g |
| Cholesterol | 0.0 mg |
| | |
| --- | --- |
| Total Carbohydrates | 10.3 g |
| Dietary Fiber | 3.2 g |
| Total Sugars | 8.1 g |
| Sodium | 785.3 mg |
| Protein | 4.0 g |