Creamy Pasta With Pancetta And Peas Recipe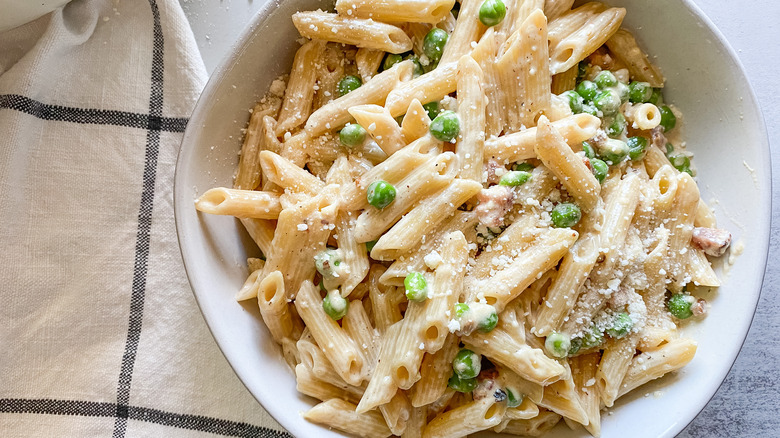 Kristen Carli/Mashed
Quick, pop quiz time! What dish takes less than a half-hour to cook and prep and is guaranteed to satisfy up to six adult diners, even those with hearty appetites? If you said creamy pasta with pancetta and peas, you're right. It's also a dish you can throw together at any time, considering that it's easy to keep these ingredients on hand. The components needed to make this meal are all, by varying degrees, freezer-, fridge-, or shelf-stable, so go ahead and make it a regular on the household menu. 
And don't worry if you yours is a household that tends toward take out over cooking: You can handle this one. According to chef, recipe developer, and registered dietician Kristen Carli: "This recipe is very easy. I would rate this as a three on a scale of one to 10, with 10 being very difficult." But when it comes to how you and your fellow diners will rate the taste? Well that there will be a 10, with 10 being absolutely delicious. And just a touch decadent, but hey, that's what a great Italian dish is all about, no?
Gather your ingredients for this creamy pasta with pancetta and peas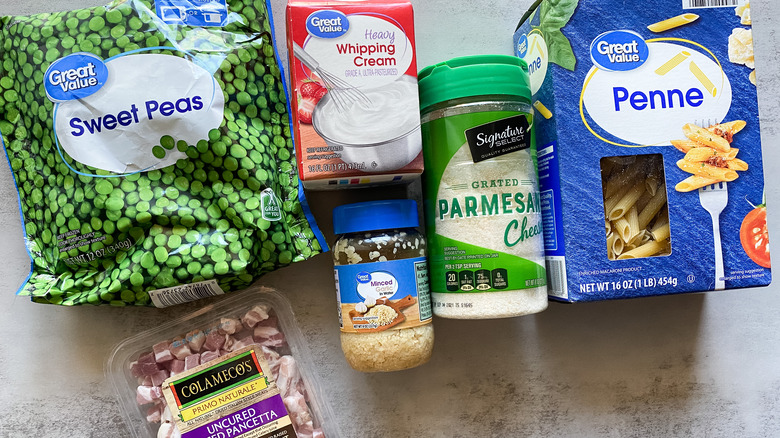 Kristen Carli/Mashed
This quick and easy recipe calls for just a few ingredients. You'll need a pound of penne pasta, diced pancetta, minced garlic, heavy cream, frozen peas, grated Parmesan cheese, and salt and pepper. But there's plenty of room for flexibility here.
"You could substitute bacon or prosciutto for the pancetta," says Carli, adding: "And you can use any noodle you like. I prefer short noodles so as to avoid slurping. Also, you can substitute asiago or goat cheese for the Parmesan if you want a slightly different taste."
Cook the pasta and the pancetta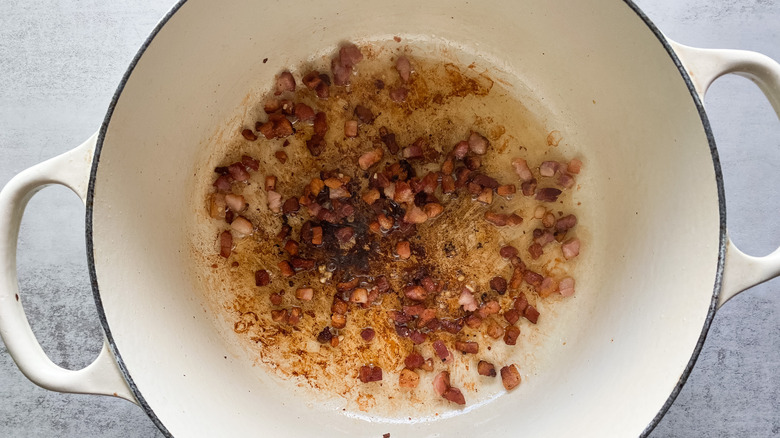 Kristen Carli/Mashed
Start the cooking off by bringing a large pot of water to a boil, and add a dash of salt to the water. Once the water is boiling away, add the pasta and cook it according to package directions. Then drain the pasta and set it aside, tossing it with a bit of oil if it will be more than a minute before you're ready to use it.
Meanwhile, while the pasta is boiling in its pot, put another large pot over medium heat and add pancetta. Cook until the meat gets crispy, which will take about eight minutes.
Add the other ingredients to the pot in order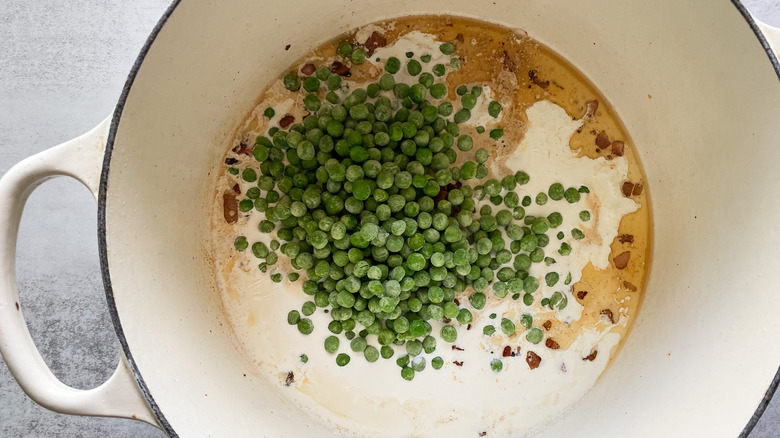 Kristen Carli/Mashed
Once the pancetta has cooked properly, add the garlic to the pot along with the meat and stir to combine the garlic and pancetta. Continue to let these two ingredients cook at medium heat for about one minute. Next, add the cream and peas, and stir to combine everything together. Let the liquid warm up until it comes to a simmer.
As soon as the pot reaches a steady simmer, remove it from heat and add Parmesan cheese. Stir the pot to combine the melting cheese together into the liquid and other ingredients.
Add the pasta, stir to combine, then serve and enjoy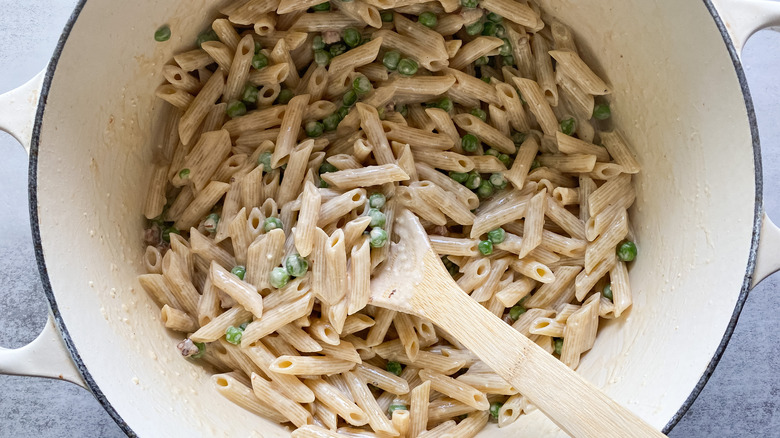 Kristen Carli/Mashed
As soon as all of the ingredients are combined and a good, thick sauce is forming, add the cooked pasta into the pot. Stir well to coat the noodles and mix all the ingredients evenly, and then it's time for dinner.
Want to fill this dish out some? "You can always add more veggies," Carli says. "I would throw in broccoli and sautéed kale. I also love to pair this with a big side salad." And if you have leftovers, she adds: "This keeps in an airtight container in the fridge for up to five days. When reheating, I would zap it in the microwave. This one is good cold too if you like eating leftovers cold — which my husband loves!"
Creamy Pasta With Pancetta And Peas Recipe
What dish takes less than a half-hour to cook and prep and is guaranteed to satisfy? If you said creamy pasta with pancetta and peas, you're right.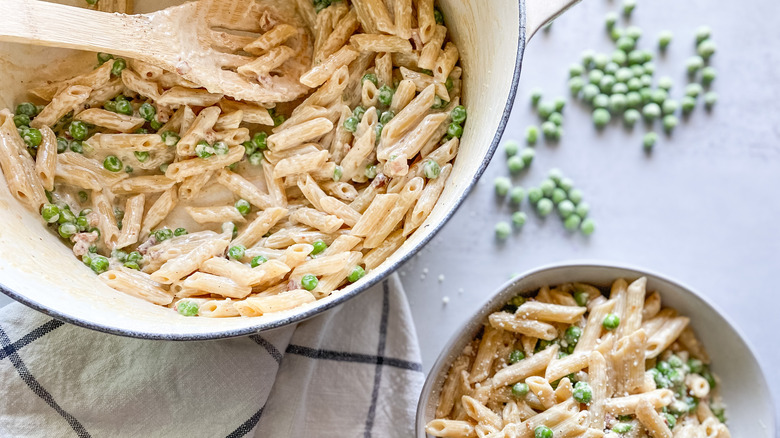 Ingredients
1 pound penne pasta
4 ounces diced pancetta
1 teaspoon minced garlic
1 cup heavy cream
1 cup frozen peas
1 cup grated Parmesan cheese
1 teaspoon salt
½ teaspoon pepper
Directions
Bring a large pot of water to a boil. Add pasta and cook according to package directions, then drain and set aside.
Meanwhile, in a large pot over medium heat, add pancetta and cook until crispy, about 8 minutes.
Add garlic to pancetta and continue to cook for about 1 minute.
Add cream and peas and stir to combine, then bring to a simmer.
Once simmering, remove from heat and add Parmesan and stir to combine.
Add pasta, stir well, then serve
Nutrition
| | |
| --- | --- |
| Calories per Serving | 612 |
| Total Fat | 29.8 g |
| Saturated Fat | 15.9 g |
| Trans Fat | 0.0 g |
| Cholesterol | 83.7 mg |
| | |
| --- | --- |
| Total Carbohydrates | 61.9 g |
| Dietary Fiber | 3.5 g |
| Total Sugars | 4.6 g |
| Sodium | 510.0 mg |
| Protein | 23.1 g |