Here's Why Honey And Truffles Are A Match Made In Heaven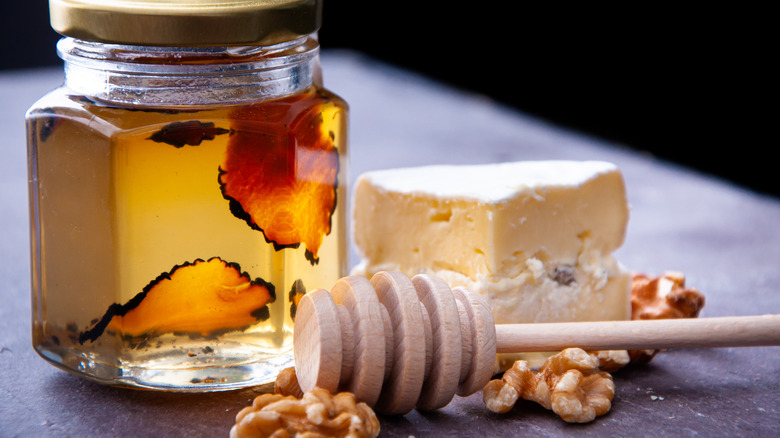 Shutterstock
Every once in awhile, you come across a food combination that is seemingly too good to be true. Whether it's on purpose or by total accident, these momentous occasions typically occur when opposites attract. One such combination is honey and truffles — and the reasons are quite obvious. Mixing together sticky-sweet honey with savory, creamy truffles results in a medley that's perfect for tasty, grilled sandwiches, fancy cheese boards, and eye-catching hors d'oeuvres platters. The flavors and textures not only complement one another shockingly perfectly, but they also bring out the best in each individual element.
Honey offers a soft and succulent mouthfeel with a mild taste that's not overbearingly sweet. By contrast, truffles are tender, aromatic, flavorful fungi that melt in your mouth, delivering a delightful culinary experience. Truffles are considered a very chic ingredient, mainly due to their rarity and fragility. The two of them are undoubtedly lovely solo, but when they join forces, nothing short of magic happens. Here are a handful of simple, classy, and delicious ways to enjoy these iconic ingredients simultaneously.
What makes the combination of honey and truffle so amazing?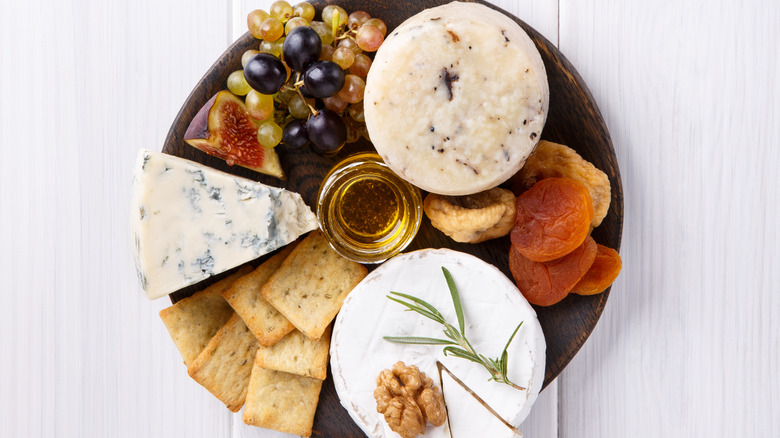 Shutterstock
You may be surprised by the number of different recipes you can whip up with the honey and truffle collab. According to WTAtruffles, a truffle shop based in London, one of the most effortless and appetizing ways to nosh on honey and truffles together is on a cheese board. Some of the best cheeses to pair with this combination include Pecorino, Parmigiano, Stilton, and Gorgonzola. Be sure to add a little bit of crunch to the cheese board with salty nuts, earthy crackers, and crisp fruits.
Speaking of cheese, honey and truffles also make an incredible topping for Camembert and Brie. Drizzle it on top of a baked wheel of briny goodness and dig in with some hearty crackers or pretzels! You can also mix together honey, truffle, Dijon mustard, salt, and pepper for a zesty sauce that's perfect for marinating meats and dipping and glazing potatoes and other veggies. For a simple breakfast or midday snack, spread it on toast or a bagel or crostini with ricotta cheese (via Food & Style). Some Reddit users also recommend sprinkling truffle honey on top of pizza for a sweet kick. Rachael Ray likes incorporating the two into fun and festive grilled cheese sandwiches.
New York-based cheese storage brand Cheese Grotto highly recommends this pairing, too. Honey and truffle are both extremely treasured foods that are the natural result of labor and love. As the website states, "Together, [honey and truffle] carry on a millennia-old tradition of working with nature and human ingenuity to create and preserve enticing foods that express the unique flavors of where they were grown or made."
Once you taste this incredible combo, you will have a new favorite go-to!