Spicy Thai Fried Rice Recipe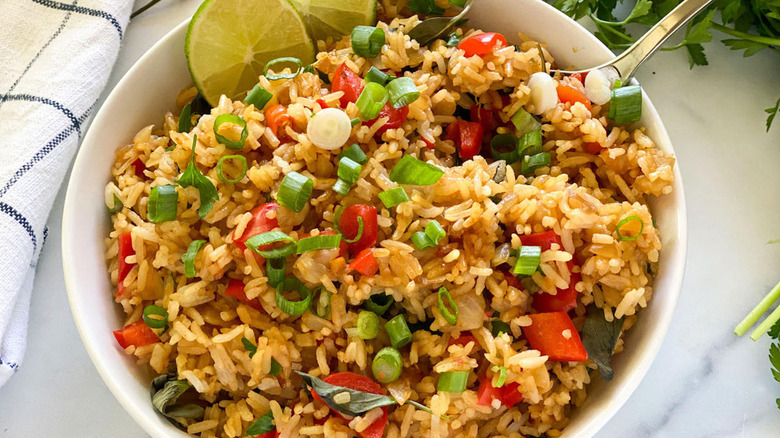 Miriam Hahn/Mashed
If you're a lover of spicy foods that you can prepare in under 30 minutes, then you're going to love this spicy Thai fried rice that you can whip together in no time if you have the rice prepared ahead of time. Recipe developer Miriam Hahn says this dish is "great as a base to any stir-fry," adding that it goes well with spring rolls, egg rolls, hot and sour soup, miso soup, or meat or tofu skewers. "I personally love serving it with tofu in the air fryer," she tells us.
The spice in this dish comes mainly from the Thai chilis. Hahn says that while these peppers may be small, they pack a lot of heat. If you are not fond of spicy hot foods, Hahn says you can simply leave out the chilis and still have a flavorful dish that goes well with a variety of foods.
Gather the ingredients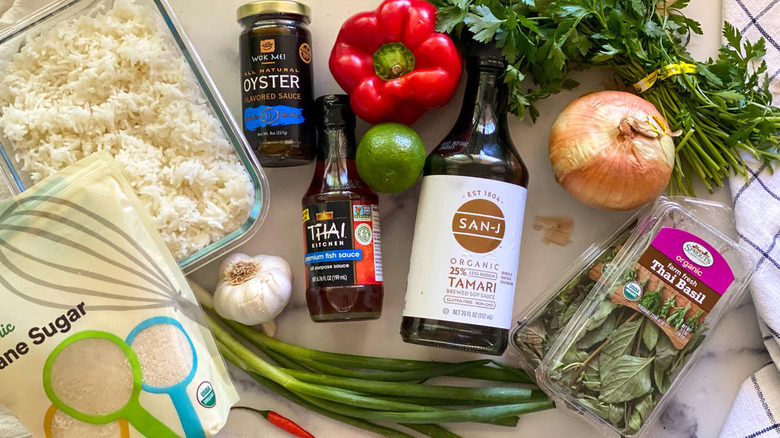 Miriam Hahn/Mashed
This recipe uses 4 cups of cooked white jasmine rice, which is one of the most aromatic types of rice you can find. Jasmine rice also has a number of vitamins and nutrients, including vitamins B1 and B6, selenium, manganese, and phosphorus (via WebMd). Other nutritious ingredients in this spicy Thai fried rice include garlic, onion, and red bell pepper. The Thai chili pepper, Thai basil, scallions, lime juice, cilantro, and oyster, fish, and soy sauces give this dish plenty of flavor. The sugar completes the fried rice by adding a sweet flavor.
Saute the onions, garlic, red pepper, and chilis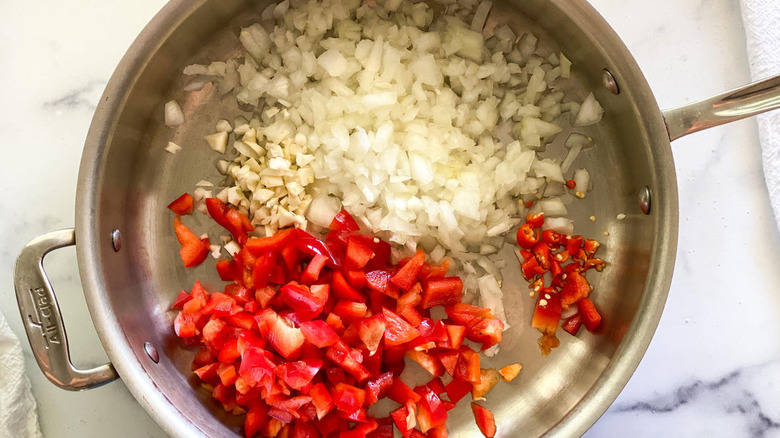 Miriam Hahn/Mashed
Since the rice is already cooked, this recipe is super quick to pull together. The first step is to add some water to a large or deep frying pan on a medium to high heat. Add the chopped onion, garlic, red bell pepper, and chilis to the pan and sauté for about 8 minutes. Add more water if you find the vegetables are getting dry too soon.
Mix and add the oyster, fish, and soy sauce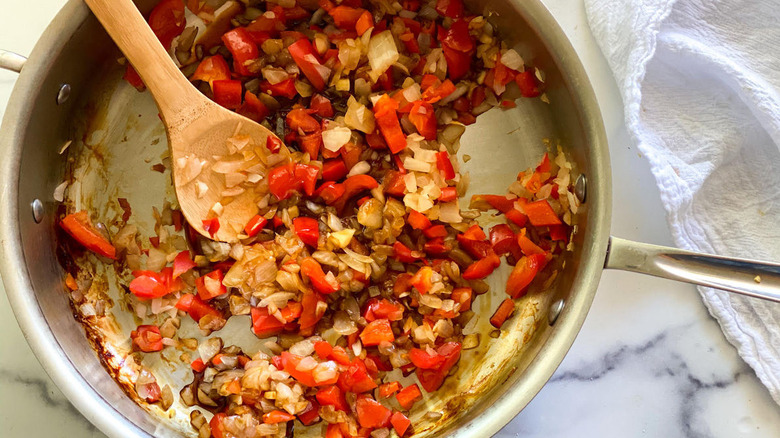 Miriam Hahn/Mashed
Add the oyster, fish, and soy sauces and sugar to a small bowl, and whisk to combine. The oyster sauce adds an earthy, sweet flavor to the rice while the fish sauce gives the dish an intense fishy flavor. The two flavors work well with the chilis to create a hot and savory blend. Add the mixture to the pan and stir until all of the veggies are covered. Hahn adds if you want to go with a vegetarian option, simply leave out the fish sauces and a few more tablespoons of soy sauce.
Add the rice, Thai basil leaves, and lime juice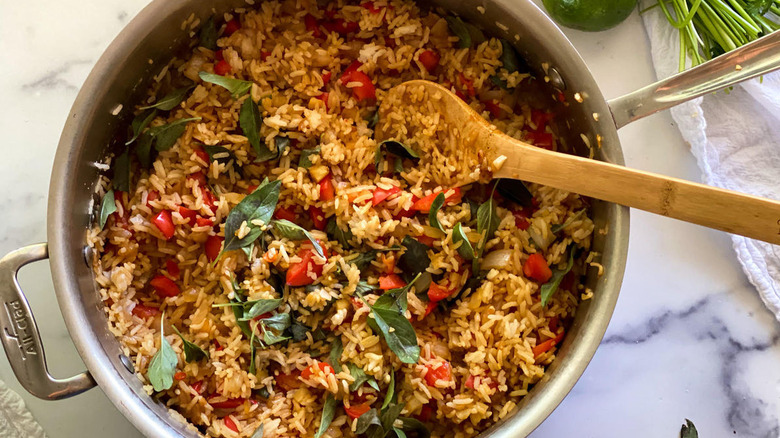 Miriam Hahn/Mashed
Once the vegetables are thoroughly combined with the sauce mixture, it's time to add the precooked rice to the pot. Add it to the mixture and cook on a low heat for about 4 or 5 minutes, or until the rice is heated through. When the rice is good and warm, it's time to stir in the Thai basil leaves and the lime juice.
Add the scallions and cilantro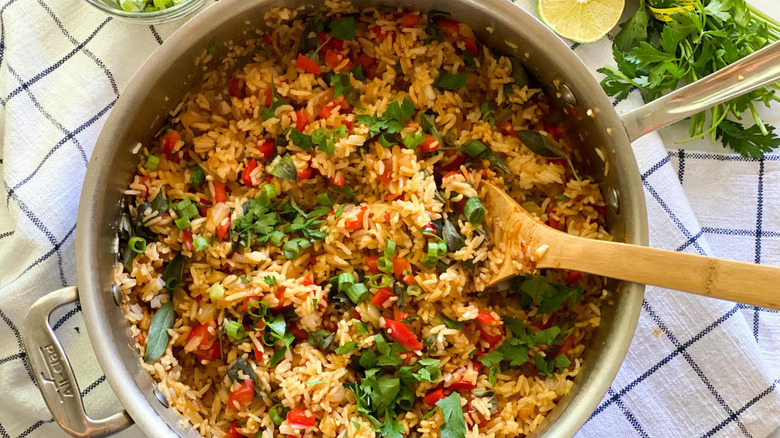 Miriam Hahn/Mashed
Top the dish with chopped scallions for some crunch and cilantro for an extra zing of flavor. Garnish it with any remaining lime slices for some added freshness. Hahn says this spicy Thai fried rice is a fun dish to have when you want something a little fancier than plain rice that also gives you lots of flavor. The only thing left to do is serve and enjoy this rice dish bursting with flavor!
Spicy Thai Fried Rice Recipe
In the mood for fried rice? Spice up your side dish with this spicy version of the dish, complete with Thai chili peppers for that added heat you're craving.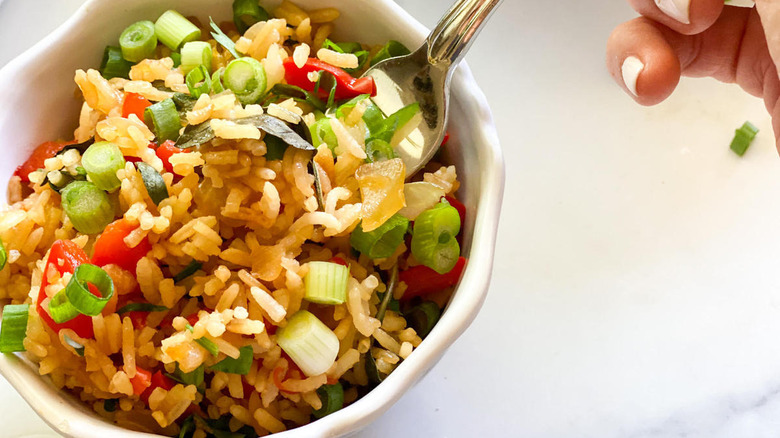 Ingredients
3 tablespoons water
1 onion, chopped
3 garlic cloves, minced
1 red pepper, chopped
2 Thai chilis (more or less, to taste), chopped
3 tablespoons oyster sauce
2 tablespoons fish sauce
1 tablespoon soy sauce
1 teaspoon sugar
4 cups cooked jasmine rice (chilled)
1 cup Thai basil leaves (loosely packed)
1 lime, juiced (can use more, to taste)
3 scallions, chopped
½ cup fresh cilantro, chopped
Optional Ingredients
Directions
Add the water to a frying pan and set to medium-high heat.
Add the chopped onions, garlic, red pepper and chilis to the pan. Sauté for about 8 minutes, adding more water if the pan gets dry.
Mix the oyster sauce, fish sauce, soy sauce, and sugar in a small bowl. Whisk to combine.
Add the sauce mixture to the pan and stir.
Add the rice and mix well. Cook for about 4 to 5 minutes on low heat until the rice is warmed up.
Remove the fried rice from heat and add in the Thai basil leaves and the lime juice. Top with chopped scallions, cilantro, and, if desired, lime slices, to taste.
Serve as a side dish.
Nutrition
| | |
| --- | --- |
| Calories per Serving | 179 |
| Total Fat | 1.4 g |
| Saturated Fat | 0.3 g |
| Trans Fat | 0.0 |
| Cholesterol | 0.0 mg |
| | |
| --- | --- |
| Total Carbohydrates | 37.5 g |
| Dietary Fiber | 3.9 g |
| Total Sugars | 3.6 g |
| Sodium | 874.6 mg |
| Protein | 4.9 g |