Easy Baked Hominy Casserole Recipe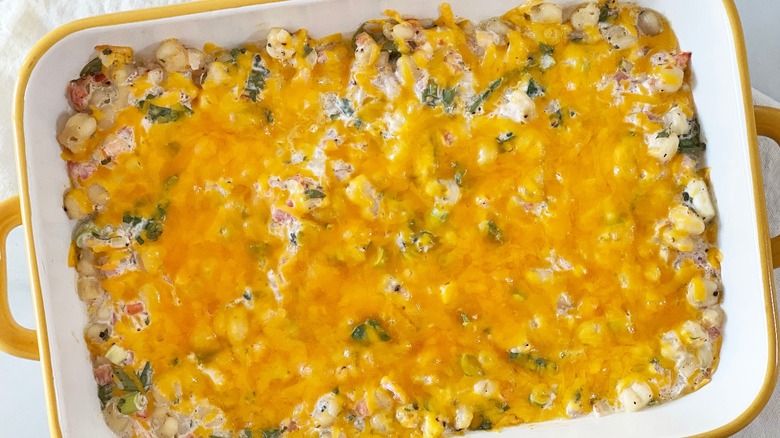 Jason Goldstein/Mashed
Perhaps you have heard of hominy casserole before. But have you ever wondered what it is exactly? Then you are not alone. Chef Jason Goldstein, who shares recipes and cooking tips at Chop Happy, explains, "Hominy is basically a corn kernel that is treated to get a puffed texture." The casserole part comes in when you bake the hominy with salsa, sour cream, cilantro, cheese, and seasonings. 
Yes, this dish is as simple as it sounds, with Goldstein joking about his hominy casserole, "The only way to mess this up is to eat it before anyone else gets a chance!"
"We eat this as a main, with a side salad," he explains, but this is far from the only way to enjoy some baked, cheesy goodness with every bite. You can use this casserole more like a dip with chips, or as a side with a burger. Goldstein notes  some folks might serve baked hominy casserole with pozole, a traditional Mexican soup. "But the possibilities are endless for all seasons of cooking," he adds. 
Gather your ingredients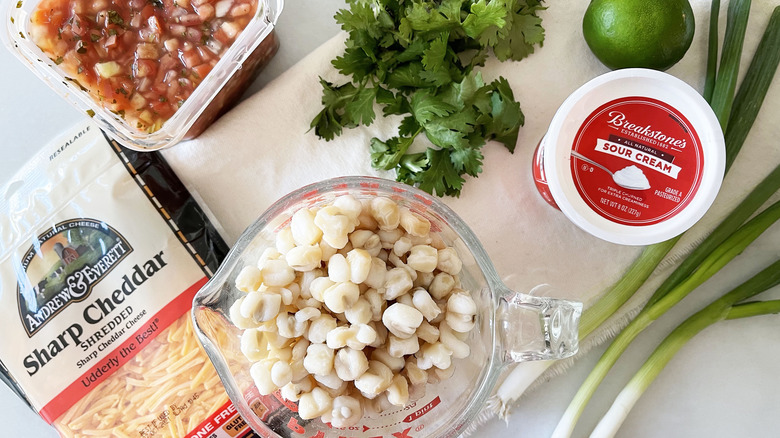 Jason Goldstein/Mashed
Baked hominy casserole comes together with just a few ingredients, and some you may already have on hand. Goldstein's recipe calls for 4 cups of hominy, which you will find in the canned food section of your local grocery store. Wondering what hominy tastes like? Well, it comes in white and yellow varieties, with the latter being sweeter, in case you prefer it, and has a "nutty" flavor, Goldstein tells us.
Meanwhile, you will also need a cup of your favorite salsa for this recipe. Go hot if you like, or mild. It's totally up to you! If you are feeling inspired, you can even make your own easy salsa. Then, grab some sour cream, cilantro, scallions, shredded cheddar cheese, and salt and pepper. Now, you are all ready to make your baked hominy casserole.
Chop and combine the ingredients in a bowl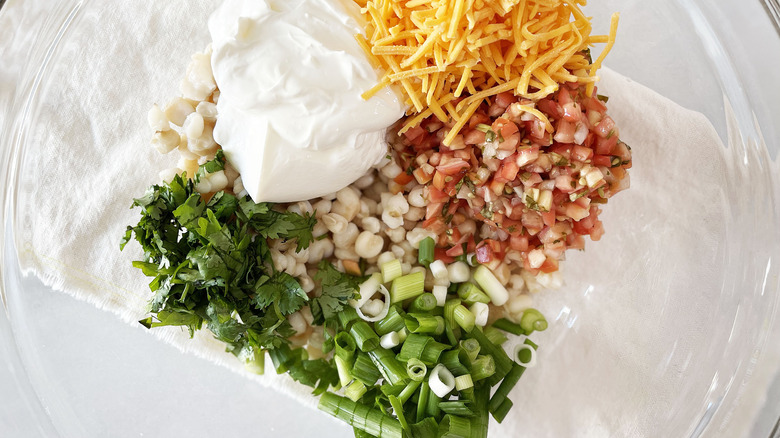 Jason Goldstein/Mashed
Before getting started with combining your ingredients for the casserole, go ahead and chop a hearty handful of cilantro as well as three scallions.
This recipe really is so easy, it only requires one bowl. Into said bowl will go all of your ingredients. How simple is that? So, add your hominy, sour cream, salt, pepper, cilantro, salsa, 2 cups of cheddar cheese, and scallions into the bowl. Gently fold everything together. 
You could even do something scandalous and mix your ingredients right in a casserole dish. If you do go this route, we won't tell anyone! Incidentally, Goldstein recommends using a 2-quart baking dish, and, at this stage, go ahead and heat your oven to 375 degrees Fahrenheit. 
Bake and serve your casserole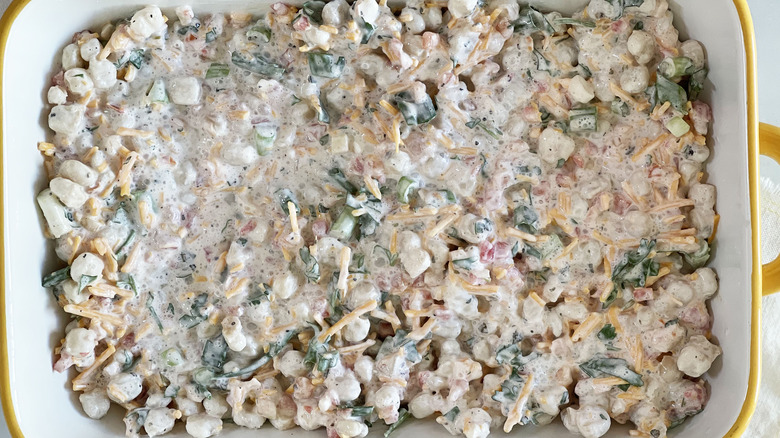 Jason Goldstein/Mashed
If you mixed your ingredients together in a bowl, pour the mixture into a 2-quart casserole dish. Before baking this easy dish, top it with another cup of cheddar. Because is more cheese ever a bad thing? 
Finally, place your casserole in the oven, and bake it for 20 minutes. Once the cheese is bubbly and the smell in your kitchen is too delicious to resist, dig in! 
Use leftovers throughout the week — how about trying this creamy, dreamy mix as a topping for a salad? The dipping idea is also too good to pass up. Or enjoy a reheated serving as a side with any variety of meals, including tacos or burgers or even atop rice.
Easy Baked Hominy Casserole Recipe
This baked hominy casserole is easy to make and is the perfect accompaniment to virtually any dish, from tacos and burgers to chilis and salads.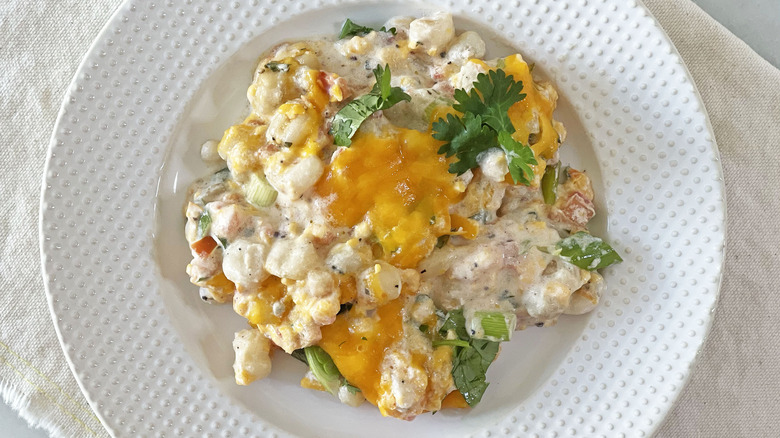 Ingredients
4 cups hominy
8 ounces sour cream
1 teaspoon salt
1 teaspoon pepper
1 handful cilantro, chopped
1 cup salsa
3 scallions, chopped
3 cups of shredded cheddar cheese, divided
Directions
Preheat the oven to 375 degrees Fahrenheit.
In a bowl, mix together the hominy, sour cream, salt, pepper, cilantro, salsa, scallions, and 2 cups of cheese.
Pour the mixture into a 2-quart casserole dish and top with the remaining cup of cheddar.
Place on a middle rack in the oven and bake for 20 minutes.
Enjoy as a side dish!
Nutrition
| | |
| --- | --- |
| Calories per Serving | 298 |
| Total Fat | 20.7 g |
| Saturated Fat | 11.6 g |
| Trans Fat | 0.5 g |
| Cholesterol | 58.0 mg |
| | |
| --- | --- |
| Total Carbohydrates | 16.0 g |
| Dietary Fiber | 2.9 g |
| Total Sugars | 3.9 g |
| Sodium | 801.1 mg |
| Protein | 12.6 g |