Bill Gates' Surprising Connection To McDonald's Fries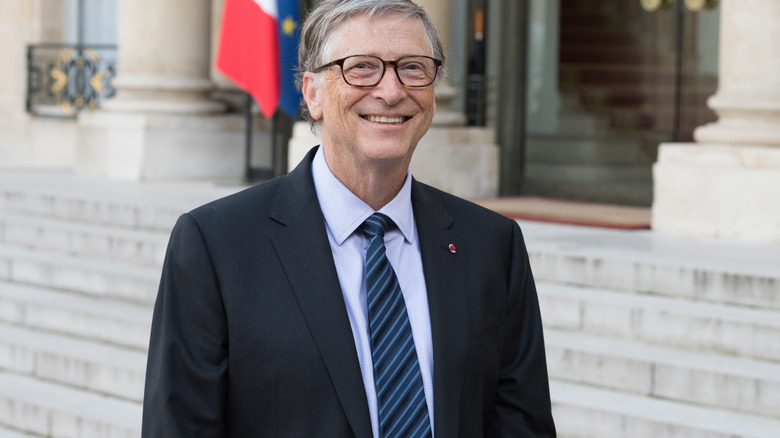 Over the last five years or so, the Tampa Bay Times reports that fast food chains have been making a real effort to improve how and from where they source their ingredients. The more consumers pay attention to the health and environmental impacts of what we eat, the more demand there is for transparency from restaurants — and a call for transparency that reveals better, cleaner ingredients. For example, as consumers become hipper to the effects of antibiotic-treated meat, chains have tried to cut back on their usage and have also been subject to grading systems on how well they're doing. Eat This, Not That! reports on these "restaurant report cards," gathered from a survey orchestrated by public health and environmental officials. In evaluating two dozen U.S. fast food companies, they gave Chipotle an "A" rating and IHOP an "F" for their use or non-use of antibiotic-treated meat. 
Vegetables are a little easier to source clean but are just as important to know about when it comes to origins. Coincidentally, a recent newsworthy divorce has created a new pocket of transparency regarding one very particular ingredient source for mega-chain McDonald's, and it all ties back to the ubiquitous figure Bill Gates.
Ever since the news of Bill and Melinda Gates' split was made public, it has easily become the biggest divorce news of the year. We are, after all, talking about a business magnate and the Microsoft co-founder who's the fourth richest man in the world, worth $145 billion, according to Bloomberg. As the couple, married for 27 years, enter presumably complicated divorce proceedings, the public is getting a closer look at the assets up for grabs. Which is how, as Business Insider reports, we have now learned that Bill Gates isn't just a technology mogul. He's also an incredibly successful potato farmer. Sort of.
Bill Gates: billionaire, tech mogul, and...farmer?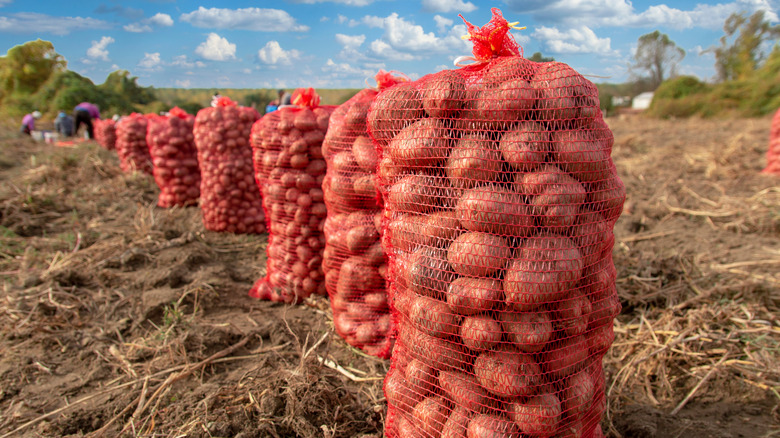 Bill Gates isn't spending his days doing any intensive labor to harvest potatoes, of course. However, media outlets like NBC have quickly uncovered that Bill Gates is actually the largest private farmland owner in the United States. According to Business Insider, he owns 269,000 acres spread out over 18 different states — that acreage is more than the total of New York City! 
Vox writes that 269,000 acres is, pardon the pun, small potatoes when you consider there's about 911 million acres of farmland available in the United States. The U.S. Department of Agriculture estimates other top owners only claim to have acreage in the 100,000 range, though, leaving Gates comfortably in the lead. Apparently, farmland is a smart, stable investment — we'll always need food, after all. People have wondered if Gates has all of this land as some element of his plan to improve the climate as well as repair environmental conditions (per Yahoo!), but it seems that his land ownership is much simpler than that — and is just one of many financial maneuvers by a billionaire. "My investment group chose to do this," Gates said of the farmland purchases in a Reddit AMA. "It is not connected to climate." 
In Louisiana, the farmland Gates owns grows soybeans, corn, cotton, and rice (via Yahoo!). Soybeans, too, are grown on Gates' land in Nebraska. In Florida, it's carrots, which go to one of the world's biggest suppliers. If you're cooking carrots for dinner tonight, there's a good chance they came from this plot.
You can thank Bill Gates for the potatoes McDonald's fries up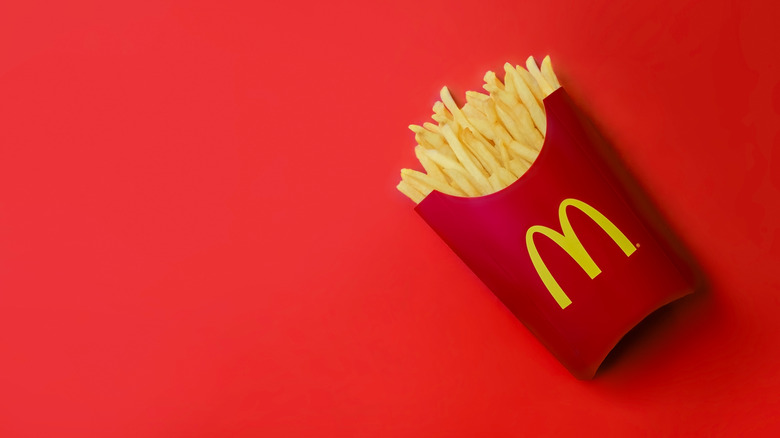 Shutterstock
It's Gates' farmland in Washington state, however, that is drawing the most attention. NBC reports that this plot is so large, it's visible from space. It's here that potatoes are grown, and these spuds supply McDonald's where they're turned into hot, salty, and perpetually popular French fries.
In 2018, Inc. reported that McDonald's buys 3.4 billion pounds of potatoes per year globally, and serves over 9 million pounds of fries daily. They're the biggest potato buyers in the world, according to Taste of Home. Even if Gates isn't responsible for the entire worldwide supply, that's still a lot of tubers.
Interestingly, Gates' investment firm sold its last shares in the world's largest independent McDonald's Corp. franchisee in September of 2020, reports Bloomberg. Gates is also a vocal advocate for eco-friendly synthetic beef (per Technology Review), placing him squarely on the outs with the Big Mac. For all of these decidedly broken ties with McDonald's, however, Gates remains the man behind one of the chain's most popular items in America with his farmland's huge potato output.  
TMZ broke the news that the Gates do not have a prenup, and will be splitting assets through a "separation contract." So, who knows: Melinda Gates could stand to join her soon-to-be ex-husband as one of the world's biggest potato sources, too.