The Real Reason Kate Middleton's Brother James Threw A Dinner Party For Dogs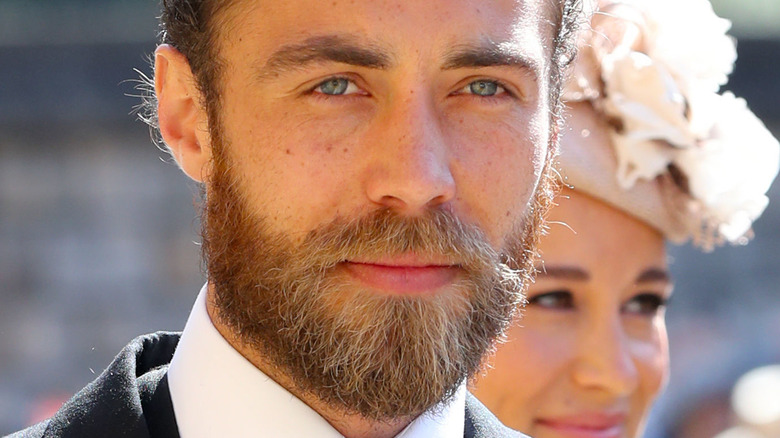 Wpa Pool/Getty Images
While Kate Middleton's younger brother James Middleton may not be as well-known as the rest of the royal in-laws, outlaws, and other members of the extended royal family, the one thing we do know about him is that this uncle to a future king is also the world's No. 1 Dog Dad. Even though he has a pretty girlfriend, fancy sports cars, boat, and all the other typical rich people accoutrements, his Instagram feed is an homage to his six dog babies: Ella, Zulu, Inka, Luna, Mabel, and Nala. His profile also reveals that he's started his own "happiness & wellbeing company for dogs" called Ella & Co (we're guessing Ella's the senior doggo in his pack), and he serves as ambassador to the U.K. charity Pets as Therapy.
Early on in the pandemic, James posted a tribute to his canine companions for their "friendship, comfort and unconditional love ... during this difficult time" and extended it to "give a big shout out to all our pets who our keeping us calm and helping us carry on!" He did more than just pay lip (or muzzle) service to his heroic hounds, though. Instead, he threw them their very own dinner party.
James Middleton's best friends were wined and dined in style
According to a few photos James Middleton posted to his Instagram in March 2020, he hosted an intimate soirée for some very special guests: his canine housemates. Four of his dogs are pictured sitting at a rustic wooden table decorated with a blue pottery jug filled with baby's breath. Matching plates of what appears to be Ella & Co's cold-pressed raw dog food (via Instagram) are in front of each guest, as well as a water goblet and a candle in a jar. Each dog's neck is also wrapped with a pretty pink napkin.
So why did Middleton choose to fête his furry friends? According to the caption, he was reminding people that it was possible to still be "socialising while social distancing." In fact, he called this human-free gathering the "#bestdinnerpartyever." According to the comments he received, most of his fellow dog lovers agreed, remarking on how "delightful" and "adorable" this "Mad Cockers Tea Party" was, as well as praising the well-mannered cutie pies in attendance. Perhaps next time we find ourselves stuck at home, we can all pass on the Zoom happy hours and throw our own pooch parties instead!