Copycat Chick-Fil-A Frosted Coffee Recipe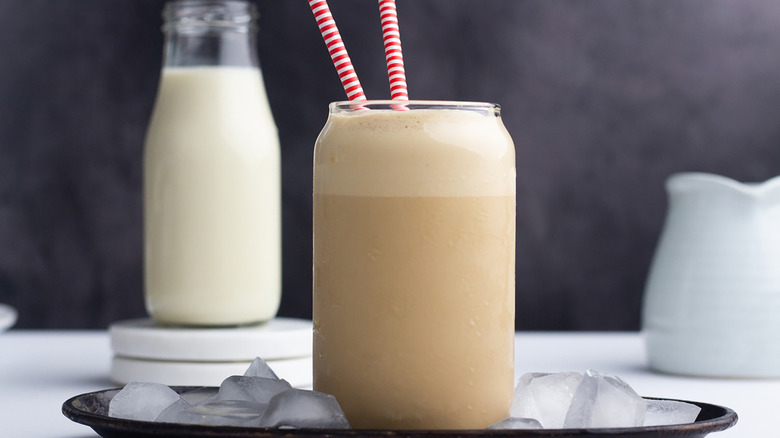 Susan Olayinka/Mashed
One of the best things on Chick-fil-A's menu is the Frosted Coffee. But what are we to do when it's midnight and Chick-fil-A is closed and we desperately need a our frozen coffee fix? Fortunately this deliciously cold drink is incredibly simple to whip up at home. 
Though you may not have the Chick-fil-A signature Icedream dessert to use in the recipe, good old-fashioned ice cream works just as well. Recipe developer Susan Olayinka found the perfect balance of ingredients to create this copycat Chick-fil-A Frosted Coffee. It all comes together in no time at all, and once you've made one of these of your own, you'll stop getting them from Chick-fil-A all together! They're that easy to make. (Okay, you'll probably still go for the chicken, which makes sense.)
Ahead, we'll provide the step-by-step instructions for making your own Frosted Coffee at home, along with a few coffee substitutions should you want them. Plus, we even came up with some new twists on the traditional frozen drink so you can try something new, too. 
Gather the ingredients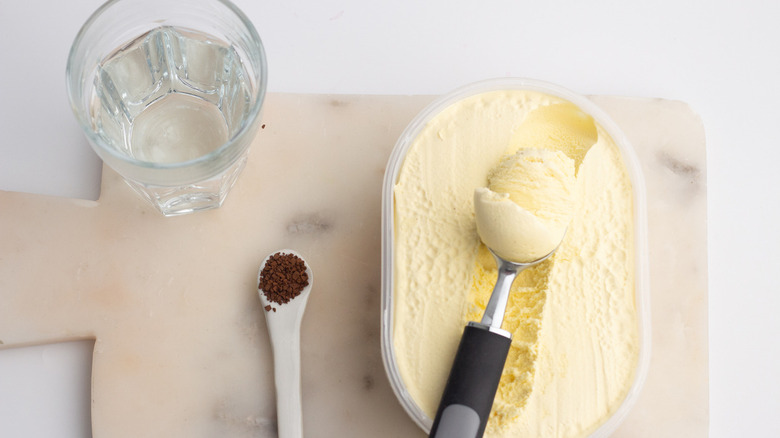 Susan Olayinka/Mashed
It doesn't get much easier than this recipe. It only requires three ingredients: instant coffee granules, hot water, and ice cream. For this recipe, though, you'll want to start putting it together in advance of when you actually want to drink it, because the instant coffee takes some time to come together. In fact, we recommend brewing your instant coffee and letting it cool for at least 40 minutes, so keep that in mind if you're following our recipe exactly for a copycat Chick-fil-A Frosted Coffee. For this recipe, you'll need to mix together the instant coffee granules and hot water in a glass or mug.
You could also use a coffee alternative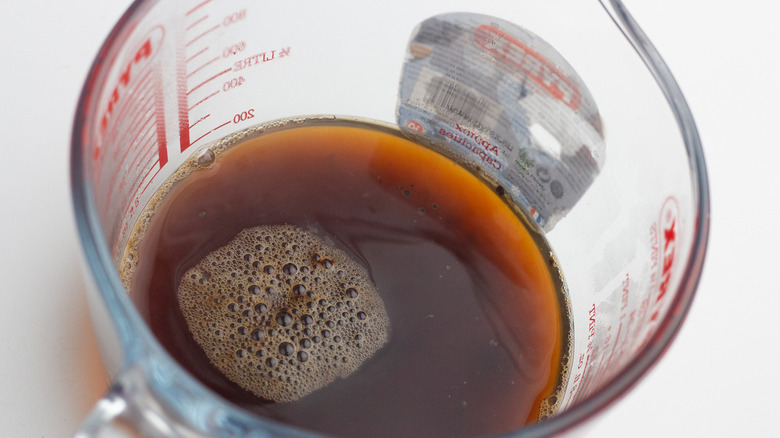 Susan Olayinka/Mashed
While our recipe calls for instant coffee granules, you could opt for a few other kinds of coffee. One route is to use the ever-popular cold brew. You can use your favorite bottled cold brew from the grocery store or even grab a cold brew from your favorite coffee shop for this. 
You could also brew a cup of coffee in your coffee maker and let it cool before making the drink. If you have an espresso maker, you could use espresso as well, but just keep in mind that espresso and cold brew are stronger, more concentrated coffee flavors, so you might need to adjust how much of it you use in the final frosted coffee.
Blend it all together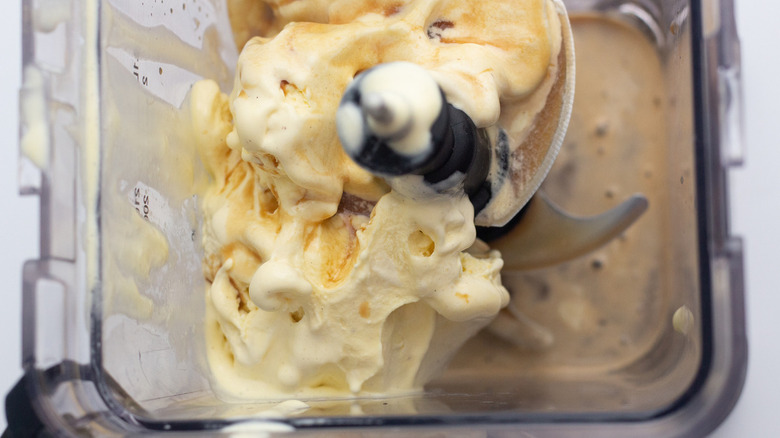 Susan Olayinka/Mashed
Step two of the recipe is to put it all together. (See, we said it was easy!) Put your ice cream in a blender with the cooled coffee and blend for 20 seconds or until fully combined and smooth. 
This recipe makes just one drink, but it's easy enough to make multiple by doubling or tripling the recipe, as long as your blender allows. 
Once all blended up, pour it into a glass and drink it right away. We don't recommend leaving this drink for later once it's made. It is ice cream, after all! 
You can also switch up the flavors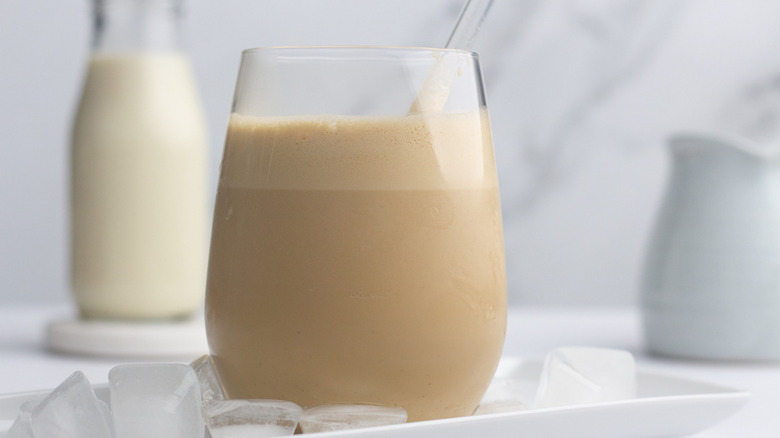 Susan Olayinka/Mashed
While this coffee and vanilla ice cream flavor is the traditional Chick-fil-A flavoring, you could branch out and come up with your own combinations for a new drink. Olayinka loves the idea of a salted caramel frosted coffee. For that, you could use a caramel ice cream and top the drink with a caramel drizzle and flaked salt. 
Get creative with the ice creams you use — you can try whatever flavor you think will blend well with the coffee flavor. 
Copycat Chick-Fil-A Frosted Coffee Recipe
If you're in the mood for Chick-fil-A's Frosted Coffee but can't get to the drive-thru, don't worry -- we've got your back with this delicious copycat recipe!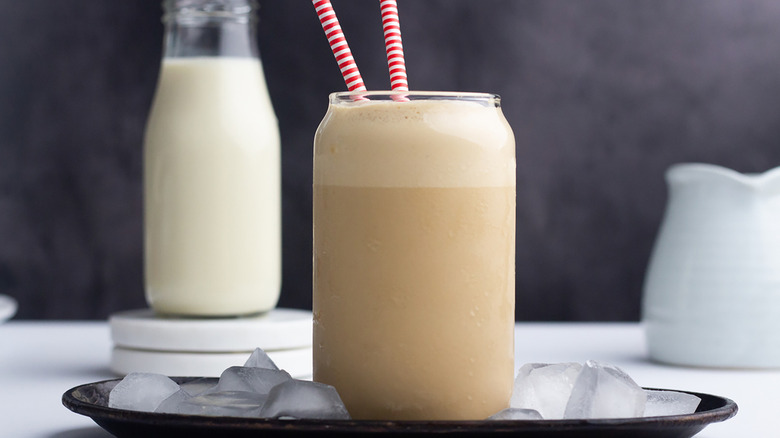 Ingredients
2 teaspoon instant coffee granules
1 cup hot water
2 cups vanilla ice cream
Directions
Place the instant coffee into a cup followed by hot water. Stir well, and allow to cool for 40 minutes.
Place the ice cream in the blender followed by the cooled coffee and blend on high for 20 seconds.
Serve in a glass and drink immediately.
Nutrition
| | |
| --- | --- |
| Calories per Serving | 553 |
| Total Fat | 29.1 g |
| Saturated Fat | 17.9 g |
| Trans Fat | 0.0 |
| Cholesterol | 116.2 mg |
| | |
| --- | --- |
| Total Carbohydrates | 63.8 g |
| Dietary Fiber | 1.8 g |
| Total Sugars | 56.0 g |
| Sodium | 221.4 mg |
| Protein | 9.5 g |