Slow Cooker Lasagna Recipe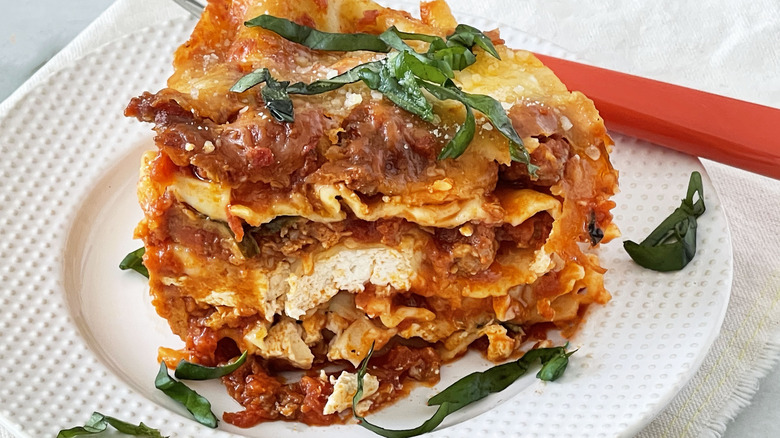 Jason Goldstein/Mashed
What's not to love about comfort food that practically makes itself? Thanks to slow cookers, you can whip up just about anything with minimal effort. This lasagna recipe by Jason Goldstein, chef and recipe developer at Chop Happy, is the perfect example. Goldstein's philosophy when it comes to cooking is to have fun and set yourself up for success by prepping ingredients first. Then, you'll be able to enjoy the process stress-free. This slow cooker lasagna recipe exemplifies his cooking style, and you can bet it's delicious. 
Although classic lasagna recipes are usually cooked in the oven, Goldstein loves this variation because "your personal chef — the slow cooker — does the work." Using a slow cooker allows you to plan ahead with some simple prep work, and return to the kitchen for a ready-made meal. This recipe makes a hearty lasagna that you can serve to a group or save for this week's meal prep. Don't worry about too many leftovers – no one will be upset if there's extra lasagna!
Gather the ingredients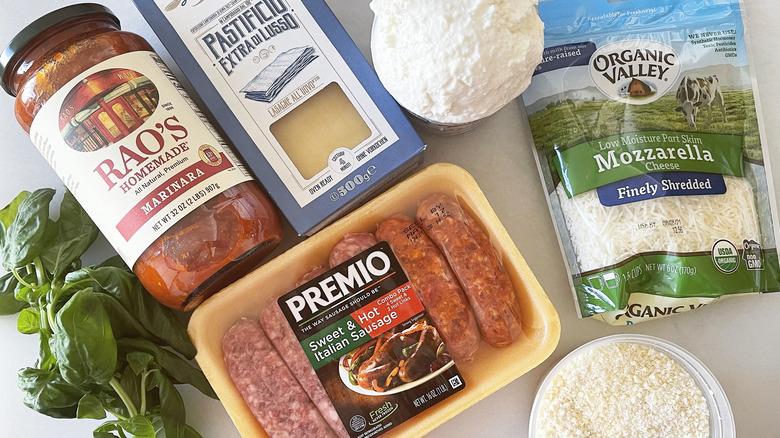 Jason Goldstein/Mashed
Follow Goldstein's advice and set up your ingredients so that you're ready to assemble the dish. You'll need some sweet and spicy Italian sausages, removed from their casings. If you're not a meat eater, Jason suggests "you can use Beyond Meat sausage or even just leave out the meat and add 2 teaspoons red pepper flakes and fennel seeds for extra flavor!" Next, you'll need some extra-virgin olive oil or your cooking oil of choice to fry up the meat. 
Goldstein uses store bought marinara sauce as a base but he says "you can use vodka sauce, or even Alfredo sauce". You can't have lasagna without lasagna noodles so be sure to have a package of those. Ricotta cheese adds a creamy layer so you won't want to skip it. Fresh basil leaves season the dish with their fragrant aromas, but if you only have dried basil it will work in a pinch. Finally, bring on more cheese – mozzarella and Parmesan make this lasagna extra cheesy – just the kind of comfort food we like. 
First of all, cook the sausages in a pan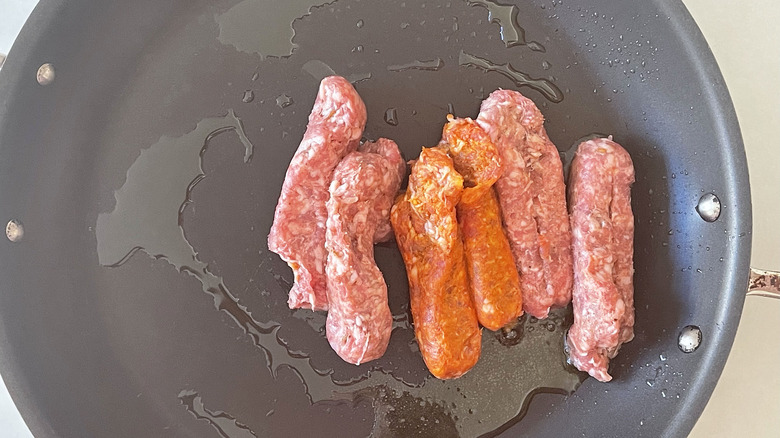 Jason Goldstein/Mashed
Heat a pan on the stove top on high heat and add the olive oil. When the oil has heated, add the sausages – make sure you have removed them from their casings – and cook them for 3 minutes. As they brown and cook in the oil, they will start to break up into ground meat. This is exactly what you want in order to distribute the sausage meat evenly throughout your lasagna. The combination of sweet and spicy sausages will add plenty of rich flavor to the lasagna sauce.
Add marinara sauce to the pan and keep cooking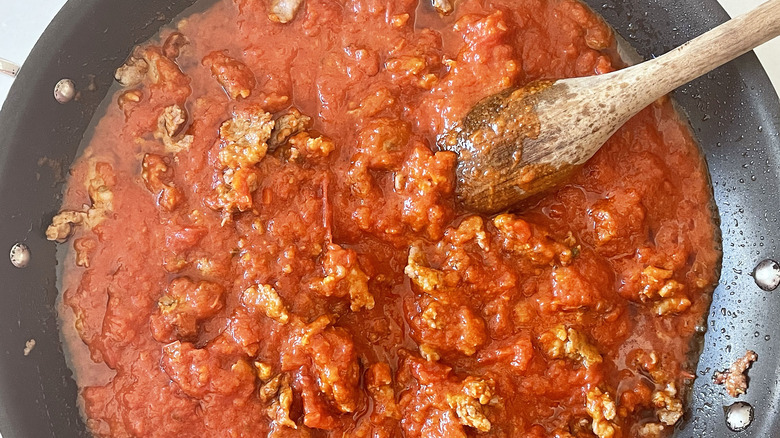 Jason Goldstein/Mashed
As the sausage meat starts to brown, reduce the heat of the burner. Add the marinara to the pan, and stir it together with the sausages to combine everything. Cook the sausages and the sauce for an additional minute. The sauce will spend plenty of time absorbing flavors as it cooks in the slow cooker so there's no need to leave it on the stove top any longer. 
Pour the sauce on the bottom of the slow cooker pot, and top with lasagna noodles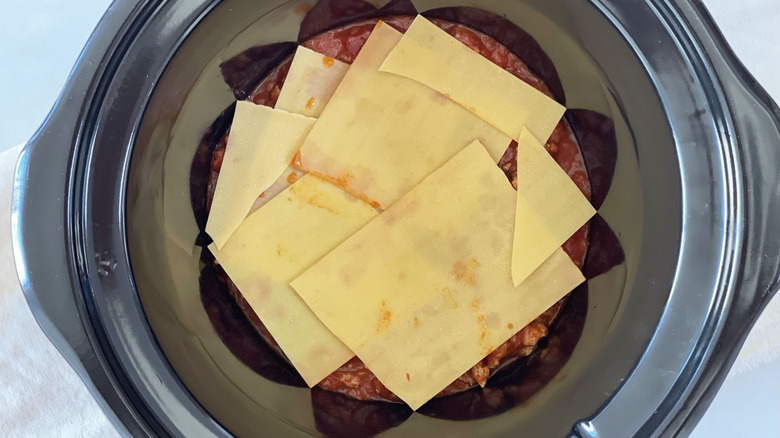 Jason Goldstein/Mashed
Pour enough of the sausage and marinara sauce mixture into the slow cooker so that the bottom of the pot is covered — we'll be making about three more layers, so use about 1/4 of the mixture. Then, top the sauce with the dry lasagna noodles. If need be, you can snap some of the larger pasta slices into smaller pieces in order to cover all of the sauce. This will ensure proper coverage between layers, which is key for a perfectly stacked lasagna. 
Spread ricotta on top, then add basil, Parmesan, and mozzarella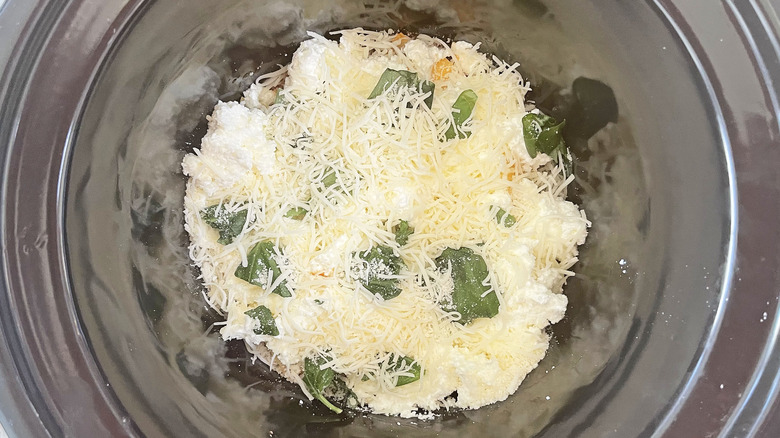 Jason Goldstein/Mashed
Next, it's time to get cheesy! Start by adding 4 tablespoons of ricotta on top of the noodles, spreading it evenly with a spoon or spatula. Add the fresh basil leaves, torn up for a delicious fragrant touch. Then, sprinkle on a handful of Parmesan and ¼ cup of mozzarella, distributed uniformly over the ricotta. We said it was going to get cheesy! You've now completed one lasagna layer including the sauce, noodles, ricotta, basil, Parmesan, and mozzarella. 
Repeat the layer combinations, using up the remaining noodles, sauce, and cheese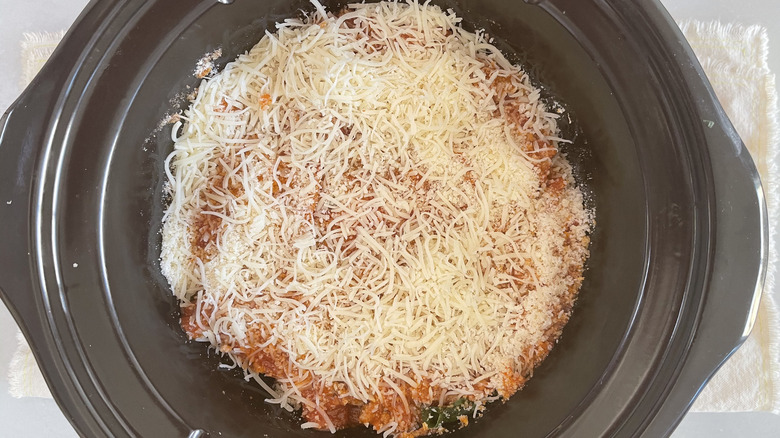 Jason Goldstein/Mashed
Now that you've done it once, Goldstein says "this is super easy — just layer!" Repeat the same combination by adding two more layers of sauce, noodles, basil, and the cheese trio. Finish it off by topping all of the layers with the remaining sauce, noodles, and cheese. A slow cooker is such a great piece of equipment for building up a lasagna because you can really stack it up high!
Cook for 3 hours to melt the cheese and cook the pasta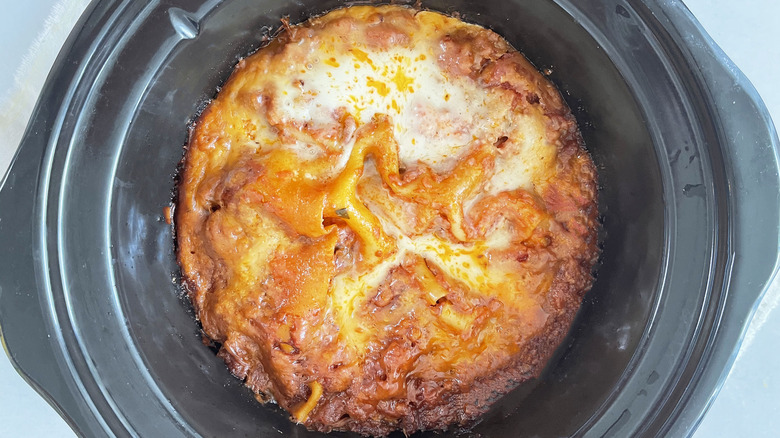 Jason Goldstein/Mashed
Once you've used up all the ingredients piling on the lasagna layers, cover the slow cooker pot and cook on the high setting for 3 hours. During this time, the pasta will cook with the juices from the marinara sauce and cheese, while the cheese melts decadently between every layer. You'll know the lasagna is ready when the cheese on the top has melted and the sides begin to brown. Turn off the slow cooker and let the lasagna sit for about 10 minutes to cool down and make it easier to cut. Oozing cheese is great but it doesn't make serving so easy!
Serve with fresh basil and enjoy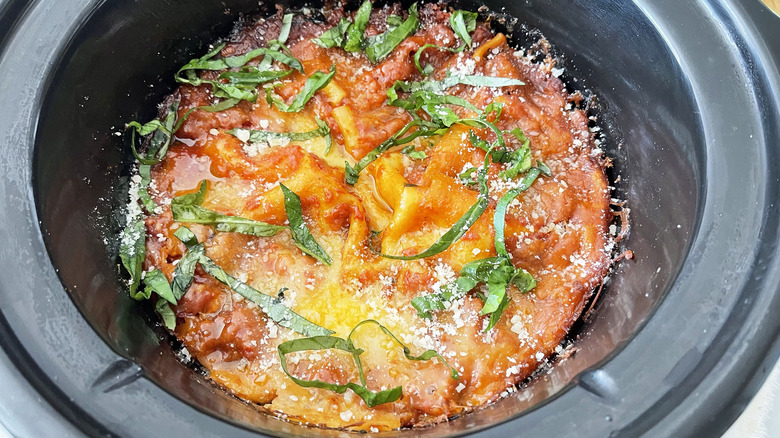 Jason Goldstein/Mashed
When the lasagna has cooled down slightly and firmed up, sprinkle the top with fresh basil leaves. Slice into it and scoop it out of the slow cooker using a flexible spatula. You'll probably want to save your appetite for second helpings, but if you want to serve anything else on the side, a simple green salad or breadsticks are classic no-fail options. 
Once you've eaten everything you can, store the leftovers in an airtight container in the refrigerator for 3 to 5 days. You can also freeze leftovers for an even simpler dinner prep in the near future. 
Slow Cooker Lasagna Recipe
Nothing says comfort food like lasagna -- and this slow cooker recipe delivers decadent layers upon layers of cheese, noodles, sausage, and sauce.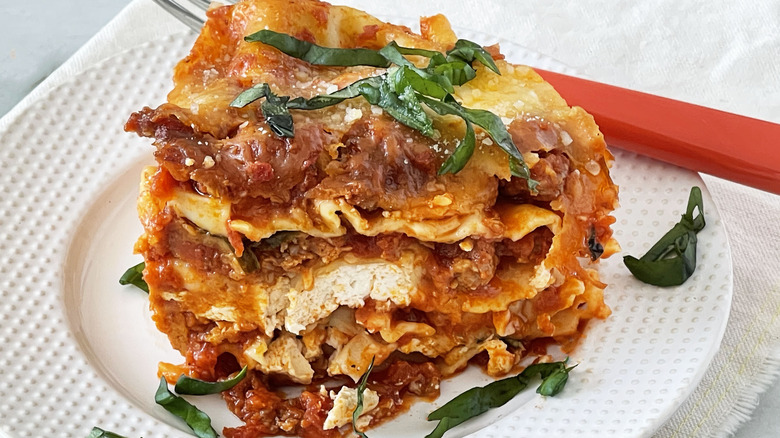 Ingredients
3 tablespoons extra-virgin olive oil
3 sweet Italian sausage links (removed from casing)
3 spicy Italian sausage links (removed from casing)
1 32-ounce jar of marinara sauce
1 pound lasagna noodles
3 cups ricotta cheese
10 basil leaves, plus extra for topping, torn up
2 cups mozzarella
1 cup Parmesan
Directions
Pour the extra-virgin olive oil into a pan on high heat, then add the sausages and cook for 3 minutes.
Reduce the heat to medium-low and add the marinara sauce to the pan, coating the sausage and cooking for 1 more minute. Remove from heat.
Pour enough sauce mixture (about ¼) into the slow cooker pot in order to cover the bottom completely.
Then, break up ¼ of the dry lasagna noodles and place them in the slow cooker so that they cover the sauce mixture.
Next, add 4 heaping tablespoons of ricotta cheese and spread it out over the noodles.
Now add some torn basil leaves, ¼ cup Parmesan, and ¼ cup mozzarella.
Repeat the combination of layers of sauce, noodles, ricotta, basil, and Parmesan and mozzarella two more times. Then add a final layer of the remaining sauce mixture, lasagna noodles, ricotta, basil, and Parmesan and mozzarella on top.
Cover the slow cooker pot with the lid and cook for 3 hours on high until the cheese on top has melted and the sides begin to brown.
Allow the lasagna to sit for 10 minutes, and then sprinkle with the remaining fresh basil leaves.
Slice with a flexible spatula and serve!
Nutrition
| | |
| --- | --- |
| Calories per Serving | 658 |
| Total Fat | 37.3 g |
| Saturated Fat | 17.0 g |
| Trans Fat | 0.0 g |
| Cholesterol | 100.9 mg |
| | |
| --- | --- |
| Total Carbohydrates | 44.7 g |
| Dietary Fiber | 3.1 g |
| Total Sugars | 6.8 g |
| Sodium | 1,181.9 mg |
| Protein | 34.8 g |