Slow Cooker Chicken Taco Chili Recipe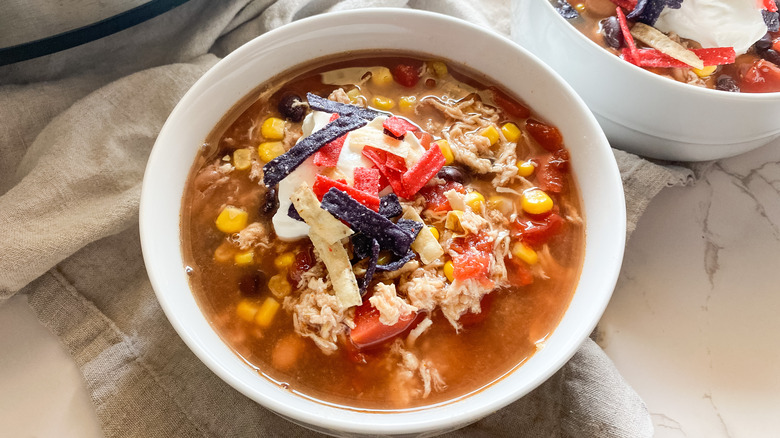 Kristen Carli/Mashed
There's just something that is so great about a slow cooker recipe. Not only is it easy to just toss in all the ingredients into your good old Crockpot, but it's also nice to just leave the meal and not have to worry about it until it's done cooking. If you're looking for a new dish that requires little prep work and is delicious, then look no further than this slow cooker chicken taco chili. It's perfect for a chilly night, but it also hits the spot in the summer as well ... because, let's be honest, it's always a good time to eat Mexican food.
Registered dietitian and recipe developer Kristin Carli created this simple recipe that is packed with flavor and deliciousness. She shares that her favorite part of the chili dish is the ease. "I love a good slow cooker meal," she raves. "Mexican flavors always make for my favorite meals." Keep scrolling to find out how to make this incredible slow cooker chicken taco chili. 
Gather the ingredients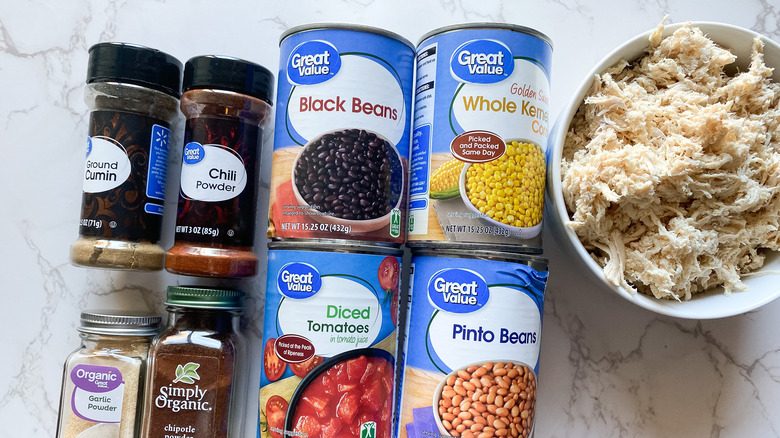 Kristen Carli/Mashed
As with any recipe, the first step is to take inventory of what you have at home versus what you need to get at the store. You will simply need pre-cooked shredded chicken (either store-bought rotisserie chicken or you can make your own) and a few canned goods, including diced tomatoes, black beans, pinto beans, and corn. In addition, you'll need water and several spices like chili powder, ground cumin, garlic powder, and chipotle powder. You'll also need some water. If you're vegetarian, you can omit the chicken. "There is plenty of plant-based protein in this dish from the beans," Carli assures us. Once you have everything you need, it's time to begin.
Prep the slow cooker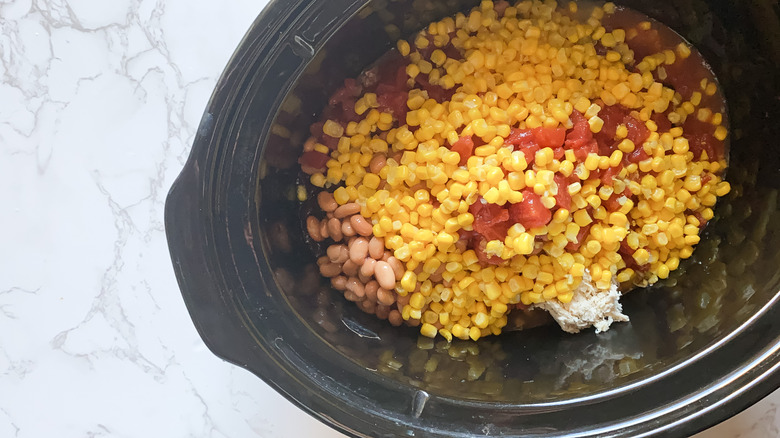 Kristen Carli/Mashed
As we mentioned before, this recipe is super easy and requires only a few steps. First, take out your slow cooker. Then, you can add in the shredded chicken and diced tomatoes (with their juices). After that, add the corn and beans with the liquid from the cans. 
Make sure you don't drain any of the canned ingredients before dumping them into the slow cooker because those extra juices will give your chili more flavor and liquid moisture for cooking. No one wants a dry chili!
Add the spices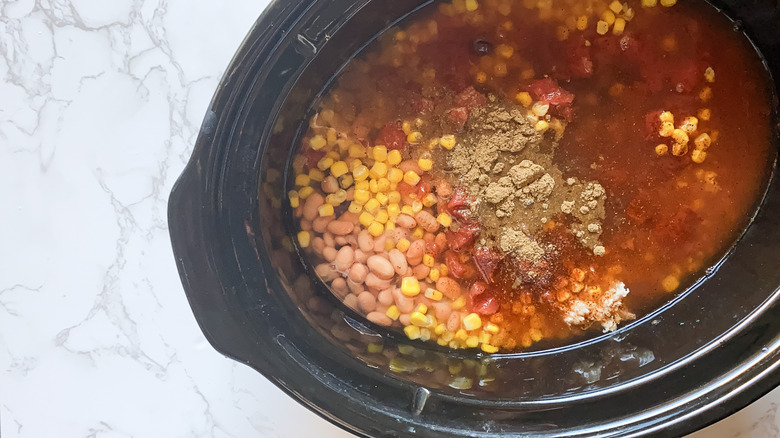 Kristen Carli/Mashed
Once you've added your chicken and all of your canned ingredients, it's time to dump in the spices. Simply sprinkle each one over the top of the slow cooker ingredients (don't worry, the order doesn't matter). Next, add the water to the mixture. Cover the slow cooker with its lid and cook low and slow for 4 hours. 
When your timer goes off, the chili is ready to serve! It's that easy. Be sure to be careful when serving it, as it will be very hot when you place it in your chili bowls. 
Serving suggestions and leftovers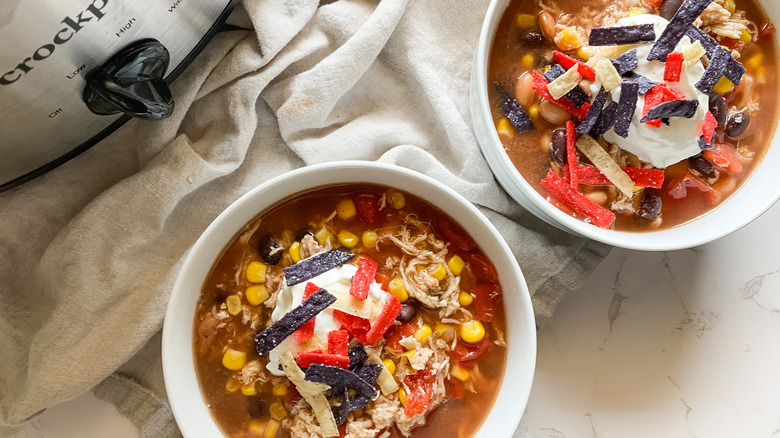 Kristen Carli/Mashed
This chili goes well with plenty of things, and if you'd like, we suggest loading it with toppings. Carli says she loves "serving this with sour cream, avocado, cilantro, and tortilla strips."
Depending on how many people you're planning to feed, you may or may not have leftovers. We're not going to lie — you will probably go back for seconds and thirds, but if you do happen to have anything left, it's good to store leftovers "in an airtight container in the fridge for up to 4 days," Carli shares. "This does not freeze well," she adds, so be sure to eat it up within a couple days of making it!
Slow Cooker Chicken Taco Chili Recipe
Looking for an easy slow cooker recipe? This protein-packed chili takes just minutes to prepare and is sure to please everyone at the dinner table.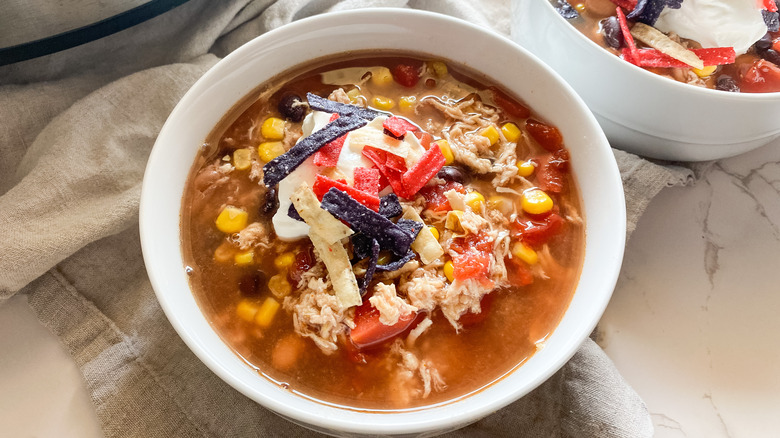 Ingredients
2 cups pre-cooked shredded chicken
1 (15-ounce) can diced tomatoes
1 (15-ounce) can corn
1 (15-ounce) can black beans
1 (15-ounce) can pinto beans
4 cups water
1 tablespoon chili powder
1 tablespoon ground cumin
½ teaspoon garlic powder
1 teaspoon chipotle powder
Directions
In a large slow cooker, add the shredded chicken and the undrained diced tomatoes.
Add the corn and beans along with their liquid. Do not drain cans.
Add the water.
Add chili powder, cumin, garlic powder, and chipotle powder.
Cover the slow cooker with its lid and cook on low for 4 hours.
Serve with the toppings of your choice!
Nutrition
| | |
| --- | --- |
| Calories per Serving | 238 |
| Total Fat | 7.1 g |
| Saturated Fat | 1.8 g |
| Trans Fat | 0.0 g |
| Cholesterol | 26.3 mg |
| | |
| --- | --- |
| Total Carbohydrates | 30.5 g |
| Dietary Fiber | 9.4 g |
| Total Sugars | 3.2 g |
| Sodium | 373.0 mg |
| Protein | 15.4 g |