Easy Mushroom Tacos With Guacamole Recipe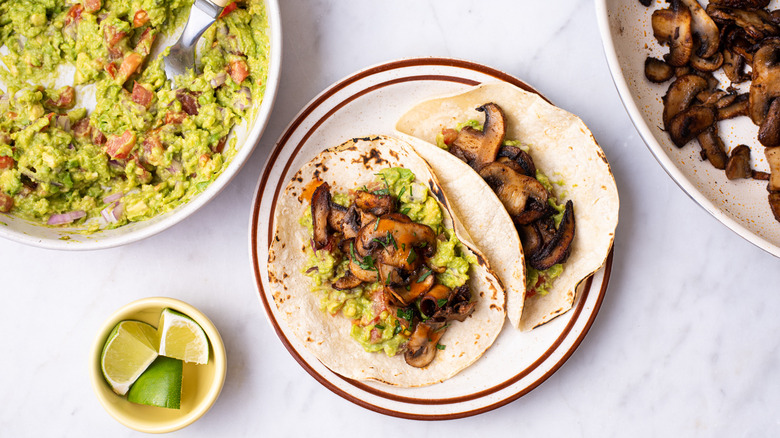 Alexandra Shytsman/Mashed
When you're in a pinch or on a time crunch, it's really important to have a few quick recipes that you can count on to whip up easily. There aren't a lot of dinners that are as easy and satisfying as homemade tacos. Tacos aren't just yummy — they are a meal that will make everyone really happy to see on the menu. It's for this reason we recommend keeping a packet of corn tortillas stashed in the fridge. This way, you will always be able to put this dish together any night of the week when you want to make a quick meal right at home without much fuss.
These mushroom tacos, brought to you by Alexandra Shytsman of plant-based blog, The New Baguette, with guacamole are an incredibly simple yet totally delicious, veggie-centric meal that takes about 15 minutes to prepare from start to finish. The scrumptious combo of tangy guacamole, meaty mushrooms, and smoky charred tortillas is really hard to beat — especially when doused with your favorite hot sauce. 
Mushrooms are our go-to filling for vegetarian tacos, as they're easy to find, and you don't need to use any fancy equipment or cooking techniques to make them. Thinly sliced and browned in a skillet with plenty of spices, mushrooms take on a savory flavor and chewy texture that's perfect for piling into tortillas with creamy guac.
Now that we are in agreement that this recipe is a must-have, let's get started making some tacos!
Gather the ingredients to prepare mushroom tacos with guacamole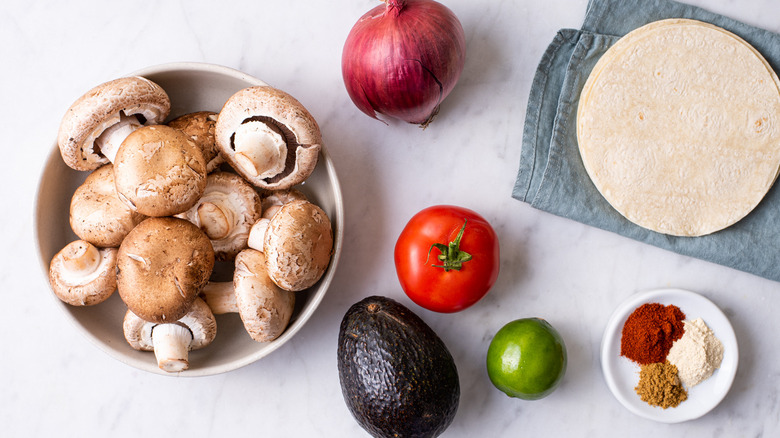 Alexandra Shytsman/Mashed
First off, you'll need to round up your ingredients in order to whip up these tasty mushroom tacos. You probably already have a bunch of the items on hand already, which will make your grocery store trip a total breeze. You'll need some mushrooms, avocados, a vine tomato, a bit of red onion, lime juice, tortillas, garlic powder, smoked paprika, and ground cumin. This particular recipe calls for cremini mushrooms, because they are easy to find in most places. Feel free to use other types, though, like shiitake, maitake, oyster, or a mix of several. Be absolutely sure to avoid white button mushrooms, though, simply because they don't have much flavor. Also, we love the nutty flavor of corn tortillas here, but if you prefer wheat tortillas, feel free to use those instead! This is your recipe, and you should tailor it to your liking.
Cook the mushrooms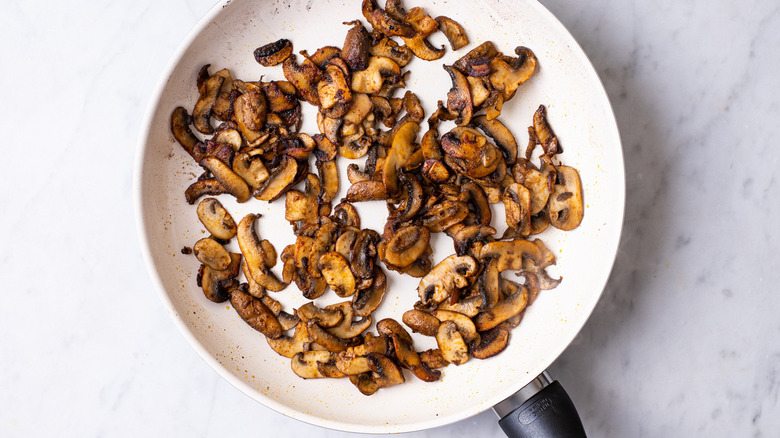 Alexandra Shytsman/Mashed
First off, it's time to get your mushrooms ready so you can cook them up. Mushrooms are like sponges, because they absorb water. That's why you should avoid washing mushrooms directly under the tap. If mushrooms absorb too much water, they will steam instead of brown and take on a slimy texture you don't want to have in your tacos! Unless your mushrooms are literally covered in soil, wipe them with a damp paper towel instead. This is really enough to get the job done.
Once your mushrooms are clean, you'll want to cut them into thin slices. Then, heat up some oil in a skillet, add the mushrooms and spices to the skillet, and cook them until they're golden brown, which should take about 10 minutes. Avoid stirring them too much, as prolonged contact with the hot pan is what allows the mushrooms to brown.
Whip up the guacamole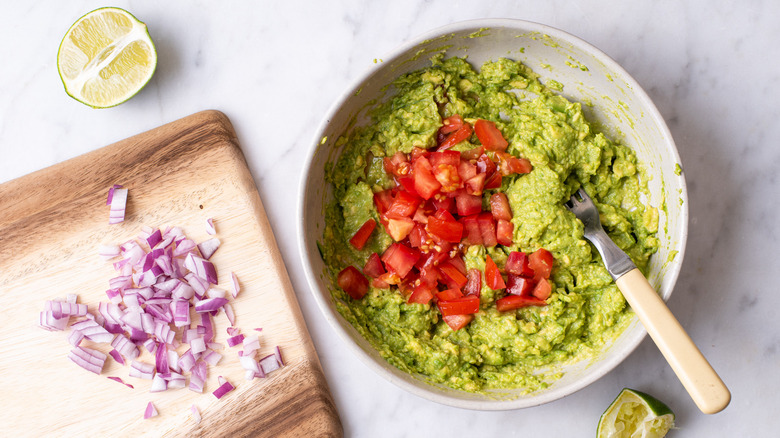 Alexandra Shytsman/Mashed
While the mushrooms are cooking, it's a great time to multi-task and prepare the guacamole. First, cut open the avocados, and remove the pits. Then, you will scoop the flesh of the fruit into a shallow bowl with a spoon. Using a fork, mash the avocado really well until it turns into a smooth paste. Then, add in the diced tomato, onions, cilantro, lime juice, and salt. If you don't care for cilantro, just skip it, as it's not necessary. And if you prefer your guac on the spicy side, you can consider adding some finely diced jalapeño. Don't forget to taste your guacamole along the way, and adjust the seasonings of the dish before serving it.
Assemble the tacos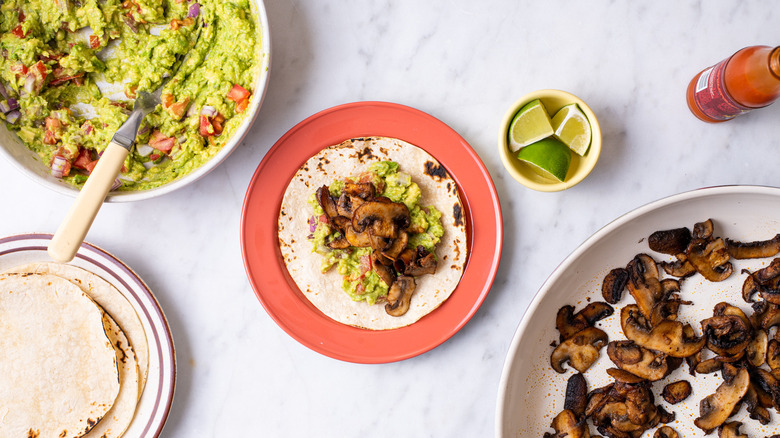 Alexandra Shytsman/Mashed
When you're ready to serve the tacos, you must prep the tortillas. To do this, if you have a gas stove, warm the tortillas by placing them directly on the grate over medium-low heat, one at a time, and warming them 30 to 60 seconds per side. Alternatively, you can warm the tortillas one at a time in a heavy-bottomed skillet (like a cast iron skillet) over medium-high heat. Lastly, you should divide the guacamole among the tortillas and top each one of them off with the delicious mushrooms you prepared earlier. You can place these on a large serving platter on your buffet or dining table, or you can put a serving on each individual plate. Garnish your mushroom tacos with extra limes and your favorite hot sauce for a really great presentation. 
Now, it's finally time to listen to all of the compliments you're going to receive, and dig into your delicious tacos! Taco Tuesday — and honestly any night of the week when you need something quick to make — just got a major upgrade.
Easy Mushroom Tacos With Guacamole Recipe
These mushroom tacos with homemade guacamole make an incredibly simple yet totally delicious meal that takes about 15 minutes to prepare from start to finish.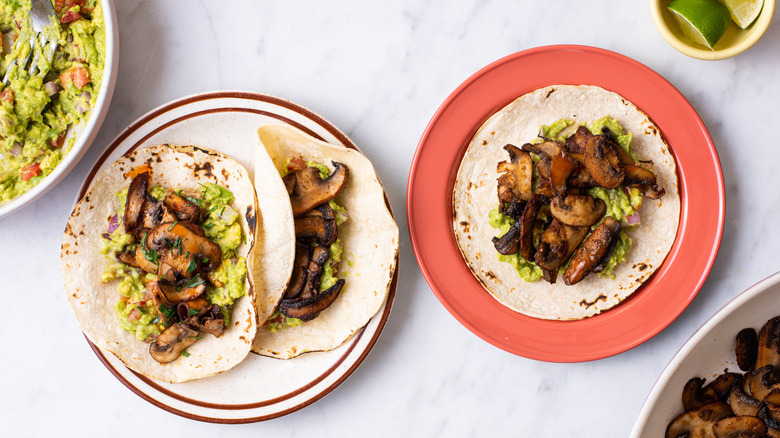 Ingredients
2 tablespoons neutral cooking oil (like avocado, refined coconut, or organic canola)
1 pound cremini mushrooms, trimmed and sliced
1 teaspoon garlic powder
1 teaspoon smoked paprika
½ teaspoon ground cumin
½ teaspoon fine sea salt, divided
freshly ground black pepper, to taste
2 ripe avocados, pitted and peeled
1 ripe medium vine tomato, finely diced
¼ cup finely diced red onion
2 tablespoons fresh lime juice
1 tablespoon minced cilantro
12 taco-size corn tortillas, warmed
Directions
Heat up the oil in a large non-stick skillet over medium-high heat.
Add the mushrooms, garlic, smoked paprika, ground cumin, ¼ teaspoon of sea salt, and a few grinds of black pepper. Cook undisturbed for about 5 minutes. Then, stir occasionally until the mushrooms are softened and golden brown, about 5 minutes more.
Meanwhile, make the guacamole. In a medium shallow bowl, mash the avocados with a fork until smooth. Then, add the diced tomatoes, onion, fresh lime juice, cilantro, and the remaining ¼ teaspoon of salt. Stir to combine. Taste and adjust the seasonings, if needed.
To serve, divide the guacamole among the tortillas, and top with the mushrooms. Garnish with extra cilantro and a squeeze of lime.
Nutrition
| | |
| --- | --- |
| Calories per Serving | 212 |
| Total Fat | 12.1 g |
| Saturated Fat | 1.5 g |
| Trans Fat | 0.0 g |
| Cholesterol | 0.0 mg |
| | |
| --- | --- |
| Total Carbohydrates | 25.0 g |
| Dietary Fiber | 6.5 g |
| Total Sugars | 2.4 g |
| Sodium | 170.3 mg |
| Protein | 4.9 g |