Costco Shoppers Do Not Recommend These Tzatziki Chicken Salad Cups
When you want to supercharge any dish, you can't beat the fresh taste of tzatziki. This Greek lemony-yogurt sauce goes great on a variety of vegetables and meat, and just feels at home spread across chicken. While this sauce tastes amazing, trying to prepare it at home takes a bit of effort. Even after assembling the components, you need to let the sauce rest to blend the flavors. For those of us who just don't want to wait for great flavors, Costco has an immediate solution, but not everyone has gotten behind the product. 
Instagrammer @costcobuys recently learned that Costco now carries a tzatziki style chicken salad and had to snatch a few containers up. They posted a picture of their score for all their followers to check out, along with the caption, "@goodfoods tzatziki style chicken salad 6-packs look good! This is made with low fat Greek yogurt and has 21g of protein per serving! Grab this for $10.99!" Followers immediately took notice, awarding the post over 2,600 likes. Despite the popularity, shoppers just couldn't endorse the new tzatziki-filled product.
A Costco tzatziki salad that turns off taste buds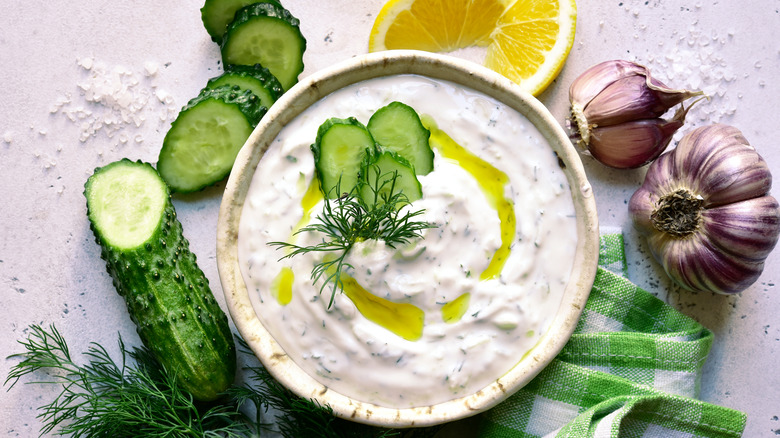 Shutterstock
While the initial product appears tantalizing, commenters have flooded the post to express their disgust. Followers have chimed in, replying with "I did not like it at all," and "I just can't get passed [sic] the fact that they're packaged like pudding cups. For that reason alone, I'm out." Another user asked, "How powerful is the dill flavor in this?" While a different follower just felt skeptical, writing, "I bought this but am nervous to try it. I don't have high hopes." With each package of chicken salad retailing at $10.99, indulging in a pack feels like a gamble. With so many negative reviews, tread carefully next time you consider grabbing this product on your next Costco run.
If you count yourself as the ultimate tzatziki fan, you may still have a special place in your heart for this new Costco chicken salad. If you feel curious, pick up a pack next time you hit up Costco and see where you fall in the debate. With any luck, this chicken salad may just strike the right chord and you can take home a great side dish or snack.