Here's How To Eat The Celebrity Dishes From Guy Fieri's Restaurant Reboot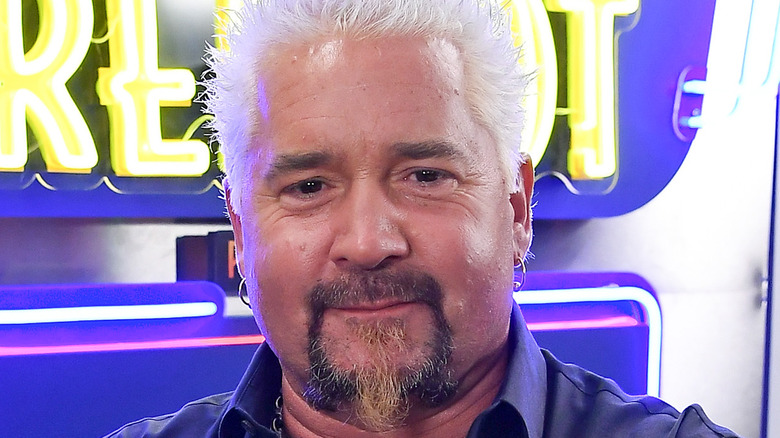 Steve Jennings/Getty Images
When it comes to having a great time and serving up great food, no one does it better than Guy Fieri. When the pandemic hit, Fieri wanted to give back. Over the course of a year, the restaurateur raised almost $25 million to aid restaurant workers who lost their livelihood due to COVID-19 (via Food & Wine). After helping over 43,000 food industry workers, Fieri kept the momentum going and raised even more restaurants through his new show, "Guy Fieri's Restaurant Reboot." This one-time program aired on June 12 for free on a variety of streaming services and featured Fieri distributing $300,000 in grant money to 11 different restaurant owners.
In addition to giving out cash, Fieri tapped chef Antonia Lofaso to host the program and brought in José Andres, Cat Cora, Alex Guarnaschelli, Marcus Samuelsson, and Buddy Valastro, among many others to do a roundtable discussion about how to help restaurants. Fieri even got NFL star Rob Gronkowski, NBA legend Shaquille O'Neal, and model Adriana Lima to create new menu items for their favorite restaurants in Tampa, Atlanta, and Miami. If you caught the special and couldn't wait to try these signature creations, Fieri has even more good news for you.
Stars create the perfect meal just for you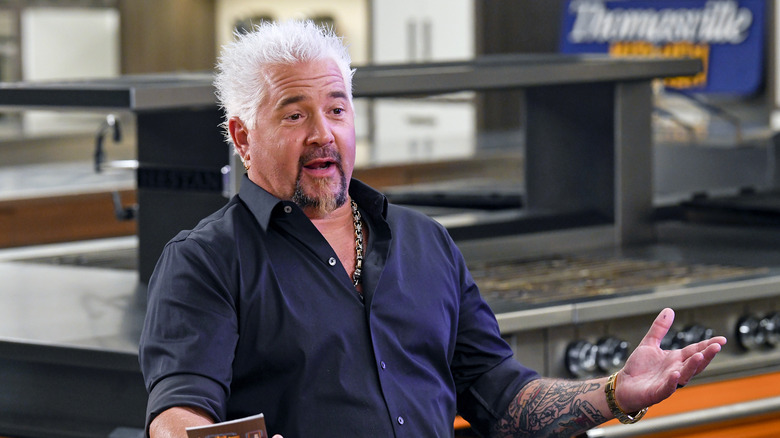 Steve Jennings/Getty Images
After "Guy Fieri's Restaurant Reboot" came to a close, many wondered where hungry diners could experience O'Neal's culinary creations. Luckily, Fieri delivered the news via Twitter and informed fans that the celebrity creations have officially hit menus at the stars' favorite restaurants and you can order the meals on Grubhub. You can even use the special code OFFTHEHOOK at any of the locations to score 20% off the signature meals between now and June 27. This means that you can now grab Lima's signature dish if you live within the delivery radius of Miami's Monty's Coconut Grove, or score Gronkowski's dish at Tampa's Datz.
According to PR Newswire, O'Neal whipped up the SHAQtacular Burger for Park Tavern, Atlanta, while Gronkowski's GRONKalo Chicken and Waffle now graces Datz. Wale's joined in and dreamed up the Naija Chili Cheese Burger and Fries at Ben's Chili Bowl in Washington, D.C., while Lima thought up a Brazilian Fish Stew. Kane Brown rounded out the night with his Nashville Hot Royale at Party Fowl in Nashville, Tennessee. Make sure to get a move on and score these delectable offerings while you can. Once June 27 comes to a close, don't expect to order these mouthwatering signature meals again.