The Truth About Vera Wang's Prosecco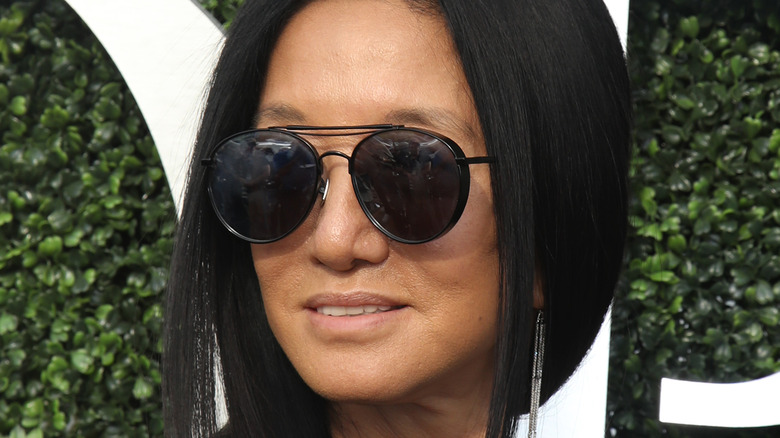 Monica Schipper/Getty Images
Ever notice that every summer brings with it a cocktail that comes into prominence, subtly defining the prevailing cultural mood? Last summer, that cocktail appears to have been the paloma, according to Market Watch. This grapefruit-enhanced margarita-ish cocktail may well have buildt its following thanks to its pandemic-appropriate flavor profile of a little sweet, a little sour. The summer before that, the drink of the moment was the Aperol spritz (via Eater). As we wend our way toward summer 2021, the unofficial cocktail has yet to be identified. But one thing seems clear: Whatever it is, it's going to be very very bubbly, according to Fast Company, who just today astutely forecasted that "party in your mouth" will be the "unofficial theme" of summer beverages.
Come on, ya gotta admit, you're feeling it too, right? Spiked, sparkling, and creatively flavored, hard seltzer is everywhere. Earlier this month, Sonic launched its line of non-alcoholic Bursting Bubbles beverages (via Business Wire), and today, Dunkin' launched its Popping Bubbles. But the truth is, it may be Vera Wang's brand new prosecco that comes to define the summer.
Dress designer Vera Wang is bringing a new prosecco to the table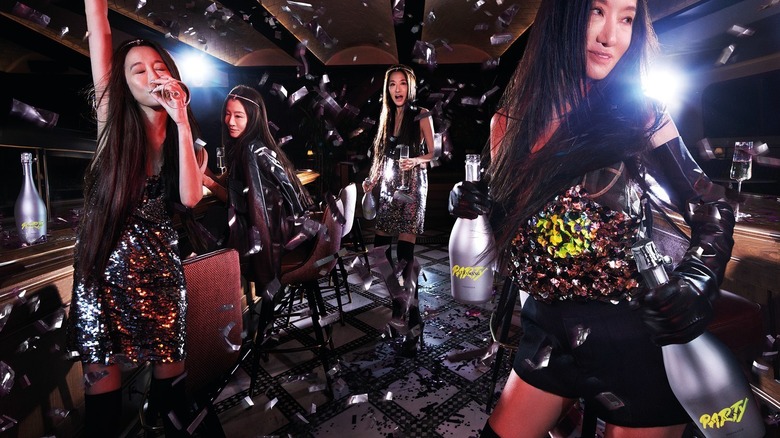 Till Janz/Vera Wang
Yes, the dress designer famous for transforming "bridal chic" from fluffy and lacy to simple and elegant, has launched a new prosecco, according to a press release. Aptly named Party, Wang's prosecco "embodies the bright, fun, and fashion-forward side of the globally renowned designer and style icon." The bubbly is made with 100% Glera grapes and was created by winemaker Claudio Manera of Araldica (the producers of the best-selling Moscato in the States). Just like her dresses, Wang's prosecco will stand out in its matte silver bottle with just the words "Party" spelled out in neon. Party will be sold for $25 per 750-ml bottle at retailers across the U.S., as well as at the brand's website. Drinkers of Party can expect notes of apple, citrus, stone fruit and a soft, fruity finish with a bit of acidity.
"First and foremost, I am a Designer, but I am also an entrepreneur and brand builder," Wang said in a press release. "I've dedicated my entire life to designing how people celebrate, and not just their weddings — from what they wear to how they entertain, from their tableaus and tablescapes, to how they live at home — and now, what they drink! Party is a natural extension of what I already do." As to why she chose prosecco? "CELEBRATION! When I think of romance, fun, laughter, joy, friendship, I think of prosecco, it is the wine that personifies emotion and sheer happiness."