People Are Loving This Chick-Fil-A Employee's Impressive Dance Skills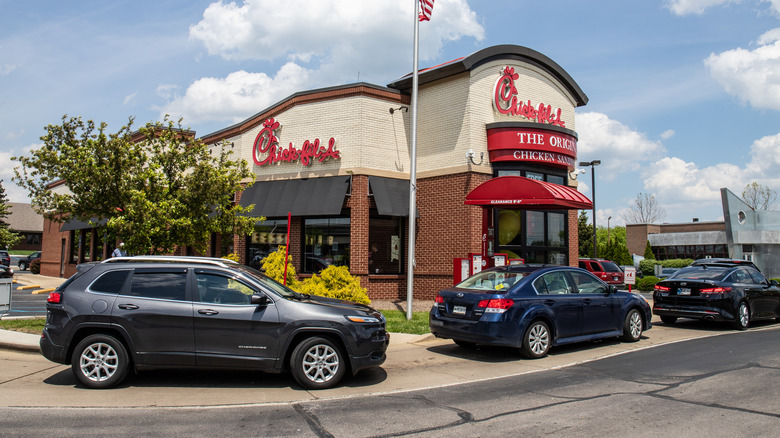 Shutterstock
Long drive-through lines with no live entertainment? So last year. One Chick-fil-A employee from Memphis, Tennessee knows how to give customers both a chicken sandwich and a show — what Twitter user @KissesFromK_ calls "customer service the southern hospitality way." Their video of Chick-fil-A worker Damon Drew dancing to the music playing from their car is making the rounds on Twitter.
"Chick-fil-A hits different when you get a jook session before! Only in Memphis, TN," posted @KissesFromK_. In the video, the customer blasts "Crunk Ain't Dead" by Duke Deuce in the crowded drive-through line, and Drew takes a break from submitting orders to show off his incredible dance skills. When Drew isn't dancing at work, he's DJing under the name DJ Dramatixs, producing music, and dancing some more, according to his Instagram. And the people like his moves; he reposted the dance video and received more than a few fire emojis.
Most dancing drive-through employees tend to go viral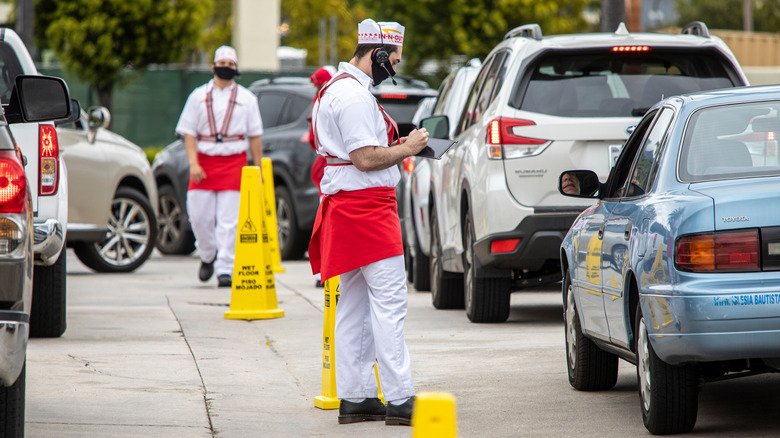 Shutterstock
If @KissesFromK_'s cheers for Drew (and the enthusiastic online reaction to his moves) are any indication, customers really like it when drive-through workers let loose and display their personalities on the job. Earlier this month, a McDonald's employee went viral for his fabulous drive-through routine, complete with high kicks and twirls, to "Rain on Me" by Lady Gaga and Ariana Grande (via TMZ).
When drive-through lines were longer than usual during the height of the coronavirus pandemic, customers were especially grateful for levity while waiting for their food. Another Chick-fil-A employee, Daniel Morgan from Indianapolis, Indiana, made headlines last year for directing traffic not with gestures, but with dance moves (via Fox News). "The reactions have been great," Morgan said, eager to cheer customers up in the uncertain time. "So many people, like join in a little bit, doing a little dance in their car and I just love it. It's great to see the smile on people's faces."