Copycat Legal Seafood Baked Scallops Recipe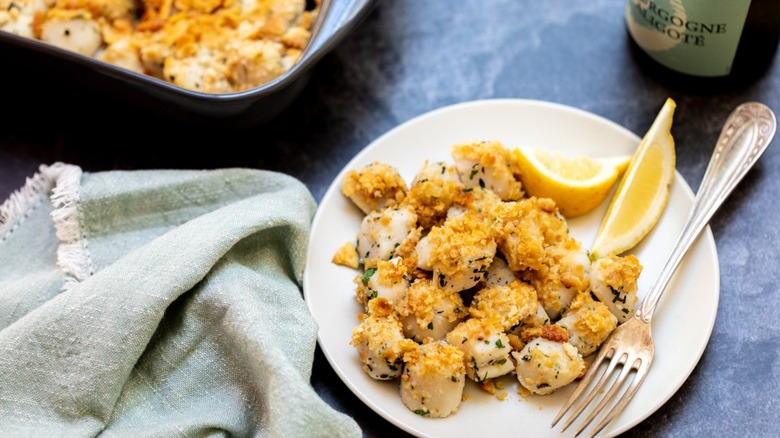 Molly Madigan Pisula/Mashed
A dinner out at Legal Sea Foods is not complete without sampling the baked scallops. Contrary to what some may think, this recipe is actually "very easy" to make at home according to Molly Madigan Pisula, who blogs and shares recipes at Vanilla Bean Cuisine. In fact, as long as you select good scallops, this dish is bound to taste just as delicious as if you had it at the restaurant. 
As Madigan Pisula told Mashed, "I like to make this dish when I see beautiful scallops at the market or the store. It's a great way to showcase delicious scallops." She added, "I also love this as a special occasion meal since sea scallops aren't cheap. It's a total crowd-pleaser if you've got something to celebrate!" 
"You don't need to stand over a pan meticulously turning each scallop as it browns," she added. So, let's get going on preparing this easy, wow-worthy dish.
Gather your ingredients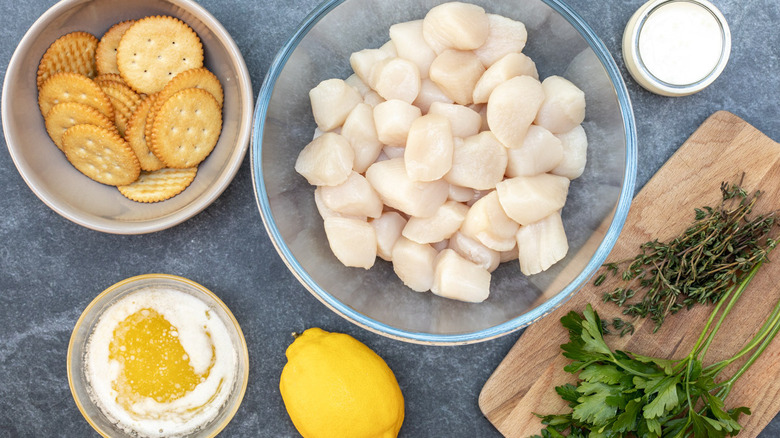 Molly Madigan Pisula/Mashed
The first thing to do if you plan to make Legal Sea Foods' baked scallops is to shop for the scallops, with Madigan Pisual's copycat recipe calling for two pounds of the fresh variety. We asked her what to look for to make sure you're buying quality seafood, and she advised, "Scallops should not have much of a smell at all — just subtly like the sea. If your scallops smell very fishy or have a strong scent, you should throw them out. They should also be a creamy color and firm to the touch."
Other than scallops, add to your shopping list the following ingredients: buttermilk, finely chopped fresh thyme and parsley, kosher salt, freshly ground black pepper, butter, Ritz crackers — you'll need about 20 — and a lemon for serving. 
Fun fact: Did you know Ritz have holes so the crackers stay thin and crisp and air has a place to escape while they're baking?
Prep your scallops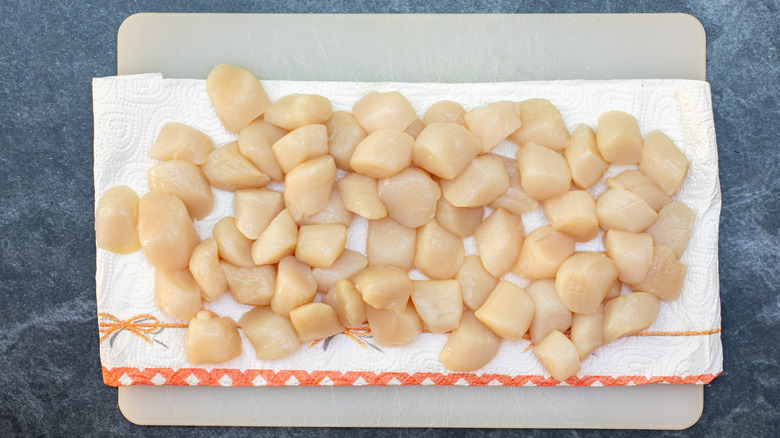 Molly Madigan Pisula/Mashed
Step one is to defrost your scallops if necessary. "Avoid using the microwave because it's easy to start cooking the scallops rather than defrosting them!" Madigan Pisula said, adding that microwaving will make your scallops rubbery. She notes that the best method is to "take them out of the freezer and defrost them in the refrigerator for about 24 hours." Alternately, she told Mashed you can "put them in a strainer and run cool water over them until they defrost."
Meanwhile, Madigan Pisula told Mashed that it's tough to mess this recipe up, but using soggy scallops will do it. To avoid this, she advises, "After you have rinsed them, you really want to make sure you pat them dry as much as you can with a paper towel. That way, you won't end up with a watery dish. This is particularly important if you started with defrosted scallops, as those will have more liquid than fresh ones."
Once your scallops are ready to go, you will want to remove their side muscles. This is easier than you may think. Madigan Pisula says, "They peel off very easily with your fingers." She adds, "And if you miss one, no big deal — they just have a chewier texture that isn't as pleasant."
Add your cream sauce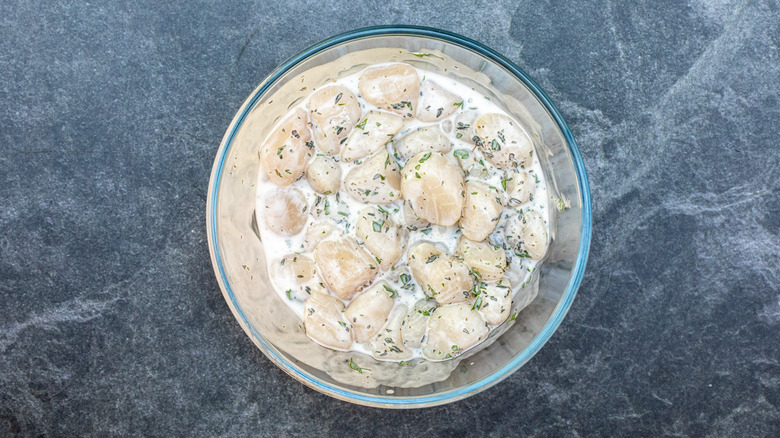 Molly Madigan Pisula/Mashed
While prepping your scallops and before moving on to the next step, preheat your oven to 400 degrees Fahrenheit. Then, place your defrosted scallops with the side muscle removed into a large bowl. You will add the buttermilk, finely chopped thyme and parsley, your salt, and the pepper, and then gently toss the scallops in the sauce. Next, everything goes into your baking dish. 
Meanwhile, Madigan Pisula wanted to make sure home cooks knew that "baked scallops are not great for leftovers, as the crispy topping will become soft and mushy, and the scallops tend to overcook if you try to bake or microwave them again." That is why if you are making this dish, you should plan to make it right before serving. In other words, if you are looking for a make-ahead meal, this is not it!
Add butter to your scallops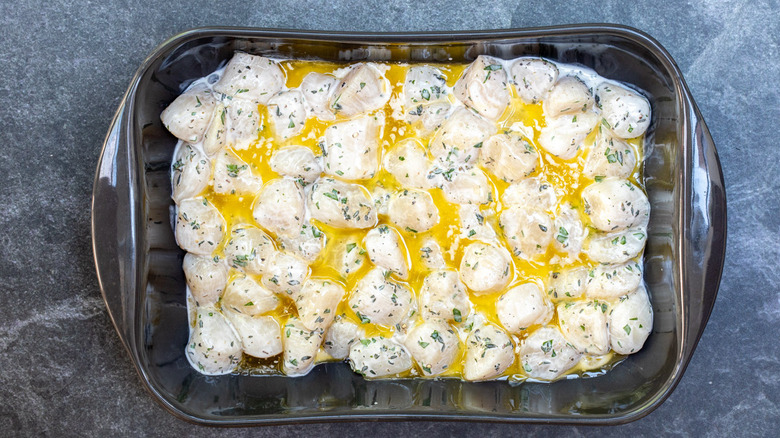 Molly Madigan Pisula/Mashed
Once the scallops and the sauce are poured into a baking dish, you will drizzle the melted butter evenly over the tops of the scallops. 
Next, you'll add the Ritz crackers, but first, place them in a ziptop bag, and crush the crackers with your fingers until you have a mixture of fine crumbs and larger pieces. Why? "I like to have a mix of fine crumbs and larger pieces because I like the difference in textures," Madigan Pisula told Mashed, adding, "The fine crumbs allow you to cover the whole dish, but the bigger pieces give you a nice crunch when you bite in." Yum!
Meanwhile, the recipe's creator also told us about how she typically enjoys this savory dish, noting, "I like to serve it with a big green salad or some roasted or grilled vegetables on the side. You could certainly serve it over pasta as well!"
Add the cracker topping and bake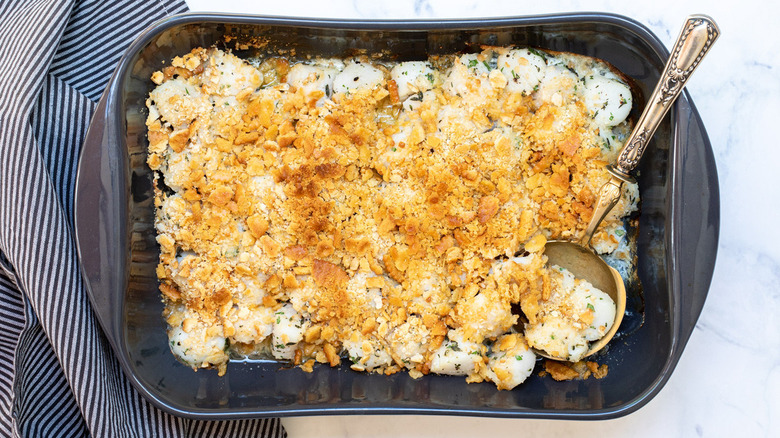 Molly Madigan Pisula/Mashed
Once your Ritz are crumbled, you will sprinkle them on top of the scallops. Then, the dish is ready to bake, with Madigan Pisula instructing home cooks that this process will take about 20 minutes. 
She admits, "It is a little hard to know if you've over- or under-cooked the dish because you can't really see the scallops under the crumb topping." Ultimately, aim for a golden brown cracker crumb — but not burned! "You could remove a scallop from the edge and test it if you were concerned about the cooking time," she advises, adding, "A well-cooked scallop will be just opaque in the middle and won't have a rubbery texture."  
"For medium-sized scallops, the 20-minute cook time should be perfect," she said. "But if you end up using quite small or quite large scallops, you might want to adjust a couple of minutes on either side, accordingly." Madigan Pisula notes you want to avoid using very small scallops for that reason, as they will overcook while the crumbs brown.
Once you're done cooking, serve your scallops with lemon.
Copycat Legal Seafood Baked Scallops Recipe
This is a delicious copycat recipe. As long as you select good scallops, this dish is bound to taste just as delicious as if you had it at the restaurant.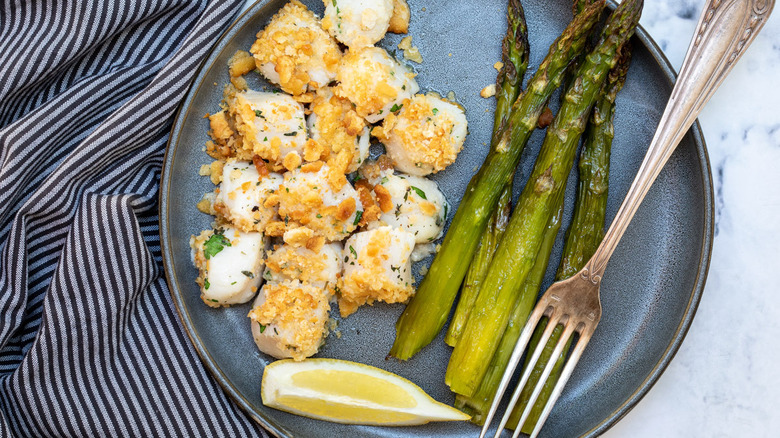 Ingredients
2 pounds fresh sea scallops
½ cup buttermilk
1 tablespoon finely chopped fresh thyme
2 teaspoons finely chopped fresh parsley
1 teaspoon kosher salt
½ teaspoon freshly ground black pepper
¼ cup melted butter
20 Ritz crackers
1 lemon, cut into wedges
Directions
Preheat oven to 400 degrees Fahrenheit.
Remove the side muscle from each scallop, then rinse scallops and pat dry with paper towels.
Place scallops in a large bowl.
Add buttermilk, thyme, parsley, salt, and pepper, and toss gently.
Pour into a baking dish.
Drizzle melted butter over the top of the scallops.
Put Ritz crackers into a ziptop bag, and crush with your fingers until you have a mixture of fine crumbs and larger pieces.
Sprinkle cracker crumbs on top of scallops.
Bake scallops for 20 minutes at 400 degrees.
Serve with lemon wedges.
Nutrition
| | |
| --- | --- |
| Calories per Serving | 357 |
| Total Fat | 16.8 g |
| Saturated Fat | 8.7 g |
| Trans Fat | 0.6 g |
| Cholesterol | 86.2 mg |
| | |
| --- | --- |
| Total Carbohydrates | 20.9 g |
| Dietary Fiber | 1.0 g |
| Total Sugars | 3.2 g |
| Sodium | 1,095.1 mg |
| Protein | 29.9 g |