What Makes Ina Garten's Carbonara So Unique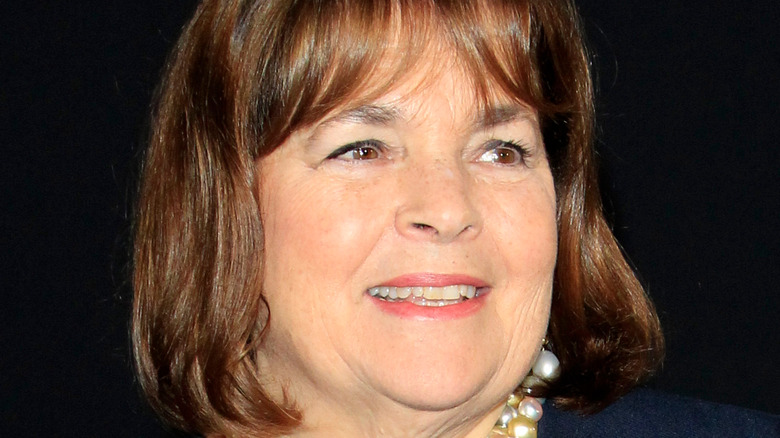 Shutterstock
Despite the simplicity of the ingredients, carbonara is one of Italy's most untouchable recipes. The perfect carbonara sauce is made up of nothing other than eggs, Pecorino Romano, a little bit of fat rendered out from cooked guanciale, and a bit of starchy pasta water to bring everything together. Add anything else, and apparently it's not "real" carbonara. 
Italian-American celebrity chef Giada DeLaurentiis is known to incorporate heavy cream into her carbonara recipes (as seen on YouTube), and every time she does, practically everyone in the comments section, their nonnas, and all of the Italians Mad At Food Facebook group are quick to call out her cardinal sin. As for noted cooking personality Ina Garten's version, it seems that either the Italian cooking police haven't gotten wind of it yet, or they're letting it slide because the recipe (as seen on her website) looks so appetizing.
Garten often puts her own twist on classic recipes, and her Spring Green Spaghetti Carbonara from the "Modern Comfort Food" cookbook is no different. As a surprise to no one, this "modern" carbonara does include heavy cream, but in true Ina style, it's also loaded with fresh spring veggies, including julienned snow peas and peas shelled straight out of the pod, as well as asparagus, scallions, and chives.
Ina Garten's carbonara isn't traditional but it's just as delicious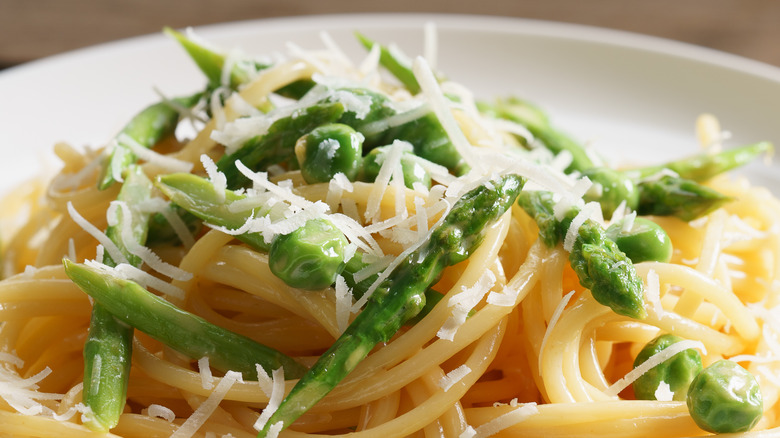 Shutterstock
In an Instagram post sharing a photo of the dish, Ina Garten explains that she created this recipe because she felt traditional carbonara, while very delicious, was too heavy for a spring menu — especially with all the cheese and the fatty pork. Her solution, therefore, was to cut through the richness by adding a bunch of vegetables.
What really makes the recipe special, according to The Kitchn, isn't only the addition of greens, but also the inclusion of lemon juice and lemon zest, which serves to brighten up the flavors. Though non-traditional, Garten's sauce works well because of the technique she uses: She warms a large bowl with hot tap water before tossing together the sauce and the pasta. The temperature of the eggs is crucial when it comes to carbonara hacks, but with Garten's technique, as she says, "When you then drain the water and use the bowl to toss together the pasta and egg sauce, the eggs will be perfectly tempered and won't risk curdling." 
In terms of both technique and flavor, it's hard to argue that Garten's pasta won't be incredibly delicious — even if you don't consider it authentic carbonara.