Slow Cooker Apple Cinnamon Oatmeal Recipe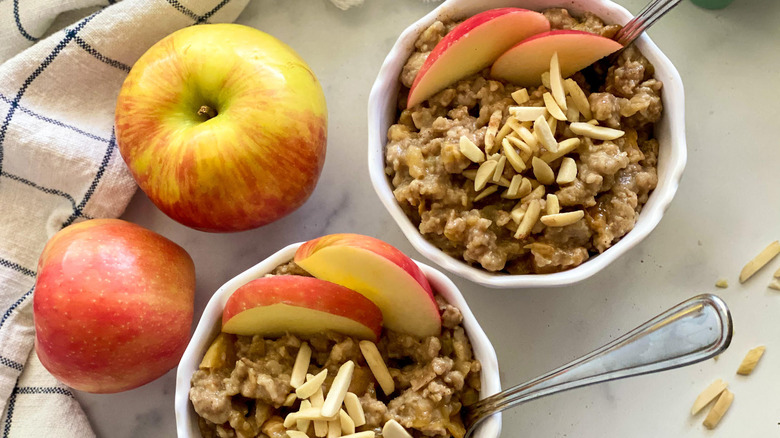 Miriam Hahn/Mashed
Aside from being a handy piece of equipment that can cook your dinner while you're off at work, a slow cooker can also be used to make your breakfast while you sleep. Now that's the kind of lazy, relaxing morning we'll take any day of the week! With minimal effort the night before, you'll wake up to a warm, nourishing bowl of apple cinnamon oatmeal to fuel your day. Sure, you can make oatmeal on the stovetop or in the microwave if you're in a pinch, but nothing compares to slow-cooked oatmeal that's been stewing in natural fruit juices and aromatic spices all night long. 
Miriam Hahn, owner and recipe developer of YouCare-Selfcare, takes pride in living an all-around healthy lifestyle. You can bet that a nutritious breakfast is part of her philosophy. She developed this delicious slow cooker apple cinnamon recipe and remarks, "It is something everyone in my house loves!" 
While you can let the oatmeal cook overnight, Hahn notes, "I usually make this in the morning and it makes the house smell so amazing all day long." 
Are you ready to give it a try?
Gather the ingredients for this slow cooker apple cinnamon oatmeal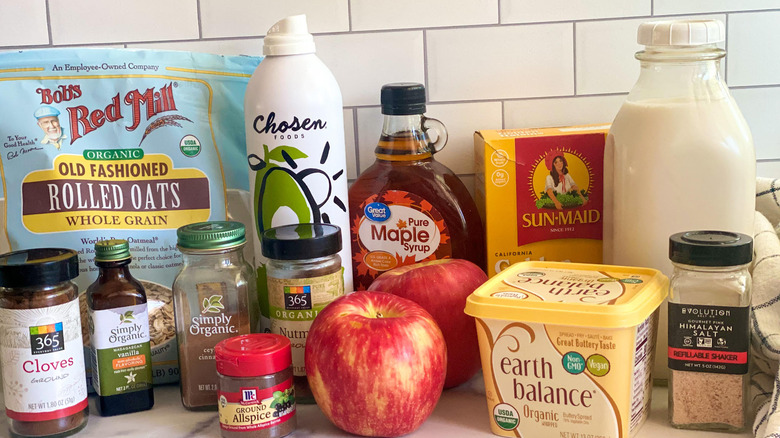 Miriam Hahn/Mashed
First, gather up the ingredients for this slow cooker apple cinnamon oatmeal recipe. You'll need apples — "Honeycrisp or Fuji work best," Hahn advises. These have the best balance of sweetness and texture, keeping their shape while adding plenty of flavor to the oatmeal. 
Next, Hahn uses golden raisins, but indicates that regular raisins or a blend with Craisins will also do the trick. For those heavenly aromas wafting through your house, add cinnamon, nutmeg, allspice, and ground cloves. This medley of spices adds complexity and warmth to the oatmeal, a definite step up from store bought. A bit of salt enhances overall flavor, and butter adds a touch of richness to the oats for a satisfying dish. Hahn remarks that a butter replacement can also be substituted. 
Rolled oats are fundamental to the oatmeal since they maintain their texture throughout the long cooking time. If you want to try it with another grain, Hahn says, "It can be done," but points out that "the amount of liquid and cooking time would vary." To cook the oats, Hahn opts for unsweetened almond milk but she confirms that any type of milk can be used. A drizzle of maple syrup adds some caramel to the flavor profile, perfectly complemented by vanilla. Take a tip from Hahn: "For an extra dose of nutrition, I also like to add a teaspoon of ground flaxseed!" 
Extra toppings are up to you. Hahn shares her favorites further below.
In a bowl, mix the apples, raisins, and spices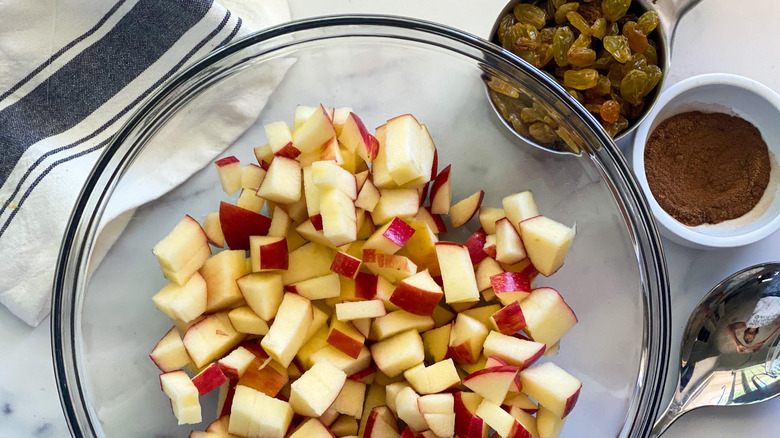 Miriam Hahn/Mashed
First of all, core the apples and chop them up into small pieces (there's no need to peel them). Mix the cinnamon, nutmeg, allspice, ground cloves, and salt together in a small bowl to combine. Add the chopped apples to a large bowl, then mix in the golden raisins and the spice blend. You'll want to stir the spices into the apples well so that the flavors are evenly distributed throughout the oatmeal.
Add the mixture to a greased slow cooker and top with butter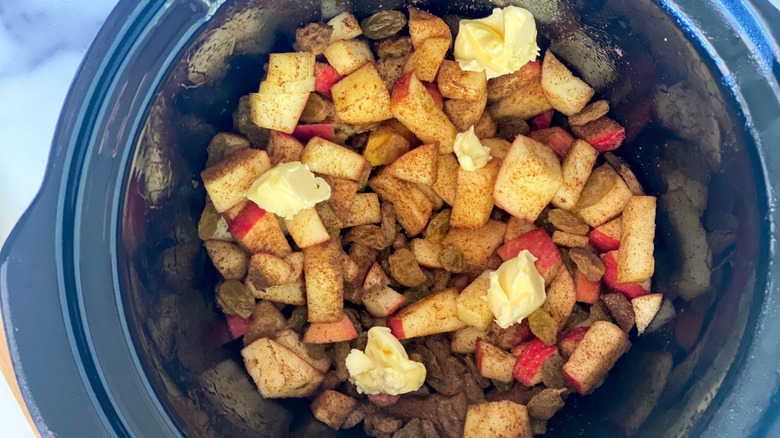 Miriam Hahn/Mashed
Use cooking spray or whatever you use to grease your slow cooker to coat the inside of the pot so nothing sticks and serving the oatmeal is easy. Pour the spiced apple and golden raisin mixture into the slow cooker. Then, add four dollops of butter on top of the apple mixture. As the apples cook, they will absorb the melted butter, making for a delicious combination. The bulk of the oatmeal's flavor will be coming from these spiced apples. 
Combine the oats, milk, maple syrup, and vanilla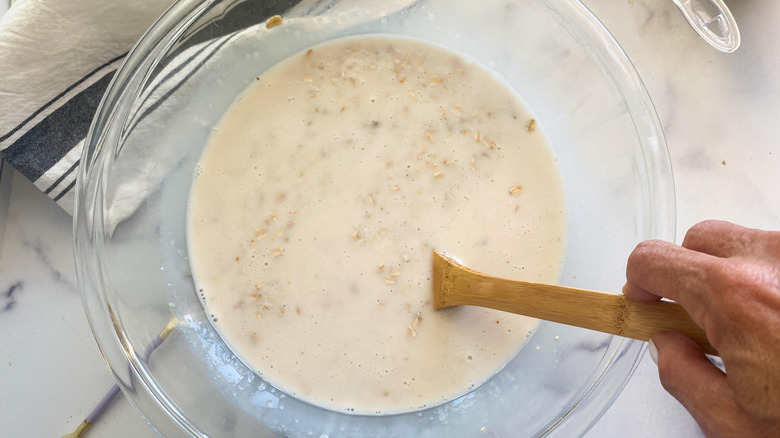 Miriam Hahn/Mashed
Now that the apple mixture is ready, it's time to make the oatmeal component. In a large bowl, add the rolled oats, almond milk, maple syrup, and vanilla. Mix the ingredients well to properly hydrate the oats. Aside from the spiced apples, the oats will also have a great flavor from the maple syrup and vanilla combination. If you have a big sweet tooth, you might want to add an extra drizzle of maple syrup, but you'll see there's plenty of room to add toppings at service, so you can hold off on extra sweetening for now. 
Pour the oat mixture on top of the apples and cover the slow cooker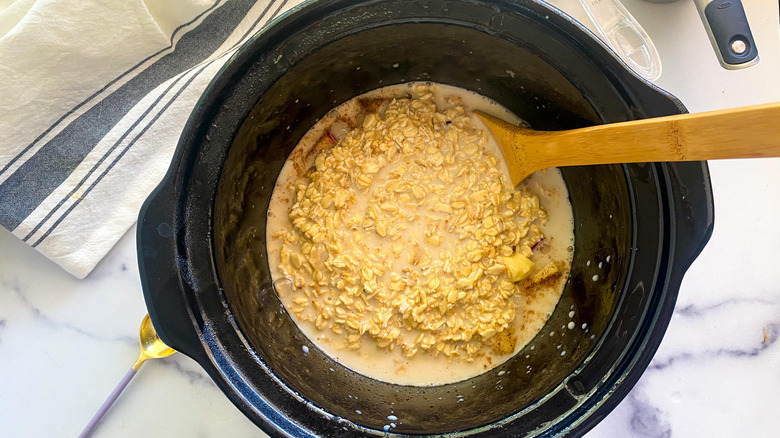 Miriam Hahn/Mashed
Once you've combined the oats with the milk, maple syrup, and vanilla, pour the mixture on top of the apples. While you might be tempted to stir the apples in with the oats, Hahn warns, "Do not stir." This way, the apples will have the chance to cook separately from the oats, and the whole lot will be mixed together once it has finished cooking. 
Now close the slow cooker and turn the setting to low. 
Cook the oatmeal on low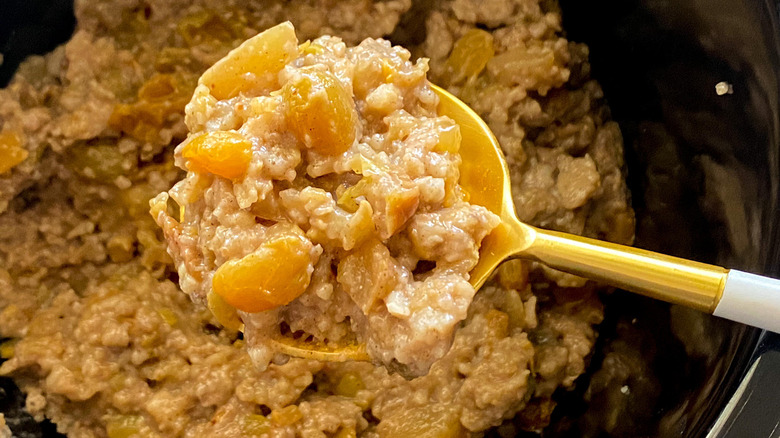 Miriam Hahn/Mashed
With the slow cooker on low heat, cook the oatmeal for five to seven hours. "The oatmeal will be ready after five hours but it shouldn't sit longer than seven hours," Hahn says. Keep this in mind if you're planning on letting it cook throughout the night. If you want to make this before bed, a slow cooker with a timer setting works best, she adds. 
Stir and serve the oatmeal with fresh fruit, milk, and toppings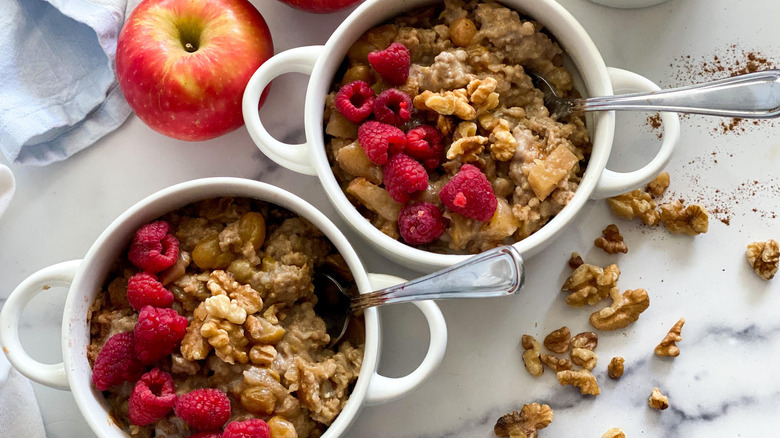 Miriam Hahn/Mashed
When the oatmeal has finished cooking, remove the lid and give it a good stir to combine the apples, raisins, spices, and oats. Serve it in bowls and top it with your favorite fresh fruit, nuts, seeds, some extra cinnamon, and a splash of milk. Hahn says that she includes "all kinds of fresh fruits," noting that they "really complement the cooked apples." 
She loves experimenting with crunchy extras. "I also have tried all kinds of nuts or seeds as topping including pecans, walnuts, toasted pumpkin seeds, sunflower seeds, and hemp seeds," she says. The options are endless!
For whatever oatmeal is left over, Hahn explains, "I seal it up in an airtight container and just heat what I need in the morning." To reheat leftovers, Hahn recommends adding a bit more milk so that the oatmeal doesn't dry out. 
This is definitely high on the list of breakfast meal prep options for us. The portions are pretty large, and "it makes enough to last all week," says Hahn, which is a good thing since it's so popular around her home. 
Slow Cooker Apple Cinnamon Oatmeal Recipe
With minimal effort, wake up to a warm, nourishing bowl of oatmeal to fuel your day. Nothing compares to this slow cooker apple cinnamon oatmeal recipe!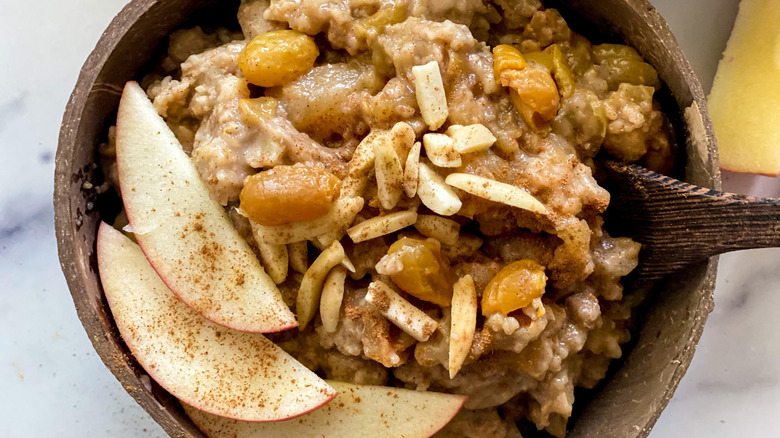 Ingredients
2 apples, chopped
1 cup golden raisins
1 ½ teaspoons cinnamon
¼ teaspoon nutmeg
¼ teaspoon allspice
¼ teaspoon ground cloves
¼ teaspoon salt
cooking spray
2 tablespoons butter, or butter alternative
2 cups old-fashioned rolled oats
4 cups unsweetened almond milk, or your preferred milk
2 tablespoons maple syrup
1 teaspoon vanilla
Directions
Mix the apples with the raisins, spices, and salt.
Spray the inside of the slow cooker with cooking spray.
Pour the apple mixture into the slow cooker and dot the butter in four spots on top of the fruit.
In a bowl, mix the oats, milk, maple syrup, and vanilla.
Pour the oat mixture on top of the apple mixture without stirring it together.
Close the slow cooker lid and cook on low for 5 to 7 hours.
When the time is up, remove the lid, stir, and serve topped with fresh fruit, more cinnamon, milk, and nuts.
Nutrition
| | |
| --- | --- |
| Calories per Serving | 292 |
| Total Fat | 10.7 g |
| Saturated Fat | 4.5 g |
| Trans Fat | 0.1 g |
| Cholesterol | 19.8 mg |
| | |
| --- | --- |
| Total Carbohydrates | 44.7 g |
| Dietary Fiber | 4.0 g |
| Total Sugars | 25.0 g |
| Sodium | 131.4 mg |
| Protein | 7.4 g |