Pizza Might Get More Expensive. Here's Why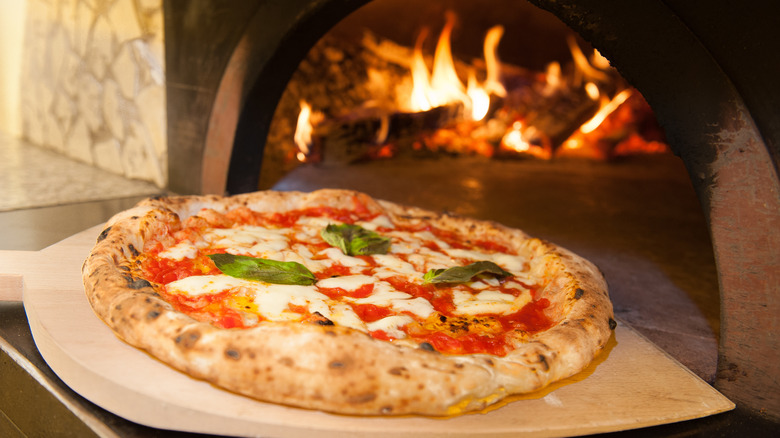 Shutterstock
Even as America starts to emerge from the pandemic, diners everywhere can feel the lasting aftereffects of the calamity everywhere they go. Coastal cities are already feeling the crunch, as vacation-starved tourists have started flocking in. On top of that, diners are now facing increased prices thanks to food shortages caused by supply chain snags and labor issues brought on by COVID-19 (via USA Today). Pizza shops that could once get patrons moving in and out of the door have had to cut hours and reduce compacity, keeping diners waiting 20 to 30 minutes to receive their food.
While beach towns have already seen the ramifications of the labor and food supply shortages, restaurants across the country should soon brace for a similar shock. After a year's battle against pressures from all sides, it seems that the price of pizza may rise. Last week, a New Jersey-based restaurant owner explained to Business Insider that between the rising cost of ingredients and the desire to increase wages to attract the best workers, the general expense of running a small business has increased to a point that the customer may now feel the effects. Restaurant owners additionally claim that if wheat prices continue to go up, their restaurants won't be able to absorb the financial blows. As a result, pizza shop proprietors could decide to raise their prices.
A harsh new reality for pizza fans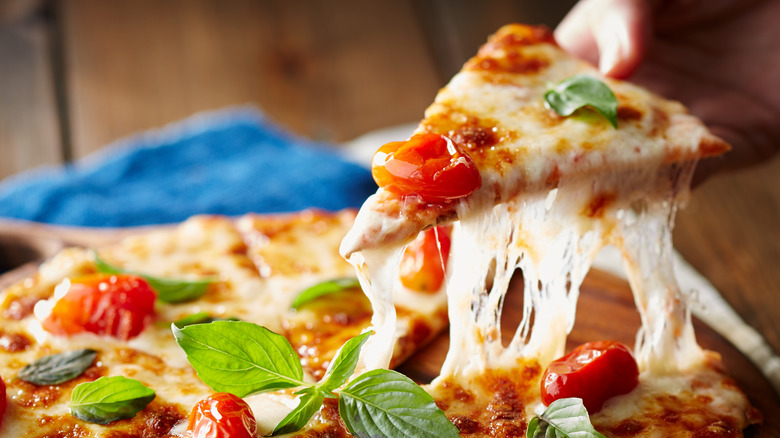 Shutterstock
Similar predictions appeared in the Phoenix Business Journal on June 9, in a article focusing on the ongoing labor shortage. "Things would operate a lot more smoothly if we could hire 400 or 500 new people today," Mike Barro said of his family's local pizza chain, Barro's Pizza. Fred Morgan, who co-owns multiple Fired Pie locations, also spoke to the Journal about hiring difficulties, stating that his restaurants are routinely understaffed by three to five employees.
The same labor shortage that is effecting the pizza industry represents one of the many problems facing the American economy, as, in addition to sparking discussions around workplace safety, COVID-19 called attention to increasing wage disparity. As of now, employers report 9.3 million job vacancies nationwide (via Yahoo! Finance). Experts predict the labor shortage won't end until at least September, when most federal unemployment bonuses will have expired by. Many are uninterested in returning to low-paying work, meaning underpaid positions will likely take even more time to fill.
Schools reopening for in-person learning could also play a part in ending the labor shortage, as some parents have had to put off rejoining the workforce until they are able to find reliable childcare. Depending on how this evolves, you might not see a return to normal pizza prices until the end of fall 2021, if ever.
In fairness, they're not Chipotle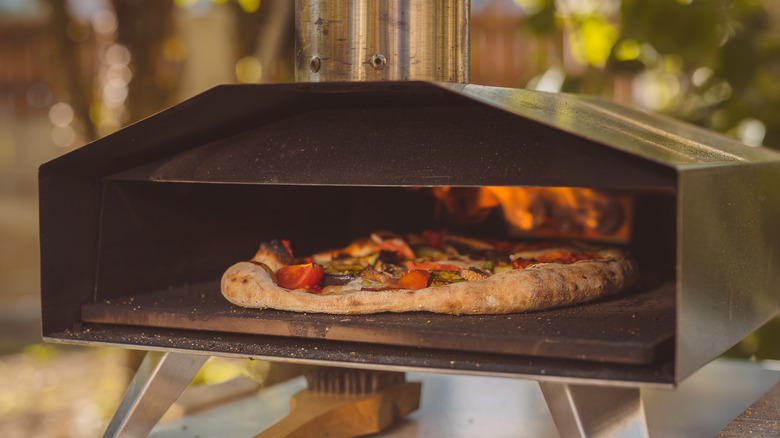 Shutterstock
Most diners will probably extend more sympathy to their local pizza joints for choosing to raise prices than successful, nationwide chains (like the recent anger fans directed towards Chipotle's price increase). After all, most mom and pop pizza restaurants are probably working on pretty tight budgets and don't have a CEO that makes eight figures a year.
Moreover, many pizza places have resisted raising their prices despite consistent pressure to do so. In August 2020, Bloomberg reported many small pizza shops had to contend with a massive COVID-spurred hike in pepperoni prices, while larger chains remained unaffected due to the contracts they signed with suppliers, which typically negotiate prices well in advance. A similar report given by News 9 covered how mozzarella, too, suffered from disruptions in the supply chain, resulting in more burdensome costs for pizza places. In both reports, small business owners expressed their desire to keep prices the same.
It seems, though, that many pizza purveyors have finally reached their breaking point. If you love pizza and are unwilling to give up your favorite joints, get ready for steeper prices as the United States continues to feel the pandemic's effect on the economy. After a very long year, nothing sounds better than a fresh pizza straight out of the oven, but unfortunately, this classic dinnertime staple has the potential to turn into more of a luxury than a regular treat.