Easy Baked Jojo Potatoes Recipe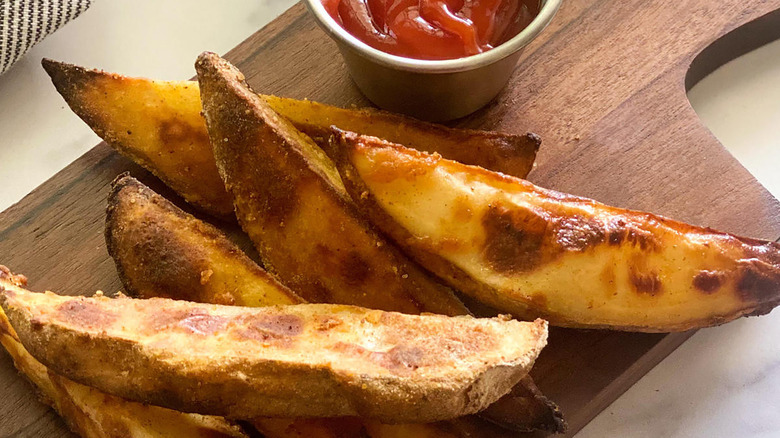 Miriam Hahn/Mashed
Jojos are a cross between a french fry and a roasted potato, and they're delicious. If you've ever had them, you already know, but if you've not yet experienced a jojo, prepare to fall in love. 
While we love to grab jojos from the grocery store deli or our favorite restaurant, there's something satisfying about making them at home. Wellness coach and recipe developer Miriam Hahn of YouCare-Selfcare created this simple recipe for jojos that only takes four ingredients. Yes, you read that right. They also bake right up in your oven, so they aren't as greasy as fries out of a fryer. 
These hearty potatoes are the perfect side dish for a lot of things: a burger, fried chicken, etc. For the perfect meal, make our copycat KFC chicken recipe with a side of these jojos and you'll see just why these potato wedges are such a staple food for many people. They might just be an unassuming potato, but they're so delicious! 
Keep reading for the step-by-step recipe to make them at home.
Gather your ingredients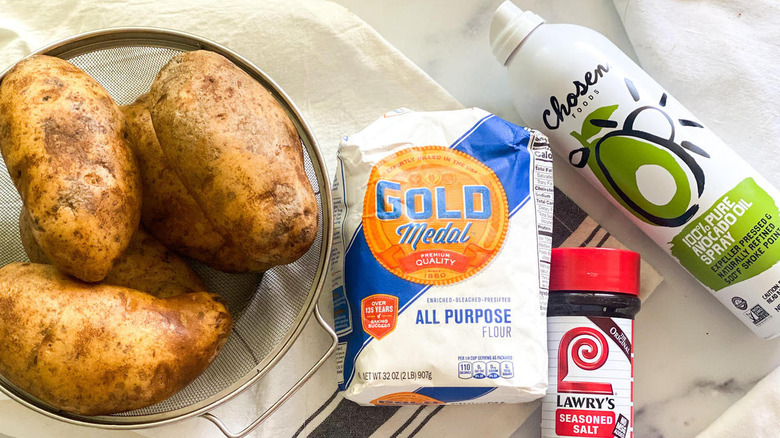 Miriam Hahn/Mashed
First things first, you have to get your ingredients together. This recipe is called an easy one for a reason — it only calls for four ingredients. You'll need russet potatoes, all-purpose flour, seasoned salt, and non-stick cooking spray. 
What Hahn has created is that delicious jojo that you know and love. You could switch up the russets for a different potato if you prefer, but then you wouldn't necessarily have traditional jojos. You could also opt to use regular salt or a different seasoning, but again, then you won't have traditional jojos. 
Cut the potatoes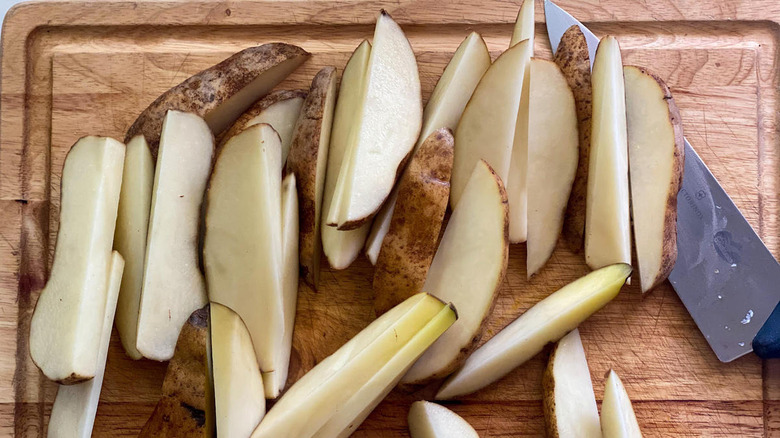 Miriam Hahn/Mashed
After you have all your ingredients out and ready, go ahead and preheat the oven to 425 F. Get your potatoes and a cutting board, because it's time to turn them into jojos. 
Wash the potatoes off really well before you begin cutting, so you can be sure there's no dirt left — you'll be eating the skins so you want them clean. Once clean, slice the potatoes in half length-wise so that you have two long halves. Take each of those halves and cut them into thirds length-wise. You should get six wedges out of each potato. 
If your potatoes are small, you could just cut them in quarters, but cutting the potatoes into sixths should give you the proper jojo size.
Season the potatoes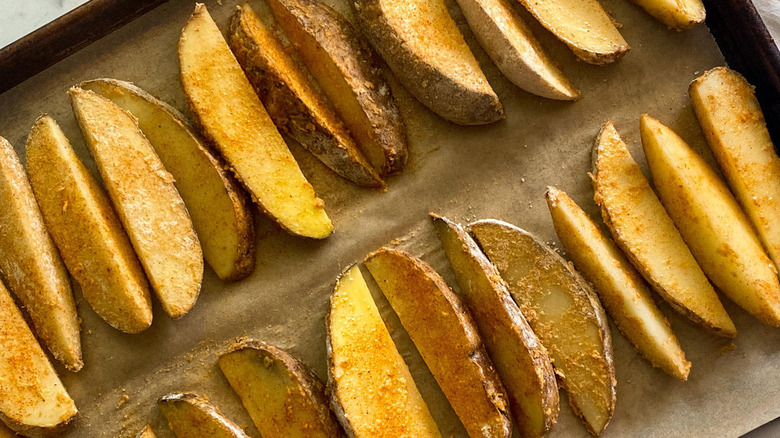 Miriam Hahn/Mashed
Now take the flour and seasoned salt and mix them together in a small bowl. Place all the potatoes into a gallon-sized freezer bag and pour in the flour mixture. Shake it all around until the potatoes are fully coated, about 30 seconds. 
If your potatoes don't all fit (if you don't have a gallon-sized bag), you can do this step in batches. 
Once all the potatoes are coated, cover a baking sheet with parchment paper. Take the potatoes out of the freezer bag, shake off any excess flour, and lay them out flat on the baking sheet. Spray the tops of the potatoes with cooking spray.
Bake the jojos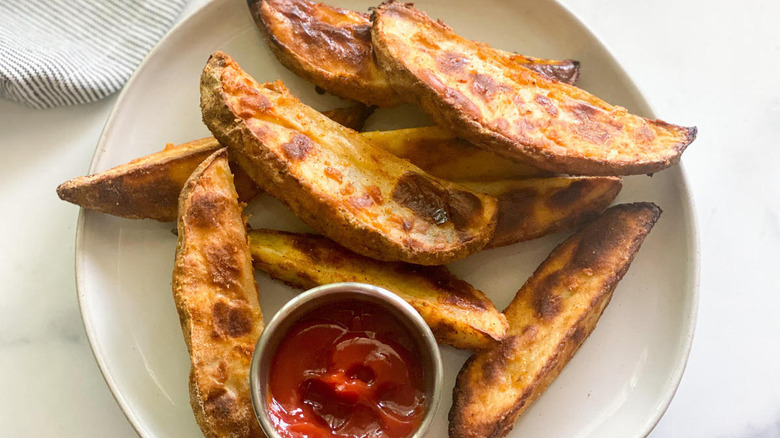 Miriam Hahn/Mashed
Place the baking sheet of jojos into the oven for 15 minutes. When time is up, take them out and flip them all over gently. Spray this side with cooking spray as well and place the tray back into the oven for another 15 minutes.
The jojos should be done after the second bake, but if you want them extra crispy, you can put them under the broiler for a few minutes. 
These jojos are best enjoyed immediately, but you can store them in an airtight container in the fridge for up to five days. To reheat them, either place them on a baking sheet under the broiler until they're warm, or toss them in the air fryer set to 400 F for a few minutes. Either method will crisp them back up!
Easy Baked Jojo Potatoes Recipe
Jojos are a cross between french fries and roasted potatoes. This easy baked jojo potatoes recipe is a delicious side dish for burgers or fried chicken.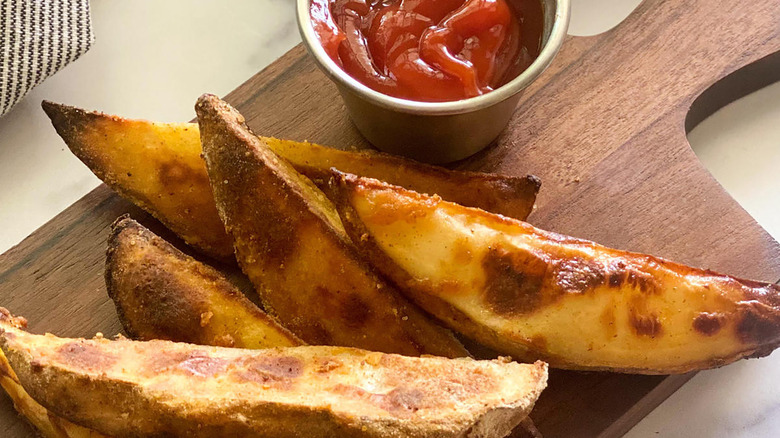 Ingredients
4 russet potatoes
2 tablespoons all-purpose flour
1 tablespoon seasoned salt
cooking spray
Directions
Preheat the oven to 425 F.
Slice each potato into 6 wedges.
Combine the flour and seasoned salt. Put the potatoes in a 1-gallon freezer bag and add the flour and salt mixture.
Shake the bag for about 30 seconds to coat the potatoes.
Line a baking sheet with parchment paper. Take the potatoes out of the bag and shake off any excess flour, then put them on the tray in a single layer.
Spray the tops of the potatoes with cooking spray and bake them for 15 minutes.
Take the tray out of the oven, turn the potatoes, and spray them again with cooking spray. Return them to the oven for 15 minutes more.
Nutrition
| | |
| --- | --- |
| Calories per Serving | 235 |
| Total Fat | 2.9 g |
| Saturated Fat | 0.2 g |
| Trans Fat | 0.0 g |
| Cholesterol | 0.0 mg |
| | |
| --- | --- |
| Total Carbohydrates | 48.0 g |
| Dietary Fiber | 3.3 g |
| Total Sugars | 1.5 g |
| Sodium | 586.7 mg |
| Protein | 5.7 g |