Authentic Sunomono Recipe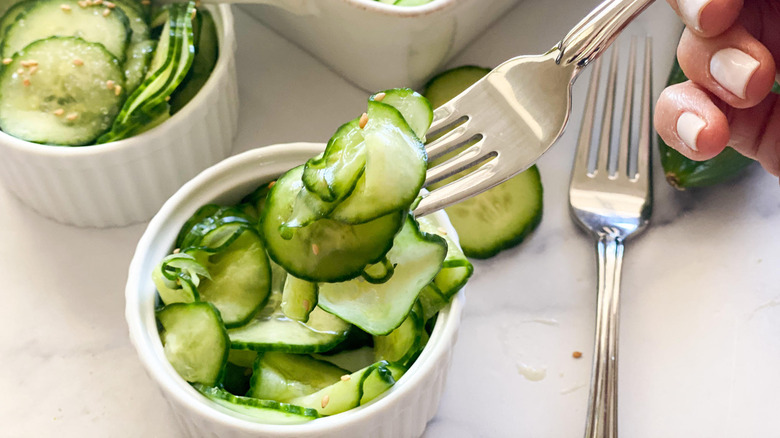 Miriam Hahn/Mashed
You have probably tried an authentic sunomono dish at some point in your life, but you likely didn't realize there was a dedicated Japanese name for it. Sunomono is a Japanese cucumber salad that typically includes cucumber and wakame (a type of edible seaweed) marinated in a tangy, sweet dressing. It's often served at Japanese restaurants, where sometimes it's just called a cucumber salad. In any case, it's super delicous and very refreshing. Recipe developer Miriam Hahn of YouCare-SelfCare is the brains behind this sunomono recipe, which takes advantage of both fresh ingredients and toasted sesame seeds for added flavor.
Another plus here is the easy prep work needed for this dish. "[This is a] super simple recipe!" Hahn says, though it will help if you find some dedicated cutting equipment. "If you have a mandolin, it makes the slicing very speedy. You need to cut the cucumbers very thin so, by hand, this will take some time." She also notes that you will want to either use English cucumbers or Persian cucumbers, which have relatively delicate skins. The key to really making this recipe great is finding cucumber with thin skin.
Gather the ingredients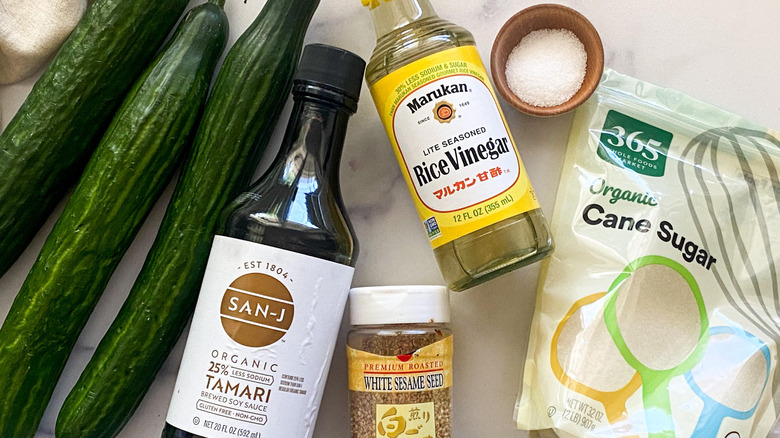 Miriam Hahn/Mashed
The first thing you need to do to prep for this dish is to figure out your grocery list. Luckily, this recipe calls for only six items, and you may have a few of them already at home in your fridge or pantry. First, you need to get either three English cucumbers or four Persian cucumbers. According to Kitchn, Persian cucumbers are narrow and more crunchy than they are watery. English cucumbers are a little bit longer but generally have few or no seeds, just like Persian ones.
Be sure that you also get sugar, rice vinegar, soy sauce, and toasted sesame seeds. If you want or need to reduce sugar in your diet, Hahn says that you can successfully cut out the sugar from this recipe. Once everything is successfully in front of you, it's time to start making the salad!
Slice the cucumbers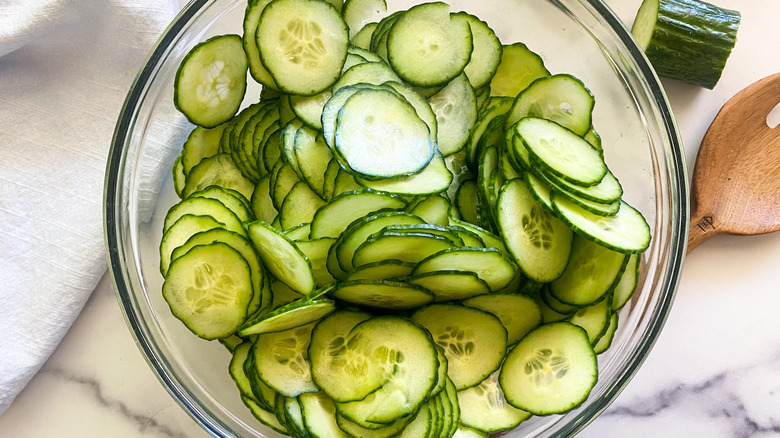 Miriam Hahn/Mashed
The first part is the most labor-intensive, to be sure. But rest assured that, after this step is done, it gets much easier (and this isn't so bad, to begin with, really). 
Take out your cucumbers and make sure you wash them well. Then, slice them very thin. You may either use a knife and cut them by hand, or you can get a little assistance from a mandolin. Use the ⅛ inch setting to get super thin slices. Hahn shares that as a safety precaution, "I always wear a protective glove when using the mandolin." If you go that glove route, be sure to get a specifically cut-resistant glove for kitchen use. Otherwise, you can use the guard that comes with the mandolin.
Next, place the cucumber slices into a medium-sized bowl. Then, sprinkle the cut cucumbers with ½ teaspoon of salt and toss it all together with your hands to distribute the seasoning evenly. Place your cucumbers in a colander and let them sit in the sink for 15 minutes, giving the salt time to soak in and allowing excess water to drain off the cucumber slices.
Rinse the cucumbers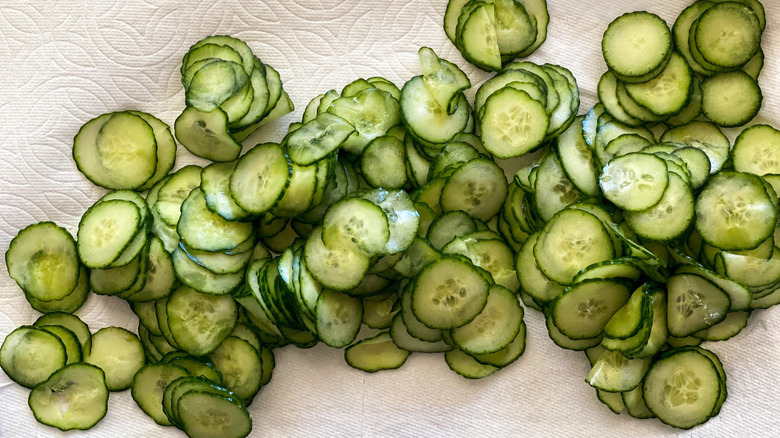 Miriam Hahn/Mashed
Once you have allowed the salt to set into the cucumbers for 15 minutes, rinse them to remove any excess salt. Simply keep them in the same colander for this step and rinse with cool water. You can also use your hards to gently squeeze out any additional water, as we want the cucumber slices to be relatively dry. No one wants a sopping wet salad, after all.
Next, place a layer of paper towels on the counter and then put the cucumbers on top of it. Pat with additional paper towels to remove any excess water. Alternately, you can use a clean, lint-free dishtowel.
Make the sunomono sauce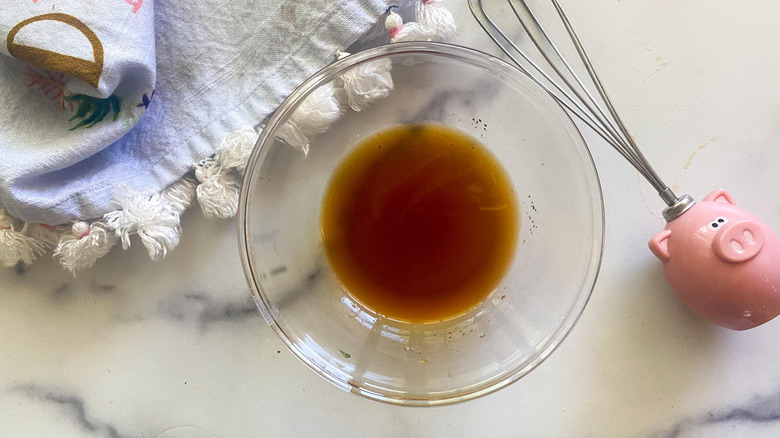 Miriam Hahn/Mashed
Now that the cucumbers are good to go, it's time to mix up the sauce. Take out a large bowl to mix everything, as you'll need to add the cucumbers in after this step. But first, add in the sugar, vinegar, and soy sauce. In addition, you'll also add ¼ teaspoon salt. Mix everything well. 
Now it's time for the cucumbers to meet their sauce and what a sweet meeting it will be! Dump in the cucumbers into the same bowl that you mixed your dressing in. Give it a few good shakes or stirs to make sure each slice of cucumber gets a good coating.
For the last part, add the sesame seeds on top of the mixed salad. At this time, you can also add more salt. "You will want to adjust salt for taste," Hahn shares. "Cucumber and salt is a great combo so you might need to sprinkle on a bit more."
Serve the sunomono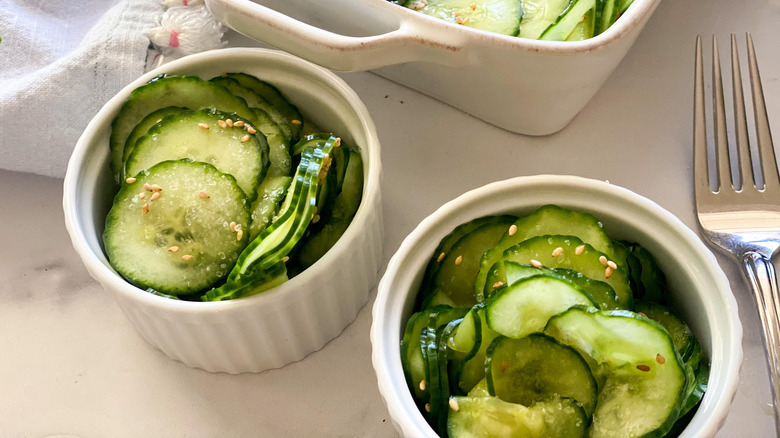 Miriam Hahn/Mashed
Once your authentic sunomono is done, you can finally enjoy this classic Japanese salad! One of the best things about this recipe is the fact that it goes well with just about everything. "This is a great side to absolutely anything," Hahn says. "I have even used it piled high on a veggie sandwich with hummus, lettuce, and tomato ... [It w]ould go great piled high on a veggie or regular burger, too."
If you happen to have any leftovers, they'll be good for up to three days, just so long as they're stored in an airtight container in the fridge.
Authentic Sunomono Recipe
Sunomono is a Japanese cucumber salad that typically includes cucumber marinated in a tangy, sweet dressing. Here's how to make the authentic dish at home.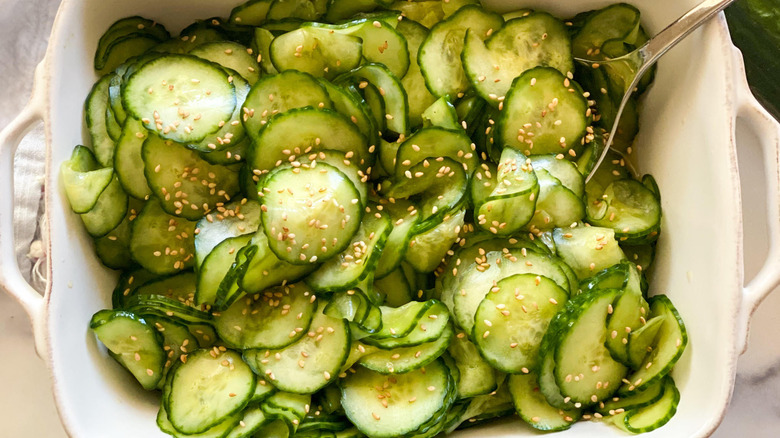 Ingredients
3 English cucumbers or 4 Persian cucumbers
¾ teaspoon salt, divided
1 tablespoon sugar
3 tablespoons rice vinegar
¼ teaspoon soy sauce
2 teaspoons toasted sesame seeds
Directions
Slice the cucumbers very thin. If using a mandolin, use the ⅛-inch setting.
Sprinkle ½ teaspoon of the salt on the cut cucumbers and toss with your hands to distribute evenly. Then place the cucumbers in a colander and set them in the kitchen sink for 15 minutes to drain.
Rinse the cucumber with water and drain. Use your hands to gently squeeze out more water. Then place the cucumbers on a layer of paper towels or a clean dishtowel to dry further.
In a small bowl, combine the sugar, vinegar, soy sauce, and ¼ teaspoon salt.
Add the cucumbers back to the bowl and toss with the dressing mixture. Top with sesame seeds and more salt to taste.
Nutrition
| | |
| --- | --- |
| Calories per Serving | 57 |
| Total Fat | 1.0 g |
| Saturated Fat | 0.2 g |
| Trans Fat | 0.0 g |
| Cholesterol | 0.0 mg |
| | |
| --- | --- |
| Total Carbohydrates | 11.7 g |
| Dietary Fiber | 1.3 g |
| Total Sugars | 6.9 g |
| Sodium | 459.2 mg |
| Protein | 1.8 g |