Copycat Red Lobster Tartar Sauce Recipe
Kristen Carli/Mashed
There are some sauces that can make just about anything taste delicious, and a good tartar sauce is very much on that list. Now, a great tartar sauce? Well, that's even better. And when you whip up a batch of this copycat Red Lobster tartar sauce fresh at home, that's what you'll be creating: one great sauce indeed. The only question will be what you're going to use it on.
"I love this with fish and chips, but it is also great with any type of potatoes, like tater tots, baked potatoes, French fries, potato chips, you name it," says chef, recipe developer, and registered dietician Kristen Carli. And by all means, do try the sauce out on all those dishes and so much more. You'll be pleased by how many foods it can complement and equally pleased by the simplicity of the recipe. "This one is very easy," Carli says. If you can do a bit of mincing and measuring, you can make this sauce without issue. And no need to head to your local Red Lobster, either. But hey, if you want to try the sauce on some lobster, that's just one more good idea.
Gather the ingredients for this copycat Red Lobster tartar sauce recipe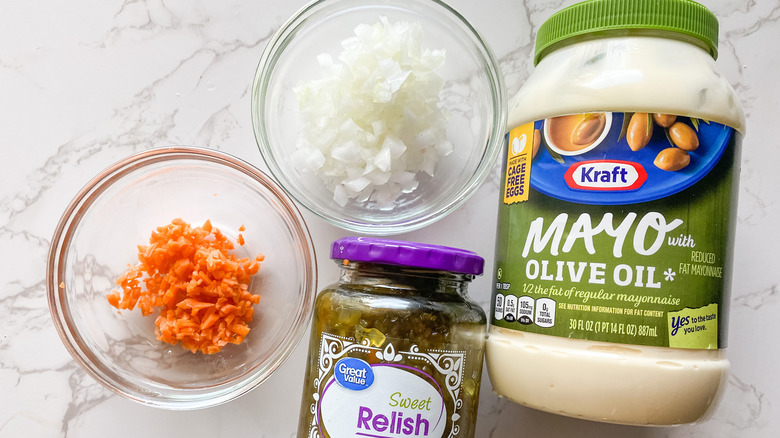 Kristen Carli/Mashed
The only thing easier than actually making this Red Lobster tartar sauce copycat recipe may be gathering the ingredients. All you need is a cup of mayonnaise, three tablespoons of finely diced yellow onion, one tablespoon of sweet relish, and one tablespoon of minced and finely shredded carrots.
Like things with a bit of spice kick? "If you want a bit of heat, I would add a dash of cayenne pepper," says Carli. Other than that, don't gild the lily: this sauce will be great just as it's laid out here in the recipe.
Mince the veggies and mix the sauce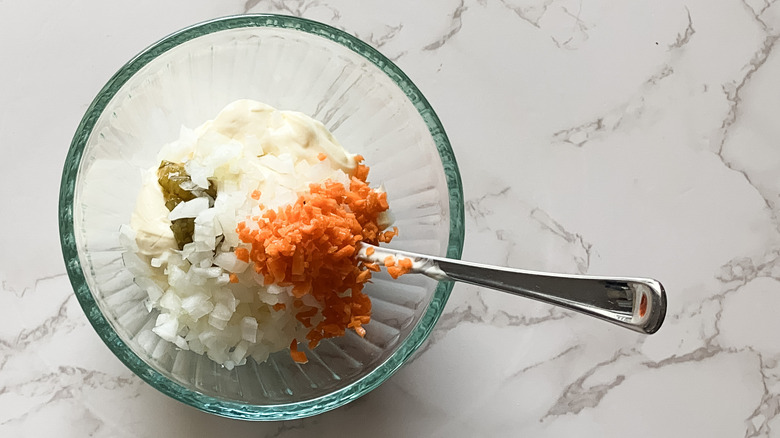 Kristen Carli/Mashed
Start off by doing the chopping and then the measuring of your onion, carrot, and relish. "I would recommend you take special care in mincing the onion and the carrots well so that there are not big chunks," Carli says. And go ahead and chop up any large bits of relish, too.
Now put the mayo, minced onion, carrot, and relish into a small bowl, and using a fork or a small whisk, stir everything together well. Take the time to fully combine the ingredients, as this is the last hands-on step, and you want to make sure that your sauce comes out perfectly.
Chill the sauce, then enjoy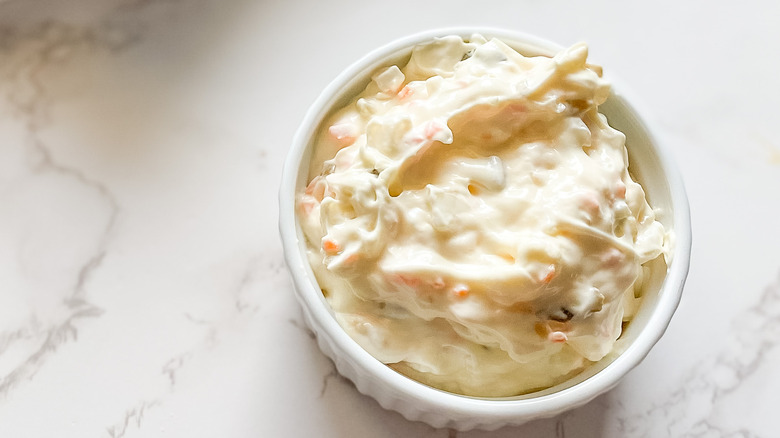 Kristen Carli/Mashed
Once the sauce is well mixed and all of the ingredients are combined, pop it into the fridge to chill for at least four hours before you enjoy a taste. (Okay, you can sneak a taste earlier if you really want to.) If you are going to be serving the sauce that same day, you can just lightly cover it with plastic wrap as it rests in the fridge. 
On the other hand, Carli says: "This will keep best in an airtight container in the fridge for up to seven days," so feel free to plan ahead if fish and chips is on the menu for later in the week.
Copycat Red Lobster Tartar Sauce Recipe
There are some sauces that can make just about anything taste delicious, and a good tartar sauce is on that list. A great tartar sauce? That's even better.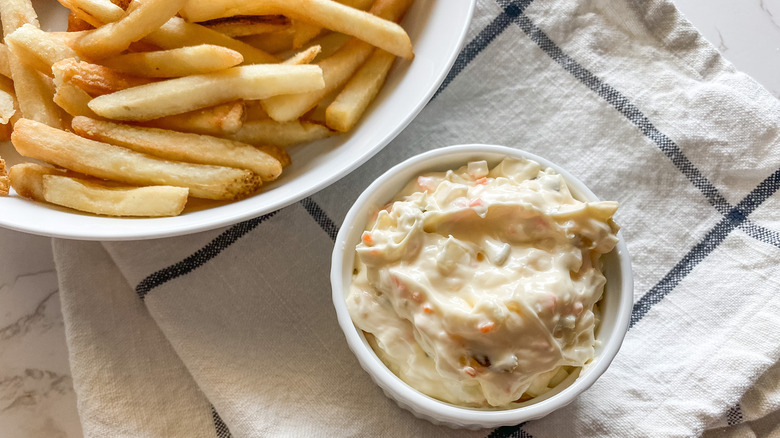 Ingredients
1 cup mayonnaise
3 tablespoons diced yellow onion
1 tablespoon sweet relish
1 tablespoon minced shredded carrots
Directions
Finely mince onion, carrots, and any larger chunks of relish.
In a small bowl, add all ingredients and stir to combine.
Refrigerate for at least 4 hours, then serve and enjoy.
Nutrition
| | |
| --- | --- |
| Calories per Serving | 272 |
| Total Fat | 29.7 g |
| Saturated Fat | 4.4 g |
| Trans Fat | 0.0 g |
| Cholesterol | 15.0 mg |
| | |
| --- | --- |
| Total Carbohydrates | 1.5 g |
| Dietary Fiber | 0.1 g |
| Total Sugars | 1.0 g |
| Sodium | 243.5 mg |
| Protein | 0.1 g |