Twizzlers Mystery Flavor Has Finally Been Revealed
The world is no stranger to a good mystery flavor. Jelly Belly has at least five editions of Mystery Bean Dispensers, which combine 10 normal flavors and 10 flavors the likes of which you might find in Harry Potter, like Stink Bug or Dirty Dishwater (via Jelly Belly). Lay's has been testing the waters with mystery flavors for years, including those People magazine tasted and guessed in 2020 to be "Chicken Tikka Masala," "Greek Salad," "Steak Frites," and "Japanese ramen or Vietnamese noodles". And Oreo has likewise been hosting mystery flavor contests for years. USA Today covered their big reveal in 2019 and announced their latest flavor to be churro.
So when Twizzlers jumped on the bandwagon, fans were pleasantly surprised. In March 2021, Twizzlers announced a mystery flavor to come this spring, and no, it wasn't licorice. But we do finally know the results of the mystery. Are you dying to find out the big twist?
And the big flavor reveal is...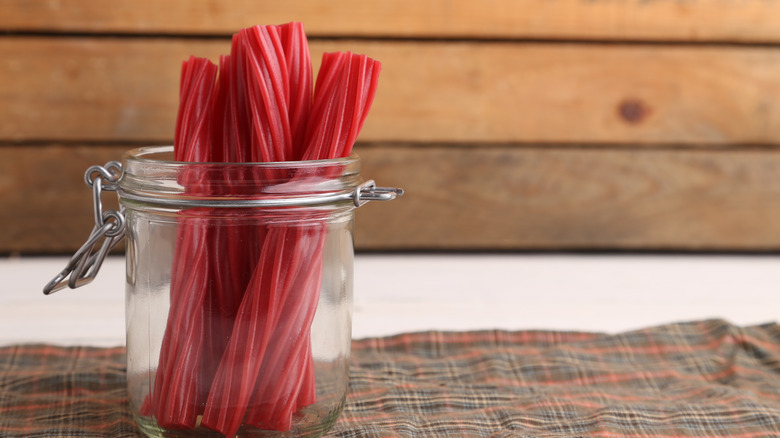 Shutterstock
According to Snack History, "Twizzlers comes in many different flavors, colors, and have several spin-off products as well." These known flavors include the original licorice flavor, as well as "cherry, strawberry, Hershey's chocolate, orange, lemonade, watermelon, blue raspberry, [and] grape" to start. There were also the additions of the Filled Twizzlers variety packs which include, orange cream pop and strawberry smoothie on top of a number of others. So it's hard to believe there is a flavor that Twizzlers could even come up with to serve as a mystery flavor that they haven't already had in their repertoire.
And yet, when Twizzlers took to Twitter for the big reveal, many were shocked and excited by their post, which stated that "if you guessed raspberry, you guessed correctly." According to Fansided, the mystery of it made people think much more out of the box, but the Twizzlers team played on the knowledge that fans of the candy loved fruit-forward flavors and gave the people what they want. The real question is, now that the mystery has been revealed, will the people still love it as much?