People Are Loving Christina Clemons' Doritos Earrings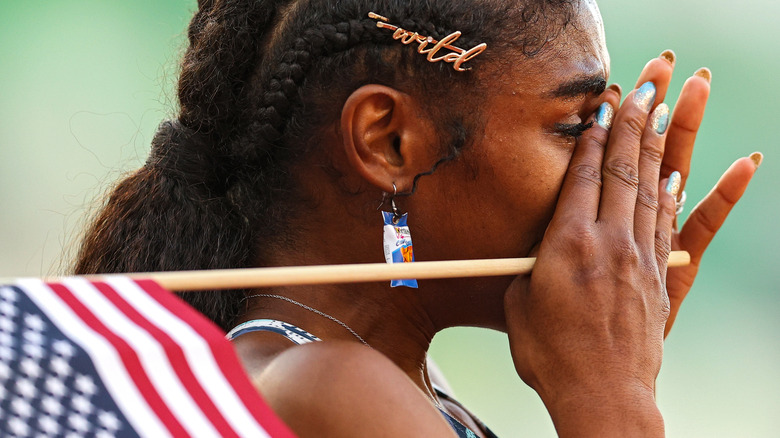 Patrick Smith/Getty Images
It all began June 19 at a Hot Topic store in Eugene, Oregon, according to Yahoo! Sports. The 2018 World Silver Medalist Christina Clemons was doing some shopping on the eve of the US Olympic Trials when the track and field star spotted a pair of dangly Doritos Cool Ranch earrings. She bought them on a whim.
Just 24 hours later, Clemons qualified for the US 2021 Olympic Team when she claimed third place in the 100-meter hurdles by less than a hundredth of a second. She also became an internet phenomenon, thanks in part to her Doritos-themed jewelry, which she decided to wear during the qualifying race.
When fans got a closer look at the accessory in a post-interview with NBC (as seen on Twitter), Clemons and her earrings began trending on social media. As she recounted in an interview with Yahoo!, she received "a deluge of messages about her earrings," immediately following the race. Close-up photos of Clemons' jewelry have received close to 30,000 likes on her Twitter page and have been re-Tweeted by Sports Center – and Doritos itself.
Clemons is running with the overnight attention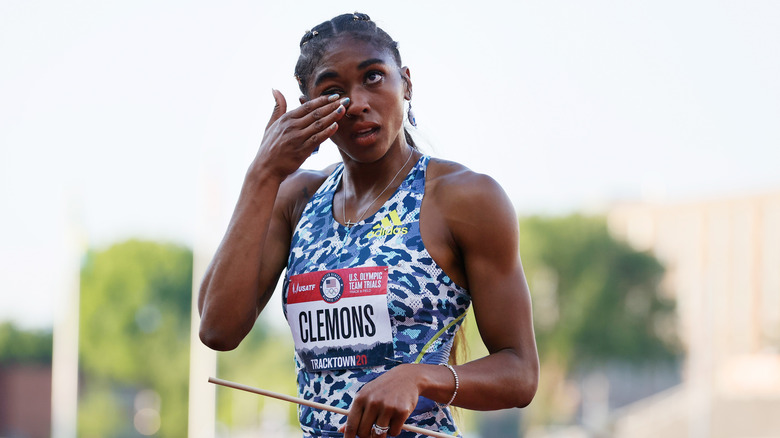 Steph Chambers/Getty Images
It didn't stop there. Clemons kept the ball rolling by encouraging her 5,000 Twitter followers to "blow up" Doritos mentions on Twitter. The fans got to work, with many calling for the brand to sponsor Clemons — and just five hours later, the company was inviting the athlete to get in touch with them. Sensing an opportunity, Hot Topic inserted itself into the conversation, too, offering Clemons a pair of dangly Doritos Nacho Cheese earrings to wear in Tokyo (as seen on Twitter). Clemons was all for it, noting that the red and white colors would "match the USA uniform pretty nice."
Getting to this point has been an uphill battle for Clemons, as she explained in her interview with NBC. She has been gunning for a spot on the US Olympic team since 2012. A 2013 injury involving her achilles tendon sidelined her for a year, and after sitting out the 2016 Olympics in Rio, the pressure was on to secure a spot at Tokyo this year. Nabbing third in her dangly Dorito earrings, Clemons has done just that — and just like our favorite chips, we can't wait to go back for more of her victories.