Amazing Ways To Make Corn On The Grill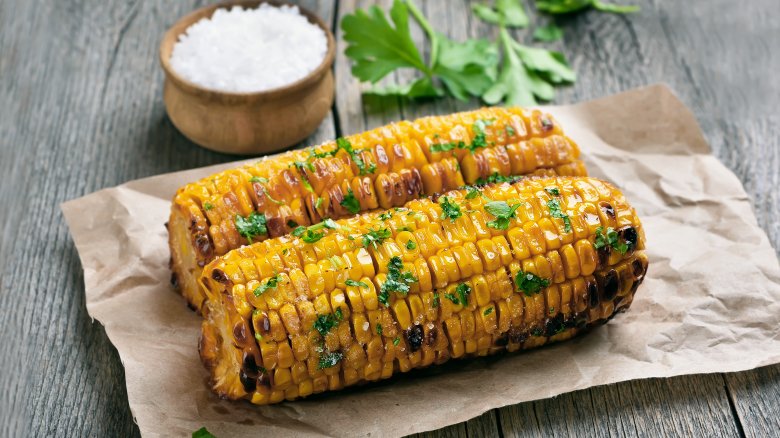 Shutterstock
There's nothing that says summertime quite like a dinner that's come right off the grill. Even though it's usually the meats that get all the attention, that's no reason to ignore your veggies. Corn is one of the easiest, most versatile, and tastiest things you can add to your menu, and there's no reason to make it the same old way when there are so many different things you can try!
Fire-grilled chili lime corn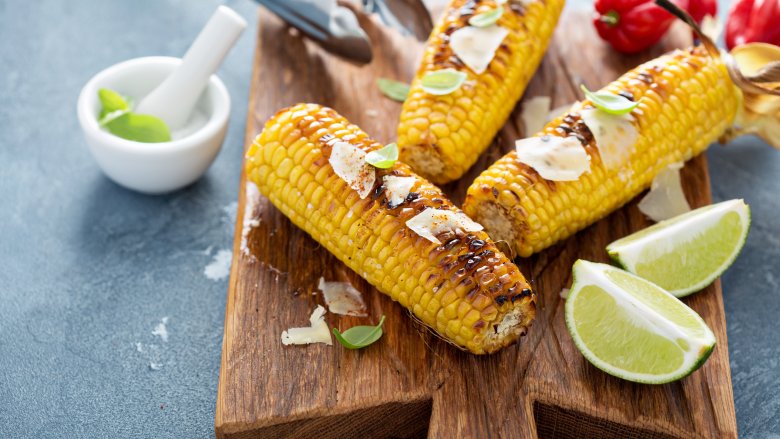 Shutterstock
Following this recipe from Food Republic to the letter takes a bit of prep work, and you won't be doing all of your cooking on the grill. It's absolutely worth it, though, because this one is sure to be a hit with anyone who likes things a little spicy. Make sure you add a nice char to the corn for that smoky flavor of your spices to really come forward, and you can probably already imagine this one being complimented by a heaping spoonful of mayo-covered cold pasta or macaroni salad with some of the same spices and a similar flavor profile. Add another dash of seasoning after you take it off the grill, and an ear of this corn will bring the whole meal together.
Grilled corn salads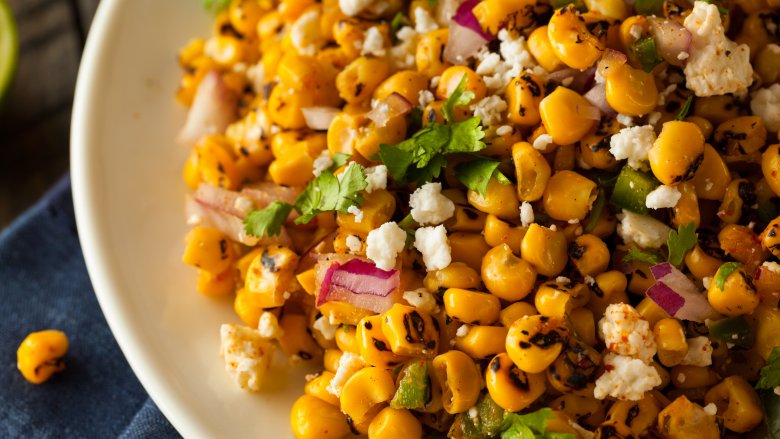 Shutterstock
The sweet-and-smoky flavor of corn right off the grill isn't just great for hot sides, it's a must-have ingredient in cold ones, too. The last thing you want is a heavy, dense meal when you're sitting out on the back patio in the warm summer sun, and grilled corn salads are the right amount of filling without making you uncomfortable.
There's no end to what you can do with this concept. For a basic — and fast — recipe, check out this one from Le Creme de la Crumb. 
If you'd like a taste of authentic Mexican cuisine, try this recipe from Kitchen Konfidence. Their Mexican grilled corn salad is based on the dishes commonly served as street food in Mexico, and with plenty of cilantro, jalapenos, and chilies, you'll think you've gone south of the border. FoodieCrush has a similar, Mexican-inspired recipe, but they mix it up a little by adding black beans and quinoa for an entirely different texture. The sky's the limit, and this might inspire you to head to the farmers' market and see what you can find to go with that corn you're undoubtedly going to pick up.
Italian-style grilled corn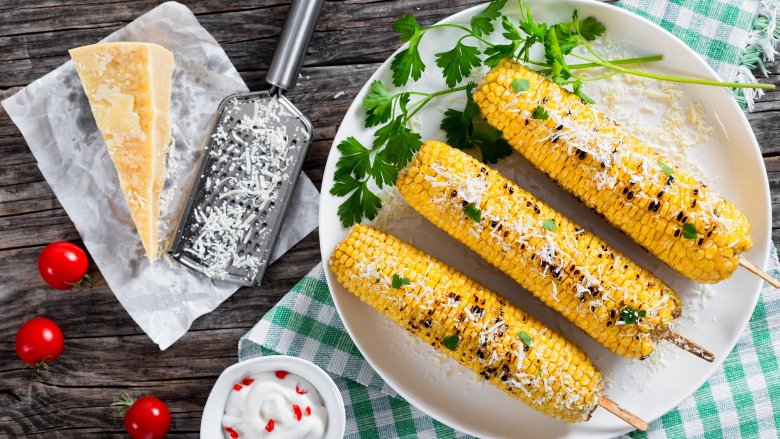 Shutterstock
Let's say you've given the usual hamburgers and hotdogs a miss this time, and you've opted for something like Italian sausage patties with a heaping helping of grilled onions and peppers. What would round the meal out better than grilled corn on the cob that uses some of the same flavors?
Serious Eats has you covered with this super-easy recipe for grilled corn, Italian style. You probably have everything in your kitchen already, as it calls for things like parsley, red pepper flakes, garlic, Parmesan and Pecorino Romano cheese, along with a healthy dose of butter. Char each side, cover with cheese, and you'll have a smoky, cheesy, flavorful side to go along with your meal.
Kabobs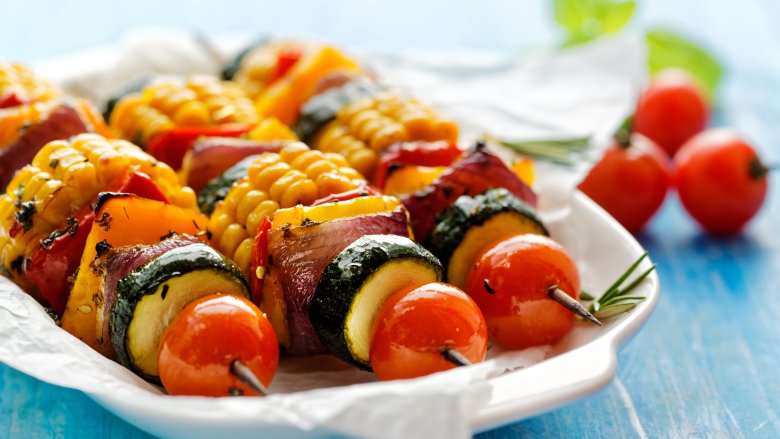 Shutterstock
Corn doesn't have to be the only veggie you put on your grill this summer, and not only are kabobs an easy-to-make, easy-to-handle alternative to messing about with loose veggies, corn is the perfect complement to anything else you thread onto the skewer.
Finding a set of veggies that cook at the same rate can be tough, but fortunately, Melissa's Southern Style Kitchen has done all the trial and error for you. Their kabobs include corn, red and green peppers, yellow squash, red onion, and zucchini.
YOu don't even need meat with these flavorful kabobs. Vegetarian Times uses corn as a centerpiece of their vegetarian kabobs, that can do double duty as a side and a main. With pineapples and a chipotle marinade, they're anything but boring and they'll definitely have vegetarians and meat-lovers alike asking for more.
Grilled pizzas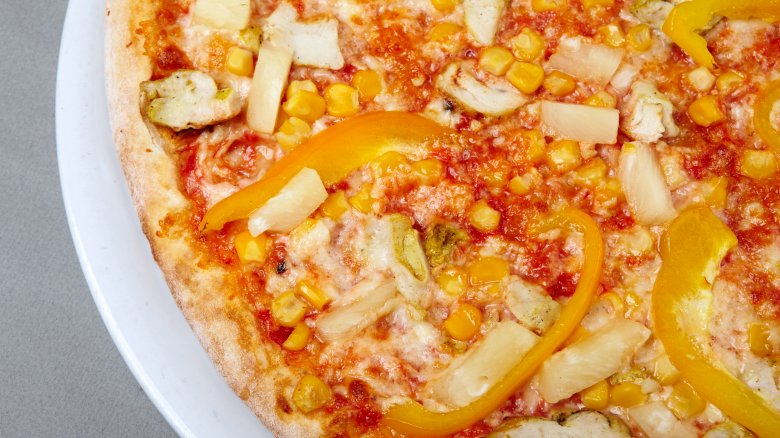 Shutterstock
The first thing that comes to mind when you think about grilling might be a plethora of meats, but there's no reason you have to get stuck in that rut. Next time you light up your grill, make a pizza.
There's no limit to the number of things you can do with it, as demonstrated by this recipe for grilled corn pizza from Macheesmo. They grill their corn first to give it a wonderful char, then add it to a pizza with other fresh veggies and toss it on the grill. Handfuls of cheese and a dash of lime make this pizza unforgettable.
If you're a fan of cilantro, you can't go wrong with this variation from This Mess is Ours for a pizza that includes summery toppings like a sour cream drizzle, avocado, poblano peppers. There's literally no end to the possibilities!
Setting it on fire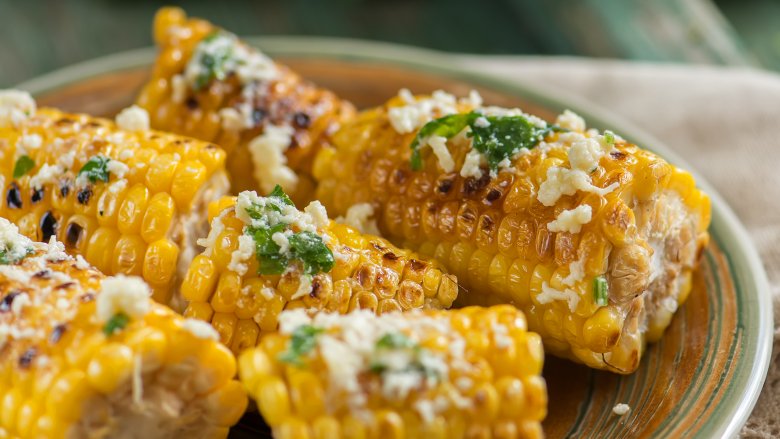 Shutterstock
You may already have your favorite method for cooking an entire ear of corn on the grill, but Irish chef Donal Skehan has a method that's probably one of the most visually impressive out there. His method for grilling corn involves first soaking it then letting the corn cook in the husk for around 20 minutes before quite literally setting it on fire and burning away the husks. He finishes his off with a mix of garlic, parsley, and butter, but if you're in the mood for something different you'll find that his method creates the perfect canvas for using all sorts of flavored butters.
Corn and bean burgers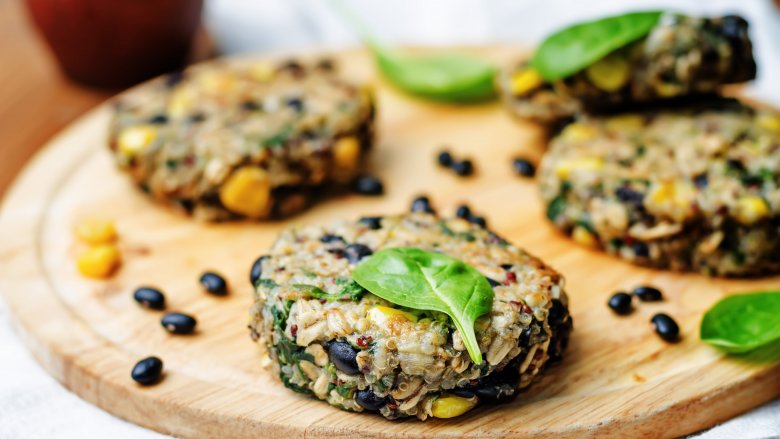 Shutterstock
Corn doesn't have to stand on its own to have a place on the grill, and whether you're catering to the vegetarian in the family or just looking to make something different, a good veggie burger can win over even the staunchest skeptics — especially when you add corn.
Food 52 offers up this recipe for a black bean and corn veggie burger that's heavy on the spices. Throw the patties on the grill and cook them like you would any other burger. There's also this option from The Innocent Primate, which is ideal if you're looking for something a little more dense. Filled with carrot, bread crumbs, and whole wheat flour in addition to the beans and corn, it might just help change how you think when you think of a veggie burger.
Grilled corn dip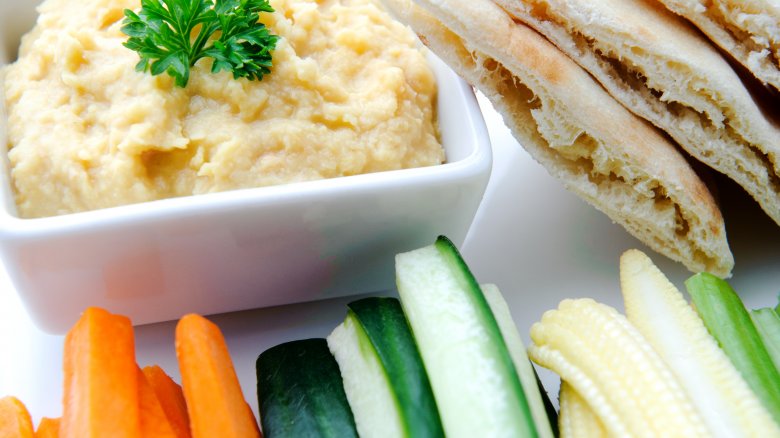 Shutterstock
Grilling takes time, and if you happen to be having some friends and family over for a backyard BBQ, you're going to need munchies. Sure, you could set out some nachos or some chips, but why settle for any one of a number of standard dip flavors when you could grill some corn and come up with something fresh, cheesy, and spicy all at the same time?
Helpful Homemade came up with this dip recipe that calls for corn right off the grill, plenty of cheese and seasonings, and just a couple jalapenos. Since you're serving this one warm, there's no reason to make it ahead — just grill the corn straight away when you fire up the grill, spend five minutes in the kitchen finishing it off, and you'll have an amazing side to go with that bag of chips or veggie platter. For another variation that includes chorizo and cheddar, check out this one from A Spicy Perspective. Find your favorite, and you'll never buy store-bought dip again. 
Grilled corn fritters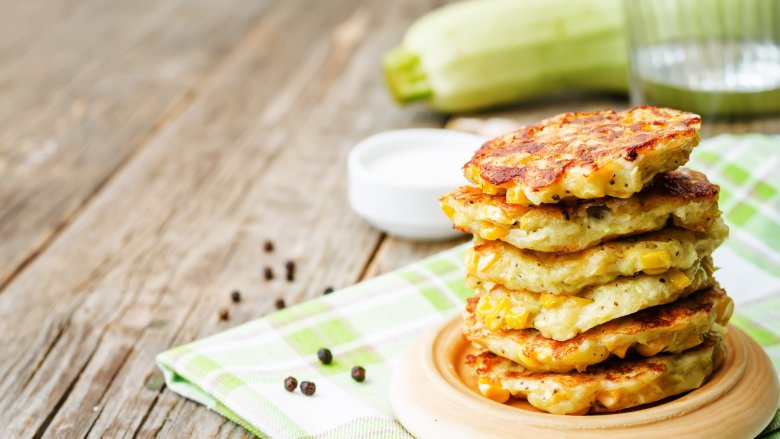 Shutterstock
It's incredibly easy to take that grilled corn from the cob and turn it into something new, and Table for Two has just the recipe you need to turn your grilled corn into grilled corn fritters. Once you've charred your corn on the grill, it's only a quick mix of the flour, cornmeal, and seasoning mixture then 10 minutes in the pan before you have corn fritters that are ready to hit the plate.
For something with more of a spicy kick, try these from Sally's Baking Addiction. Not only has she created fritters that are full of flavor, but there's also instructions for a honey jalapeno dipping sauce that completely transforms them from something good to something amazing. While either of these recipes can be used with any kind of sweet corn that's prepared any kind of way, grilling it first is a sure-fire way to release loads of extra flavors and take your fritter game to the next level.
Grilled sweet corn ice cream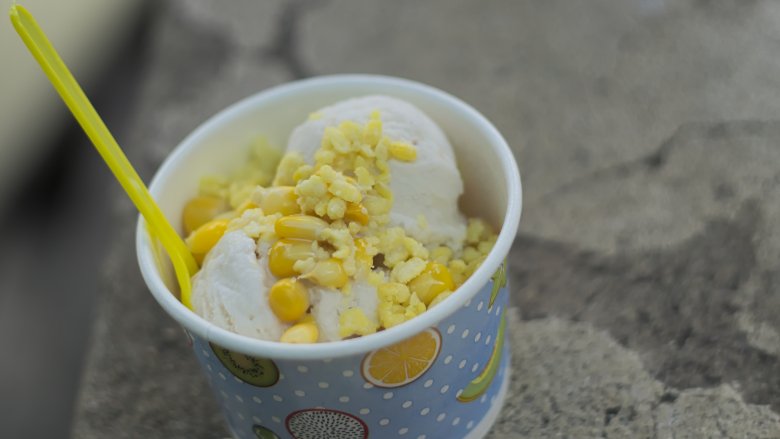 Shutterstock
Every memorable backyard BBQ needs a dessert, and what's better on a hot summer's eve than a dish that's been piled high with ice cream? The answer to that might just be grilled corn ice cream, because the sweet flavor of the corn is exactly what ice cream needs.
The Weiser Kitchen has a recipe for charred sweet corn ice cream that only takes about three hours to make, so it's completely possible to grill up your sweet corn in the afternoon, let it cool, and have ice cream by the time the sun goes down. This one is full of things like heavy cream and sugar so it's not the most diet-friendly, but when you taste thing — and its vanilla and caramel notes — you'll forgive yourself in a heartbeat.
If you really want to make a splash take a page from Dominique Ansel's book. This sweet corn ice cream isn't served on a cone, but instead, it's perched on top of half an ear of grilled corn on the cob. It's braised in butter and soy sauce, an unlikely — but amazing — contrast to the flavor the ice cream, and you can definitely try this concept at home.
Grilled corn popsicles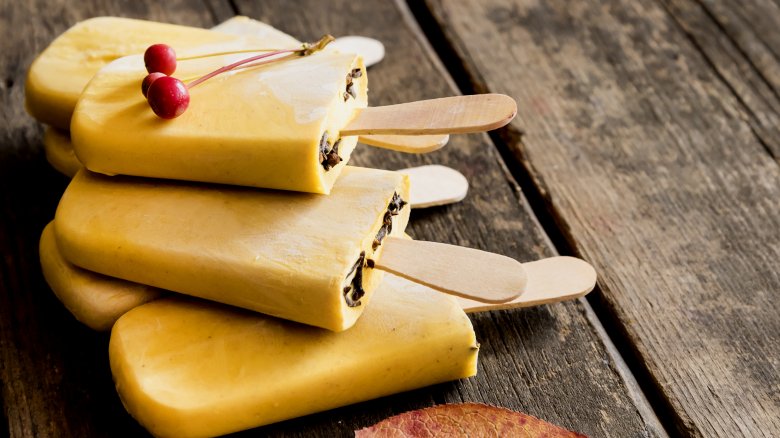 Shutterstock
Let's face it, satisfying that sweet tooth is tough, especially when you're trying to be good. That's exactly why you should take advantage of grilling corn to fill your freezer with something sweet and cold that's bound to hit the spot. For a good basic recipe, check out Full Circle's directions on making popsicles from grilled corn and coconut milk. Be sure to strain out any leftover pieces after running everything through a blender, and you'll have smooth popsicles that are an amazing treat any time of the day.
For a little variety, experiment with some of the flavors you're including, and consider adding a dash of juice or, like Jerry James Stone did, a dash of cardamom. That recipe chooses whole milk over coconut milk, and brown sugar to add to the natural sweetness. Since it's going to take some time to freeze, you'll need to plan ahead, but what better mid-afternoon treat is there to pass around at your next backyard party?