Copycat Chili's Salsa Recipe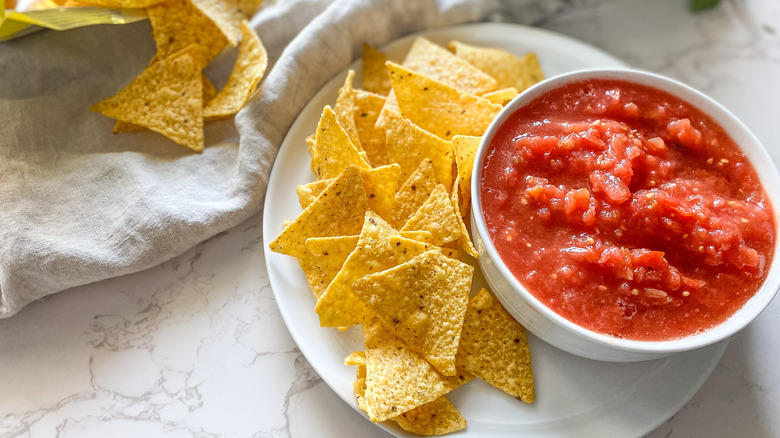 Kristen Carli/Mashed
Remember that classic moment from "Seinfeld" when Jerry and George are at the diner discussing condiments, and Jerry gives George his reasoning on why salsa has become such a popular choice? As Mr. Seinfeld explains it, it's "Because people like to say 'salsa'." And that's all fine and good when you're playing for laughs, but what, of course, is the real reason salsa is so popular? Because it's delicious. And if you think it's only purpose is for dipping those tortilla chips as you wait for the rest of your meal at your local Chili's (and yes, invariably filling up on said chips), then it's time to greatly expand your salsa horizons. 
Chili's gets it just right when it comes to salsa because theirs is on the smoother side without being watery, it's got some kick but not so much heat as to overwhelm, and it's delicious served chilled with chips or warmed up on your favorite app or entrée. And as far as the home chef is concerned, it's entirely manageable to make a copycat version in your own kitchen. Chef, recipe developer, and registered dietician Kristen Carli says: "This is very healthy and not to mention incredibly easy."
Now let's gather the ingredients and get to it, because it's salsa time!
Gather the ingredients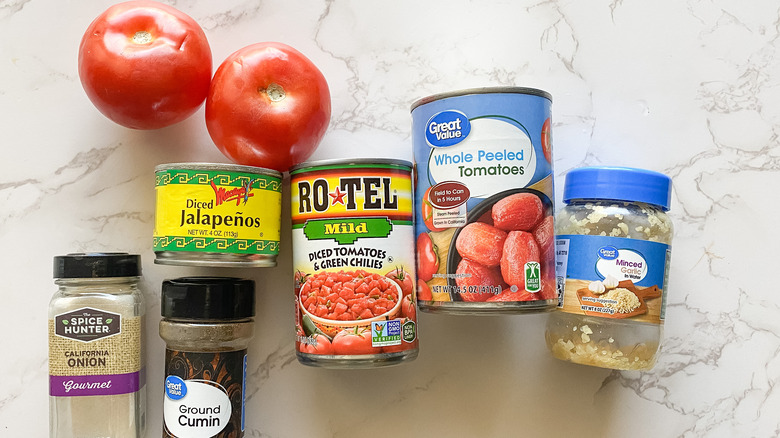 Kristen Carli/Mashed
There are all sorts of ways to customize a salsa to your liking. You can amp up the spice with cayenne powder or even a habanero pepper added alongside the jalapeños. You can pull back on the heat by swapping in bell peppers. You can add a fruit element. 
And so on it goes, but as this is a copycat recipe, stick to the script! To replicate Chili's delicious salsa, you'll need a can of whole peeled tomatoes, a can of diced tomatoes with green chilies, some canned diced jalapeños, a couple of beefsteak tomatoes, onion powder, ground cumin, minced garlic, salt, and pepper.
Blend everything together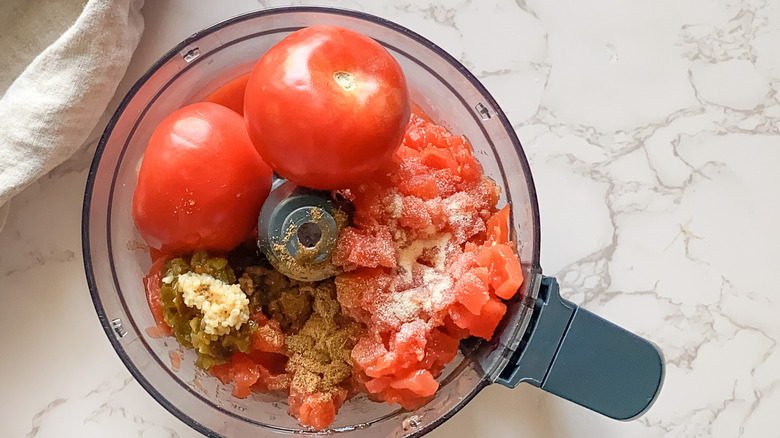 Kristen Carli/Mashed
Okay, do you have all of your ingredients gathered and your spices and jalapeños and such measured out and those tomatoes washed? Great! Then pop everything into the food processor and blend on high speed until the salsa is evenly smooth and fully combined and ... that's it. Really. "I'd recommend using a big food processor or a high speed blender if needed," says Carli, adding, "You can slice the tomatoes if you are having trouble fitting them in your food processor — otherwise throw them in whole."
Aside from those little tips, the whole of this recipe really is just blending all of these ingredients, making sure you use all the liquid from the cans and all. Easy, healthy, and delicious, and it tastes just like Chili's beloved salsa.
A few ideas on how to enjoy your salsa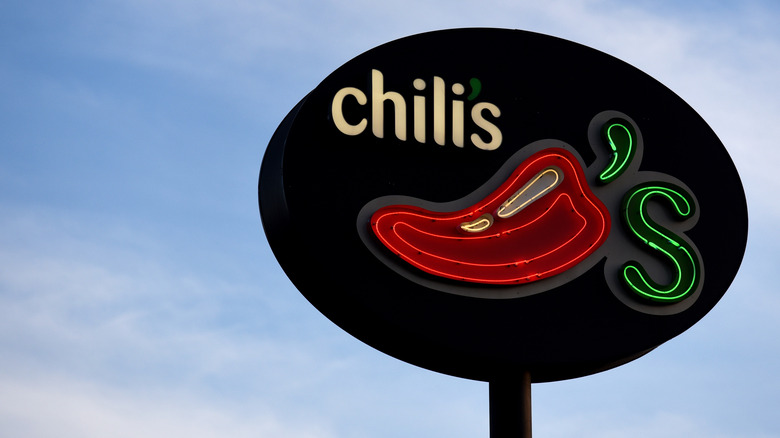 Bloomberg/Getty Images
"I love serving this one with burritos, tacos, and rice," says Kristen Carli, adding, "[And] I just ate this for lunch over a baked sweet potato and black beans." Salsa can be used on salads in place of a dressing, in soups as a topper, with eggs, and on it goes. And it's a food you can eat without guilt, as it's low in calories and virtually fat-free.
If you want even more ideas, one idea is to go ahead and take a look at Chili's menu and see what looks like it would be great with salsa — if you see something on the menu that you would like to try with salsa, no reason not to try to make that yourself, too!
Copycat Chili's Salsa Recipe
Do you love munching on Chili's chips and salsa while waiting for your entrée to arrive? With this copycat recipe, you can make Chili's salsa any time you want!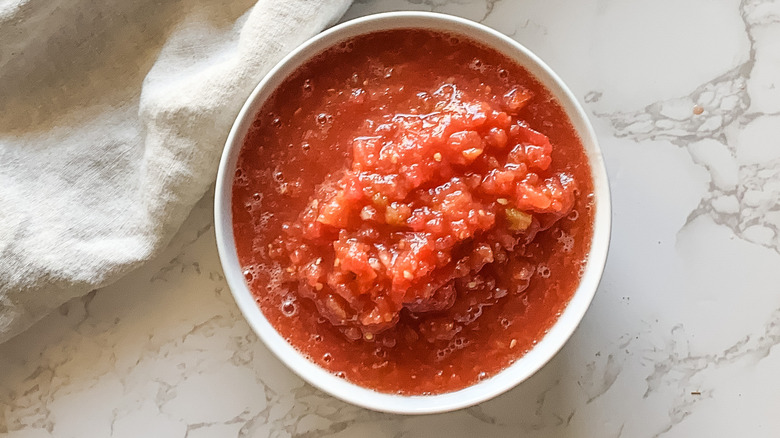 Ingredients
1 (15-ounce) can whole peeled tomatoes
1 (10-ounce) can diced tomatoes with green chilis
1 tablespoon canned jalapeños
2 beefsteak tomatoes, whole
½ teaspoon onion powder
½ teaspoon ground cumin
½ teaspoon minced garlic
1 teaspoon salt
½ teaspoon pepper
Directions
Place all ingredients (including liquid from cans) in blender or large food processor.
Blend until fully combined and smooth.
Serve with chips, on potatoes, in burritos, or however you'd like!