Instant Pot Hot And Sour Soup Recipe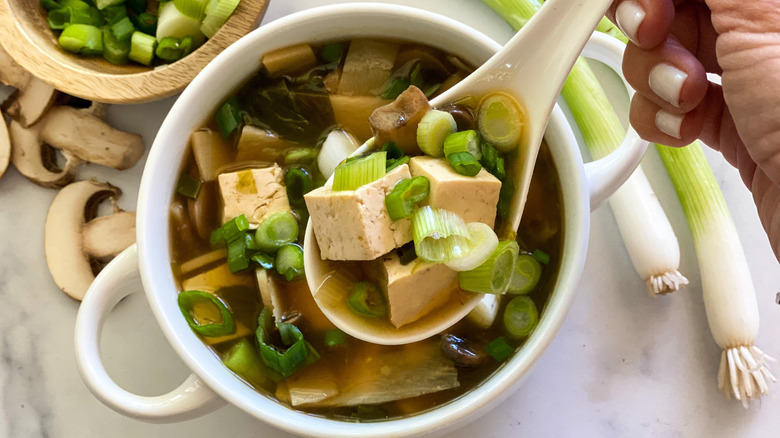 Miriam Hahn/Mashed
Whenever we crave a hearty soup, we often settle for a store-bought soup mix because making a soup from scratch can seem like a tough task ... but is it? Not really. You can whip up a wholesome soup for your midweek dinner in just 15 minutes. Recipe developer and wellness coach Miriam Hahn shows us a hot and sour Instant Pot soup that is designed for those who want a quick way to create a restaurant-style soup with nutrient-dense foods such as bamboo shoots, mushrooms, and spinach from the comfort of their own home.
This recipe has a super long ingredient list, but it takes a surprisingly short time to prep: 10 minutes tops! "Personally I love this soup when I want a light dinner. I love Instant Pot dinners that come together quickly," says Hahn. The soup, she adds, can be both a stand-alone dish since "it is a nice blend of protein, fat and fiber," or it can be paired with rice and salad.
Hahn makes her soup in an Instant Pot, which should be every cook's new best friend. But those who haven't embraced the technology yet can still make the soup the conventional way on the stovetop. It might just take a little while longer to cook. Either way, the result is a lip-smacking bowl of hot and sour soup.
Gather all the ingredients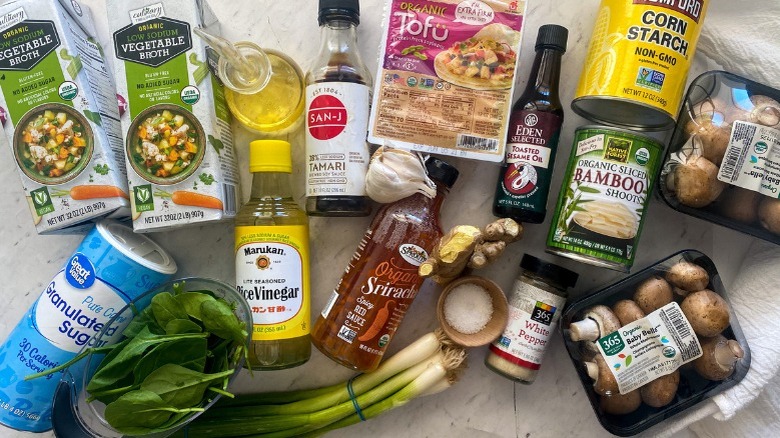 Miriam Hahn/Mashed
The soup requires 5 to 6 large scallions chopped, 1 can (14 ounces) of bamboo shoots, 2 cups of spinach, and 2 cartons of sliced baby bella mushrooms. You can substitute any other type of mushroom, but note that baby bellas have a more subtle, earthy flavor than portobellos and are firmer than white button mushrooms, making it a perfect addition.
Next up, the spices and herbs: gather a 1-inch knob of fresh ginger, 2 cloves of garlic, and 1 teaspoon of white pepper. Also, keep ready 8 cups of vegetable or chicken broth, ¼ cup of soy sauce,  1½ teaspoons each of sugar and salt, 1 teaspoon of sesame oil, 1 teaspoon of avocado or olive oil, 1 package of extra firm tofu, ¼ cup of cornstarch, and ½ cup of water.
Most importantly, we need 3 tablespoons of rice vinegar and 2 teaspoons of Sriracha — the ingredients that give the soup its name. "You get the hot from the Sriracha and the sour from the vinegar and ginger. You can make it hotter by adding more Sriracha for sure," says Hahn.
Once you have all your ingredients in place, it's time to start prepping.
Press the tofu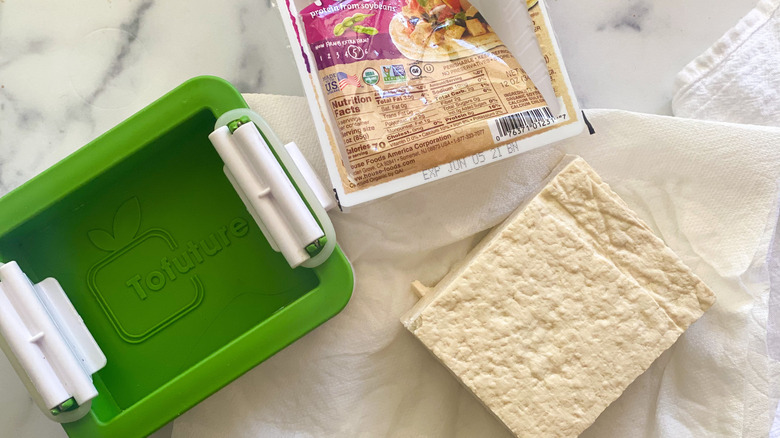 Miriam Hahn/Mashed
Make sure you have the correct tofu, the extra firm kind. Tofu varieties are plentiful, and often mind-boggling with tags such as soft, medium, firm, extra firm, and silken. The science that separates one from another is quite simply the moisture content. So a soft tofu is a jelly-like mass with a lot of moisture content, and an extra firm is hard and has minimum water content.
For this recipe, we use the extra firm tofu to "avoid it becoming soft and mushy" in the soup, explains Hahn. Tofu comes packed in water to keep it fresh. You need to follow a few simple steps before you can use this healthful low-calorie ingredient in your dish: discard the water that it comes packed in, and then place the block of tofu on a shallow bowl or dish. Press it down with a heavy object — a cast iron skillet works great for this purpose.
Keep it pressed for 20 minutes, and you will see some water squeezed out of the tofu and collected in the dish. Remove this water, and the tofu is ready to use. The other option is to use a tofu press, which is a specially designed container to press the tofu.
Prep the other ingredients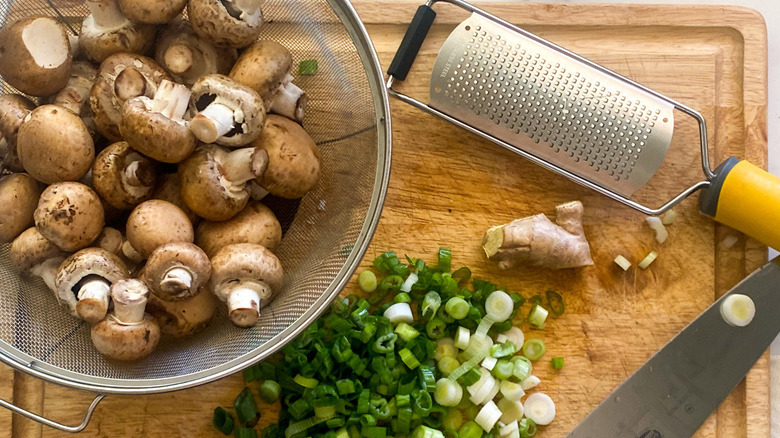 Miriam Hahn/Mashed
While the tofu is getting pressed, take the time to attend to the other ingredients. Grate the ginger and mince the garlic using a garlic press or alternatively, a rasp grater — the one that is used to typically zest oranges. Once that's done, start chopping the scallions into neat tiny coins. Scallions, a more pleasant cousin of the onion, have a mild yet zingy flavor. When chopping them, discard the root and just a little more from the bottom. If you want to add some scallions to your soup as a garnish, feel free to set some aside. Finally, slice up the mushrooms if you bought them whole. 
While no chopping is required, you will also need to drain your can of bamboo shoots.
Measure out the soy sauce, Sriracha, vinegar, sesame oil, and avocado or olive oil, and keep them aside, ready to be added.
It's time to pressure cook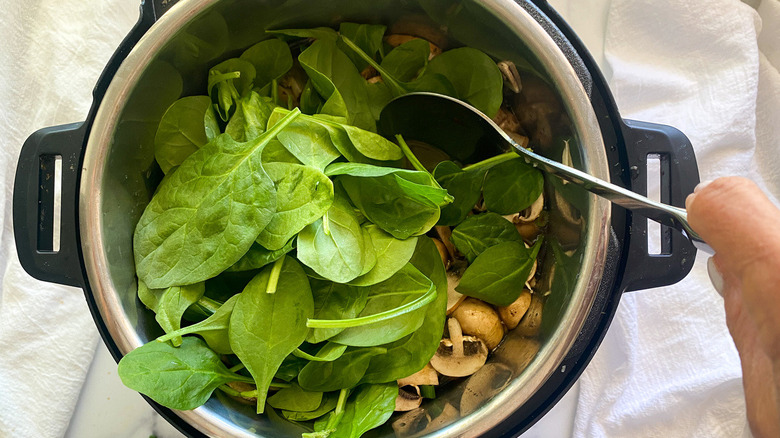 Miriam Hahn/Mashed
Begin to add the prepped ingredients into the Instant Pot including the broth, bamboo shoots, spinach, mushrooms, scallions, ginger, garlic, the oils, white pepper, and soy sauce. Don't forget the hot Sriracha and sour vinegar, salt, and sugar. The only ingredients that you shouldn't add in are the tofu, cornstarch, and water — keep these aside for later.
Close the Instant Pot lid, and move the nozzle to the sealing position. Set the Pot to pressure cook mode, and time to 5 minutes. It will take about 12 minutes for the Pot to reach a high pressure before it starts cooking.
In that 17 minutes, you have ample time to cube the pressed tofu, and mix the cornstarch and water together into a viscous fluid. Cornstarch is high-calorie, high-carb food, according to Healthline. Thankfully, it is not an absolute must in the recipe. Hahn tells us that "the cornstarch helps thicken the soup but you can leave it out if you want."
Vent out the pressure and add the rest of the ingredients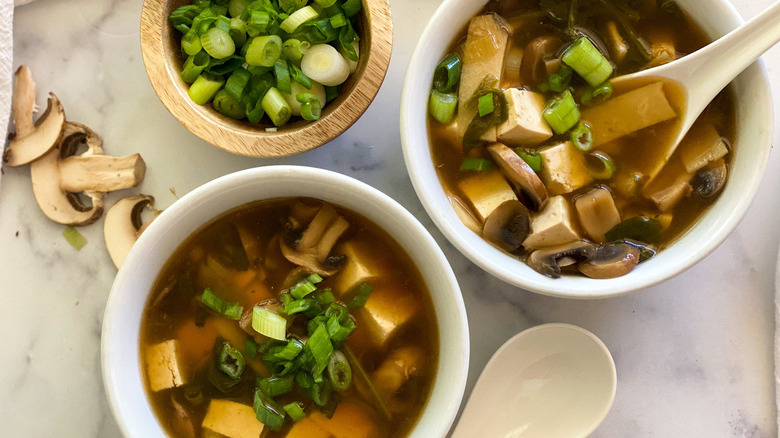 Miriam Hahn/Mashed
When the Instant Pot beeps after the 5-minute cook time, carefully move the nozzle from sealing to the venting position. Make sure you stand away from the nozzle, as at this point all the pressure comes out with a sudden force and intense heat.
After all the pressure is vented out, cancel the pressure cook mode, and select sauté. The soup is almost done, and probably smells irresistible. But before you dig in, just a couple more steps: add the thickening cornstarch and water mix, and let it simmer for about 5 minutes. Lastly, add the tofu cubes.
To add a dash of color, garnish each bowl with some more chopped scallions right before serving. If there is any soup left, simply refrigerate it for next day's dinner. The soup stores well for five days in an airtight container.
Instant Pot Hot And Sour Soup Recipe
Don't be afraid to make this delicious restaurant-style dish in the comfort of your own kitchen -- with an Instant Pot, it'll be ready in a jiffy!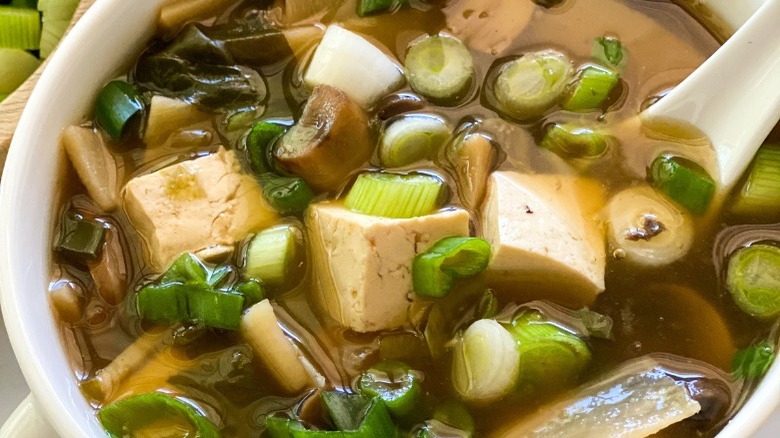 Ingredients
1 (12-ounce) package extra firm tofu
2 (8-ounce) packages of baby bella mushrooms (or sub another mushroom)
5 to 6 large scallions (leave some for garnish)
1-inch knob fresh ginger
2 cloves garlic
8 cups vegetable or chicken broth
¼ cup soy sauce
3 tablespoons rice vinegar
2 teaspoons Sriracha
1 ½ teaspoons sugar
1 ½ teaspoons salt
1 teaspoon white pepper
1 teaspoon sesame oil
1 teaspoon avocado or olive oil
1 (14-ounce) can of bamboo shoots, drained
2 cups fresh spinach
¼ cup cornstarch
½ cup water
Directions
Drain and press the tofu for about 20 minutes.
Slice the mushrooms and chop the scallions.
Grate the ginger and press out the garlic.
Add the mushrooms, scallions, ginger, garlic, broth, soy sauce, vinegar, Sriracha, sugar, salt, white pepper, sesame oil, avocado oil, bamboo shoots, and spinach to the Instant Pot.
Set the nozzle on the Instant Pot lid to sealing. Select pressure cook and set the time to 5 minutes.
Meanwhile, cut the tofu into cubes.
In a small bowl, mix together the cornstarch and water.
When the Instant Pot timer beeps, change the nozzle from sealing to venting.
When it finishes venting, cancel the pressure cook setting and then select the sauté setting.
Add in the cornstarch and water mixture. Let it simmer for about 5 minutes.
Stir in the tofu cubes.
Ladle the soup into individual bowls and top with additional scallions for serving, if desired.
Nutrition
| | |
| --- | --- |
| Calories per Serving | 214 |
| Total Fat | 8.2 g |
| Saturated Fat | 1.6 g |
| Trans Fat | 0.0 g |
| Cholesterol | 7.2 mg |
| | |
| --- | --- |
| Total Carbohydrates | 20.9 g |
| Dietary Fiber | 3.1 g |
| Total Sugars | 7.1 g |
| Sodium | 1,048.2 mg |
| Protein | 16.7 g |