Toll House Cookie Fans Need To Know About DQ's New Blizzard Flavor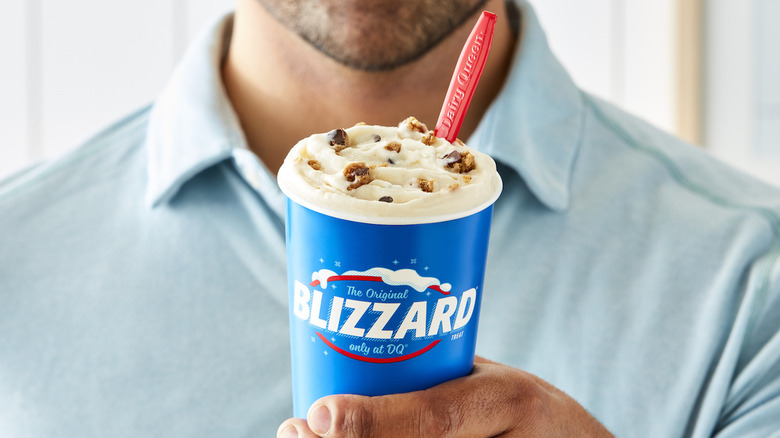 Dairy Queen
Dairy Queen's iconic Blizzard has a long, storied past that dates back to 1985 — the year when the Blizzard was first introduced at nationwide Dairy Queen stores (it was a "smash, or rather, "smush" hit then, and it has remained so consistently throughout the years), per the New York Times. Now, while you don't exactly need to know the history of this ridiculously thick frozen dessert — comprised of DQ's frozen soft serve plus your choice of any number of fantasy mix-ins such as Oreo cookies, M&M candies, Girl Scout cookies, and pink-iced animal cookies (via Dairy Queen)  — you might be wondering about one particular mix-in. Why has there never been an option to have Nestlé Toll House Chocolate Chip Cookies mixed into your Blizzard?
Well, that's something you won't have to ask yourself ever again because today, Dairy Queen has announced its brand new Blizzard flavor, and yes, Nestlé Toll House Chocolate Chip Cookies are involved.
Like a cup of frozen milk and cookies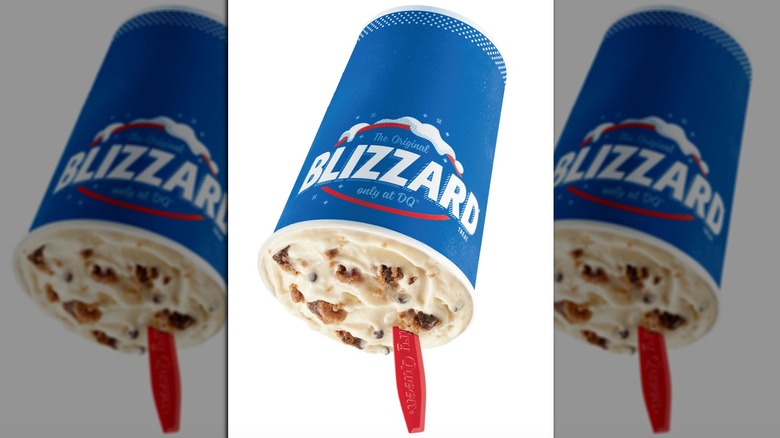 Dairy Queen
In a statement sent to Mashed, Dairy Queen announced that, for the first time in the history of the frozen treat,  Dairy Queen has partnered with Nestlé to bring your favorite cookies to your Blizzard. Nestlé has been bringing you Toll House morsels for your Toll House cookies since 1939 (via Culinary Lore), and now, those same flavors will be part of the DQ Nestlé Toll House Chocolate Chip Cookie Blizzard Treat. "Featuring soft-baked Nestlé Toll House cookie pieces with a fresh-from-the-oven taste, mini morsels, and creamy DQ soft serve, this July Blizzard of the Month brings cookie dreams to life!" gushed the chain.
DQ's Nestlé Toll House Chocolate Chip Cookie Blizzard Treat is July's DQ Blizzard of the Month. It's available for a limited time only, beginning right this very minute. So get thee to your nearest participating DQ and get yourself some of the cookies-and-soft-serve mashup you know you've been waiting for your whole life. And while DQ is not offering "insurance" for the ratio of cookies to cream here, you won't need it. Because all you have to do is turn your cup upside down (if your server didn't do so already), and you'll know it's just perfect.