The Best Drinks Coming To Aldi In July 2021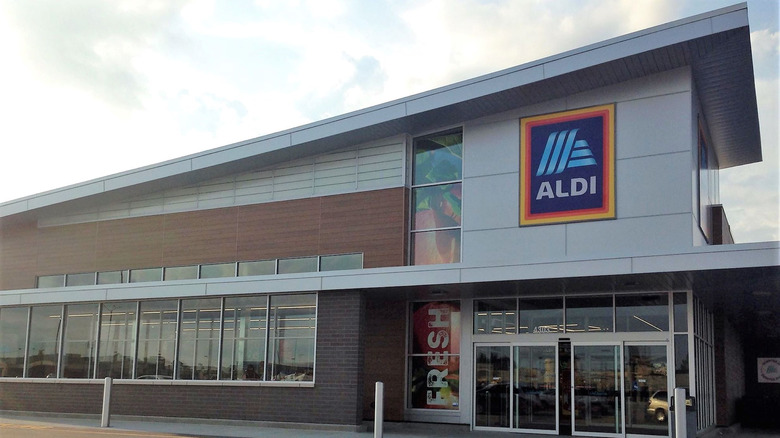 Shutterstock
Even if Aldi isn't your go-to grocery store –- their selection, after all, isn't nearly as extensive as that of larger supermarkets -– it's still a fun place to shop just to check out all of the new products. One thing that sets Aldi apart from its larger competitors, besides the whole having to rent a cart and bring your own bags deal, is their ever-rotating list of weekly specials, This pretty much guarantees that every time you set foot in an Aldi, you're bound to find something new. The flip side of that coin, though, is once you find it, you'd better grab it, since it might be gone by your next trip and only Aldi knows when (or if) they plan to bring any of their limited-edition products back again.
But you know all that, don't you? In that case, we'll cut to the good stuff. As usual, Aldi has an excellent beverage selection on tap for July. From coffee drinks to health drinks to adult beverages, Aldi will be offering a thirst quencher for every summer occasion.
Barissimo Ready to Drink Iced Latte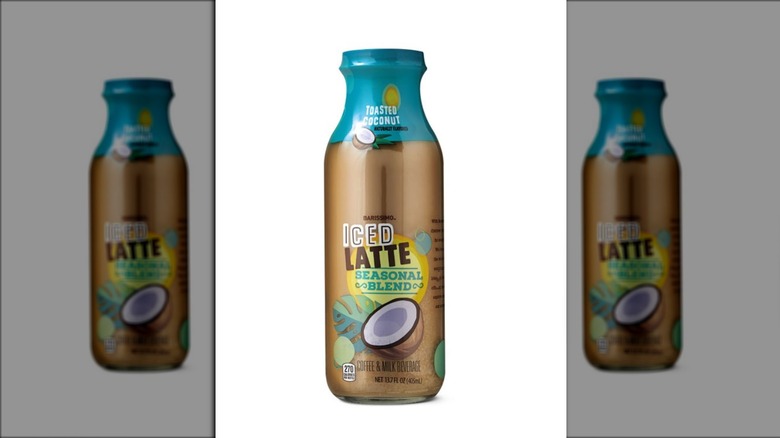 Aldi
If you like bottled Frappuccinos, you're bound to enjoy Aldi's version, especially as some of the new summer flavors are something Starbucks doesn't offer: raspberry mocha and toasted coconut in addition to the salted caramel that Starbucks does have. These Barissimo ready to drink iced lattes are coming out on July 7, and will be priced at $1.89 for each 13.7-ounce bottle (yes, it's a weird size, but that's just Aldi being Aldi).
PurAqua Collagen Water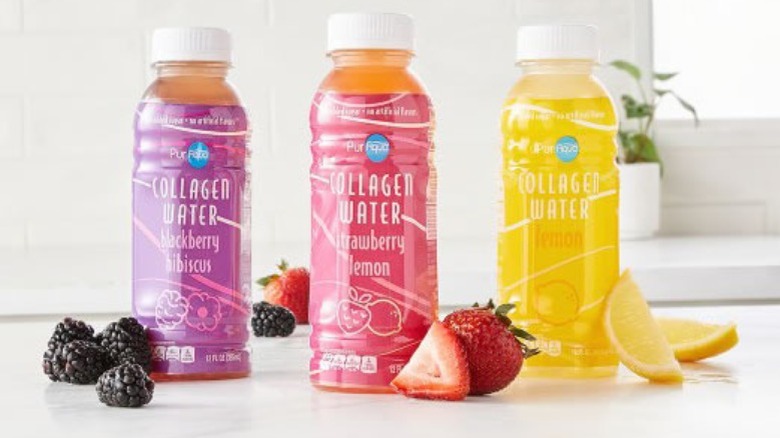 Aldi
So collagen water is a thing now, and who knows? Collagen supplements might actually help your skin as many Instragrammers claim they do. If you want to add collagen to your diet, though, you might as well do it in the form of a tasty drink with the refreshing flavors of lemon, strawberry lemon, or the oh-so-trendy blackberry hibiscus. These drinks will hit the shelves at Aldi on July 14 and be priced at $1.99 a bottle. 
Benner Sparkling Tea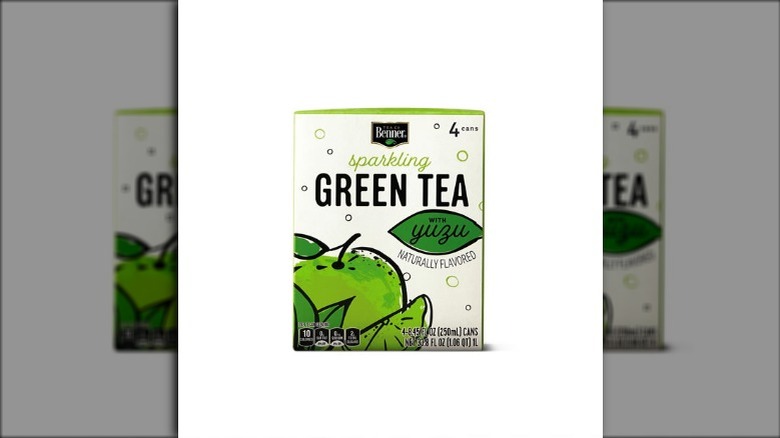 Aldi
Iced tea is a perfect summertime drink, but you know what makes it even better? Bubbles! Sparkling iced teas are making their way into the market now, and Aldi is all over this trend. Their Benner sparkling teas come in three varieties: black tea with lemon, white tea with mango and ginger, and green tea with yuzu (Aldi loves those exotic fruits). You get 4 8.45-ounce cans for $3.49, and they will be available on July 14.
PurAqua Flavored Water Juice Boxes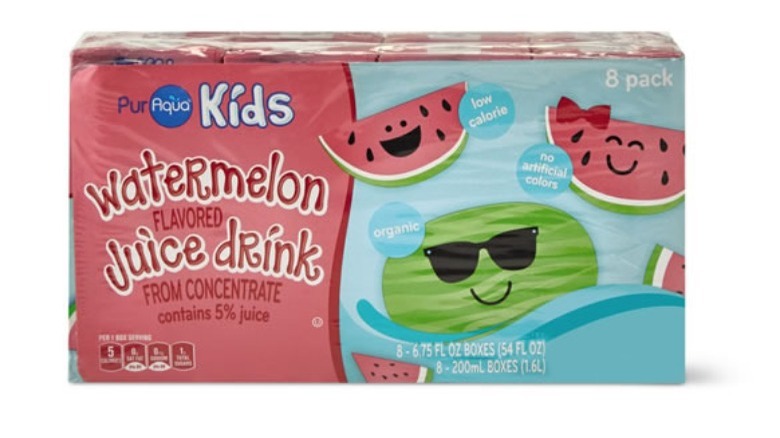 Aldi
What about drinks for kids? Yep, Aldi's got these, too: water juice boxes, 8 per package, for just $1.99 — that's a mere 25 cents a box! Keep a few packs of these PurAqua juice-flavored waters on hand for those times when you find yourself entertaining every kid in the neighborhood, which may well be the case on those super-hot days if you're the only one with a slip 'n' slide or even a yard sprinkler. These drinks will be available on July 28 and come in 2 flavors: watermelon and fruit punch.
Giambellino Mango Bellini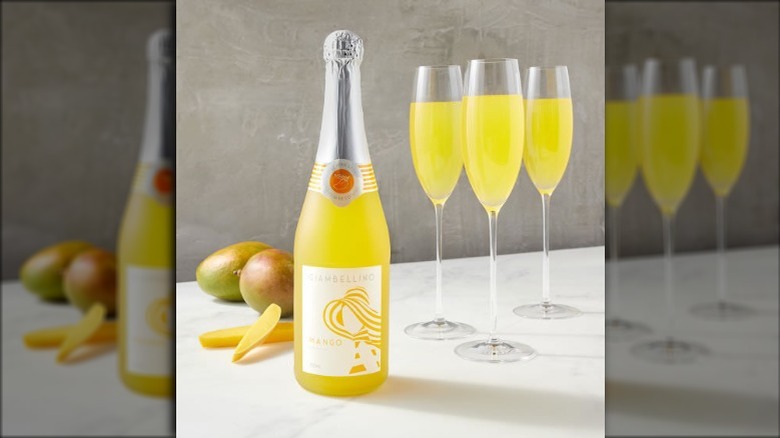 Aldi
Remember the summer of 2020, when everything was coming up mangos? Well, the by-now ubiquitous fruit is back, this time in the form of a bellini. This brunch drink is like a mimosa's sweet southern cousin, made with Prosecco and peach puree. Except, in this instance, it's mango puree, so maybe this Giambellino mango bellini is actually more of a mangmosa? Whatever the name, if you like mangos and you like sparkling wine, this drink is a slam dunk at $5.99 a bottle. Look for it starting on July 21, but don't be surprised if it sells out pretty quickly!
Pineapple Mimosa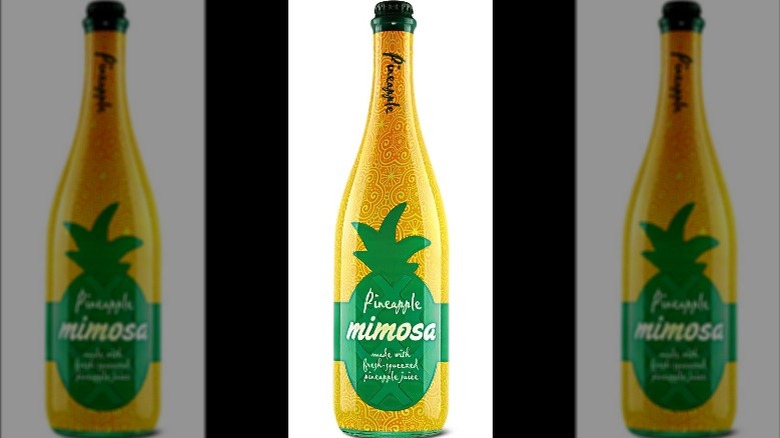 Aldi
Not a mango fan? Never fear, pineapples haven't fallen out of fashion. This tangy fruit pairs very nicely with sparkling wine in Aldi's pineapple mimosa, a drink that's made with real pineapple juice. It's priced at $8.99 for a bottle, and you can snap it up starting July 28 to begin planning the perfect brunch luau (piña colada pancakes, anyone?).
State of Brewing Lo-Cal IPA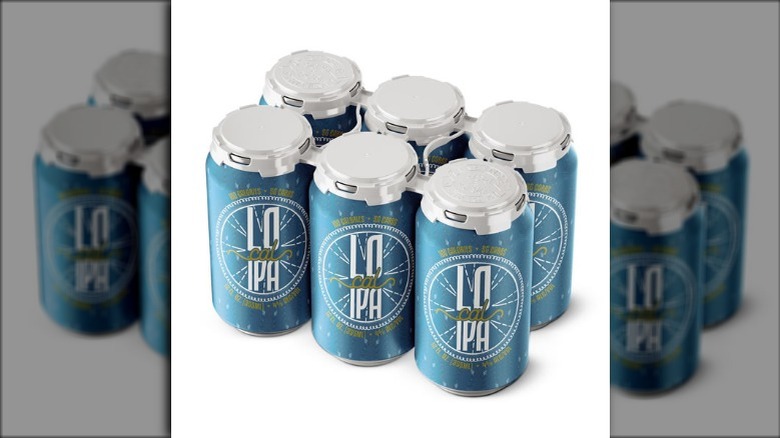 Aldi
Are you a fan of super-bitter IPAs, but you don't want all the calories that come with a higher-alcohol beer? Lighter IPAS have been increasingly popular lately, and Aldi's State of Brewing offers their own Lo-Cal IPA coming in at just 100 calories per 12-ounce can. These aren't "near beers," though, since they come in at a mid-range 4.5% ABV. This beer is priced at $7.49 per 6-pack, and you can try it starting on July 28.