Costco Shoppers Have Begun Noticing These COVID Policies Quietly Disappearing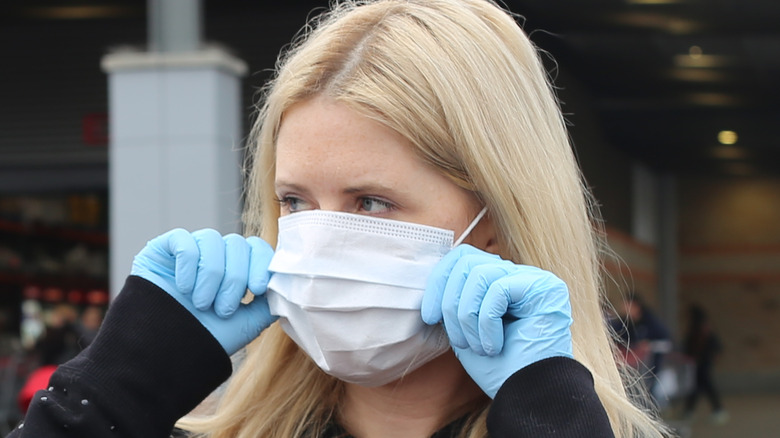 Shutterstock
Visit Costco's COVID-19 information webpage, and everything looks like old news. The page says face masks are no longer required, at least not for vaccinated customers in communities that don't still have a mask mandate. Costco relaxed its mask requirement several weeks ago, so regular shoppers have gotten used to seeing mask-free people in the aisles. In another set of COVID policy changes, USA Today reported the chain was bringing back pre-pandemic sampling and food court seating.
But other COVID-19 policies are going away at Costco too. Oddly, these changes are coming with no official announcements from the warehouse chain. Instead, Redditors are noticing that the restrictions are quietly disappearing, and they're letting the world know about it on the social media platform.
One Redditor posted a photo of a notice of new business hours, tacked to a cork board in a Costco store. The post doesn't provide any context: Was this notice in a public area, or an employee break room? Where was this particular Costco warehouse? In any case, the big news on this notice was that starting on July 26, this Costco at least would no longer offer special shopping hours for seniors only. As Costco's COVID webpage states, the special hours have remained in place while COVID-19 cases have been rising, to protect not only people 60 and older but also customers who are immunocompromised. Eat This, Not That! called Costco's corporate office to ask what was up with the senior hours, but Costco had no comment.
Some Costcos are removing the social-distancing 'stand here' stickers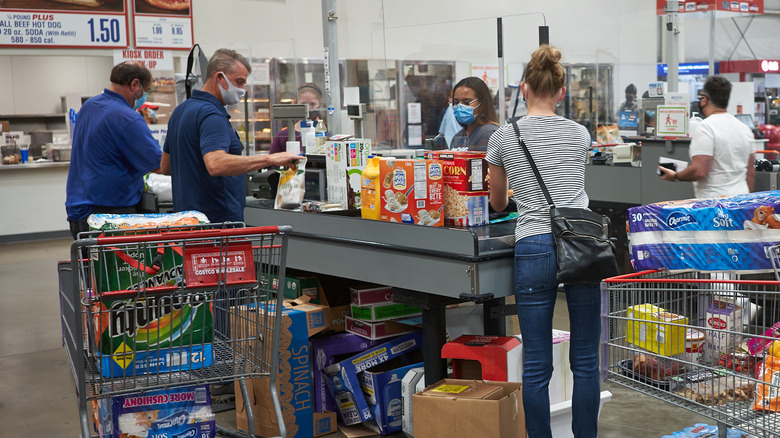 Shutterstock
A Reddit user in Canada noticed another change to COVID-19 policy at their local Costco. They posted a picture of pale circles on the store's floor, where those "stand here" social-distancing dots used to be. The post came with the caption, "One more light at the end of the covid tunnel." (Costco's COVID-19 info webpage still asks customers to maintain social distance in the store.) Many commenters on this particular Reddit thread, however, aren't happy to see the floor dots go away. Pandemic or no pandemic, they say, the social-distancing stickers promote good health and enforce some people's idea of personal space. "Stand-here dots alleviated being sneezed on by the person in front of you or having your hair pulled from a child being carried whose parent wasn't paying attention," one Redditor commented.
Costco's apparent bashfulness about announcing the end of COVID-19 policies on its webpage has us wondering, do they fear customer backlash? Maybe, but Costco management surely knows that they'll never please everybody. This year, people wary of germs may hate to see the end of COVID-19 rules. Last year, plenty of people threatened to boycott Costco for requiring masks at the beginning of the pandemic (via Business Insider).