Healthy Miso Ginger Salad Recipe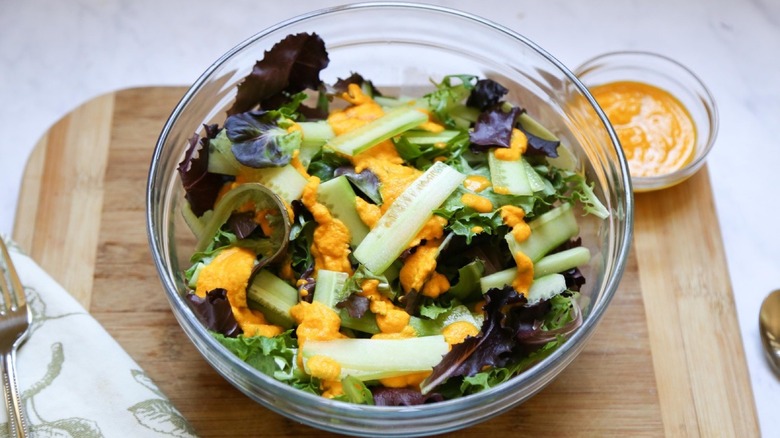 Maren Epstein/Mashed
A miso ginger salad is one of the tastiest and most refreshing salads that you'll ever eat. This delightful dish can be served as a starter, a side, at a barbecue, or pretty much anywhere else. Trust us when we tell you that the dressing is incredible and it will leave you wanting more. Another great aspect of this recipe is that it requires just 10 minutes of prep time and no cook time at all. Making any meal in 10 minutes is quite an accomplishment, especially a salad and a homemade dressing!
Another plus about this salad recipe is that miso has a lot of health benefits. According to BBC Good Food, miso "is rich in essential minerals and a good source of various B vitamins, vitamins E, K, and folic acid." It also helps with gut health. And ginger has some incredible health benefits, too. 
Chef Maren Epstein came up with this yummy recipe that requires just a few ingredients and barely any preparation. Keep scrolling to find out how to make this healthy miso ginger salad.
Gather the ingredients for the miso ginger salad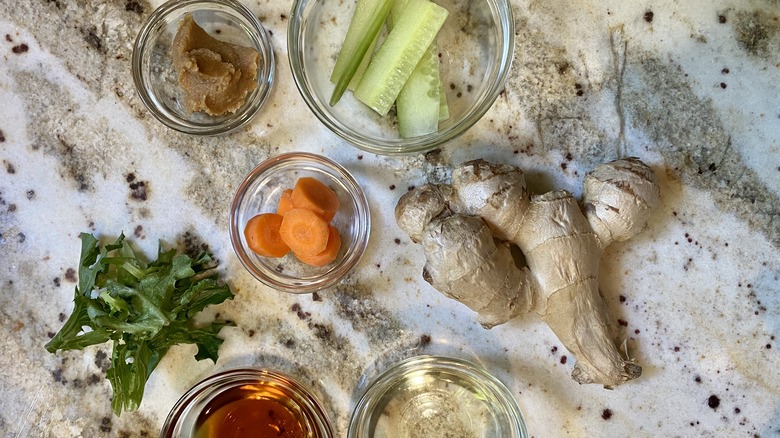 Maren Epstein/Mashed
For the first step in the recipe process, it's time to find out what you need to put on your grocery list. You'll need ¼ cup of carrots that have been peeled and chopped. As far as the liquid goes, grab rice vinegar and toasted sesame oil. Both of these items are pretty standard in Asian recipes, so if you cook this style of cuisine a lot, you might already have them. You will also need some fresh ginger.
In addition, grab mellow white miso, which is sweeter and more versatile than other types of miso.
The last two items on your list can both be found in the produce section. These include spring mix and cucumber. Once you have everything together, it's time to get to work.
Grate the ginger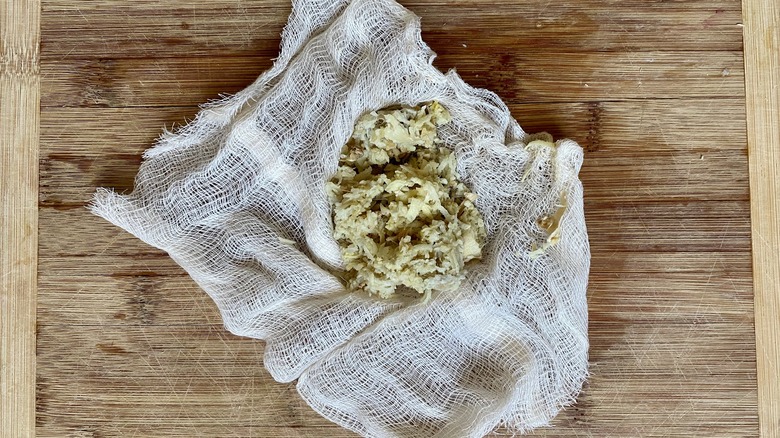 Maren Epstein/Mashed
Once you have all of your ingredients, the first thing you want to do is grate the ginger using a cheese grater or any type of grater. Next, use a cheesecloth to squeeze the grated ginger and strain it. You want to make sure to save the juice from the ginger in a bowl. You can go ahead and discard the pulp as you don't need it for anything else. 
That was pretty easy, wasn't it? Continue on to the next step.
Blend the dressing ingredients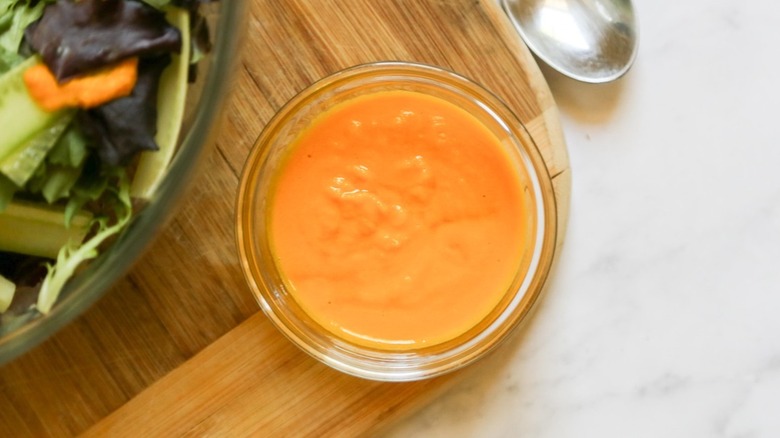 Maren Epstein/Mashed
For this next step, you'll want to get out your blender. Alternatively, you should be able to use a food processor if you don't have a blender available. To the blender, add the ginger juice, chopped carrots, sesame oil, and mellow white miso, and blend everything until the mix is smooth.
Once you finish mixing, the dressing should have a beautiful orange color thanks to the carrots. Feel free to use the photo as a guide for what the dressing should look like. If you've been to an Asian restaurant that serves the same dressing, it should look similar! 
Prepare the salad and add the dressing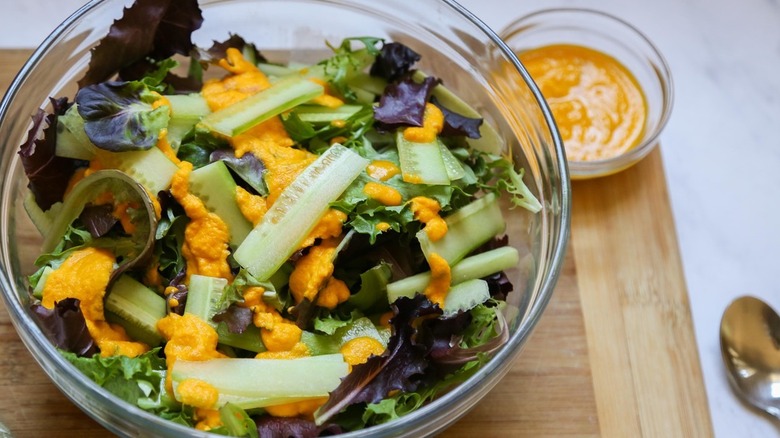 Maren Epstein/Mashed
Here comes the easiest step in the process: putting together the salad. Take out a large bowl, or two small bowls since this salad makes two servings. Then, combine the spring mix and the thinly sliced cucumber. 
Drizzle the dressing over the top of the salad. It's pretty thick, so you can either use a spoon or give the salad a few good tosses to combine the dressing with the lettuce and cucumber. 
Serving suggestions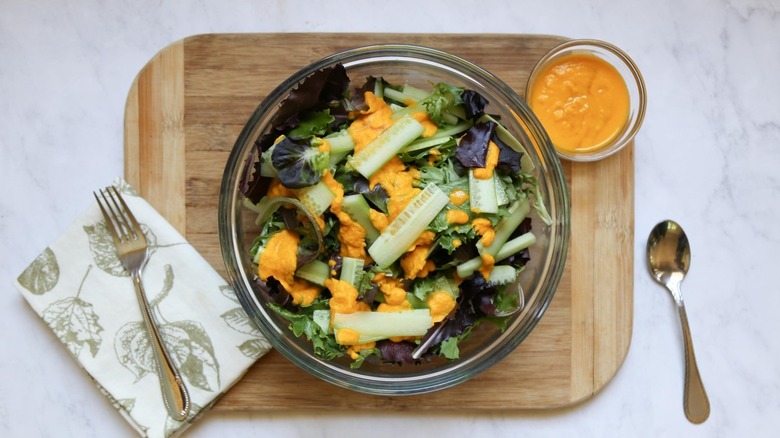 Maren Epstein/Mashed
When it comes to a miso ginger salad, there are plenty of items to serve it with. Of course, you can simply eat the salad by itself and add your favorite protein or even more veggies to it. It also makes a great first course to any Asian meal like teriyaki chicken, or even just paired with a miso soup. Another added bonus of the recipe is that the miso ginger dressing is great for just using as a veggie dip for carrots, celery, cucumbers, and edamame. 
Now, go ahead and enjoy the salad with friends and family. You've earned it! 
Healthy Miso Ginger Salad Recipe
This healthy ginger miso salad recipe can be served as a starter, a side, at a barbecue, or pretty much anywhere. It's healthy and ready in 10 minutes.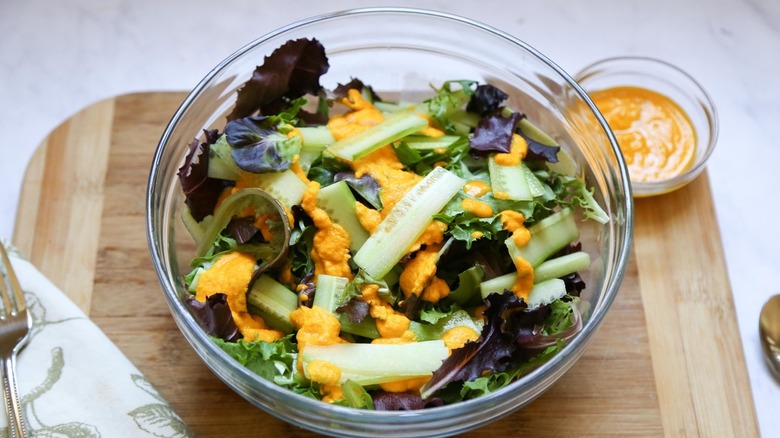 Ingredients
¼ cup peeled and chopped carrot
2 tablespoons rice vinegar
2 tablespoons toasted sesame oil
2 to 3 tablespoons fresh ginger, peeled
1 ½ tablespoons white miso
2 cups spring mix, packed
1 cucumber, seeded and sliced
Directions
Grate the ginger and strain it through a cheesecloth by squeezing the pulp. Save the juice and discard the pulp.
In a blender, combine the ginger juice, chopped carrot, sesame oil, and miso. Blend the ingredients until smooth.
In a bowl, combine the spring mix and cucumber. Drizzle with the dressing and toss to combine.
Nutrition
| | |
| --- | --- |
| Calories per Serving | 183 |
| Total Fat | 14.6 g |
| Saturated Fat | 2.2 g |
| Trans Fat | 0.0 g |
| Cholesterol | 0.0 mg |
| | |
| --- | --- |
| Total Carbohydrates | 11.7 g |
| Dietary Fiber | 2.0 g |
| Total Sugars | 4.2 g |
| Sodium | 490.6 mg |
| Protein | 2.8 g |