Copycat Domino's Chocolate Lava Crunch Cake Recipe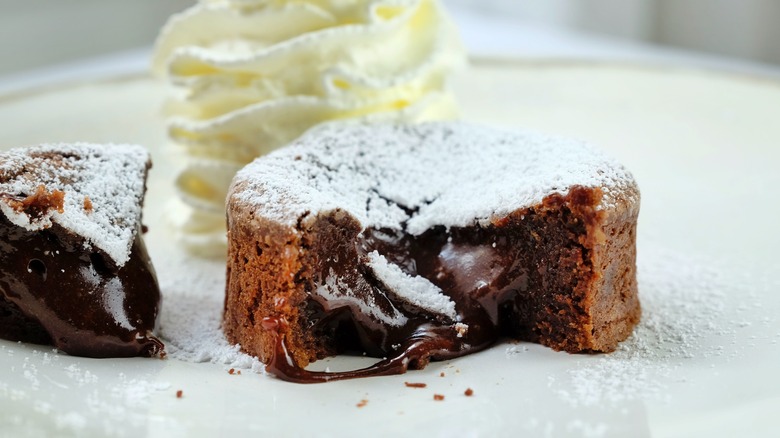 Eric Ngo/ Mashed
Domino's Lava Crunch Cake is easily one of the most delicious desserts at the pizza hot spot. There's just something about that rich, dark chocolatey taste that's enough to satisfy any sweet tooth — no matter how big the size. Not only does this recipe taste exactly like the actual cake, but another nice part about it is the fact that you only need a handful of ingredients to make it. Pair that with just 20 minutes of prep time and 15 minutes of bake time, and you have yourself a winner. We must also add that this recipe is suitable for a beginner, so no matter how skilled or unskilled a baker you are, it's in your wheelhouse.
Eric Ngo of Frenchie the Toast is the brains behind this delicious copycat dish, and Ngo says that he loves is the ease of it. "What I like about this treat is how quick and easy it is to make," Ngo raves. "There's no resting time involved and it bakes in 15 minutes or less! (depending on its size). Also, chocolate lava cake is a classic favorite for adults and children."
Without further hesitation, keep scrolling to find out how to put together this sweet treat that is sure to be a hit.
Gather the chocolate lava cake ingredients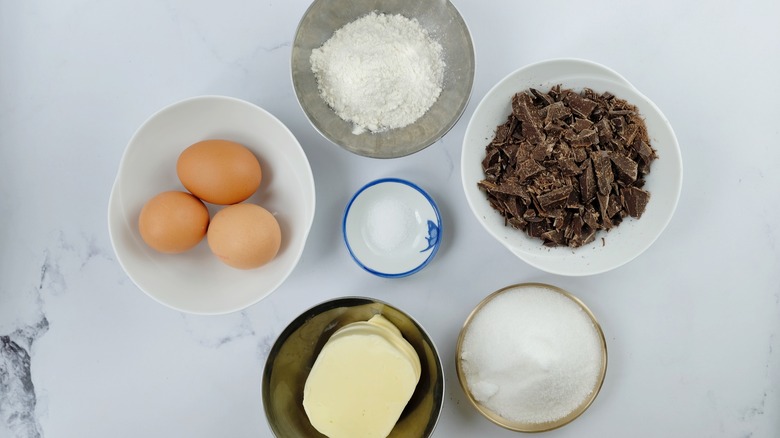 Eric Ngo/ Mashed
As we mentioned before, you don't need to be an avid baker to throw together this recipe, but if you do happen to do a lot of baking, you'll likely have many of these ingredients already on hand. First, you'll need unsalted butter. You'll also need 1 cup of chopped dark chocolate, which is literally the superstar in this recipe. "Any dark chocolate 70% cacao works best for this recipe," Ngo notes. "Milk chocolate will also work, but keep in mind that this will also make the dessert sweeter."
In addition, grab three eggs and a cup of granulated sugar. To round out the list is salt and, of course, all-purpose flour. As surprising as it may be, those are the only six items you need for this recipe. Pretty awesome if you ask us!
Melt the butter and chocolate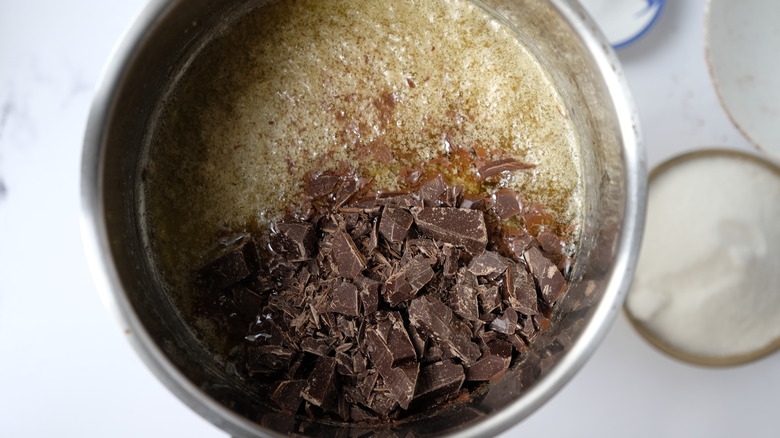 Eric Ngo/ Mashed
For the first step in this recipe, you'll need to select your favorite saucepan. One that's medium in size should do the trick as you don't need to add a lot to it. Put the saucepan over low heat and toss in the butter. Keep an eye on it, and once it's fully melted, you can add in the chocolate. Continue to stir the chocolate and the butter mixture until the mix gets smooth and shiny.
The sweet aroma of chocolate should now be filling your kitchen. When everything is fully melted, you can set it aside because you'll need it in just a few moments.
Make the cake mix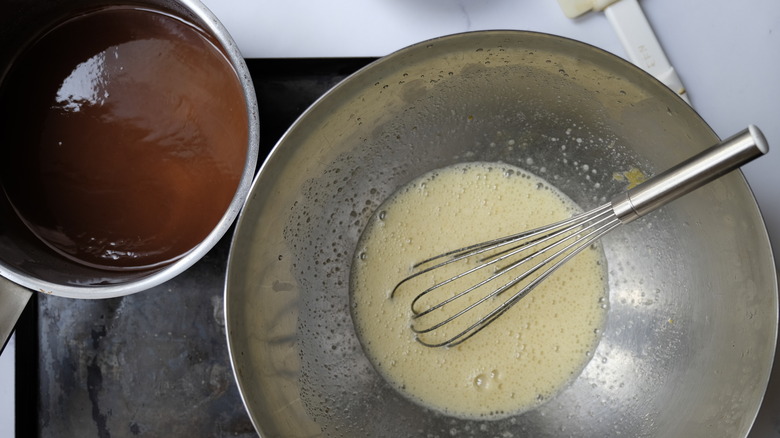 Eric Ngo/ Mashed
Now, it's time to take out a large mixing bowl for the next step. In the bowl, add the eggs, sugar, and salt. Mix with a whisk for about two minutes to start. This is where you'll get in a good arm workout. After mixing the first few ingredients for about two minutes, add the butter and chocolate mixture to the cake mixture and whisk for an additional minute.
The last item you must add to this bowl is flour. Go ahead and mix everything for one more minute or until it's smooth.
Pour the cake into the ring and preheat the oven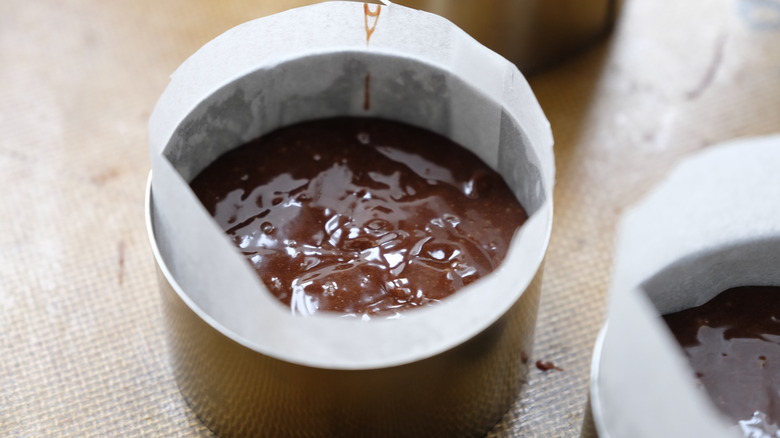 Eric Ngo/ Mashed
Now it's time to prep your batter to go into the oven. Take out a butter cake rind and line it with parchment paper. (No parchment paper on hand? Don't worry, we have a cocoa powder hack for that.) You can also use a round ramekin by lining it with butter and a little flour to make sure that the cake comes out. Pour the cake batter into the cake ring. You only want to fill it up ¾ of the way since it will puff up as it bakes.
Before the cake can go in the oven, preheat it to 380 F. After the range finishes preheating, you can pop in the cake. Set your timer for 15 minutes. That's all the time it takes for this delicious and chocolatey cake to bake to perfection. Once the timer dings, grab some oven mitts and take the cake out.
Allow the cake to cool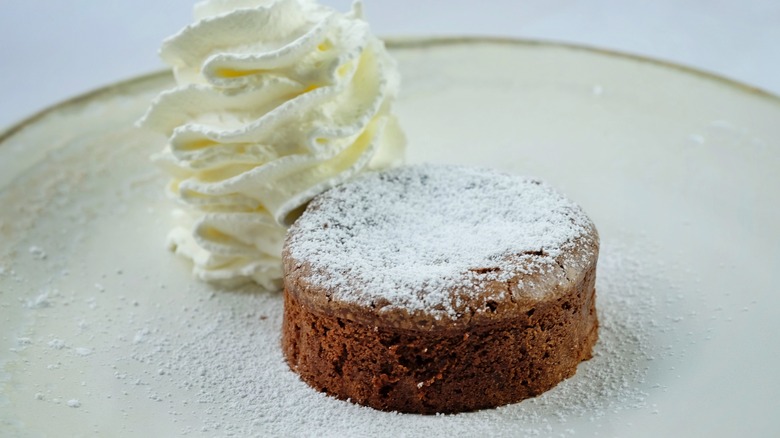 Eric Ngo/ Mashed
Once you take your lava cake out of the oven, it's time to let it cool. We know it must be hard with that fantastic baked piece of glory sitting in front of you, but you need to let it rest for at least 5 minutes before transferring it to a plate. Once you have it on a plate, sprinkle it with powdered sugar and enjoy. You can add either whipped cream or vanilla ice cream to add even more to this sweet cake. "Milk is indeed the best option in my book, but I also enjoy this with ice coffee/ iced latte!" Ngo shares. 
If you have leftovers (Though, seriously, what are the odds of that?) they will be good "good for 1-2 days stored in the fridge," Ngo says. "You can also freeze them, and re-heat them in the microwave for 1 1/2- 2 minutes." 
Copycat Domino's Chocolate Lava Crunch Cake Recipe
There's no need for delivery when you can make this copycat recipe of Domino's signature Lava Crunch Cake. Trust us, your sweet tooth will be satisfied!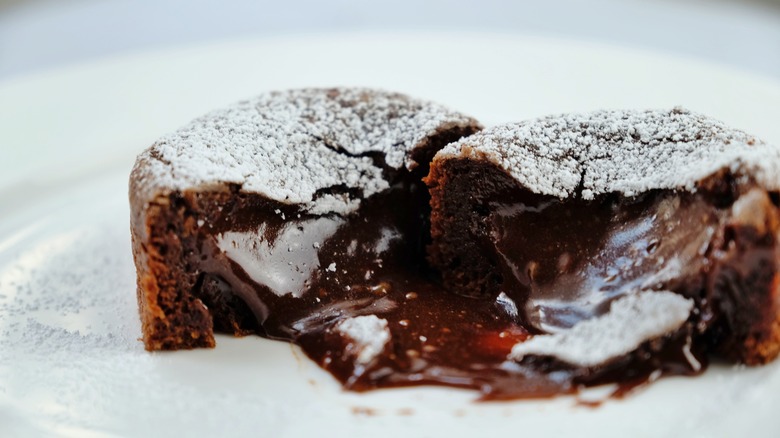 Ingredients
1 ¼ stick unsalted butter
1 cup chopped dark chocolate
3 eggs
1 cup granulated sugar
¼ teaspoon salt
4 tablespoons all-purpose flour
Directions
Melt butter in a saucepan on low heat. Once fully melted, add chopped dark chocolate and stir until smooth and shiny. Set aside.
In a large bowl, add eggs, sugar, salt and mix with a whisk for 2 minutes. Add melted butter/chocolate mixture to eggs/sugar/salt and whisk for 1 minute. Add flour and gently mix for 1 minute or until smooth.
Butter cake rings and line with parchment paper. (You can also use a round ramekin by lining with butter and a little flour to make sure the cake comes out)
Carefully pour cake batter into cake ring and fill up to ¾. Bake in a pre-heated oven at 380F for 15 minutes.
Remove from oven and allow chocolate lava cake to cool for 5 minutes before transferring to plate.
Sprinkle with powder sugar and enjoy!
Nutrition
| | |
| --- | --- |
| Calories per Serving | 793 |
| Total Fat | 51.2 g |
| Saturated Fat | 30.3 g |
| Trans Fat | 1.2 g |
| Cholesterol | 197.3 mg |
| | |
| --- | --- |
| Total Carbohydrates | 77.1 g |
| Dietary Fiber | 5.2 g |
| Total Sugars | 61.0 g |
| Sodium | 204.8 mg |
| Protein | 8.7 g |