Copycat Shoney's Strawberry Pie Recipe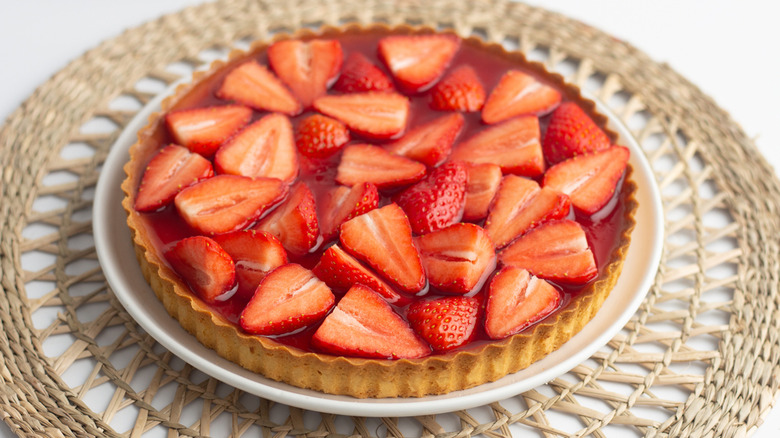 Susan Olayinka/Mashed
When it comes to a variety of comfort foods, Shoney's restaurant knows how to deliver. The popular southern establishment is known for everything from its famous fried chicken to country fried steak. It also has a reputation for tasty desserts that hit the spot. Shoney's seasonal strawberry pie is a favorite among fans because of the fresh berries and special glaze they use for the filling. Believe it or not, you can get this sweet, gooey goodness without leaving the comfort of your home with our copycat Shoney's strawberry pie recipe.
Recipe developer Susan Olayinka says this pie is a winner because it is "so, so good." Not only that, but the pie is super easy to make. Because you're using a store-bought, precooked pie crust and Jell-O, this recipe comes together quickly, and you don't even need to bake it! Olayinka adds that the recipe's simplicity makes it an "easy crowd-pleaser for dinner parties, birthdays, and barbecues." Regardless of when this pie is served, your family and friends will be impressed with the fresh flavor of strawberries and the satisfying sweet flavor it brings to the table.
Gather the ingredients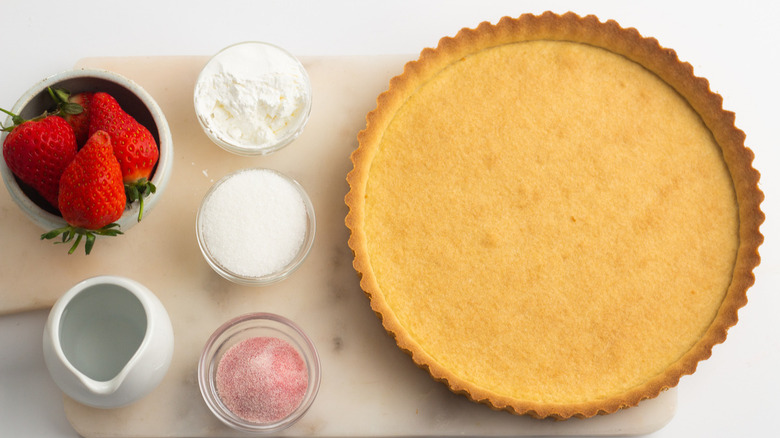 Susan Olayinka/Mashed
This recipe comes together quickly with fewer than six ingredients, which is just another reason to love it. You might even have all of what you need in your kitchen already! You'll need 2 cups of fresh strawberries, an 8½-inch sweet pie crust, ½ cup sugar, ½ cup of water, 1 tablespoon of cornstarch, and 1 tablespoon of strawberry Jell-O powder mix. And if you want to top it off, make sure you have some whipped cream on hand!
Prepare the strawberries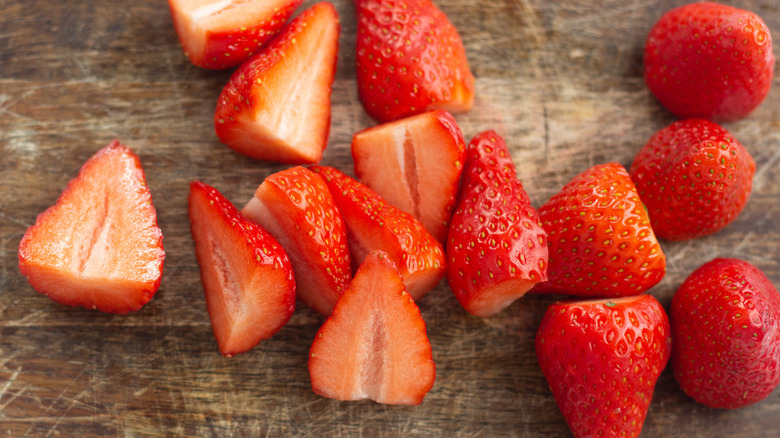 Susan Olayinka/Mashed
As far as deserts go, this strawberry pie recipe can boast a few health benefits because it uses fresh strawberries. One cup of the bright fruits contains more than the recommended daily dose of vitamin C. They also contain calcium, folate, magnesium, potassium, and fiber (via Verywell Fit).
So now that you know you can eat this dessert without the guilt, it's time to get started. The first thing you'll need to do is slice the tops and the stems from the strawberries before slicing them in half. Set them aside in a bowl while you get started on the pie filling.
Prepare the pie filling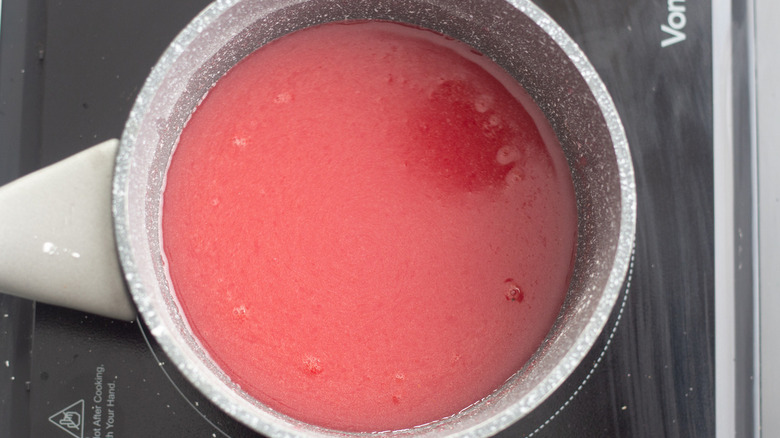 Susan Olayinka/Mashed
The next thing you need to do is mix the sugar, cornstarch, and water in a saucepan over medium heat for 2 to 3 minutes. Then turn the heat down to low and pour the Jell-O powder mixture into the pot and stir. A good indicator for when to lower the heat is after the liquid changes from being cloudy to transparent. When the mixture comes clear, remove it from the stove top, and set aside for 5 minutes. You may want to transfer the mixture to a bowl with a spout for easier pouring.
Fill the pie crust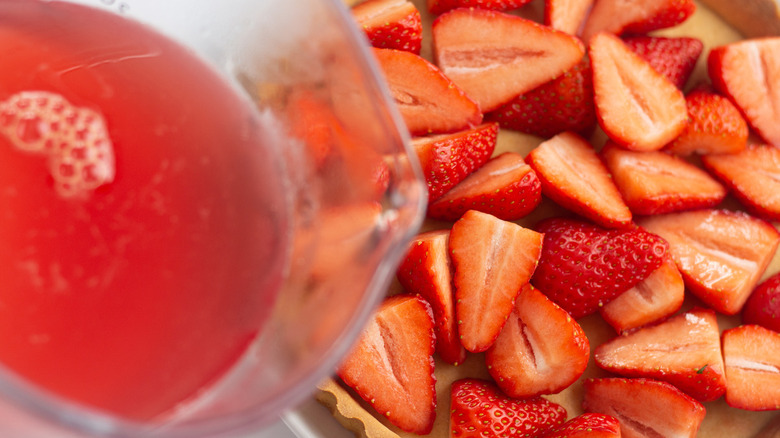 Susan Olayinka/Mashed
While the Jell-O is cooling, place the pie crust on a plate, distributing the strawberries evenly inside. Once you have the berries situated, it is time to add the Jell-O mixture. Olayinka says that is important for the mixture to be cool a bit before pouring, because a hot mixture will make the strawberries soggy, and it will also affect the pie crust. With that in mind, pour the cool mixture into the crust. Olayinka advises home cooks "to pour the mixture carefully as it is easily spilled ... I almost had an accident!"
Allow to set and enjoy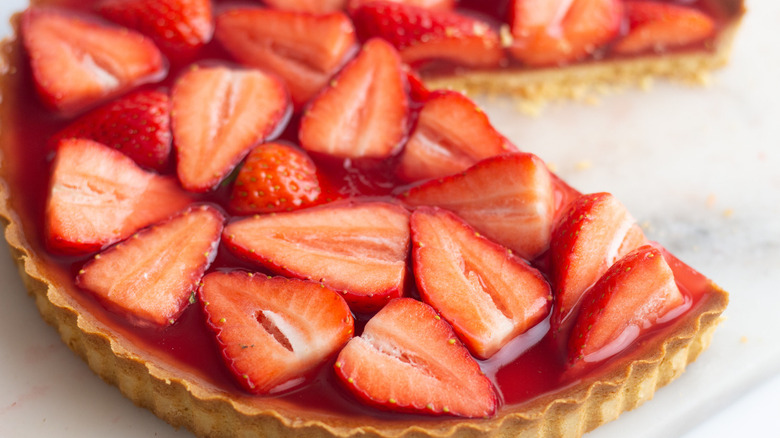 Susan Olayinka/Mashed
Now comes what might be the hardest part of making the pie — waiting on it to set! To get this process going, place the pie in the refrigerator. Olayinka suggests giving it at least a couple of hours to set, adding that 5 hours should be plenty of time for the pie to be ready. Just make sure the Jell-O has firmed up before you cut any slices. You can enjoy this copycat Shoney's strawberry pie just as it is or you can top it with a dollop of whipped cream if you like. Either way, this fruity, no-bake dessert won't let you down.
Copycat Shoney's Strawberry Pie Recipe
This delicious no-bake copycat Shoney's strawberry pie is just as tasty as the original, and makes a perfect dish for parties and barbecues!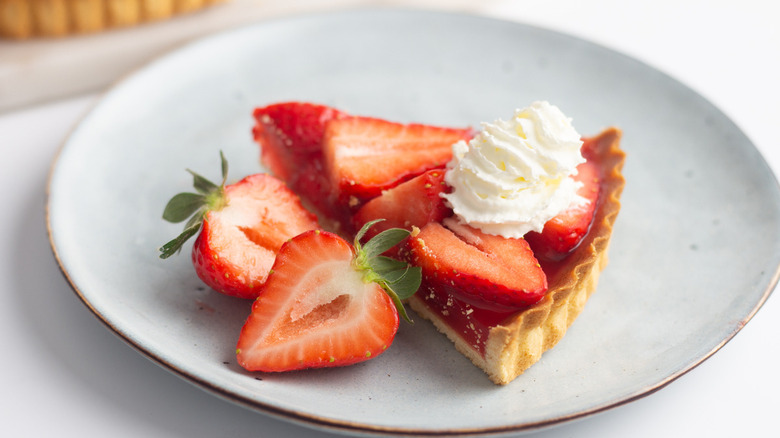 Ingredients
2 cups of strawberries
½ cup sugar
1 tablespoon cornstarch
½ cup of water
1 tablespoon strawberry Jell-O powder mix
8 ½-inch sweet pie crust (1 inch deep)
Optional Ingredients
whipped cream for topping
Directions
Slice the stems off the strawberries and then slice each strawberry in half and set aside.
For the pie filling, mix the sugar, cornstarch, and water in a pot over medium heat. Mix for 2 to 3 minutes.
Turn the heat to low and pour the Jell-O powder mixture into the pot.
Stir for another 2 to 3 minutes until the mixture becomes clear, then immediately take off the stove top. Set it aside for 5 minutes.
Place the pie crust on a plate and evenly place the strawberries in it.
After 5 minutes of letting the Jell-O mixture cool, pour it slowly and carefully into the pie crust.
Place in the refrigerator to set for 5 hours.
After 5 hours, remove the pie, and slice and serve it topped with whipped cream, if desired.
Nutrition
| | |
| --- | --- |
| Calories per Serving | 1,124 |
| Total Fat | 58.4 g |
| Saturated Fat | 22.0 g |
| Trans Fat | 0.0 |
| Cholesterol | 0.0 mg |
| | |
| --- | --- |
| Total Carbohydrates | 143.0 g |
| Dietary Fiber | 4.9 g |
| Total Sugars | 23.5 g |
| Sodium | 987.3 mg |
| Protein | 7.9 g |