Whataburger Just Announced 2 New Menu Items, Plus A Returning Fan Favorite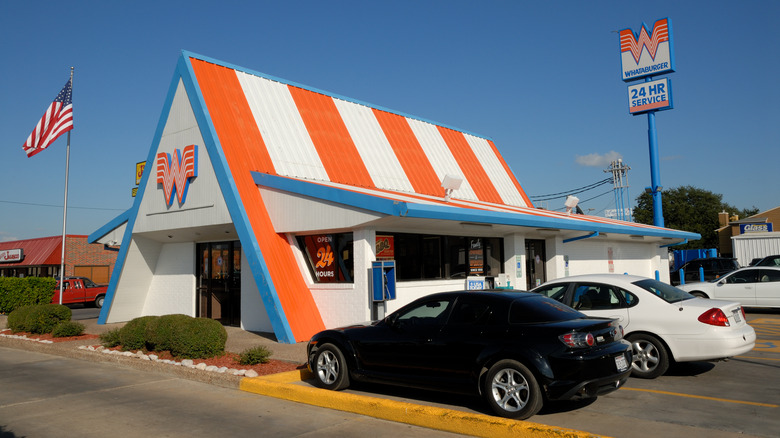 Shutterstock
If you know anything at all about the regional fast food chain Whataburger, even if you've never been within 1,000 miles of one of their orange-striped roofs, it's that they're a Texas icon. As befits their barely north of the border roots, the chain often plays up the southwestern spice, and last summer they introduced what has to be the ultimate Tex-Mex fast food burger — the Pico de Gallo burger. Like all of its burgers, it was generously-sized and featured two beef patties on a 5-inch toasted bun. What made it really stand out, however, were the toppings that included pico de gallo, tomatoes, cilantro, peppers, pepper jack cheese, and a new creamy cilantro lime sauce.
The Pico de Gallo burger's stay on the Whataburger menu was, like summer itself, over all too soon. Good news for Whataburger fans, though — it's back on the menu for another summer fling. But this time it's brought friends — The Fast Food Post tells us that two new sandwiches topped with Whataburger's now-signature pico de gallo have now joined the lineup.
Whataburger is heating up the Chicken Sandwich Wars
Chicken sandwiches have been every fast food restaurant's must-offer item for the last two years now, ever since Popeye's fired the first shot in what has come to be known as the Chicken Sandwich Wars. While the heavy artillery may have quieted down a bit, there's still some sniping from time to time, and Whataburger's latest shots are sure to hit their target. According to The Fast Food Post, the latest additions to the Whataburger menu are their Pico de Gallo Whatachick'n Sandwich, which is a chicken filet on a brioche bun topped with the same sauces and cheese as the Pico de Gallo burger, and the Pico de Gallo Spicy Chicken Sandwich, which is the same thing, only made with a spicy chicken filet.
All three of these items are available now, most likely for the usual "limited time" (probably the duration of the summer season or until supplies run out, whichever comes first). The burger is priced at $6.29 a la carte, or you can get it as part of a combo with medium fries and a medium drink for $8.94. The chicken sandwiches are slightly cheaper at $5.84 each, with combo meals for $8.64. Whatburger has named their combos "Whatameal," but when you factor in the size of their sandwiches, we'd be inclined to call them "Whatadeal," as well.