Easy Chinese Five Spice Chicken Wings Recipe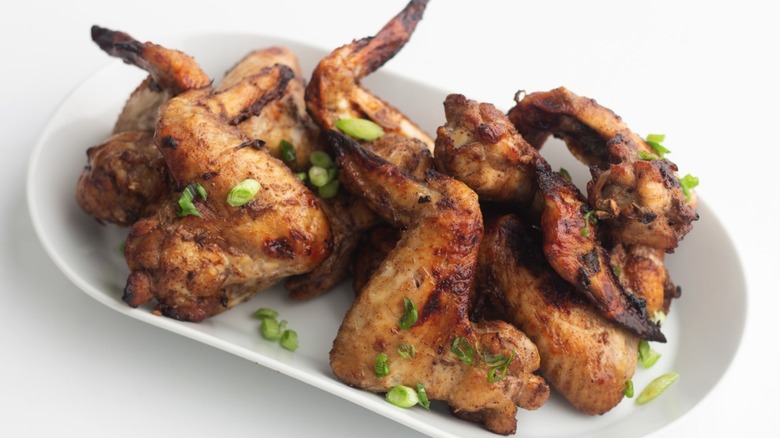 Susan Olayinka/Mashed
When you hear the words "chicken wings", chances are that you think of a quintessentially American food, one traditionally served with hot sauce or honey mustard and likely accompanied by fried mozzarella sticks, a beer or soda, and sports on the TV. And all of those are fine things indeed, but as it happens there are so many other great ways to enjoy chicken wings that it's time for a little cultural shift. 
Chef and recipe developer Susan Olayinka of The Flexible Fridge has come up with a wonderfully tasty way to enjoy wings that lean more toward the sweet and savory side of things, and one that will have traditional wing fans thrilled to try a new take. "This recipe is pretty clear cut as it's very easy to season the meat and simply place [it] in the oven," Olayina says. Just don't rush the marinating step, "as that really allows the spices to sink into the chicken."
These Chinese five-spice wings use, as the name suggests, a spice blend made using five-spice powder. To be more specific, the blend is made of cinnamon, fennel seeds, cloves, star anise, and pepper, usually made from white peppercorns. You can find a five-spice blend at most any good grocery store, a specialty Asian market, or online. And once you have tried this marinade with these wings, go ahead and experiment! It also works great on tofu, fish, noodles, and so many other recipes.
Gather your ingredients for Chinese five spice chicken wings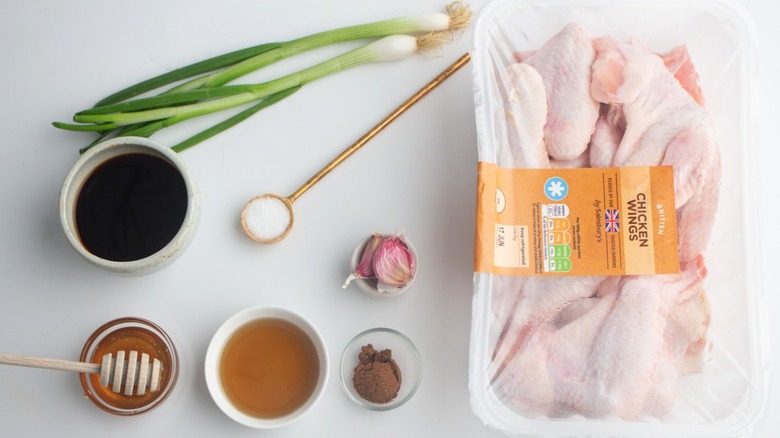 Susan Olayinka/Mashed
Thanks to the fact that you'll be using a spice blend that comes ready to go, you need to only work with eight ingredients, technically speaking. This relatively small list of ingredients will make some truly delectable wings that will work well as either a protein-rich snack or a meal all on their own. 
All in, you'll need sliced green onion, sliced or pressed garlic cloves, about 10 chicken wings, 2 tablespoons of honey, about 1 ½ teaspoons of Chinese five-spice powder blend, soy sauce, sesame seed oil, and ⅛ teaspoon salt.
Chicken wings can be a surprisingly healthy treat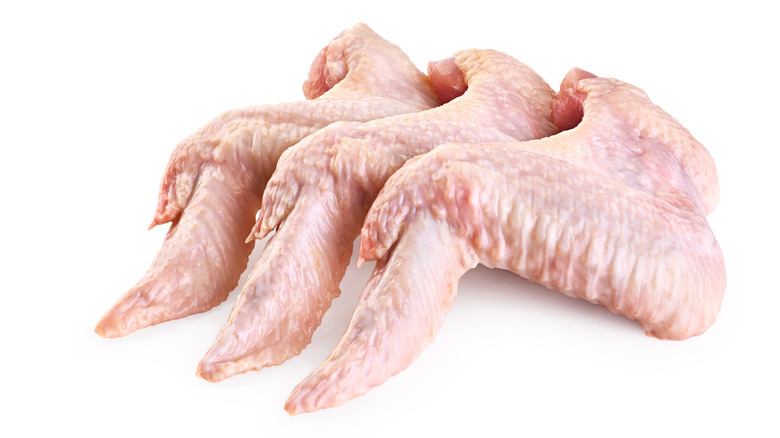 Shutterstock
Chicken wings might not be on the top of your list when you think of healthy proteins, but that fact is that their reputation as not-so-healthy is due to how they are often cooked, not to the wings themselves. As it happens, chicken wings are perhaps healthier than you think. They are very high in protein and essentially carb-free. They're also a great source of vitamins like E, D, and K.
Granted, there is not as much meat to be had on a wing as you get from a chicken breast or thigh. They may also take a bit more work to handle and eat, but chicken wings also provide meat that's tender and tasty when prepared properly, and they are often quite affordable, too. So, don't just turn away every time you hear "chicken wings" – depending on the recipe, you could be getting more nutrition that you would have thought.
Marinate the wings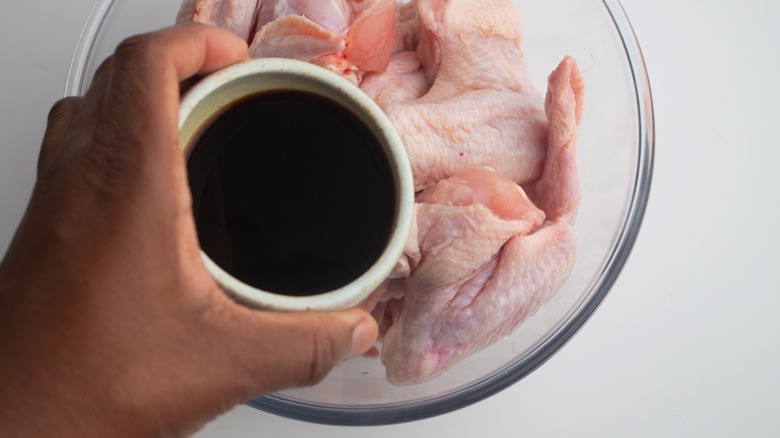 Susan Olayinka/Mashed
Start by thinly slicing the green onions and setting them aside. Note that you will be using half of the onion in the marinade, with half of it later to be sprinkled over the cooked wings as a garnish. Next, process the garlic with a garlic press, carefully press it with a knife, or finely chop it with a knife. Set the chopped or pressed garlic aside as well.
Now place the chicken wings in a mixing bowl. On top of them, add in the honey, five-spice seasoning,  soy sauce, half of the sliced green onions, sesame seed oil, salt, and chopped garlic. Stir to make sure everything is thoroughly combined and that the wings are evenly coated in the mixture. Now leave the wings to marinate in the fridge for 45 minutes, ideally stirring once about halfway through to ensure that the flavors are still evenly distributed.
Bake, broil, and serve the chicken wings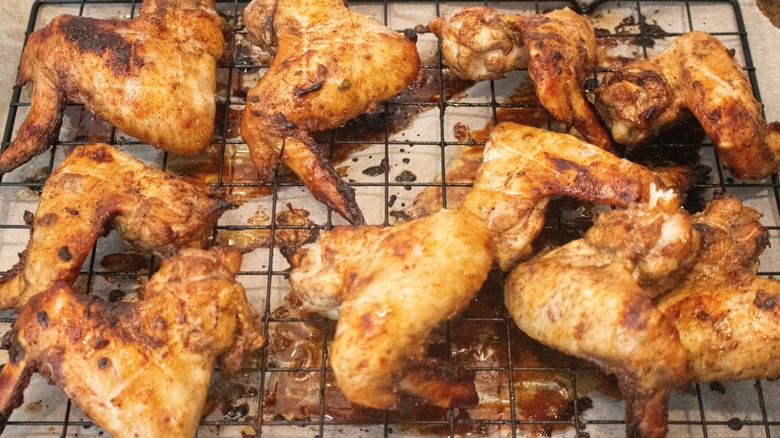 Susan Olayinka/Mashed
When the marinating time is almost up, preheat your oven to 350 degrees Fahrenheit. Transfer the flavor-drenched wings to a parchment paper-lined baking tray and place them in the oven to roast for 25 minutes. Turn the wings halfway through the process to make sure that they cook evenly.
Now, turn on the broiler in your oven and briefly broil the chicken for a further 3 minutes. Once that's done, simply take the chicken out of the oven, transfer the wings to a serving plate, and top them with the remaining chopped green onion slices. Serve immediately. 
Got a bit left over? No worries. Olayinka says that "these will keep for around three to four days in the fridge" in an airtight container. Though, considering the taste of these wings, chances are pretty good that they'll all get eaten up long before then.
Easy Chinese Five Spice Chicken Wings Recipe
This recipe presents a new and tasty way to enjoy chicken wings that uses Chinese five-spice blend as a new twist on an old American classic food.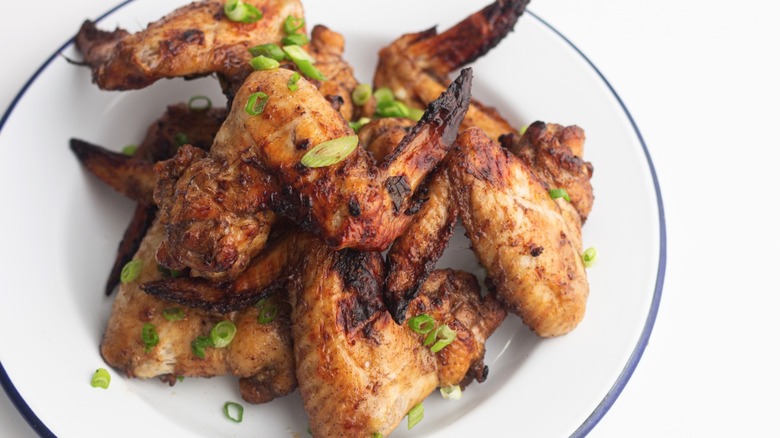 Ingredients
2 green onions, sliced and divided
4 garlic cloves
10 chicken wings
2 tablespoons honey
1 ½ teaspoons Chinese five-spice powder
¼ cup soy sauce
2 tablespoons sesame seed oil
⅛ teaspoon salt
Directions
Slice the green onion thinly and set it aside. Process the garlic through a garlic press or finely chop and set aside as well.
Place the chicken wings in a mixing bowl and add honey, five-spice seasoning, soy sauce, half of the chopped green onion, sesame seed oil, salt, and chopped or pressed garlic.
Leave wings to marinate in the fridge for 45 minutes. Preheat oven to 350 degrees near end up marinating.
After 45 minutes, transfer the marinated wings to a lined baking tray. Place them in the oven for 25 minutes, flipping the wings halfway.
After baking time is up, broil the wings for a further 3 minutes.
Transfer the chicken wings to a serving plate, top with the remaining chopped green onions, and serve immediately.
Nutrition
| | |
| --- | --- |
| Calories per Serving | 92 |
| Total Fat | 6.2 g |
| Saturated Fat | 1.2 g |
| Trans Fat | 0.0 g |
| Cholesterol | 27.8 mg |
| | |
| --- | --- |
| Total Carbohydrates | 4.6 g |
| Dietary Fiber | 0.2 g |
| Total Sugars | 3.6 g |
| Sodium | 372.3 mg |
| Protein | 5.1 g |