Everything We Know About Dunkin's New Breakfast-Inspired Coffee Flavors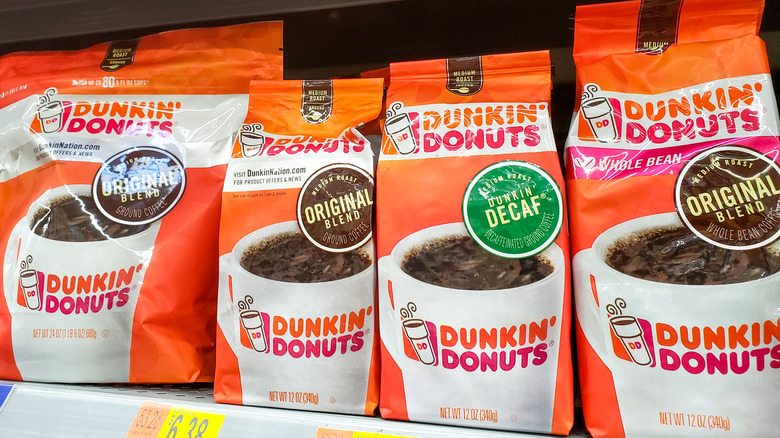 Shutterstock
Calling all Dunkin' coffee fans! It looks like your mornings just got even sweeter. The famous donut and coffee chain just announced it will be releasing four brand new at-home coffee flavors that are sure to satisfy your caffeine and dessert cravings with every single cup. And unlike your favorite flavored latte, you won't have to wake up extra early just so you can wait in line at your local Dunkin' to get them. 
In addition to the chain's already impressive selection of at-home coffees, within a few weeks, you'll be able to purchase the flavors Caramel Me Crazy, Cinnamania, Turtle Love, and Chocoholic Pancake for your own home brew, per Guilty Eats. Each unique flavor blend is designed to bring you all the deliciousness of your favorite sweet breakfasts in a liquid caffeinated form, so if you're a fan of drinking your cup of joe with a pastry in the morning, you'll be in for a real treat.
The new coffee flavors are inspired by some iconic sweet treats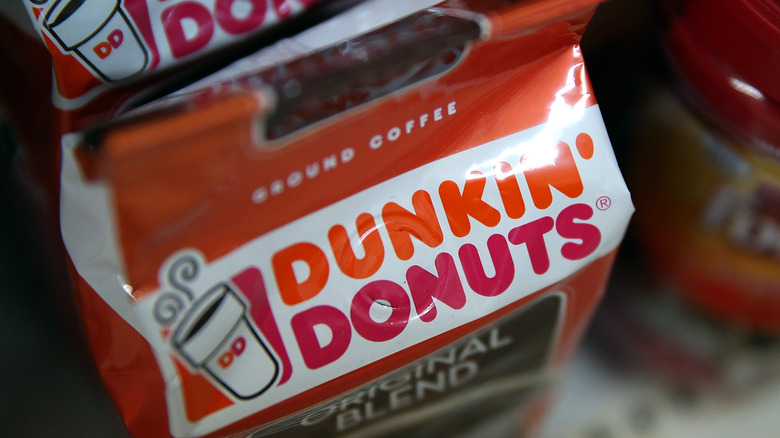 Justin Sullivan/Getty Images
Judging by the flavor descriptions on the Dunkin' website, it seems the new Dunkin' coffees are sure to satisfy every kind of sweet tooth out there. "Chocoholic Pancake," which sounds like a literal childhood dream come true, combines rich cocoa with the flavor of the short stack and coffee all in one. "Caramel Me Crazy," which features notes of delicious brown sugar, butterscotch, and caramel, sounds like it will give your sweet latte a run for its money. Then there's "Cinnamania," which already has multiple five-star reviews on the Dunkin' official website and is said to harness the warm yumminess of a bakery-fresh cinnamon roll. Meanwhile, the only new dark roast offering, "Turtle Love," is described as having a chocolate-butter pecan-caramel profile that we can only imagine tastes reminiscent of the treats inside a box of chocolates.  Excuse us while we put in an order for several bags right now!
According to Guilty Eats, you can expect to see these yummy flavors debut on shelves at most major U.S. grocery stores this July. Of course, if you can't wait until then, you can always order them directly from the Dunkin' website. Each new coffee flavor is currently available in 11 ounce pre-ground bags for $7.99 each or a 10 pack of K-cups for $6.99. We've never been more excited to wake up in the morning.