Costco Shoppers Can't Stand This Cheesy Kale Pesto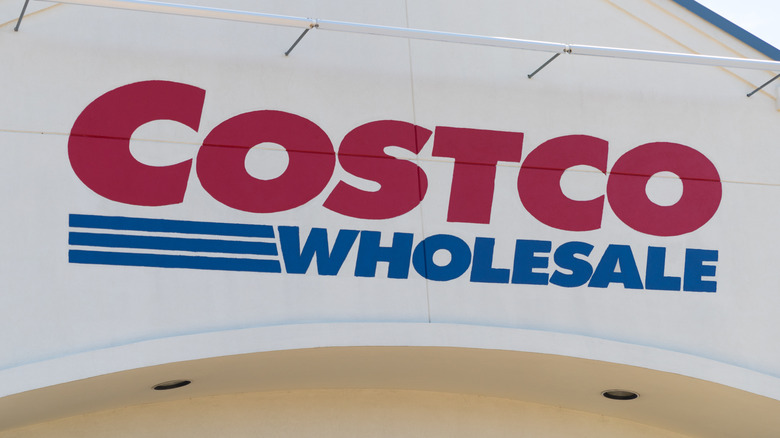 Shutterstock
Usually, Costco can do no wrong in the eyes of its biggest fans. Aside from the discounts you get when you buy in bulk, there is the delicious and reopened food court, source of the $1.50 hot dog, and cult food favorites. Perhaps Costco thought they hit the sweet spot when they came across what promised to be a new and improved version of pesto sauce to offer shoppers. It says "delicious" on the label, and it's made with trendy kale and creamy white cheddar cheese, but it looks like it might be one of the company's infrequent missteps.
Unlike many Costco favorites, this sauce is not part of the successful chain store's signature Kirkland line, but comes from a company called Sonoma Gourmet, which describes this offering as a "rich and creamy" sauce that will "have you rethinking any common pesto forever." It has no added sugar and is packed with good ingredients like organic vegetable stock, buttermilk, cream, real white cheddar cheese, and of course, kale. And it's gluten-free. The company says Kale Pesto with White Cheddar is so good, you won't want to limit this sauce's use to just pasta. You'll want to use it as a dip and eat it "with a spoon" straight from the jar, says the website.
Not so fast, says Instagram account costco_doesitagain. Usually a fan of all things from America's favorite warehouse store, the account posted a photo of the Kale Pesto with White Cheddar and waited for followers to chime in.
Most who tried it said 'nope'
Followers of costco_doesitagain on Instagram didn't hold back their dislike for Sonoma Gourmet's Kale Pesto with White Cheddar pasta sauce. One follower found it "watery" and "flavorless." Another Costco fan said the pesto is the second swing and a miss for Sonoma Gourmet: "Soooo bad, as well as their alfredo." 
"We added this to some stuffed chicken breast and no one could stand the taste," wrote another account follower. "Definitely one of the only products at Costco we regret trying."
The jarred sauce is sold in pairs, but for one non-fan of the concoction, one was more than enough. "Noooope did not enjoy, actually donated the second jar," they claimed.
Some found the Kale Pesto with White Cheddar salvageable, albeit with some serious adjustments. One creative cook added crushed red pepper, garlic salt, and Gorgonzola cheese. "So I basically changed it all," they said. Another did something similar: "Had to be completely doctored to make it even taste OK. I had to add a ton of different cheese and spices and salt."
Still, while the vast majority of the comments were negative, a few people liked the Kale Pesto with White Cheddar. "I bought this and loved it. Making it again tonight with chicken over pasta," one follower said. 
Yet, perhaps we all, and that includes you Jim Gaffigan, can agree that a bland kale pesto sauce at least outranks a kale a poutine smoothie.