Why You Should Start Storing Your Food In Glass Jars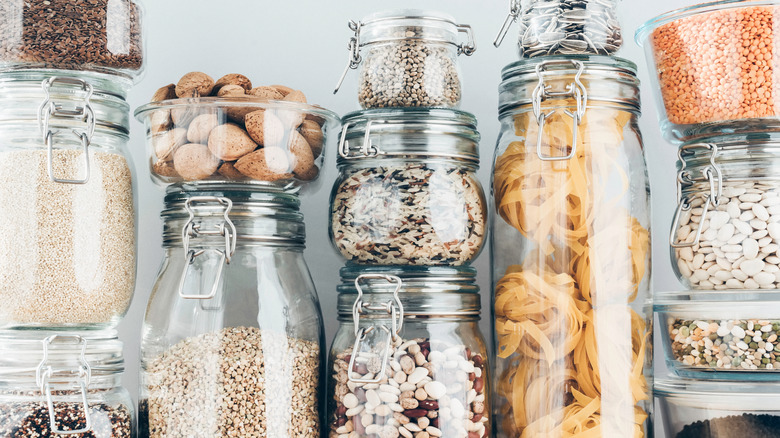 Shutterstock
Here's two words for you: flour moths. If, like us, you didn't even know these cupboard-loving bugs were a thing, just have a read of Orkin's guide to Mediterranean Flour Moths and how they lay eggs "in bags of flour, grains, and other stored goods" and tell us you aren't desperate for a way to keep your kitchen free and clear. (Because if seeing the words "larvae" and "breakfast cereal" used in the same sentence doesn't give you the heebie jeebies, nothing will.) 
But, there is good news on the war against winged pantry pests — there's an easy, efficient, and aesthetically pleasing way to store your dry goods and prevent flour moths. Something that Buzzfeed calls a "small cooking habit that can actually have a big payoff" in the long run. It turns out the flour moth's worst enemy is simply glass jars.
Glass food storage is a win for humans, loss for moths everywhere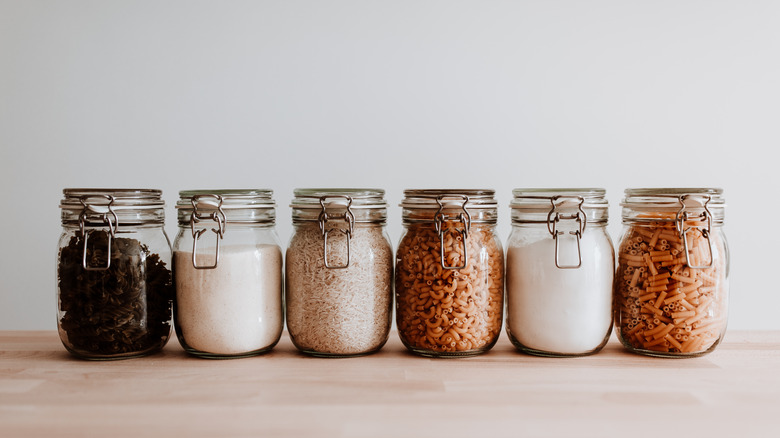 Shutterstock
Imagine you're a flour moth and you're getting hungry. The journey from egg to pupa was long, and the flight from the next shelf over was arduous — you sure could use a bite of a bean, or a morsel of dried fruit. But wait; what's that? A tower of non-bleached, sustainably sourced, all-purpose flour. Can this gorgeous, snowy mountain all be for you? You're drawn, like a flour moth to a flame. You fly, intending to dive headfirst into a powdery paradise when, suddenly, you crash painfully into an invisible wall; an unseeable glass fortress keeping you from your precious flour.
Glass jars are a tragedy for the flour moth, but a glorious victory for the home chef, whose cooking staple will remain fresh for longer, easily accessible, and thanks to the moth-barrier, blissfully protein-free. As a bonus, storing your pantry staples in glass jars and canisters is, as the kids say, a lewk and far more conducive to a beautiful kitchen aesthetic than the branded bags your favorite foods tend to come in.
The Kitchn loves glass canisters of the two-gallon variety (also one of Ina Garten's kitchen must-haves) to keep flour and sugar both contained and on display. The wide mouths on jars like these make for easy scooping and leveling off, and — as the article points out — stockpiling flour in fancy jars looks less "survivalist in the mountains" and more "Barefoot Contessa in the Hamptons." Today loves the idea as well, casually name-dropping Khloé Kardashian as a proponent of glass jar storage. And if they're good enough for Khloé's Oreos, they're good enough for us.