1 In 3 People Think This Restaurant Has The Best Onion Rings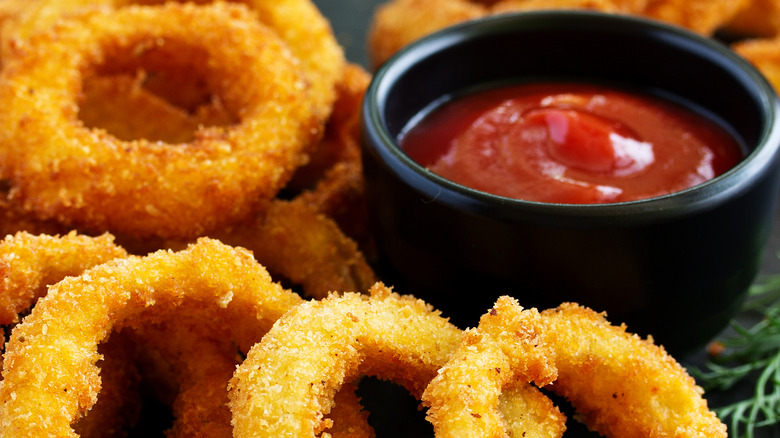 Shutterstock
No matter how you feel about Jared Leto playing The Joker, he once made a very profound culinary argument in favor of onion ring fandom. "It's funny," Leto said according to Quote Master. "I don't like onions but I like onion rings. What's up with that?" The music sensation from New Zealand, Lorde, whose recently released track "Solar Power" (watch it on Youtube) is begging us to loosen up a little, is also a fan of onion rings. Imagine that. 
Were we inspired by Lorde's Instagram quest to critique all onion rings when Mashed asked 637 US-based respondents to weigh in on which chain restaurant offers the best onion rings of them all? And do we secretly picture Lorde munching down on onion rings while recording "Solar Power"? We plead the fifth. In any case, the results of the raging (although underappreciated) debate are in. Burger King, White Castle, Culver's, Carl's Jr/Hardee's, and Jack in the Box all competed for the title of "best onion ring offerer in the restaurant chain world," and one fast food restaurant proved overwhelmingly more popular than the rest.
1 and 3 people disagree with Lorde about onion rings
Turns out, about a third of all of Mashed's survey respondents disagree with Lorde's onion ring reviews. When she ordered them at a BK, the singer-songwriter rated her onion-ring experience as a "1/5" and described a "mulched onion filling with a distinct bitterness" (via Instagram). Surprisingly, 32.34% of our survey respondents opined that Burger King's are actually the best onion rings on the fast-food market. 
Perhaps more surprising still, no other fast-food chain came close to challenging BK for the title. The closest runner-up of Mashed's survey was Culver's, which garnered 21.04% of all votes. Carl's Jr/Hardee's and Jack in the Box tied for third with 15.7% of all votes, closely followed by White Castle, which came in last with 15.23% of all votes.  
What's the secret to BK's onion ring supremacy? There's a chance that it's just tenacious marketing. Burger King's been trying to convince us that their onion rings are fingerpicking for at least 30 years. Watch, for example, a 1991 Burger King commercial (via Youtube) which suggests that the only thing that beats its onion rings are diamond ones.